With all the products of your dreams more affordable and accessible than ever, the Big Billion Days 2020 is shaping up to be the exceptional shopping experience you'd always dreamed it would be. To make things more exciting, we've put together a contest where you stand a chance to win big! All you have to do is let us in on your shopping plans. Read more to find out: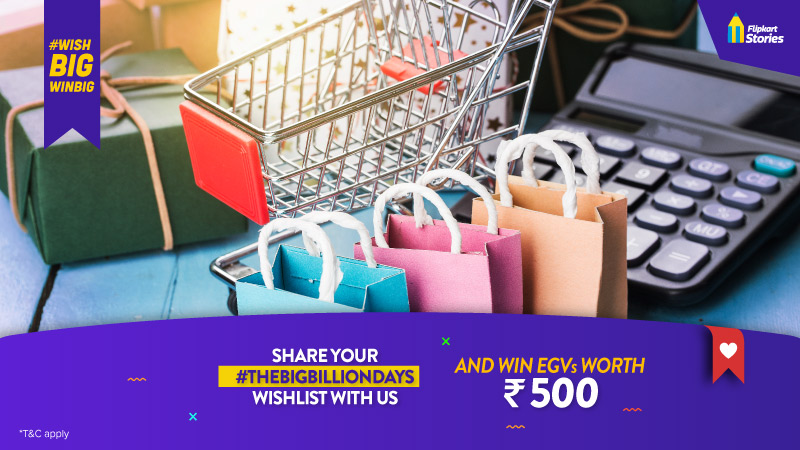 As always, the heart yearns for many products, and when almost all of those products are more affordable than ever, deciding what you want to shop for during a shopping festival as big as The Big Billion Days can be exciting and exhausting in equal measure. We get it, it's tough when there's so much to choose from!
To have the optimal shopping experience, every shopper needs to have a well-prepared shopping list. We can already anticipate the satisfaction you'll experience when you start ticking off the products on your carefully curated Big Billion Days sale 2020 shopping list!
So, here's something to add to that joy — share a screenshot of your special #TBBD wishlist and stand a chance to win exciting prizes!
Here's what you need to do:
Take a screenshot of your #TBBD wishlist with all the amazing products your heart is yearning for
Post it from your Instagram handle with the hashtag #WishBigWinBig
Tell us a little bit about your wishlist in the caption
And don't forget to tag @FlipkartStories!
The contest will run on every day of the #TheBigBillionDays sale, so we'll make sure one lucky winner wins a Flipkart Electronic Gift Voucher worth ₹500 every day. That means that by the end of the sale, six of you will walk away with exciting prizes! See you on the other side.
Don't forget to check out the contest terms and conditions before you play!
Terms and conditions: