As dawn broke on May 21, 2016, it ushered in a feeling of anticipation and nervous excitement. In all corners of India, from Kolkata to Kadapa, Mirzapur to Mumbai, Nagpur to Bengaluru, and Patiala to Chennai, students, engineers, housewives and professionals woke up with a song in their hearts. This was the day that Flipkart customers across the country stood the chance to win big with Flipkart's Snakes & Ladders game. Up for grabs were 140 cm Full HD Vu LED TVs, LG G5 smartphones, gold coins, Midea washing machines, and many more prizes. With over 2 lakh prizes waiting to be claimed based on the roll of the dice, it was all about luck — with a little persistence and tenacity thrown in!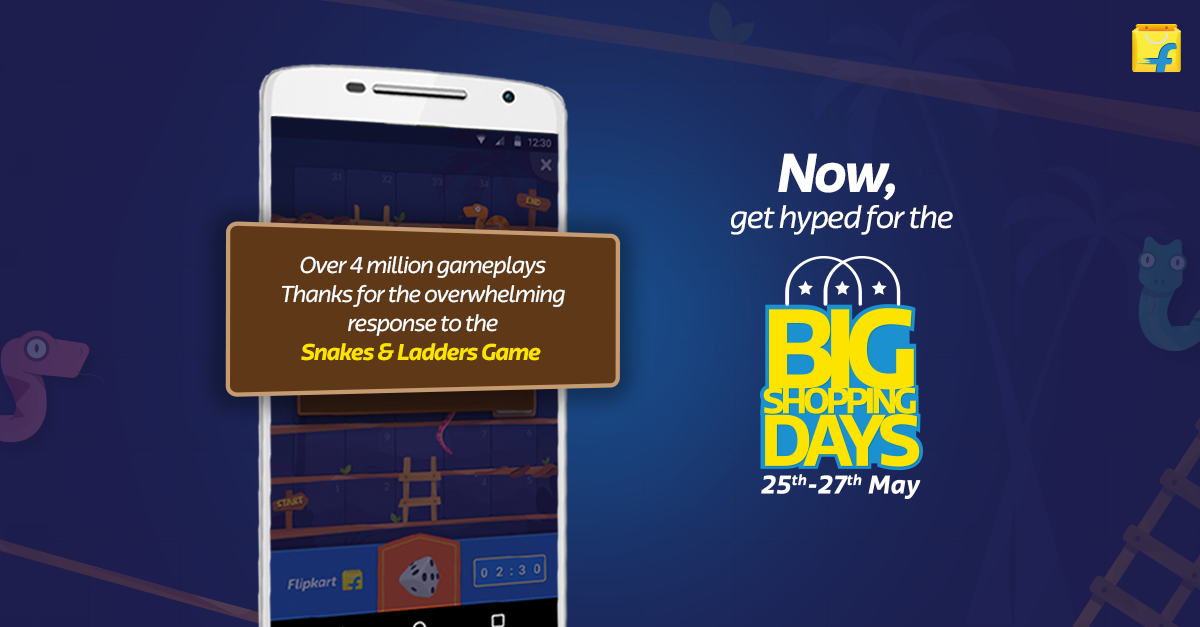 The Flipkart Snakes & Ladders game registered more than 4 million game-plays. Of these, 200,000 shoppers got lucky and redeemed their prizes during the Flipkart Big Shopping Days from May 25-27, 2016. They paid a very small price for winning big. Eight winners took home Midea Washing Machines (worth Rs 20,990) for a mere Rs 10. Thirteen Flipkart customers couldn't believe their luck when they won the coveted LG G5 smartphone (worth Rs 52,000) for just Rs 10. Ten Flipkart customers won gold coins at an unbelievable 99% discount! And, if that isn't enough, digest this: As many as 213 Flipkart customers leaped for joy when, for the princely price of Rs 10, they became the proud owners of a Fujifilm Instant Camera.
Read their story, and we won't blame you for feeling just a tad envious!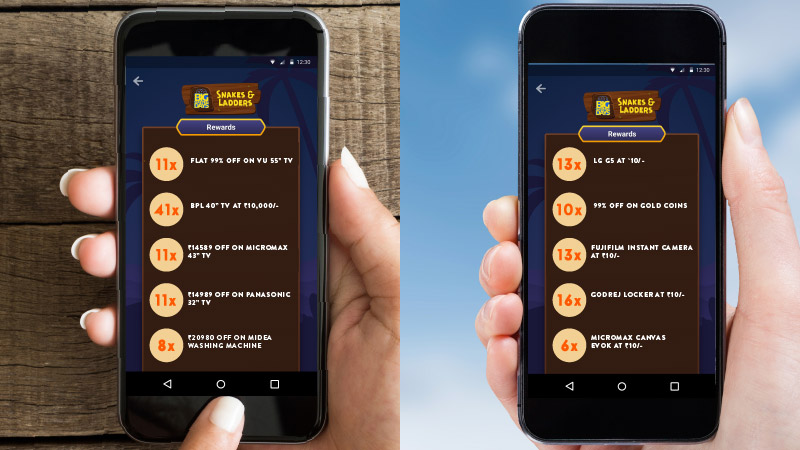 Ready, get set, roll the dice!
On Saturday morning in Patiala, Awaninder Singh, a final-year science student, was ready to seize the day. A Flipkart loyalist, and proponent of the 'early bird gets the worm' philosophy, he'd heard about the game from his friends and through the Flipkart app.
"I set about to play from the first day itself—just the way I'm an early bird for every sale or any other initiative by Flipkart. And it was so much fun and easy to play! You simply roll the dice and move up the board," he told us with palpable excitement in his voice.
Across the country, in Kandavali, Mumbai, another college student Ankur Lalit Chheda, in his fourth year studying engineering, was doing the same thing. He had woken up early, setting the alarm for 7 am, and with the latest version of the Flipkart app downloaded on his mobile, was ready to take on the ups and downs illustrated by the snakes and the ladders in the game. He'd heard about the game from Flipkart's Facebook page, and thought, "Why not try and see if I can win something for free?"
It was the same thought that spurred IBM software engineer Pradeep Mahavirchand into action. A resident of Hyderabad and a passionate Flipkart shopper who "checks the Flipkart app at least 20 times a day," he'd prepared to put his best foot forward—no matter how long it took him. "The game was all about luck and I wanted to try my luck out!" he tells us.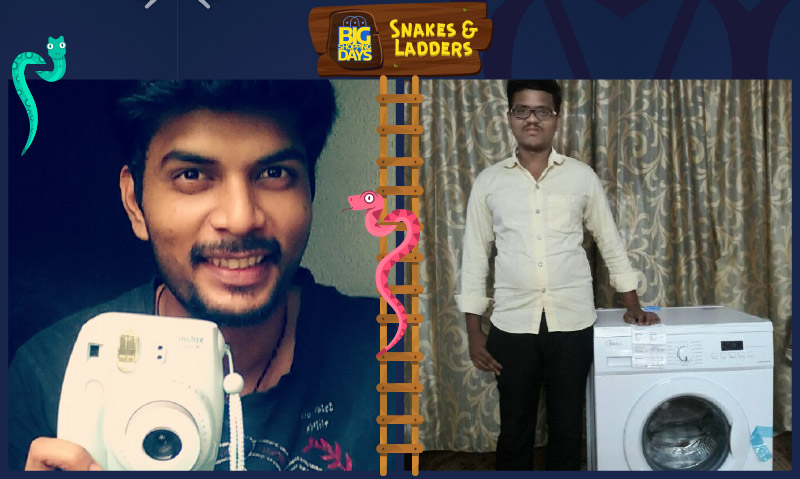 Play Snakes & Ladders, lage raho!
As much the roll of the dice depended on luck, it also tested our players' mettle. Their spirit of determination was weighed and their commitment put through a trial by fire. Balaram Kumar, who just completed his B Tech from Hyderabad, for example, tried his hand with the game on Saturday, only to be tripped up by the snakes. In the course of two days, he played almost 60 times, pacing himself out based on his lives and the rule of waiting one hour before he could try again.
"I have Internet on my phone and constantly checked the app to play every hour. At the time, I had just completed my exams so I was pretty much free to play!" he says.
Not everyone had leisure time on their hands; some had to carve out time for the Flipkart game, and did so with a determination that deserves a big thumbs up!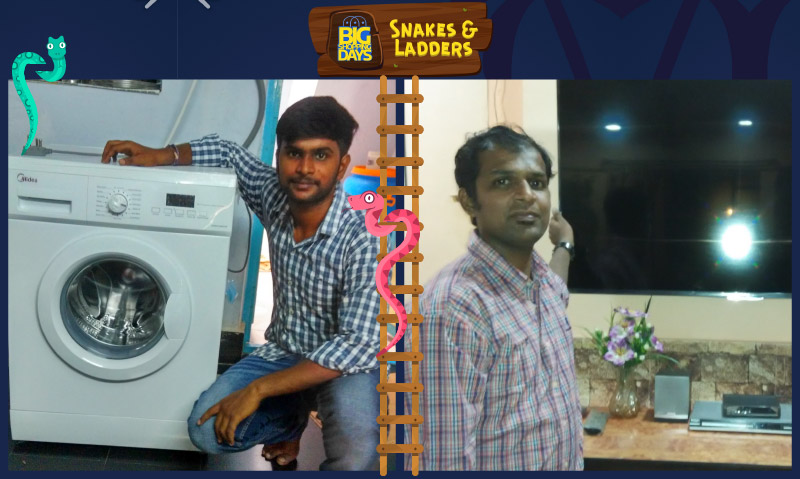 Richa Sharma, a freelance consultant based in Mumbai, played Snakes & Ladders about 60 times, taking a break from work when she could. "I didn't really do anything to add to my chances," she says, as she stuck to her guns and paced out her game play.
In Gurgaon, Lokesh Srivastava, a program manager for Wipro, increased his chances to win by completing a set of tasks devised by the gamers. "I increased my chances of playing the game by reviewing a product I had earlier ordered and referring my friends," he says. He played the game well into the night, still on the app as the clock struck midnight and on into the early hours of Sunday morning, refusing to let the snakes deflate his enthusiasm.
In Roopnagar, Punjab, Mantavya Goyal also proved his passion to play and win big. Looking to pursue his BTech in electrical engineering and waiting for the college admission process to start, he was busy preparing for his IIT exams. But did that stop him?
"I was interrupted quite often while playing the game since I was studying for my exams, but I gave it my best. I even added to my chances by reviewing my last purchase from Flipkart," he says.
In the same boat, Ankur Chheda also paced out the game with his study time. "I would play the game every hour, studying for 40 minutes and playing for the remaining 20 minutes!" he says with a grin.
While some played the game in between work and studies, others like Abdul Jaleel Asadi utilized all those in-between times when our phones become our best source of entertainment. An engineer working in Bengaluru, Asadi says he probably played the game at more than 100 times. "Whenever I would have some free time on my hands, be it travelling on a bus or even while watching a movie, I would whip out my phone and start playing!" he says.
Wish granted!
Whether it was setting an hourly alarm to win a chance to play again, or ignoring the clocks completely and playing all through the night, whether it was pacing the game with work or just spending all weekend playing, our customers proved how badly they wanted to win—and win big. Did all their effort pay off?
For mechanical engineering student Tejkiran Parlapalle from Kadapa, Andhra Pradesh, playing the game was a tryst with destiny. An avid social media follower, he found out about the game on Twitter, and remembered those numerous afternoons and evenings that he spent playing Snakes & Ladders with friends and cousins in his childhood. The list of prizes on Flipkart's digital version of the game whet his enthusiasm, and he decided to give it the good old-fashioned try.
Luck was on his side. In just his fifth attempt, he won a Midea front-loading washing machine!
"When just a month ago, I was thinking of buying a washing machine, little did I know that a washing machine is what I would be winning in the Flipkart Snakes & Ladders game!" he says excitedly. "I could now own an essential household appliance that had been on my to-buy list!"
Parlapalle is not alone. Pradeep Mahavirchand, the Flipkart enthusiast we introduced earlier, played Snakes & Ladders for two days before he struck gold. It was exactly midnight on Sunday when he won, and he immediately called his wife to share the news. "I was thinking of buying a high-end mobile and suddenly I won the LG G5! You can't imagine my excitement!" he says.
Experiencing the same surge of excitement across the country was 15-year-old Kolkata resident Sayak Roy. A regular Flipkart customer when it comes to apparel and electronics, he came upon the Flipkart Snakes & Ladders game when he logged onto the app. He clicked on the game banner, read the instructions, made note of the terms and conditions, and most importantly, studied the list of prizes he could win. Once he saw the TVs and smartphones up for grabs, he was hooked! He played diligently for two days, making the most of every hour. Finally, destiny smiled. "When I won a Vu Full HD LED TV, I couldn't believe my eyes and neither could my family believe theirs! I mean, I had never won a grand prize like this before!" he says.
The same age as Sayak, Nagpur's Dhanashree Sharma also got her fondest wish fulfilled. Having heard about the game and its prizes from her brother, she downloaded the latest version of the Flipkart app on all the four mobile phones that she and her family owned. "Once I exhausted my lives, I would wait eagerly for new lives to get active and then start again. So engrossed was I in the game, that I never allowed anybody to interrupt me during its course!" she says. When she won the Fujifilm Instax Instant Camera on the second day she was so elated that she screamed with delight!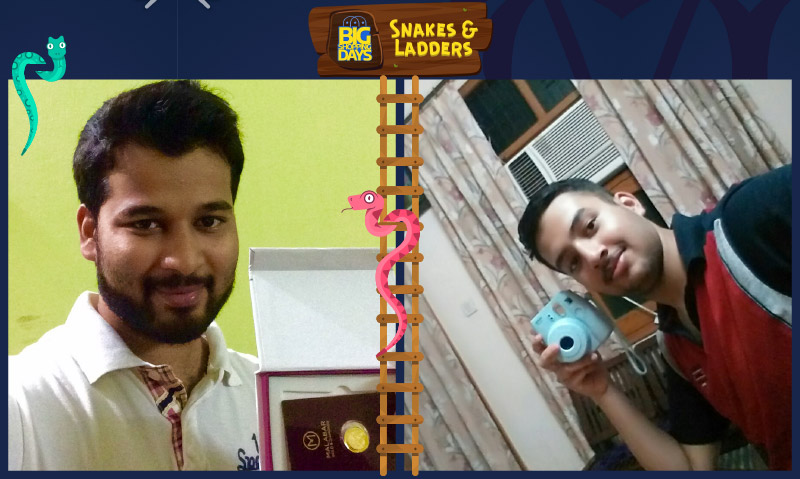 Putting a bow on it
But like many of our winners, Dhanashree had a niggling doubt in her mind. "Would I really get my prize? What if it's a joke or a scam?" After ordering her camera worth Rs 6,000 for only Rs 10, Dhanashree and her family all decided to wait and watch. "My camera arrived in the first week of June — original, and hale and hearty — and I was quick to share photos of my prize with my extended family and ease their fears," she says.
Citibank officer and Chennai resident Karthikeyan Arunagiri was beset with similar doubts. After hearing about the Snakes & Ladders game online, he downloaded the latest version of the app and started to play, only to find the snakes bringing him down time and again. On Day 2, after reviewing a washing machine he had purchased on Flipkart a month before, his efforts finally bore fruit.
"I got the notification that I had won a Vu Full HD LED TV and I couldn't believe I had won a 55-inch TV! Why, even people who know me couldn't believe it when I posted the good news on Facebook! Even as he logged on to Flipkart to claim the prize, he was constantly thinking, what if it's not true? What if it's out of stock?
"I placed the order, and the feeling of having won something big finally sank in when my TV was delivered in 3 days. Flipkart negated all my fears. After I received my prize, I posted its photo on Facebook and that's when everyone believed me!" he says.
In Kolkata, Pritam Bhattarcharjee, who heads branch operations at Axis Bank, has already started using his brand new LG G5 smartphone and loves its features. In Mumbai, Russel Pereira, a soft skills trainer at St Joseph's Industrial Training Institute, has already got his new Vu TV connected to Google Chromecast and is hooked to the clarity of its HD display. Another Mumbai resident, Sarfaraz Raj, who works as an engineer with the Mahindra Group, got the shock of his life when he won. "At first I thought that it was a mistake. I rechecked everything — the terms and conditions to claim the prize, delivery area, coupon code, etc. — at least twice before the feeling sunk in. Even my family and friends hadn't believed it at first," he says. When his gold coin was finally delivered, he ordered pizza (with the 50% off Pizza Hut coupon that he also won) for his sister Naeema and the whole family to celebrate!
It was just a Snakes & Ladders game, but the delight and enthusiasm that Flipkart customers showed in pursuing their chances warmed our hearts. We did our part, too, by delivering smiles and fulfilling wishes and nothing beat the joy and surprise that they experienced as they collected their prizes.
And if you believed the sore losers who wailed the loudest that this was another fake or fraud game from Flipkart, remember that fortune favors the bold, and the persistent. They had the last laugh, all the way to the bank!
Design: Arjun Paul | Flipkart Stories