Are you crazy about Virat Kohli? Interested in keeping tabs on everything that India's Test cricket captain brings to the field, and also meet him in person? Introducing the Virat Fanbox Moto G Turbo — a custom designed smartphone unlike any other.
Fans who buy the Virat FanBox can get a chance to meet the cricket legend in the West Indies, in the flesh! The FanBox is currently available at a price of INR 14,999, with special discounts on exchange and early bird purchase. You can click on the banner below to know more.
---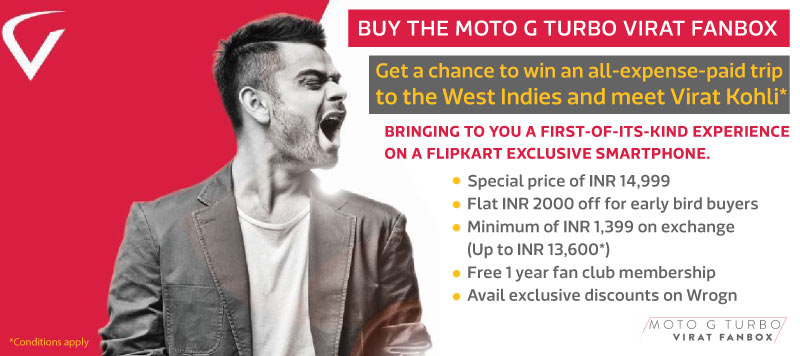 ---
The Virat Fanbox Moto G Turbo isn't your typical Moto G Turbo. It features the Virat emblem at the back of the box, packs a signed miniature cricket bat, and gives you a one-year membership to the Virat FanBox app. It is loaded with tons of exciting features. The limited edition design has been integrated into one of the best smartphones out there today — the tried and tested Moto G Turbo.
From an energy-efficient v5.1 Android Lollipop OS, to Turbo charging, the Virat Fanbox Moto G Turbo is packed with features that parallel the prowess of the cricketer himself. If you are keen to know more about the Virat FanBox, read ahead.
What's in the Virat Fanbox?
Wondering what's in the box. We unboxed the Virat FanBox and went through the contents in detail. Here's a download on it.
The Virat Fanbox Moto G Turbo app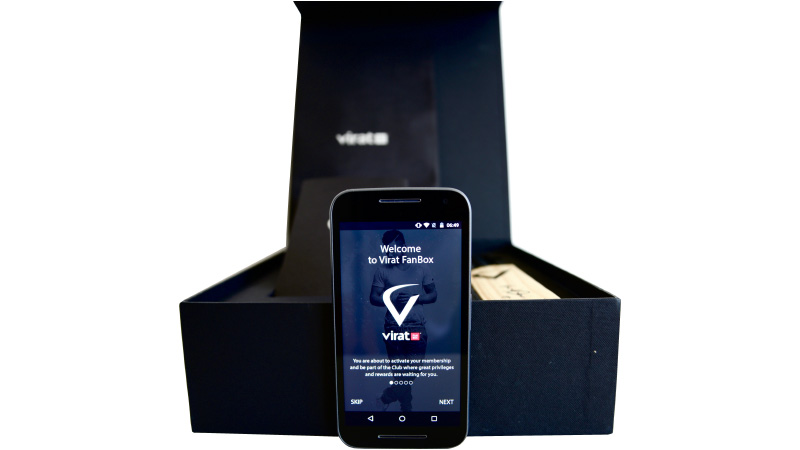 Want to know what Virat is up to? Ask him yourself through private and live chats on the Virat FanBox app.
The calling card of the Moto G Turbo Virat Kohli Edition is the specially developed Virat FanBox app. It enables you to interact with Kohli through interactive and real-time online hangouts. You can also instantly catch up on his latest social media posts. Lucky fans may even have the chance to meet the cricketer in person at special events. The total package even offers a one-year membership to get fans started!
The man himself @imVkohli hypes up Virat FanBox here:
For all the love & support you have given me, here is something special. #KohliSoon #Excitedhttps://t.co/oZw2IpRUvp pic.twitter.com/DuOrewYjDr

— Virat Kohli (@imVkohli) April 10, 2016
Find out what excitement awaits you via the FanBox in this video here:
Signed miniature bat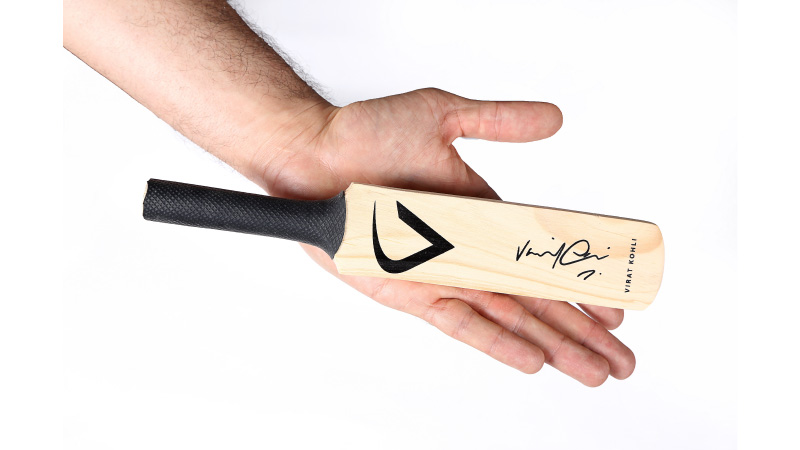 It wouldn't be a FanBox without something special, right? Pick up the Virat Fanbox Moto G Turbo and you'll receive a miniature cricket bat with Kohli's signature and trademark emblem on it. It's the perfect memorabilia for Virat Kohli fans everywhere!
The superstar is already making waves with the signed miniature bat if tweets like this are any indication! https://twitter.com/NazishMemon/status/724964543869284352
Discounts and deals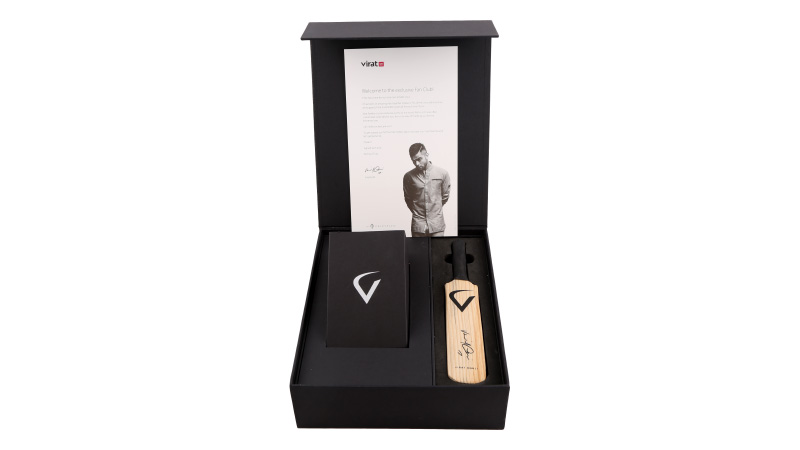 Being a member of the Virat FanBox isn't just about staying in touch or receiving updates on the already legendary batsman. You can also take part in special contests to earn unique rewards and take advantage of great offers on Virat Kohli's branded merchandise! Whether you want to showcase your fandom to the world or save on your next Virat-centric purchase, the Virat Fanbox Moto G Turbo offers it all on a platter.
According to @imvkdiv, the Virat FanBox is "something special" from the superstar himself: https://twitter.com/imvkdiv/status/721307989345443841
Fast performance, reliable build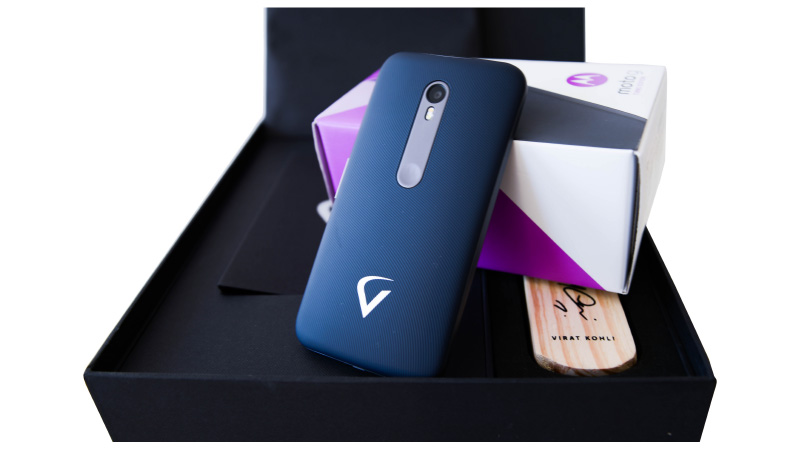 The Virat Fanbox Moto G Turbo is an intriguing enough package. But for smartphone fans, it is also one of the fastest Android phones available today! The Moto G Turbo is strong and sleek device with IP67-certified protection against water and dust resistance. Its octa-core Snapdragon CPU clocks in at 1.5 GHz and its 2 GB of DDR3 RAM allows for blazing fast performance. The 2470 mAh battery can keep your phone running throughout test matches, while never missing on updates or chat session with Virat himself. What's more, the turbo charging support means you'll get 6 hours of battery life in just 15 minutes of quick charge!
High-end features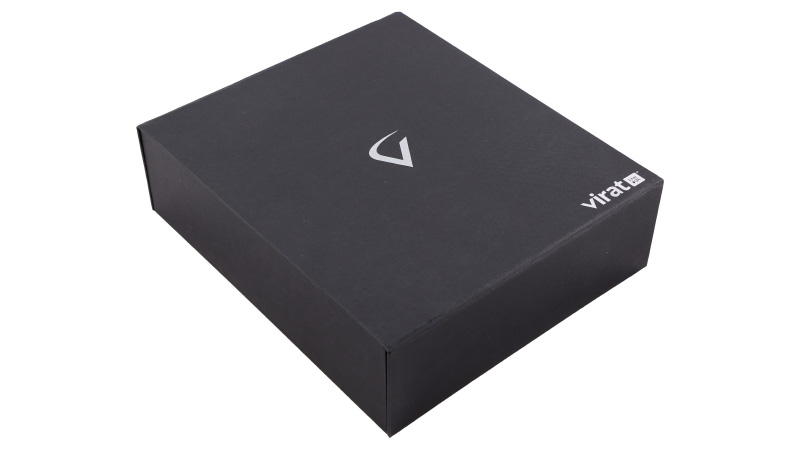 Want to have your chat with Kohli in gorgeous detail? The custom Moto G Turbo's 5 inch, HD display has that covered. How about taking pictures during special meet-and-greets with the cricket star? The 13-megapixel rear camera with its dual-tone LED flash ensures no setting is too dark! By balancing color and skin tone, with flash and an f/2.0 aperture, you can be rest assured that your photos and images will be clear and blur-free. In addition, its 4G support provides the fastest data speed so that you may stay in touch with and up-to-date on Virat Kohli at all times!
Want to see what true blue Virat fans are up to? See these tweets!
See what I just found on flipkart! I ordered mine. Get yours before they run out! #viratfanbox @imVkohli pic.twitter.com/AmkicG3aE2

— Jogesh Lulla (@jogeshlulla) May 24, 2016
What are your favorite highlights of the Virat Fanbox Moto G Turbo? Share your thoughts with us. To know more about this intriguing package available on Flipkart and on how to win a trip to the West Indies, click here.
…