The bold and unforgiving Twinkle Khanna is back! With Pyjamas Are Forgiving, Twinkle plans to yet again, take us on a rollercoaster ride packed with one-of-a-kind humor, sharp wit and tons of food for thought. Here, we talk to her about her latest book, the journey of writing, and the adaptation of books to films in the Indian film industry.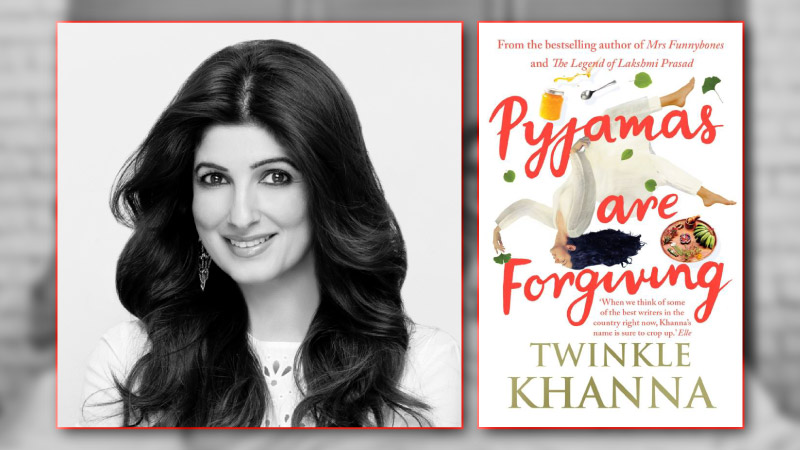 Twinkle Khanna on her new book, film adaptations and more. 
---
In a world where celebrities are boggled by internet trolls, one superstar has learned to give as good as she gets. Bollywood's very own Mrs Funnybones, Twinkle Khanna, has surpassed the trolls with her blunt, bold and beautiful attitude complimented by her razor-sharp wisecracks. 'A few extra inches', the witty response Twinkle Khanna had to being asked about what sets her film star hubby apart from his colleagues in the industry, still stings even the biggest stars in Bollywood. But you don't have to scour through Twitter for a taste of her exceptional humor. Neither do you have to will yourself to sit through that episode of Koffee With Karan where the Queen of Sass famously roasted the host Karan Johar, and her husband, Bollywood's favorite action star Akshay Kumar.
Aside from trolling the twitterati and inquisitive talk show hosts, Twinkle Khanna is also famous for pouring her wit and humor into her political critique in newspaper columns and her books. As a matter of fact, her book, Mrs. Funnybones, made Twinkle Khanna India's highest-selling female author in 2015. Even the 'roast' victim, Karan Johar, had this to say. "I love Twinkle Khanna's brilliant observations and self-deprecating humour. She is the discovery of the decade."
And now she's back with her new book, Pyjamas Are Forgiving. Twinkle Khanna has already set the bar high with what her fans can expect with her previous books. Pyjamas Are Forgiving follows the narrative of a sleep-deprived middle-aged woman, Anshu, who puts her faith in a spa treatment in Kerala, where people are expected to exercise restraint, consume ghee in copious amounts and in turn, get treated for what ails them.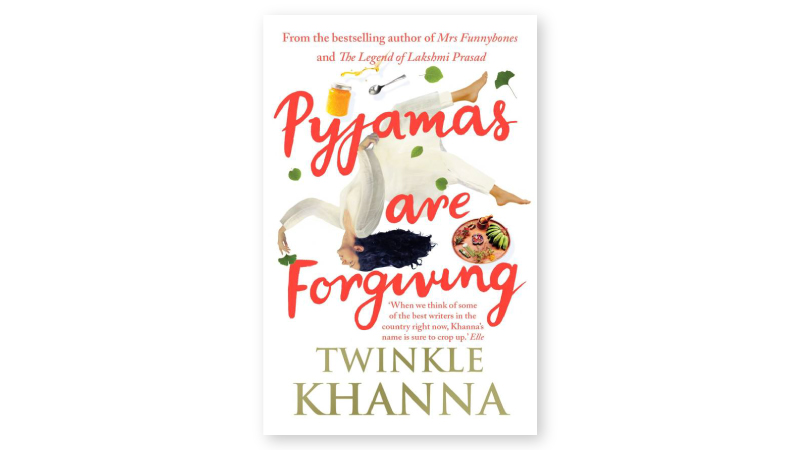 Flipkart's resident bibliophile Vivek Tejuja caught up with Twinkle Khanna about her latest book, film adaptations and more.
Excerpts:
At any point, while writing the book, were you apprehensive about the concept of single setting? I mean, in today's time and age, did you ever think that it might be detrimental for the book, given how everything happens in that one space around quite a lot of characters?
This was one of the greater challenges, to craft a fluid story within a confined, regimented space, but paradoxically it was what also interested me the most. Human behavior changes when you are displaced, taken out of familiar surroundings and thrown together for large amounts of time, and I was interested in exploring those aspects.When you are writing, what you are doing is basically playing out the arguments in your head; it is primarily for yourself. Apprehensions, along with the readers, only get a chance to walk inside your head when the book is all done, which is fortunate because then it is not diluted by external perceptions.
What kind of research went into the detailing of the Ayurvedic facility? I am sure you would have gone to a retreat like that, however, how did this idea come to be?
I did go to an Ayurvedic retreat for my own health-related issues a few years ago. I anyway take down notes all the time, there with not much to do aside from what my protagonist also says, 'Drink ghee, vomit and hope,' I started filling up my yellow journal rapidly though I had no story in my head at that point. My notes were invaluable when I eventually started writing Pyjamas Are Forgiving. I had already undergone Panchkarma and understood the basic premise behind the treatment but I did have to read multiple books about Ayurveda, the one I referred to constantly is called Prakriti by Dr Svoboda.I also had to a lot of research into all sorts of sleep disorders.
You know, given today's time and age and with online streaming sites, most authors write aspiring to convert their book to a mere screenplay. How do you view this? Even though Pyjamas Are Forgiving has that potential (and how!), I am sure you mustn't have thought of a screenplay at the end of the tunnel. So, how then do you write books? What is the process and how do you distance yourself from the potential of adaptation?
I don't really look at writing with any end goal aside from crafting a hopefully compelling story. I have no desire for my books to be adapted; there is no thought process that tells me that having a book that is adapted is greater than a book that stands alone.
Forms change if and when required, for example Salaam Noni Appa was adapted by Lilette Dubey into a play. From Arunachalam Muruganantham's story, we made Pad Man, but when I write, it is only about the story. Is this a story that is urgent, do people need to hear this, will this settle arguments in my head and theirs… these are the things that matter.
I remember someone who wrote books telling me that they don't read and I was speechless. I know for a fact you read (thank God for that!). So what are you reading right now? Who are your all-time favourite writers and does it get difficult not to be influenced by them as you write? I have just started reading The Guest Cat by Takashi Hiraide. I picked it up on a whim and it is turning out to be an engaging read. Asimov, Philip K Dick, Mary Alice Monroe, Atwood, Ursula K Le Guin are some of my favorite writers.
After six years of writing columns and three books, I still identify as a reader more than a writer. I don't believe that there is a large influence on my style of writing but my ideologies have all been formed by having hundreds of great writers in my head over the last four decades. I am also not so sure about this whole reincarnation bit so this is the only way I can lead several lives within the only one that I have. I may or may not be reborn as a sow, but I can certainly inhabit the soul of Napoleon the pig in Animal Farm one day, and experience the 1930s as Scout in To Kill A Mockingbird the next. Books are repositories of voices – The living talk to you anyway, but where else can you hear the dead?
Anshu [the protagonist in Pyjamas Are Forgiving] is empowered. She looks at the world from a varied lens. She is strong, independent, and accommodating for the most part. Yet her weakness is Jay, a very flawed man. Was it difficult balancing this in the writing? On one hand, she comes across as this trailblazer and on the other, she is putty in Jay's hands. How did you manage to write that? Was it very conflicting in your mind and heart?
There are a few things I am trying to address — how the world looks at a single woman who is a certain age and how she looks at herself. The other thing is when they talk about empowered women, we believe that these women are infallible. This myth of a strong woman never faltering really needs to be examined. Because that's not what life is and those are also not the standards that women should have to live up to. We all have parts that are crumpled and creased within, no matter how strong we appear to be.
As a producer, do you think you'd like to at some point bring about the idea of books to films in the Indian film industry? Would you look at more books being adapted? Would that get more people to read in your opinion?
Hollywood movies are raking in large numbers at the Indian box-office and since we cannot beat their budgets and special effects, we are now compelled to tell better stories. This is why adapting books makes complete sense. I hope it does make people read more. It would be interesting to know how many people who are watching The Haunting Of Hill House, actually go back and get Shirley Jackson's book.
Do you have a reading schedule? I am always curious to know of writers' reading schedules. Where do you read? How much time do you normally take to finish a book?
I have no schedule aside from reading two or three science fiction short stories every night. I find it hard to abandon books midway, so if I don't particularly like a book, I read diagonally down each page. If I love a book though, I keep going back and rereading sentences. I have to confess that due to the now constant digital distraction, my attention span seems to be getting shorter and I am taking longer to finish books these days.
Was it extremely painful to write a novel vis-à-vis columns and short stories? How was the editing process?
The discipline is the same. What you're trying to achieve is the same. I would say that even the things I'm talking about are the same – women and their place in the world. It's something I write about across these three genres. The writing as well as the editing process is of course lengthier. I think another factor that comes into play is that in a short story you have to rely on a lot of 'telling' but a longer form gives you the expanse to 'show'.
Will there be a sequel to Pyjamas Are Forgiving?
Nothing I have planned. I suppose sequels possibly called Zippers Have Loose Morals or Saris Are Magnanimous will have to be written by someone else.
Which book are you working on next?
I have quite a few balls in the air and am now waiting for one to drop and smack me on my head. Since these Eureka moments usually happen in the shower, I am just hoping that, unlike Archimedes, I will remember to put on some clothes before running off to my desk.
Buy Pyjamas Are Forgiving by Twinkle Khanna here.
Buy more books by Twinkle Khanna on Flipkart here.