Every time a wedding, a festive occasion or even 'Traditional Day' in the office rolls around, you dig into the back of your wardrobe (or ask your mom) hoping to pull out an exquisite six yard sari. After all, saris have always been and will always be a symbol of femininity, grace and pride for the Indian woman. This season, move the fancy georgettes, chiffons and nets aside and get traditional with classic saris that personify Indian culture from Kashmir to Kanyakumari! Fashion trends will keep changing but you can rest assured that these traditional pieces will never go out of style. You need to have at least one piece of each of these painstakingly handcrafted creations tucked away in your wardrobe, and we tell you exactly what to look for.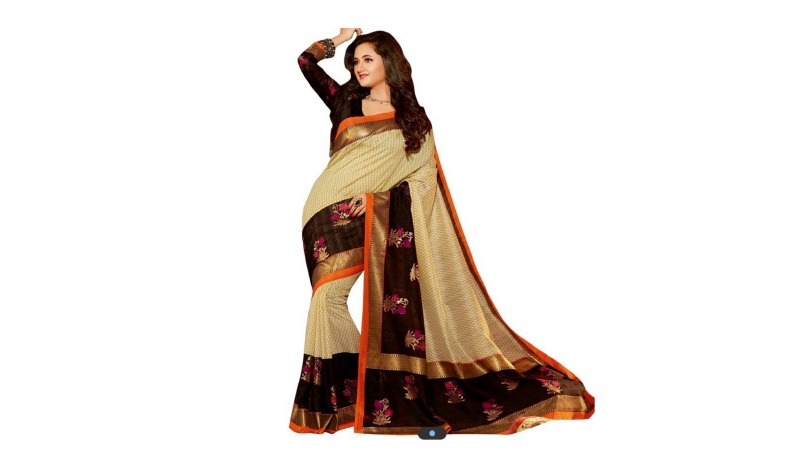 This fine silk sari has its origins in the oldest city of the world. Call it Kashi, Banaras or Varanasi, this holy site has given us the heavy gold and silver brocade that is enhanced with colorful dyes and detailed embroidery. The karigars usually depict Mughal designs with leaves, flowers and architectural motifs in this sari, and make sure to weave gold and silver threads into the pallu. Bolder patterns are also emerging now and you can pick from rich colors or earthy hues, a resham jaal or simply a zari border and pallu, being rest assured that the glorious Banarasi sari will always spell extravagance with a capital E!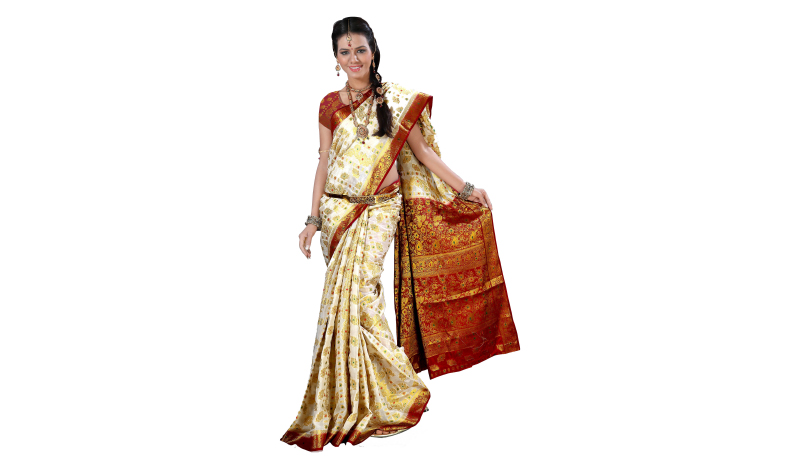 Think vibrant colors and exquisite temple patterns or simply think Rekha! This quintessential bridal sari (especially in the South) traces its legacy to Kanchipuram in Tamil Nadu. Featuring a rich color like red, green, yellow or purple ringed by embroidery (usually birds like peacocks, parrots) or gold weave on the border and pallu, this sari always cuts a gorgeous picture. The weave is done with gold-dipped silver thread on thick and premium quality silks making it one of the most expensive saris in India!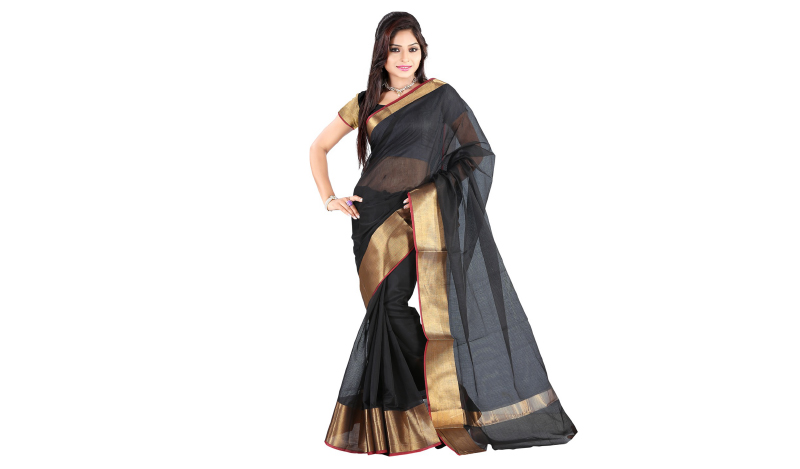 The otherwise nondescript Ashoknagar district of Madhya Pradesh, smack in the middle of the country, gets the spotlight for this delicate, glossy and lightweight sari. Characterized by pastel colors, a narrow border, stripes or butis woven all over and a relatively see-through design, the soft translucence of a Chanderi is decidedly unique. You can pick a tissue silk Chanderi, a cotton one or even a mix of silk and cotton—all these plain and simple saris will be easy to carry and yet look quite becoming.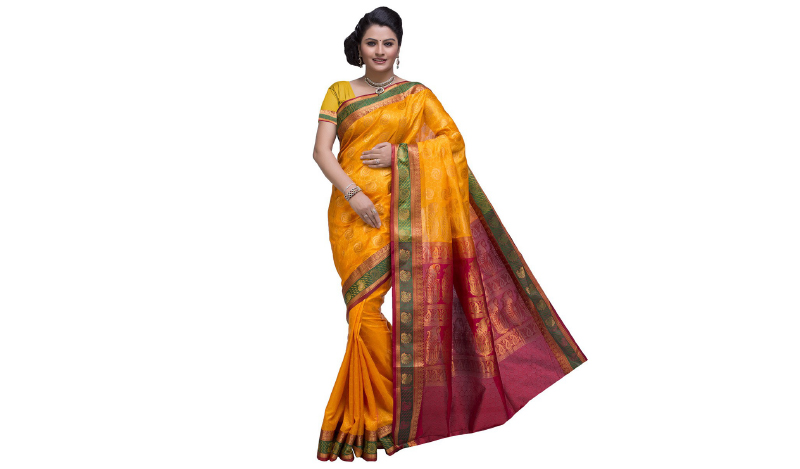 Once upon a time, these saris were woven with threads of pure gold for the great Maratha kings. The Paithan town of Aurangabad, Maharashtra, is the hub of these hand-woven saris that are instantly recognizable by the oblique square designs on the border offset by the standard parrot or peacock motifs on the pallu, though other Buddhist motifs are also quite common. Play it safe with a solo-colored Paithani or experiment with a kaleidoscopic one where one color is woven in length-wise and another one breadth-wise to create a 'short color' that looks absolutely beautiful.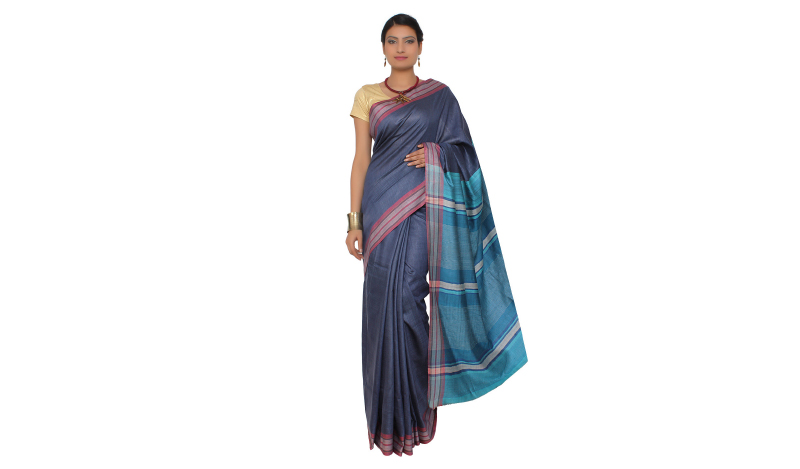 This style expresses the unique culture and tradition of Jharkhand. The tussar silk saris are designed to be light, soft, comfortable and, of course, to drape beautifully. Traditionally woven as a white sari with red border over a period of 10 days by 7 weavers, the style has evolved to encompass a rich palette of colors and vivacious combinations. This stunning yet quirky sari is bound to turn heads!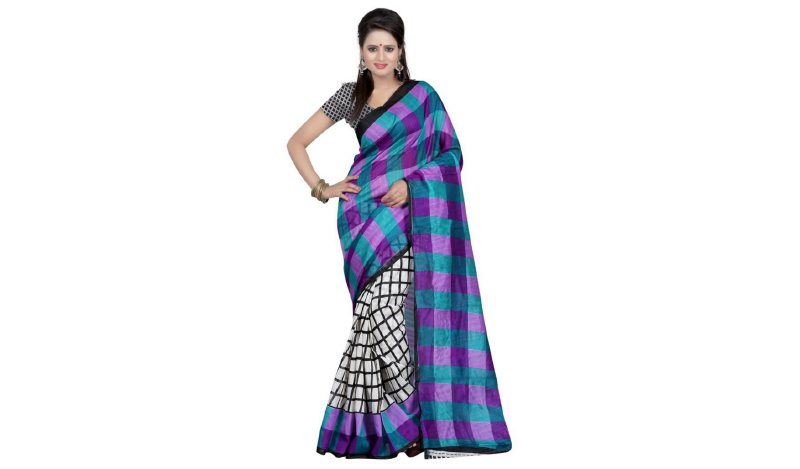 Different handloom saris such as Pochampally, Tant, Bhagalpuri, Guntur, Kota and Jamdani pack the goodness of cotton textile arts with a rich heritage that makes a unique style statement every time you choose to flaunt one. The fabric can vary from cotton to mulmul and woolen too. Tracing their heritage to various regions across the length and breadth of India, the masterful weaves, threads and motifs are always distinctive with every design created to take your breath away, so choose colors and patterns that truly speak to you!