From starting out in a garage to renting a multi-storied office, from beginning with a two-person team to employing over 300 people, from first-time entrepreneurs to those who've expanded their family business online, Flipkart sellers have relied on their ingenuity to see their business grow leaps and bounds. With ideas that were developed among friends over a cup of coffee, or a dream that grew over the years, their stories reflect the best of India's entrepreneurial spirit, and we are humbled to be a part of their inspiring journey. Across electronics and home appliances, fashion and furniture, Flipkart's top sellers recount their exciting experiences. And share the secret ingredients of their recipe for online selling success.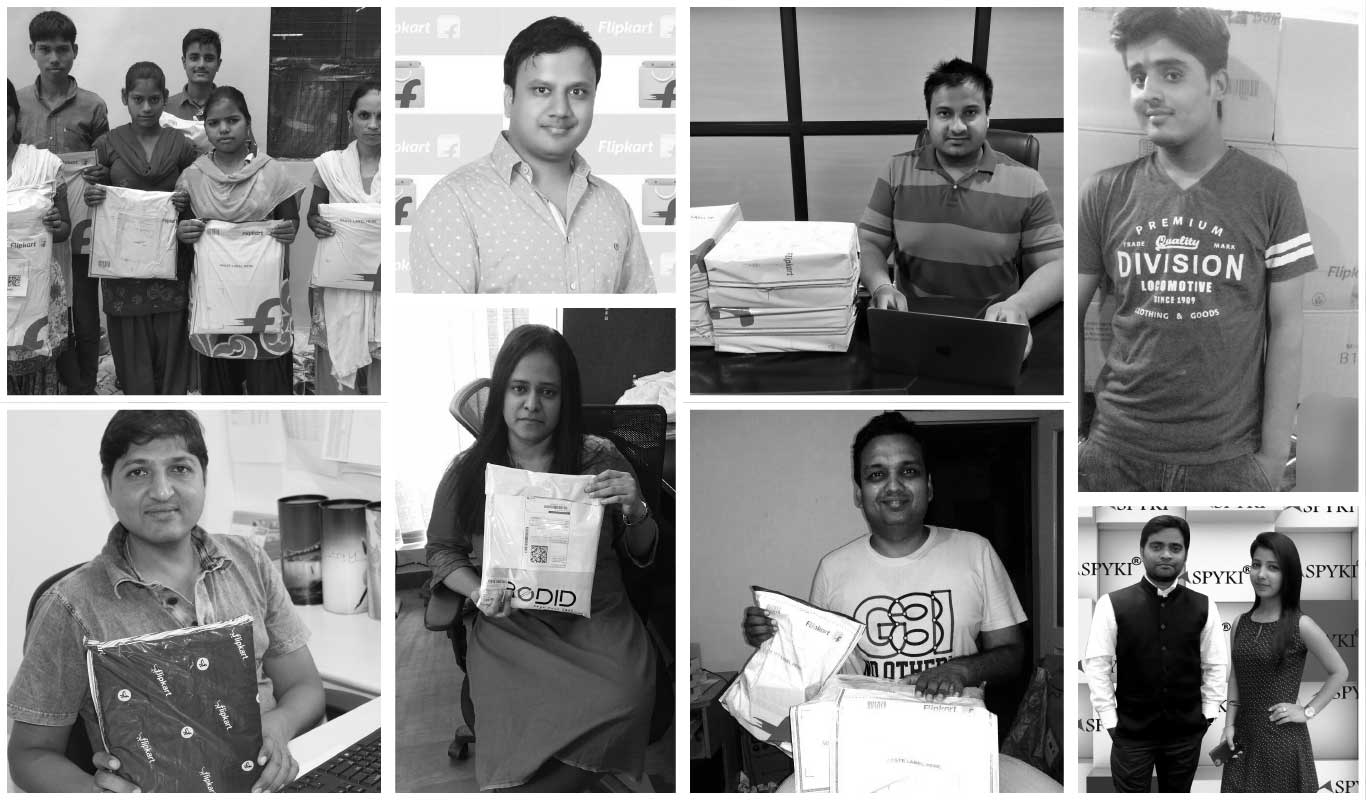 What does it take to be a successful Flipkart seller? Better still, one among the top Flipkart sellers? Blood, sweat and tears? Or acumen, focus and drive? A bit of both, perhaps, helped along by Flipkart Seller Hub, the support structure of India's most thriving online marketplace. Read the story to learn more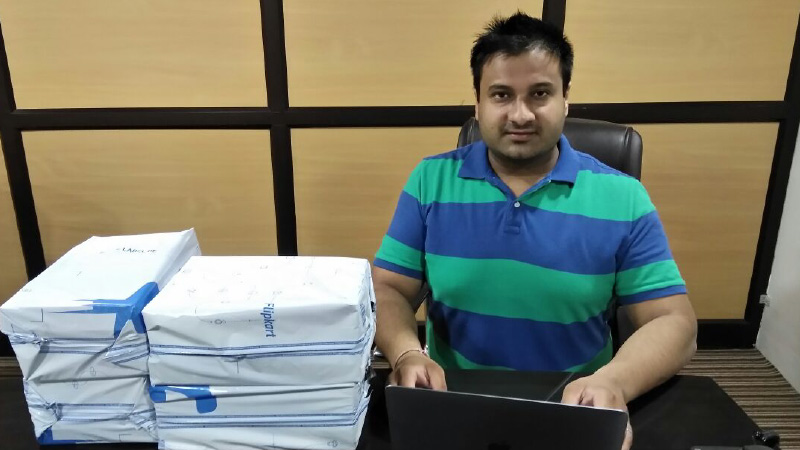 Three years ago, as online retail in India gathered steam, the people behind TechDeal365 — authorized sellers for Dell, HP and Acer laptops — were battling a slump. As part of a family business — the Hyderabad-based Shweta Group — they were into retailing electronics — branded computers, laptops, printers, and peripherals, as well as hardware and software solutions. Lately, however, things weren't looking rosy. Sales were down, and they had their backs to the wall as they searched for an avenue that could boost their business. Thankfully, research and competitor analysis soon offered a ray of hope. "We noticed that that one of our partners had started retailing online. We then realized that e-commerce is growing by leaps and bounds, and it is high time we jumped on the bandwagon," explains team member Parun. After a chat with the family elders, the younger scions cautiously ventured into online retail with Flipkart. Today TechDeal365 is one of the top Flipkart sellers.
Punit Jain, the proprietor of home furnishings brand Home Candy, was already aware that selling online creates opportunities to increase sales. "E-commerce had brought in efficiency, convenience, choice, reach and lower transaction cost for buyers. We realized that it had a lot of potential, and it was best for us to be associated with this sphere in some way or the other," he recalls. The next step for the young entrepreneur was to decide which product category his company would launch online. "We decided to start with home furnishings priced up to ₹ 500. The idea was to give customers a product that was affordable, with a decent quality."
Punit explains how their research revealed that there were only a few well-known home furnishings brands selling online at the time — all at premium price tags of ₹ 1,000-1,500. "We thought that we could sell non-branded products online. There was already a niche to own, and a gap in the demand and supply."
It wasn't long before Home Candy tasted sweet success by retailing on Flipkart, and the brand has progressed to become one of the top Flipkart sellers.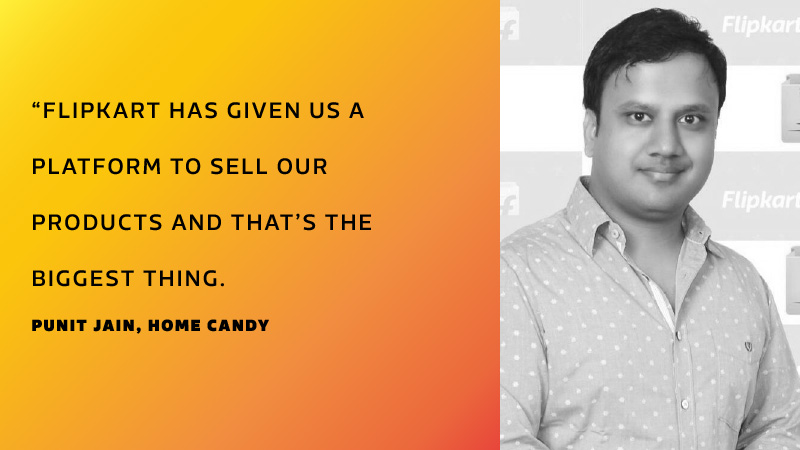 Expressions Home, another home furnishings brand, which is also one of the most successful sellers on Flipkart, saw a similar trajectory. Shikhar Bhatia recollects how they tackled the home furnishing segment in 2010. He says, "We were short on the experience needed in this field and didn't have many clients. We knew we had to use every opportunity to sell, and that's how we entered online retail. Selling online would allow us to reach customers outside of our town and state, which would increase the number of possible customers." And that's how online retail became a major part of the business that Expressions Home does today.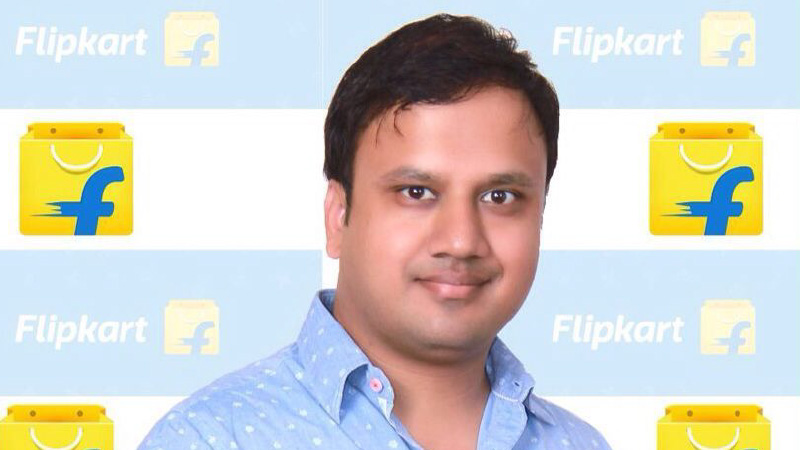 The desire to harness the incredible customer base that online selling offers is what triggered Ankit Gupta's foray into selling on Flipkart, too. Newly returned to India from the United States in 2011, Ankit had just one recurring thought: E-commerce had truly come into its own, and it would be a great idea for him to join the ranks of online retailers. "E-commerce is big in the US. Consumers there buy more of their purchases online than in stores," he tells us, and the idea of being one of the first in India to fully embrace the change took root in his mind.
"Though my family had been involved in manufacturing footwear for many years, we thought that our first brush with online retail should be through selling some other product category." He speaks about his wife's small business of retailing yoga mats and sports flooring solutions, and says, "We launched Aerolite yoga mats on different platforms across e-commerce." And that's how Advance Gear began selling yoga mats on Flipkart. He is all smiles when he reveals, "No other seller across the country had the kind of products we were selling. The mats became a hit overnight and, three months later, a good number of orders began pouring in." Advance Gear is another of the top Flipkart sellers. After its initial venture, the brand also expanded to selling footwear on Flipkart, and Ankit is happy with the traction he's getting.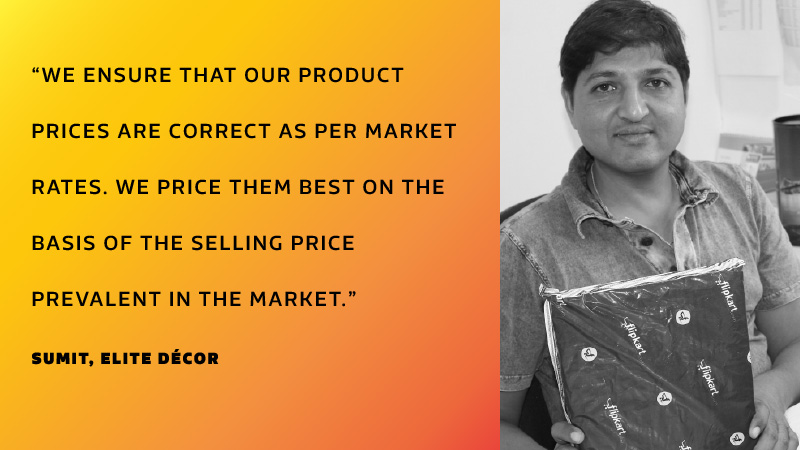 Vintage is not necessarily the only strong point. Focus, diligence and application are key ingredients of an online seller's success. TVESA, a fitness and footwear brand, began selling on Flipkart barely ten months ago. Today, TVESA is already one of the top sellers in the marketplace. Sudhir Agarwal, recalling how his relatives were already retailing on other online shopping portals, says, "Today, all of TVESA's sales come through e-commerce." He explains how he has a team of mentors, comprising his finance team and his marketing head, who help him face the challenges that crop up every now and then.
All the top Flipkart sellers take savvy business decisions to make the most of online retail and are committed to ethical selling practices that have guaranteed them a loyal customer base. Their stories often begin with a small splash in online retail until they become big enough to swim with the sharks, and emerge not just alive but triumphant.
Just like Anant of LavaEstore did, starting his Flipkart story just last year.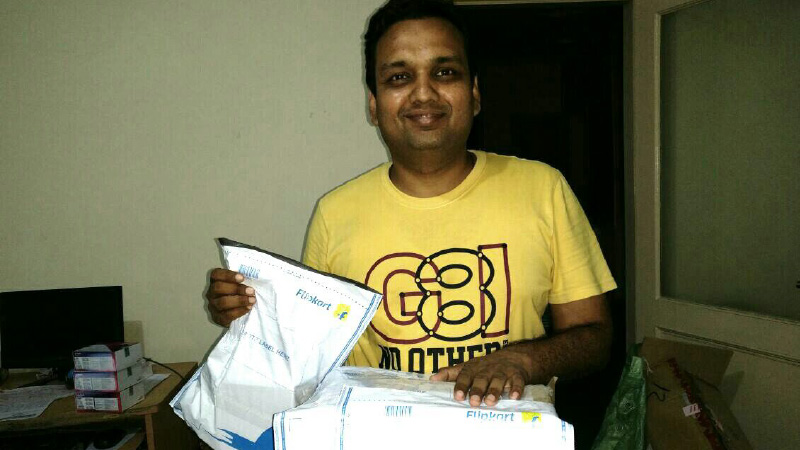 Baby steps to success
After earning his master's degree in business management, Anant gained experience by working in the software industry in 2010. He entered the world of e-commerce with eBay and Snapdeal, before hooking up with Flipkart as a vendor in the smartphone category in 2015. Which, he says, contributes around 50-80 per cent to his business. "While there are many e-commerce portals out there, I feel that what makes a portal stand out from the rest is its credibility and reliability. Flipkart has always offered me the most secure accounting, reconciliation and payments ecosystem," he says. He reminisces his early days with Flipkart, and is all praises for its seller financing program.
"I come from a modest background. My family hails from Pilani, a small town in Rajasthan, and though they were supportive, they had no idea about setting up a business. Since I needed a heavy cash flow to be able achieve a monthly turnover of ₹ 4-5 crore, I began seeking loans from family and friends. But then, Flipkart's growth capital initiative came into the picture." He attributes the growth and success of LavaEstore to Flipkart and its financial assistance, which, he says, is a far cry from "most traditional banks that do not understand the nature of e-commerce business and refuse to give out loans without collateral and high interest rates". His business has grown by leaps and bounds, and we're happy to report that he is one of the top Flipkart sellers today.
LavaEstore's success story however is not the only one that needed a small helping hand and some well-meaning advice to flourish. Since Flipkart is one of the country's largest online marketplaces with over 100,000 sellers and over 10 million registered customers, in the last few years, we strove to create a robust ecosystem that encourages sellers to grow their businesses. This means hand-holding and enabling sellers to understand the best way to create products that meet market needs.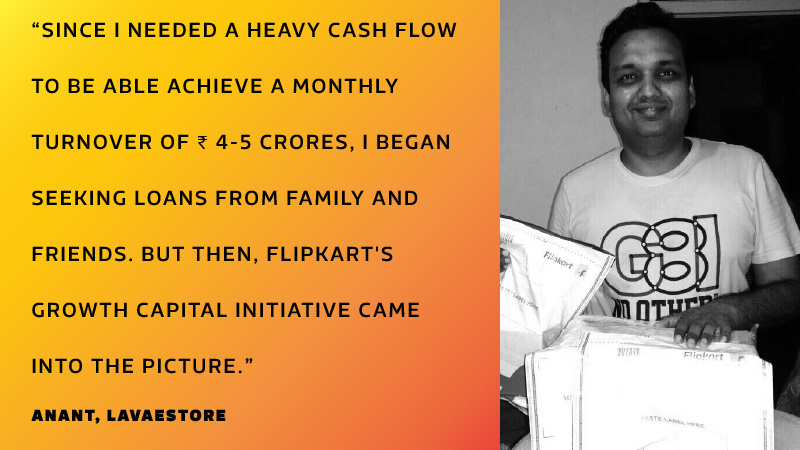 Take for instance, Campus Sutra, a youth-targeted apparel brand, which has become another one of the top Flipkart sellers. Started by four partners who saw a market in Western apparel for youngsters, the brand found its niche and took every bit of support we could offer to strengthen its market. "We have been partners with Flipkart right from the beginning. We have worked with almost all of its departments on ideas, suggestions to improve, and more. In three years we have grown to become a 100-crore brand," reveals Dhiraj, one of the partners.
Home Candy's Punit Jain also swears by the Flipkart model of doing business, and tells us that our platform is what keeps him coming back for more. "Flipkart has given us vendors a platform to sell our products and that's the biggest thing. In the beginning, I would buy products from a friend and post them on Flipkart. I started getting orders immediately!"
Another one of the top Flipkart sellers tips his hat to the financing he received from Bajaj Finserv through Flipkart. When Gaurav met two of his childhood friends one day, talks soon turned to launching a business online. They worked hard to make their idea see the light of the day, and that's how their company, Indian Weave Sourcing, was born. A manufacturer and exporter of carpets, bathmats, rugs, bed sheets and home furnishings, it has an online-only presence today, and Gaurav cheerfully reveals that 80 per cent of their sales come from Flipkart. He says, "We started small with financial assistance from investors. Then, when our sales increased online, we received finance from Bajaj Finserv via Flipkart. This has helped our business grow a lot."
[yt4wp-video video_id="_py3eNfTIZI"]
Last year, Flipkart launched its Growth Capital initiative to offer financial assistance to sellers across the country. To kick-start this program, we tied up with leading banks and financial institutions in order to enable every entrepreneur to fulfill their business aspirations.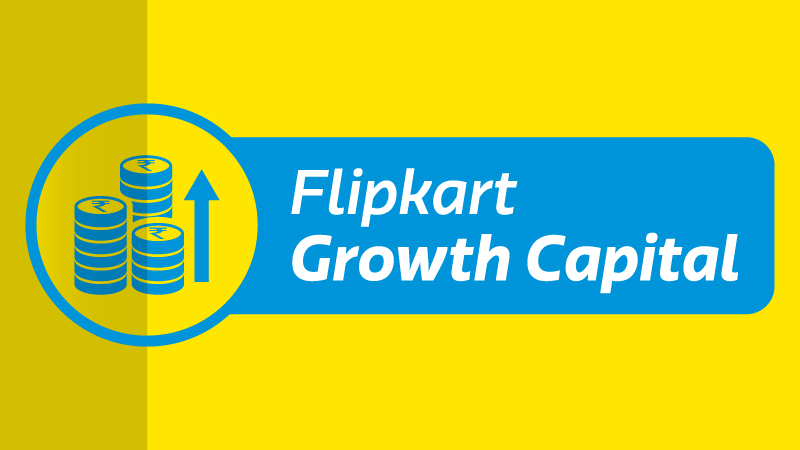 Just like Expressions Home, which opted for the capital last year. Shikhar Bhatia says, "The online market is so competitive that even a single mistake can bring a seller down. To compete effectively and to maintain a particular kind of stock that will attract customers, one needs finance. Flipkart helped."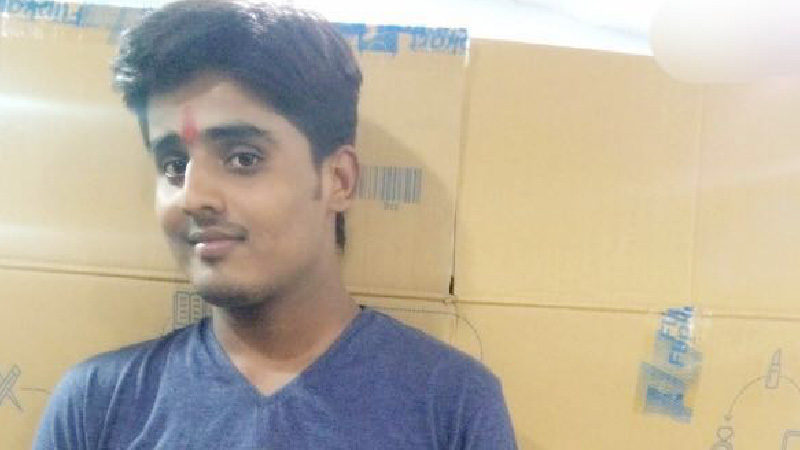 Top Flipkart sellers are creating a profitable model online
What else helps sellers like Shikhar to maximize sales, while offering customers promising deals, too? Prepping for the major sales events we organize every so often. Every year, he looks forward to the festive season — September to December — when he sees a major chunk of his sales happening. And let's not forget Flipkart's The Big Billion Days. He reveals that his team has started preparing from July itself for Flipkart's mega shopping extravaganza slated from October 2-6, 2016. "Flipkart had fortuitously informed us beforehand of the product quantities we need to work on. Nearly 80 per cent of our stock has already reached the warehouse," he says with palpable excitement.
Speaking about efforts that his brand has put in motion as preparation for The Big Billion Days, Punit of Home Candy says, "We plan for it at least three to four weeks in advance." The brand also relies on its own research. Punit mentions that his team keeps a track of what is selling organically on Flipkart. "If a particular type or style of our product is selling more, we try to source more of it," he adds.
Ankit Gupta of Advance Gear also swears by doing his own research. He says, "We get prior knowledge about the timelines of the sales events. We do a research analysis of products that have been selling, which products we have in stock, and the quantity we require. Once we get the answers, we plan our inventory accordingly." He adds that it's a two- or three-month long process.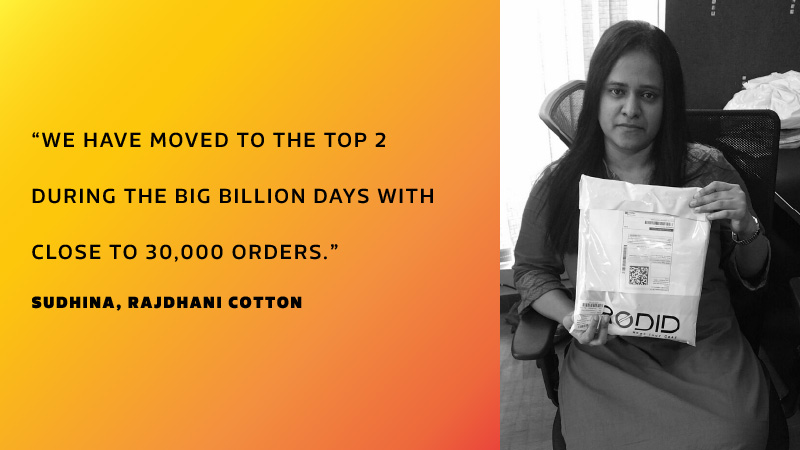 When Sudhina of Rajdhani Cotton, a manufacturer of polo and basic crew-neck t-shirts, and one of Flipkart's top sellers, joined the marketplace a few years ago, the brand was already among the top three sellers on Flipkart, she says. "From then, we have moved to the top 2 during The Big Billion Days with close to 30,000 orders," she gushes with pride. For Sudhir Agarwal of TVESA, participating in every sale event that Flipkart organizes is a must. He says, "We always plan in advance for such events. We have two or three product managers who manage the process from our end, and also communicate with Flipkart for efficient planning."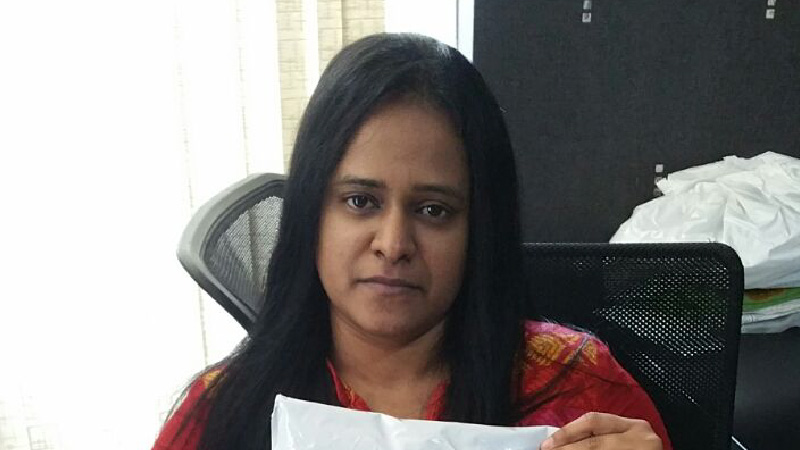 Traversing the road ahead with the top Flipkart sellers
As they deal with the challenges and make the most of their efficiency, perseverance and business acumen, our sellers are geared up to embrace the future wholeheartedly. While financial assistance from Flipkart is what Anant of LavaEstore would definitely be open to, he says he is more in support of Flipkart's advice. He says, "I would appreciate it more if Flipkart advises me on proper product selection and categorization, which in turn may be beneficial to the growth of my business." Chandraprakash of Staunch says that they would be happy to explore new opportunities with Flipkart. He says, "If Flipkart wants to work closely with us, then it's an opportunity we would not like to lose."
In a bid to better their product offerings and range, our top sellers also value customer feedback. They see that as the way to improvement. Sunita Bhatia from Loiscaron hopes that more and customers on Flipkart come forward and post reviews. She says, "Customer feedback can help us understand where we are lacking, and help us improve sales."
Gaurav of TeleVenturesSLP suggests that customers should post genuine reviews for their purchases on Flipkart. "Product reviews can distinguish an offering and generate repeat sales. Even if it's a negative review, sellers can discover the problems and work on them, and in case it's their own branded products, then make improvements in new releases. But if a person is posting a fake review, it can threaten the integrity of the product."
While giving a thumbs up to customers' common practice of opting for the best deal in terms of price, Parun of Techdeals 365 also stresses on the advantage of Flipkart Assured. "Under Flipkart Assured, customers get improved delivery service and a stricter quality check on products, among other things," he says.
There are also quite a few top Flipkart sellers who have big dreams for expanding to other categories on Flipkart, and the zeal to make their wishes come true. Take, for instance, Shikhar Bhatia of Expressions Home, who is looking to expand to men's accessories and men's clothing in the future, or Sumit of Elite Décor Pvt Ltd, who's thinking of making forays into kitchen and home furnishing. As our sellers continue to grow and inspire others with their success stories, we wish them the very best, and promise to continue opening doors to bigger and better opportunities.
---
Reported, designed and edited by Flipkart Stories Editorial. Customer data analysis by Pushpendu Kumar 
Want to be a Top Flipkart seller? Learn how to create your own success story. Browse the Flipkart Seller Hub  
Read more Seller Stories