With more customers turning to e-commerce amid the pandemic, online sellers have left no stone unturned to keep up with the demand. With prior planning and an unflinching determination to succeed, #SellfMade Flipkart seller Puneet Jain not only created a new benchmark during The Big Billion Days 2020 sale, but kept his staff and suppliers gainfully employed. Read how this entrepreneur from Panipat scaled up his efforts to find success.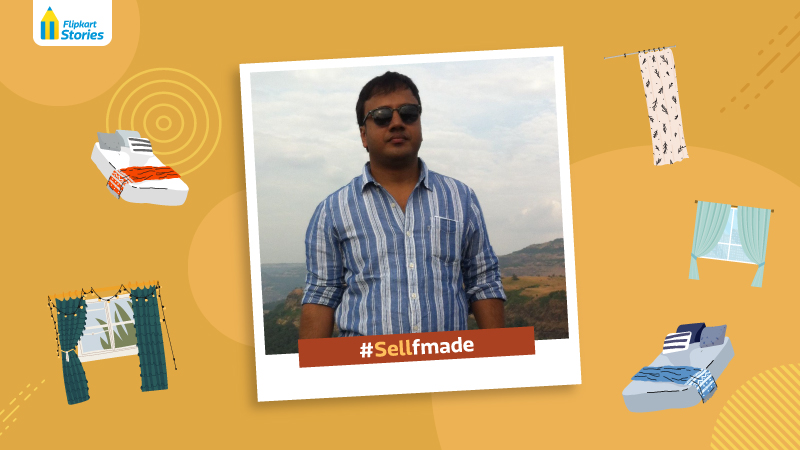 In this story: #SellfMade Flipkart seller Puneet Jain reveals the secret behind his best performance ever during The Big Billion Days 2020 sale.
---
My name is Puneet Jain and I'm from Panipat, Haryana. I started my journey as an entrepreneur in 2012, before which I was working in a regular job. I saw potential in selling online, and my experience indicated that it was only going to grow in the coming decade. It was no surprise to my family that I was thinking of starting my own business in this domain.
Panipat is a well-known hub of home furnishings manufacturers. With some research, I found that there was a niche I could own in the affordable segment of home furnishings, which, until then, only featured premium price tags.
I launched a variety of home furnishings, including bedsheets and curtains, under the brand name Home Candy, and experimented with a variety of e-commerce platforms before becoming a #Sellfmade seller on Flipkart.
Flipkart's reach and seller resources convinced me to come on board and I am proud to say that I've been a participant in all The Big Billion Days sales till date!
However, The Big Billion Days 2020 sale was a bit different. I definitely saw potential in it, since even offline sales had started to recover by the time The Big Billion Days 2020 sale was to start. Due to the pandemic, I believe the scope of e-commerce increased exponentially. In the next decade, it will be a whole new world where it will be second nature for most homes to shop online. That being said, my team and I started preparing for The Big Billion Days 2020 sale in a way that we hadn't before.
For one, we addressed safety within our warehouse by distributing masks to all our employees, sanitizing, maintaining social distance, and taking other precautions. We were supported by our suppliers and manufacturing staff too who put in a lot of effort in production. We have quite a big team and we all worked hard together.
Secondly, we were supported by Flipkart in planning for The Big Billion Days 2020 sale. I attended the Business Hours event, organized and hosted virtually in 2020, which also helped me understand spike sales and how photos can make or break the online shopping experience.
My Account Manager gave me insights on the pricing, advised me on the inventory to maintain and the target numbers to keep in mind. Flipkart gave me the best strategy and The Big Billion Days 2020 sale went off well.
In fact, compared with the previous years, we have achieved the highest numbers during The Big Billion Days 2020 sale! This success comes with great learning from the last few years. This time, we worked with better planning and took a few risks too! This was why we got better results.
We also had a very rewarding experience with the supply chain — there were more PIN codes that were serviceable this year and our pick-ups also went smoothly. The logistics were managed well, even amid a pandemic!
Preparing for The Big Billion Days 2020 sale is an event in itself. My warehouse was operational 24X7. My staff worked in shifts and put in tremendous effort due to which we were able to fulfil demands for all the 6 days of the sale, and through the festive season.
Though we were all momentarily stuck due to COVID-19, thankfully Panipat wasn't too affected. My family too supported me in going back to work by taking the right precautions. Now, I'm already planning for the next big sale!
---
Also read: Stronger together – This husband-wife duo achieved their greatest milestone as Flipkart sellers!