Fraudsters are now deceiving unsuspecting netizens with fake offers to open and run an eKart franchise. Through fake ads, social media posts, business listings, and websites, these cybercriminals aim to con you and others out of hard-earned money with false promises. Find out how to spot and report these instances of fraud.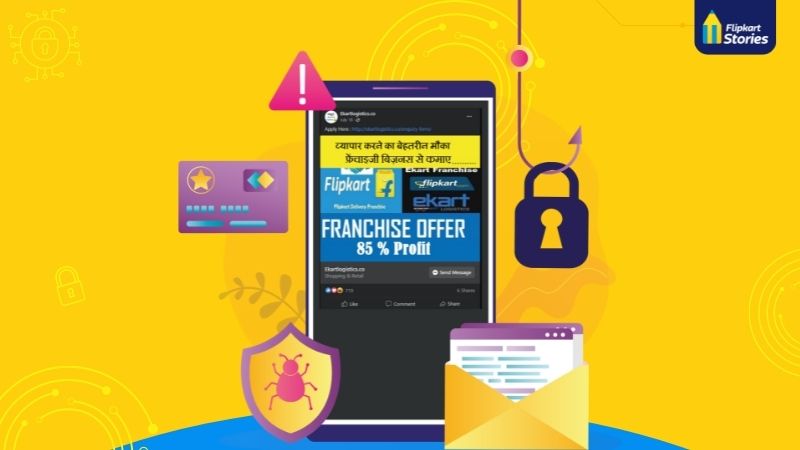 The opportunity to open an eKart franchise and work in partnership with Flipkart can be alluring. However, such invitations are an attempt by fraudsters to deceive and con.
Whether you're scrolling social media, public forums, or even just checking in on your daily emails, chances are that you may come across such offers. If you do see these, remember that Flipkart has no formal outreach programs in place to enable such franchising options for eKart, its supply chain arm.
As cybercrime and fraudulent online activities are on the rise, as per reports, it's important, now more than ever, to protect yourself with the right knowledge. Such fraudulent activities can lead to significant financial loss so be sure to keep a watchful eye out for any such advertisements.
With fake offers to run an eKart franchise flooding into popular social media websites, it is important to remember that fraudsters often operate under the guise of official Flipkart representatives. If targeted, you may receive phony calls with fake business opportunities and the promise of high profit margins.
However, with the right information, you can spot these fraudulent eKart franchise propositions easily. In their efforts to make a quick buck, fraudsters leave a trail of clues and tell-tale signs that highlight their disingenuity.
Here's a guide to help you spot these and take the necessary action to protect yourself and others from fraud.
Things To Look For In A Fake Ekart Franchise Listing
Typically, you may find eKart franchise offers in the form of advertisements, flyers, and posts on social media websites. Here are a few examples exposing these fake eKart franchise offers and things you should look for.
Social Media Post – Red Flags All Around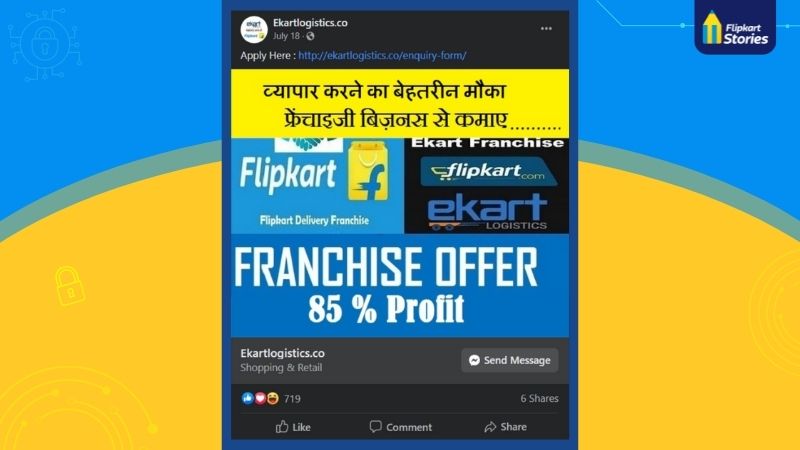 Signs of a fake eKart franchise offer: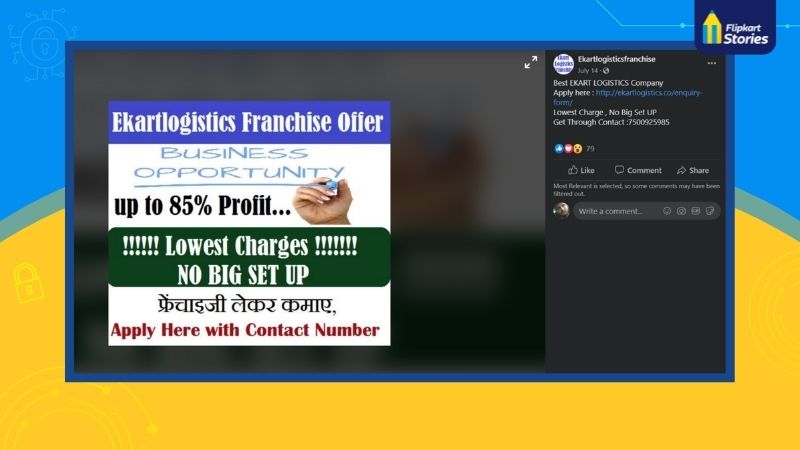 Social media account that published the post
The account is a dead giveaway and the first sign you should notice. Flipkart has never published or formalized outreach for eKart franchise opportunities, and such offers from other accounts, leaving out the official Flipkart handle, are not to be trusted.
Unbelievable offers
Claiming to offer 85% profit in a business opportunity is simply a lure to attract the unwary. In such cases, remember the old adage that states if something is too good to be true, it usually is.
Unsecured links to unofficial webpages
Clicking links that lead you to unofficial websites is a huge risk and can lead you to leak sensitive information unknowingly. A helpful tip you can rely on is to notice how the website link doesn't have the 'https' extension, but rather just the 'http' extension.
The 'S' stands for secure and any data transferred is encrypted. Naturally, for those with malicious intent, the alternative is the go-to option when looking to steal your private and sensitive data.
Fake websites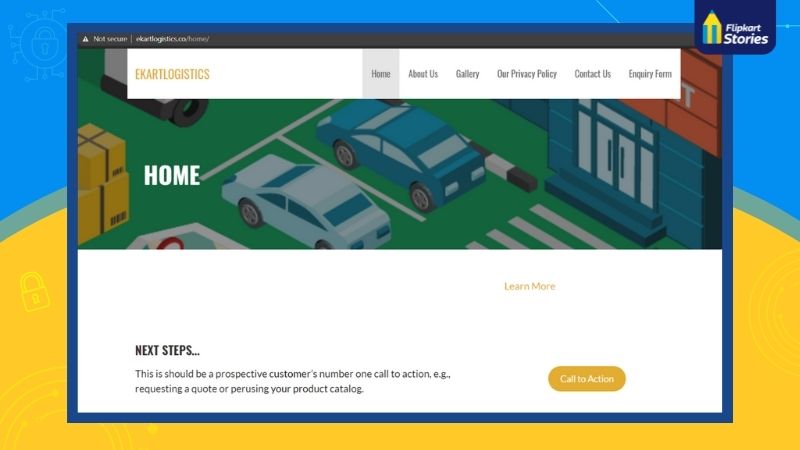 Signs to watch out for:
Unsecure URL
Fraudsters will often try to lead you to unsecured sites. The best way to know if you can trust the website is to look at the URL bar and look for the 'Not secure' tag.
Low quality website
These sites are often incomplete, lack branding, and will have poor content. You will find spelling errors, broken or dead links, and images or sections that simply do not load. What's more, the only functional element will be the form, through which these fraudsters collect sensitive information.
Fraudulent contact listing
Lastly, you may also find contact listings or even get calls from fraudsters masquerading as Flipkart representatives. In case you get a call with an offer for an eKart franchise, disconnect the call and do not engage in any further communication.
What to do when you spot a fake eKart franchise listing
As soon as you come across an offer, immediately report it to Flipkart. The right forum to report these instances would be to send an email to reportfraud@flipkart.com with evidence of such posts, websites, or details of contacts that reached out.
Do note that some fraudsters will go to great lengths to convince you of their legitimacy. They may send documents suggesting the existence of a structured application process, payment contract, and support system. Some go as far as creating fake Flipkart employee identification cards. Do not follow through with any requests and stop engaging with them right away. They are skilled at being deceitful and will try everything in their power to get you to invest your hard-earned money.
Remember, when you report a fake eKart franchise advertisement, you are not only protecting yourself, you're also helping spread awareness to deter fraudsters from targeting scores of others.
To know about the other ways to stay safe online, read more in our Safe Shopping section.