Chanakya Gupta, head of 2GUD, tells us how the Flipkart-owned independent value platform is betting big on Social Commerce to win over consumers in Tier 2 and 3 markets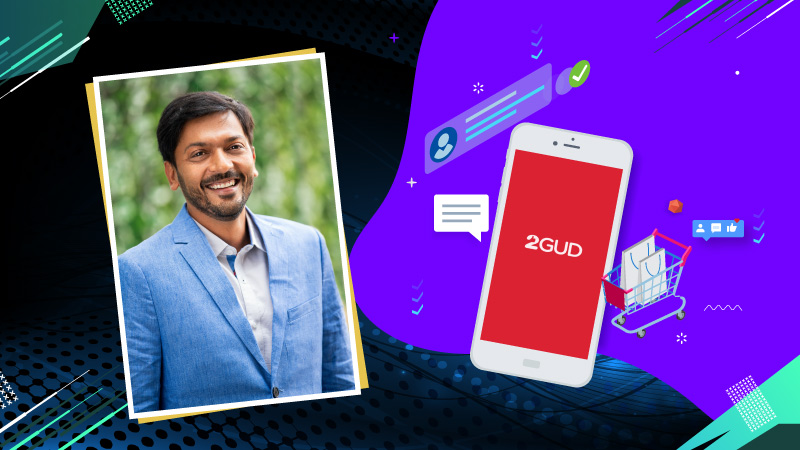 While the COVID-19 pandemic has thrown business as we know it into disarray, it has equally enabled agile and nimble e-businesses to kick into competitive gear. For retail brands, one of the seminal opportunities up for grabs as a consequence of an increasingly connected digital lifestyle is Social Commerce, an innovative concept that, true to its name, marries two highly popular daily habits of the modern consumer internet user — social media and e-commerce.
In basic terms, Social Commerce is internet commerce that enables users to shop while leveraging the power of social networks. Consider a simplified example: You are thumbing idly through Instagram and chance upon your favorite television personality modeling a pair of headphones, which grabs your attention. So intrinsic is the power of Social Commerce that you can fulfill your desire and complete a transaction to purchase the product without leaving the platform.
YourStory reported that Social Commerce was the fastest growing sector in the Indian online retail industry in 2019, with homegrown startups on-boarding in excess of 10 million resellers, and raising $100 million in funding. Businesses and entrepreneurs are implementing Social Commerce features within their business models to curate, promote and sell products to consumers. Businesses are inclined towards Social Commerce owing to the efficiency it introduces, since social media habits are already well entrenched in the lives of customers across platforms.
Chanakya Gupta, Vice President at Flipkart, has been in multiple roles at Flipkart for almost 6 years. He currently leads the independent value platform 2GUD. Launched in 2018, 2GUD started as a marketplace for refurbished goods before expanding in 2019 to new categories with a focus on delivering the latest styles without asking customers to compromise on value. 2GUD has evolved into an independent 'value' platform offering products across 600+ verticals and its offerings have been in line with the objective of making the latest trends across electronics, fashion, home and accessories affordable to aspirational Indians. With 2GUD, Flipkart has penetrated deeper in Tier 2 & 3 markets and expanded its reach to serve nearly a million customers across 15,000+ PIN codes in India. 2GUD deepens this commitment as it bolsters its Social Commerce capabilities.
Speaking to Flipkart Stories, Chanakya throws light on 2GUD's foray into Social Commerce. Excerpts from a Q&A:
---
Why is 2GUD entering the space of Social Commerce? How is this move likely to impact its existing business?
We spend 6 years and 8 months on social media in our lifetime. Research on trends shows that the number of hours we spend on social media is actually increasing. Given the current lockdown situation, this is not surprising!
Low data costs have also created a market of millions of first-time Internet users in Bharat. These users are mostly in small towns and are shopping on social media. The new generation of shoppers trust social networks to guide their purchasing decisions. Gen Z consumers prefer a human-to-human connection based on trust and relatability. Thus, we are partnering with these taste-makers to build a trustworthy, fun and familiar online shopping experience.
We are hopeful that with the launch of Social Commerce, 2GUD will be able to acquire the next 200 million customers in Bharat.
In a nutshell, how will Social Commerce work on 2GUD?
With Social Commerce, we aim to bring a unique browsing experience for our consumers — a browse-led, video-based shopping experience. 2GUD Social Commerce is currently live on our app and will be rolled out to the M-site and website soon. The idea is to provide customers with a video shopping experience where top influencers review gadgets, the latest fashion trends, and share beauty tips, and so on, while customers can shop the products tagged in those videos simultaneously. On opening the 2GUD app, customers will be exposed to a continuous feed of videos created by these influencers on various topics and categories. These videos shall feature the same products. Customers who like those products can purchase them without moving away from the context of the video. This allows for a seamless and natural content-to-commerce experience.
One of the key features on 2GUD is for influencers to create their own stores, with their content, curation of products, and collections created by them from the variety of selection offered on 2GUD through marketplace sellers. This becomes their digital storefront, which they can share seamlessly with their followers across all social channels.
How will Social Commerce help 2GUD to expand its reach?
Influencers are changing the landscape of the e-commerce industry in India. With millions of followers on Instagram, Youtube, blogs and other networks, they move the needle on consumers' decision on what to search and shop. They create authentic and engaging content, which consumers find to be relatable and real.
2GUD influencers from cities across Bharat are best positioned to understand our target audience's pain points as they are well-connected to their followers. The content that they create on the 2GUD platform will help our consumers feel comfortable and confident to shop on 2GUD.
What kind of social media influencers is 2GUD partnering with to produce content on the platform?
We have initiated our Social Commerce journey by partnering with nano- and micro-influencers to produce content. These influencers have deeper engagement with audiences at a regional or local level. They have the ability to connect strongly with their follower base, who look at them for inspiration in style, tech and gadgets, amongst others. As we progress, we would democratize our influencer base on the platform — anyone and everyone should be able to showcase their taste and recommendations to their social network.
How do you expect customers to respond to this move on 2GUD?
We added Social Commerce and Video-based shopping to 2GUD in response to the needs of our target audience. Consumers have a higher affinity to buy products that are recommended by their favourite influencers. We believe that our network of influencers will play a key role in driving their audience to 2GUD and assist them in their buying decisions on the platform.