Valentine's Day is almost here. What better way to show your adoration for the queen of your heart (and every other woman who matters) than with silver — the queen of metals! A simple indulgence in sterling silver jewelry will bring a smile to her face. And remain easy on your pocket.
Silver jewelry buying tips
Sterling silver is a good buy provided that it is genuine, so make sure to study the certification. Its finish does not wear down and its sparkle lasts for years. Watch out for jewelry that simply has silver plating — these are cheaper, but not made of silver. Rather than only looking out for lovely luster, intricate detailing and fine craftsmanship, look out for the sterling silver hallmark which sometimes has the numerals "925" or ".925" engraved or written, as these guarantee that the metal is genuine sterling silver. This means it has 92.5% silver and the rest is copper or another alloy to overcome the inherent fragility of the shiny metal.
Take the shine, patina, quality and price into consideration when you narrow down on your choices. Once you have established the purity, don't let the fancy silhouettes and etchings on today's designs delude you into imagining a lofty price tag. Sterling silver jewelry is absolutely easy on the pocket as is obvious from these 7 items (all under INR 1,000) that we have handpicked for you!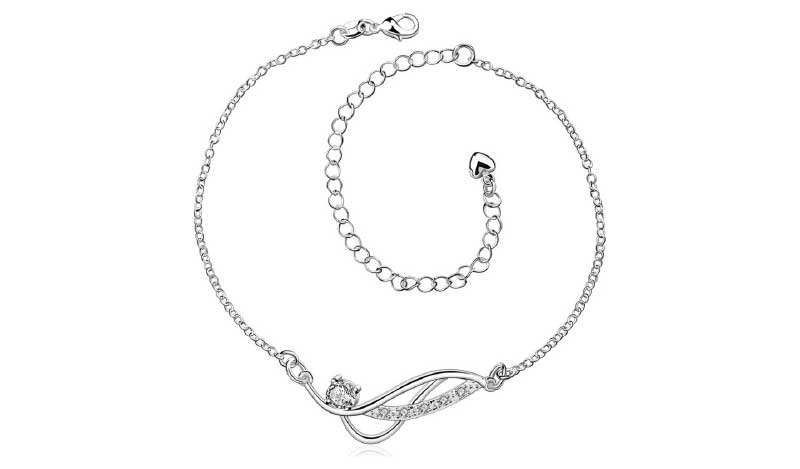 A modern blend
Fine craftsmen have rendered a contemporary feel to the traditional anklet and transformed it into a chic accessory for delicate feet. The authentic luster and striking design of the Charms Crystal Rhinestone Pendant Chain Sterling Silver Anklet will sway the most fashionable of women and make yours loony with love!
Price: Rs 348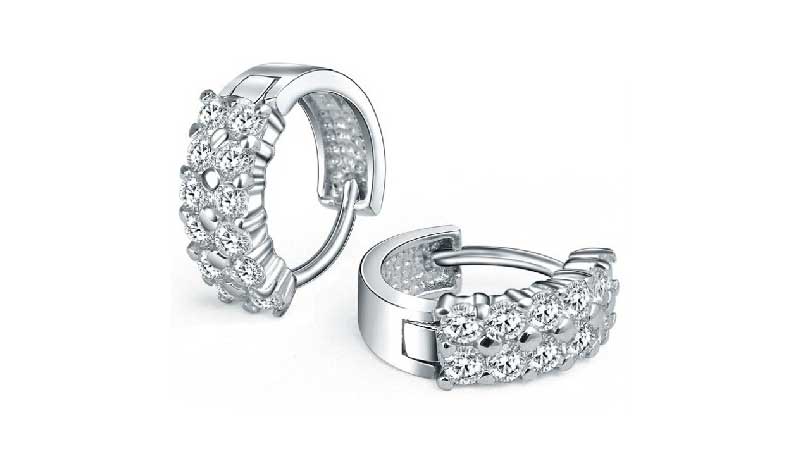 Make a statement
It's hard not be enchanted by the Silver Shoppee Magical Love Cubic Zirconia Sterling Silver Huggie Earring. No matter what your beloved's style, these 4g sterling silver earrings inlaid with sparkling stones will suit every taste and occasion.
Price: Rs 449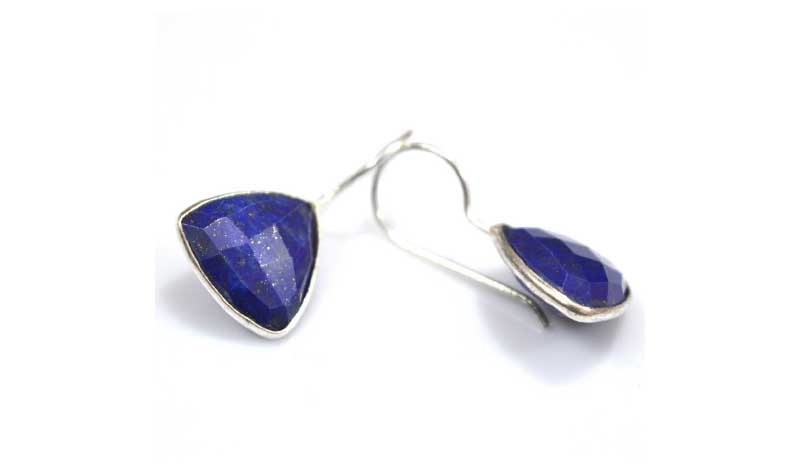 Swaying to the beat
Dangling earrings always add a touch of elegance to any outfit. These Anavaysilver Ear012 Lapis Lazuli Sterling Silver Dangle Earrings will be a great finishing touch to most monochromatic outfits, suiting modern, traditional and fusion styles. With their bright blue cheer, this will be one gift you can't go wrong with!
Price: Rs 480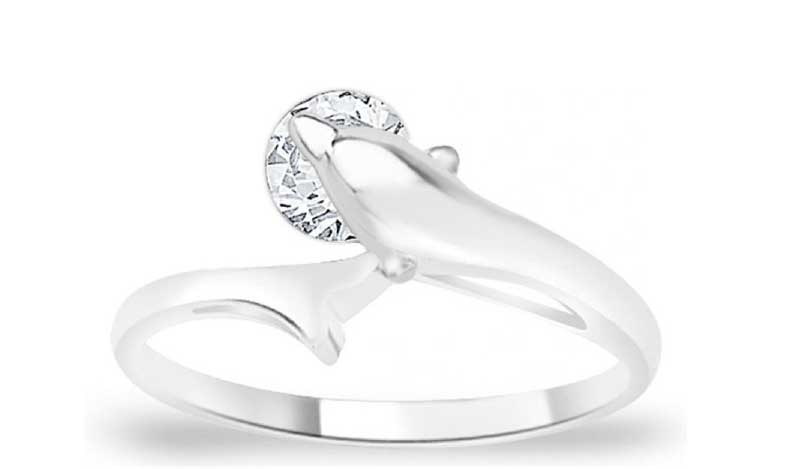 An alluring magnetism
There's something arresting about the swirls in the Taraash Sterling Silver Ring that will make her look and look again. The single white cubic zirconia stone is offset by a brilliant rhodium finish. Enjoy watching your sweetheart draw in a dazzled breath before you lovingly slide it on her pretty finger!
Price: Rs 576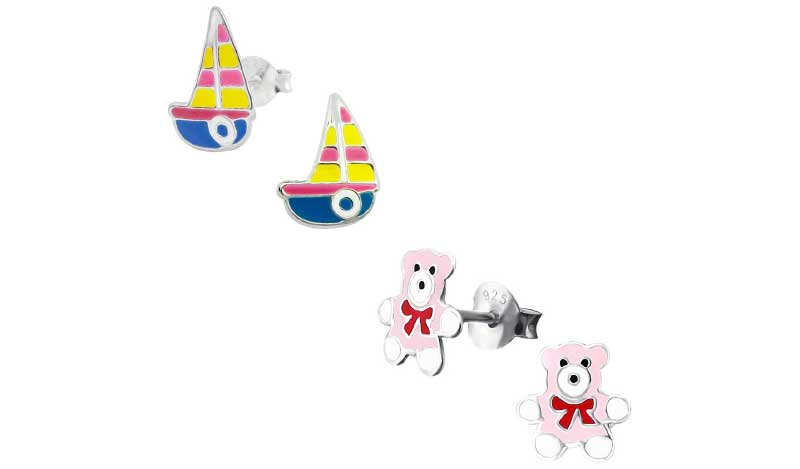 Charms for your daughter!
Big-hug love comes in small sizes, too. If you're buying your daughter a Valentine's Day present, there's nothing that will have her scream in pure delight than this cute Yellow Chimes Boats and Teddy Sterling Silver Earring Set. The pushback earrings are crafted with English colors and look delightful.
Price: Rs 895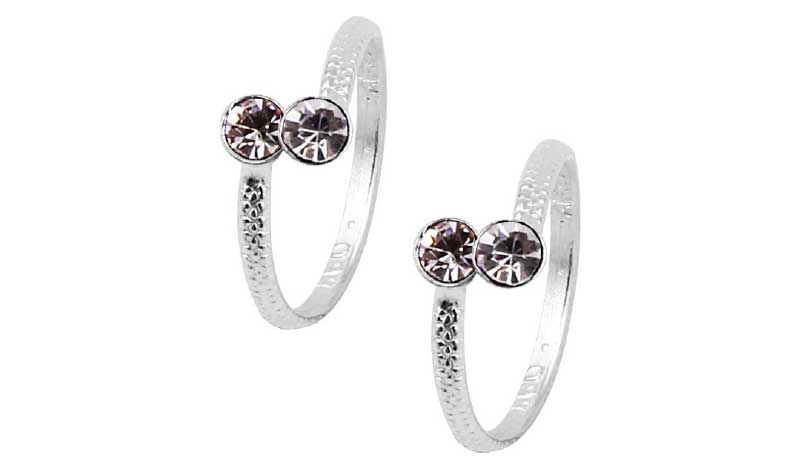 Packing in traditional elegance
The traditional beauty of a toe-ring gets a captivating twist in the Payalwala Silver Cubic Zirconia Silver Toe Ring. The sparkle looks decidedly edgy and weaves a fascinating spell of its own. Pick it up for a Valentine with a classical bent.
Price: Rs 899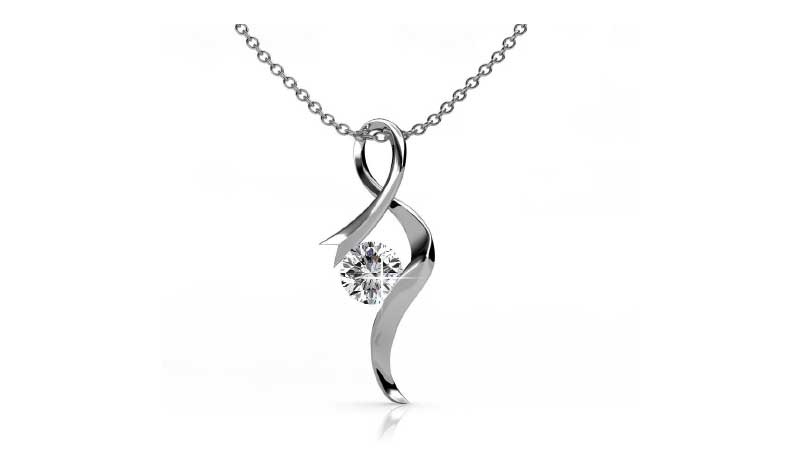 A ribbon of sparkle
The sleek and stylish design of the Zevrr Platinum Swarovski Crystal Sterling Silver Pendant is perfectly complemented by the accompanying platinum-plated chain. It comes with BIS Hallmark and a 6-month warranty too. Pick it up and have your darling swooning over it for months!
Price: Rs 939
Get ready to say the magic words. Speech is silver, remember?