Vivek Tejuja interviews Aseem Chhabra, author of Shashi Kapoor - The Householder, The Star, published by Rupa. Also read excerpts from the book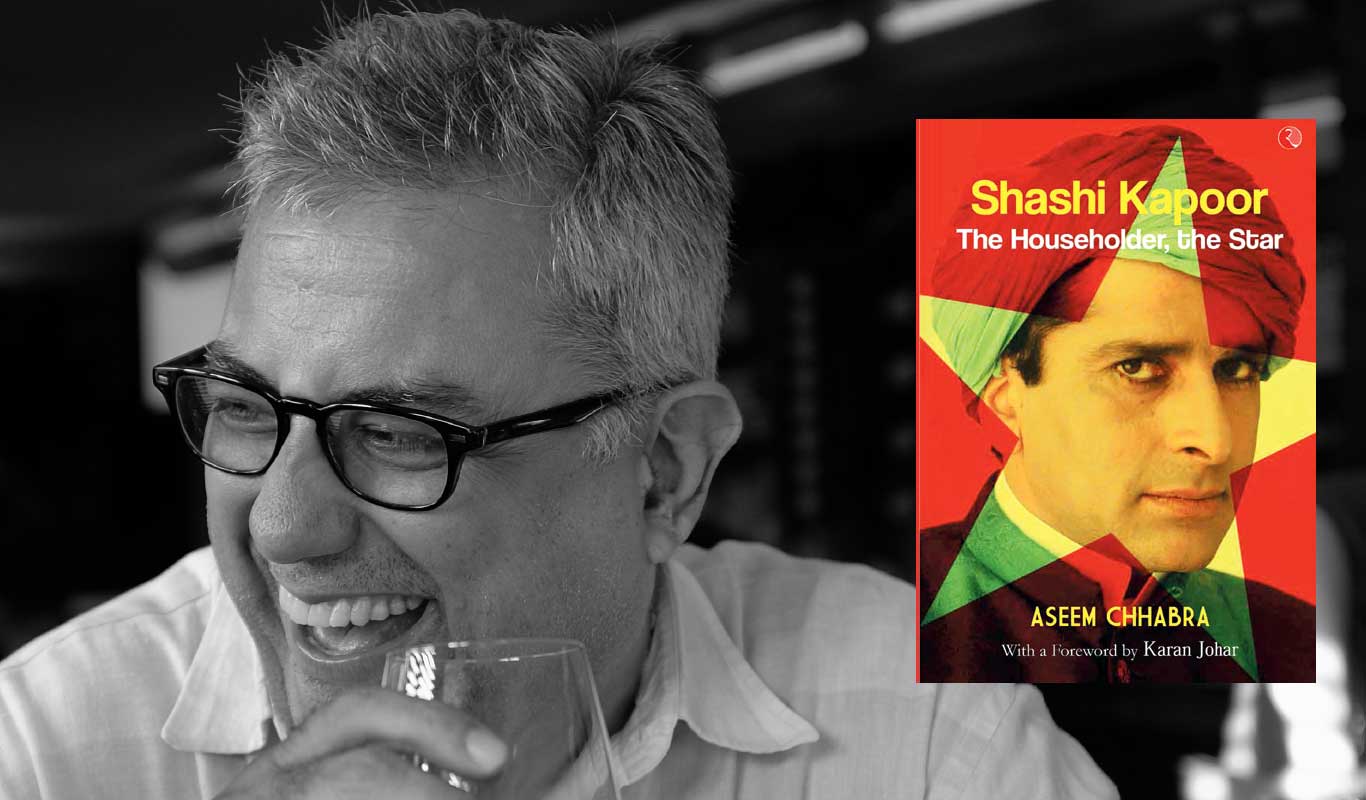 Aseem Chhabra has been writing about films for more than two decades. When the time came for him to write a book, he chose for his subject an actor and star who shone bright on the firmament of Hindi cinema long before it was objectified as Bollywood. The reticent and reclusive Shashi Kapoor, the protagonist of Chhabra's evocative new biography, may have kept away from the limelight for many decades. However, in Shashi Kapoor – The Householder, The Star, Chhabra brings the great actor vividly back to public memory in a way that only an adoring fan can.
Vivek Tejuja interviewed Aseem Chhabra for Flipkart Stories. Excerpts: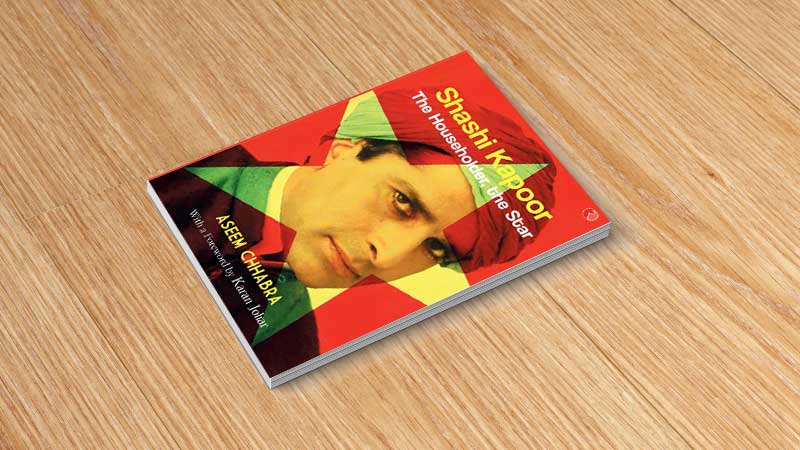 Vivek Tejuja: Why did you decide to write a book on Shashi Kapoor? Why not any other star?
Aseem Chhabra: I have been a fan of Shashi Kapoor since my teenage years when I watched films like Sharmeelee and Deewar. In the 1970s I watched many of his earlier films Jab Jab Phool Khile and The Householder, which was the first film he made with the (Ismail) Merchant-(James) Ivory team. I always admired Shashi Kapoor for his restrained performances and his uber charming personality. He was so handsome at that time.
I have lived in the US for 35 years and all this while I was also following most of Shashi Kapoor's films that he made outside India or with non-Indian production companies – Heat and Dust, In Custody, Sammy and Rosie Get Laid, Jinnah and his penultimate film Side Streets.
So, in a way, this book marries my life in India and the US through Shashi Kapoor's films. It's the book I had been preparing to write for a long while – much before I actually planned to work on it.
In recent years I sensed the current generation had forgotten Shashi Kapoor's contribution to cinema. So, I wanted to tell the story of a man – a movie star, an actor, his commitment to good cinema as he produced films and acted in indie projects, his love for theater, and Shashi Kapoor the householder – husband of Jennifer Kendal Kapoor and father to three children — Kunal, Karan and Sanjna.
In the book you haven't focused a lot on the relationship Shashi Kapoor shared with his wife. They just come in between as anecdotes. Why so?
I wanted readers to appreciate Shashi Kapoor through his work – his landmark films. I have written his biography through these films. In the process I do write a bit about his personal life – his love affair with Jennifer Kendal, their marriage, children, the household that Jennifer ran, giving her children a normal life away from the crazy world of Hindi cinema.
But all of this was just part of who Shashi Kapoor was. I felt that the readers should really discover the man, the actor, and the star through his real legacy – his films. I want them to revisit the films I write about or watch them for the first time.
Do you think Shashi Kapoor was one of the first actors who had no qualms about acting in ensemble cast movies? Why so, given actors till date have a problem with such roles?
There are other actors who easily transitioned to the multi-star film model of the 1970s and 1980s. Actors like Shatrughan Sinha, Vinod Khanna and, of course, Amitabh Bachchan. But Shashi Kapoor was the most congenial of the Hindi movie actors. He was very professional, treated everyone alike with respect, and producers, directors as well as co-stars loved working with him. He had no ego.
Stars and actors are often only obsessed about their images. Of course, Shashi Kapoor did care about how he was projected on screen, but when he acted in commercial films he was fully aware of the reasons why he was doing those films – they paid well and supported the lifestyle that he had to maintain for his family. And when he had to focus on cinema as an art form he would act in films produced by the Merchant-Ivory team or later he even started producing his own films.

Your top 5 favorite Shashi Kapoor films and why?
This is a tough question, but I will try and answer it.
Kalyug – Shyam Benegal directed this modern day adaptation of the Mahabharata. Shashi Kapoor plays Karan, modeled after the tragic character in Hindu text. It is an intense performance and look out for the moment when Karan discovers the identity of his mother. I have never seen such a complex portrayal in a Hindi film.
Junoon – Also directed by Shyam Benegal and the first film produced by Shashi Kapoor where he plays the lead role of Javed Khan, a married Pathan in love with a young Anglo-Indian woman. Shashi looks dashing with his moustache and the stunning costumes designed by his wife Jennifer. Meanwhile, Jennifer plays the British mother of the young girl. And there are some really powerful scenes between Shashi and Jennifer and also Shashi and Shabana Azmi (his wife in the film). Junoon is an epic — a grand costume drama set against the backdrop of the 1857 Mutiny — and it is truly satisfying for the senses and the soul.
In Custody – A heartbreaking story of an aged Urdu poet (Shashi Kapoor), his two bickering wives (Shabana Azmi and Sushma Seth), and a hapless college teacher (Om Puri) who is assigned the job to interview the poet. Based on a novel by Anita Desai, this drama was directed by Ismail Merchant, who was best known as the producing partner in the Merchant-Ivory team. Shashi Kapoor is soulful as the tragic man, often drunk and being used by his so-called admirers. Shashi had put on a lot of weight when In Custody was made in the early 1990s. But his body stature suited his character.
Jab Jab Phool Khile – Shashi Kapoor's first hit made in 1965 with Nanda. A terribly romantic film with the standard class dimensions plot (rich girl-poor boy romance), JJPK is a far better film than the 1996 remake Raja Hindustani with Aamir Khan. The film can be appreciated for its lovely songs 'Pardesiyon Se Na Ankhiyan Milana,' 'Na Na Karte Pyar' and my favorite 'Yeh Samah' – Nanda singing on the rooftop of a houseboat (although perhaps it is a studio) and an adorable Shashi Kapoor hiding and listening to her. JJPK is commercial Hindi cinema at its best.
Dharamputra – The first film directed by Yash Chopra – explores the Hindu-Muslim divide in post-independent India. Shashi was all but 23 at the time of the release of this landmark film. It should be seen for its strong dramatic storyline, Shashi's powerful performance as a young Hindutva follower who is given the biggest shocking news of his life and one lovely song 'Bhool Sakta Hai Bhala Kaun.' About the song ( I quote from my book) — it's "a small, albeit touching, diversion in an otherwise tightly focused story — has Shashi's Dilip Rai singing in Mahendra Kapoor's quiet, dreamy voice to his love interest in the film, Meena (played by Indrani Mukherjee), seated across him. Shashi wears a pencil-thin moustache – a touch that makes him even more dashing – and recites a love poem his character has written; the beauty of the scene is enhanced by the film's black-and-white imagery."
What are your foremost experiences of watching Shashi Kapoor movies?
There are so many. I skipped school with some friends to see Sharmeelee at Delhi's Regal Cinema. There was something deliciously wrong about watching the handsome Shashi Kapoor sing 'Khilte Hain Gul Yahan' when I knew I would get caught by my teachers. In 1983 I stood in a long line on Manhattan's Fifth Avenue to watch James Ivory's Heat and Dust. It is hard for me to put in words the joy of seeing Shashi Kapoor as the Nawab on a giant screen in New York City. Last year while researching for this book, I woke up in the middle of the night to watch Pyar Ka Mausam on YouTube. I had the biggest smile on my face watching Shashi holding a guitar in one hand (for no apparent reason) and singing 'Ni Sultana Re' to Asha Parekh.
What do you make of Shashi Kapoor as a producer?
He was a most generous producer, always willing to meet the demands of his directors. He was involved in every aspect of the filmmaking process – since he had been an actor and he understood cinema. But he was a bad businessman. His generosity would go overboard. He didn't know how to control spending money. All the films he produced, including Junoon, Kalyug, 36 Chowringhee Lane, are masterpieces, but they lost money.
I have always been enamored by his choice of roles and acting in Merchant-Ivory productions. He truly was one of the first so called "cross-over cinema" actors. What do you think of those movies?
I am a big fan of the Merchant-Ivory films. And most of them – including the six with Shashi Kapoor (The Householder, Shakespeare Wallah, Bombay Talkie, Heat and Dust, The Deceivers and In Custody), I discovered in New York at screenings held in museums and art house theaters. These are good, solid, entertaining dramas and each of the six films show Shashi Kapoor's range as an actor. My goal in writing this book is for the readers to discover this side of Shashi Kapoor – the hugely talented actor, by watching these films.
Click here to buy Shashi Kapoor – The Householder, The Star on Flipkart
---
Read excerpts from Aseem Chhabra's book Shashi Kapoor – The Householder, The Star (Reproduced for Flipkart Stories readers with the permission of Rupa Publications)
Connect with Aseem Chhabra on Twitter. Vivek Tejuja writes on all things books. Tweet to him @vivekisms
Aseem Chhabra's photograph by Dev Benegal. Used with permission.
Banner image design: Arjun Paul