Ankur Tulsian shouldered great responsibility when his father handed down the textile business that had been in the family for generations. With big dreams of taking the business to new heights, Ankur signed on to become a Flipkart seller. The fruits of the new partnership helped him maintain a revenue stream even through challenging times. Here's his story, in his own words.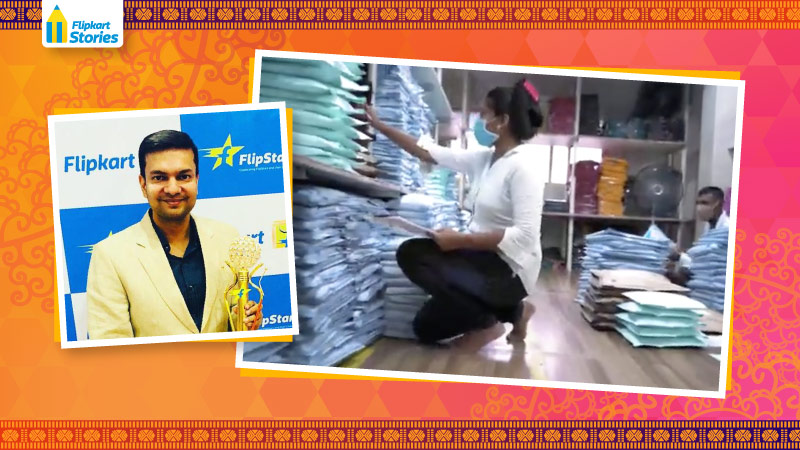 In this story: When selling online helped this Flipkart seller expand his family business, navigate uncertainty and realize his, and his predecessors', dreams!
The textile industry being one of the oldest and most widespread in Surat, Gujarat, it is no surprise that the city gained fame over centuries as the Silk City of India. A major part of the city's population is associated with the textile industry and the city remains the commercial hub for textiles in the country.
Among the many textile business owners in Surat is a Flipkart seller running a family business handed down through generations. Entering the world of e-commerce and selling online helped this seller take his business to heights his forefathers could only have imagined. This is Ankur Tulsian's story, in his words.
---
My name is Ankur Tulsian and my brand is Anand Sarees. For generations, my family has been making a name in Surat's textile industry and now we are enriching our legacy. My father was born and raised in Delhi. He worked there for some time before he shifted to Surat. I was born here and I've lived here all my life.
---
A valued seller and partner, Ankur of Anand Sarees created a heartwarming video thanking Flipkart for its support during this challenging period and to give customers a look into the safety precautions in place at his business. Watch the video for more:
---
We are involved in core manufacturing or in-house production. From making the thread to the finished saree, everything is done in-house. We have a weaving unit and a processing house. We don't have a retail store in Surat, but we have a wholesale store.
I've noticed a stark difference between selling online and offline especially for the textile industry. Selling offline, we had to wait for almost six months before we got any data on how customers are responding to our designs and materials. We had to wait till customers started browsing through what we offer at retail stores and then establish areas of improvement from customer feedback. Online, the process is much easier and quicker. Within a week of listing our products, we have usable data on how we can modify designs and expand across more categories in textiles. The data also keeps us up-to-date with changing trends. We get customer feedback almost instantly and that helps us adapt.
"The difference between selling online and offline with respect to customer feedback is like theatre and cinema. Selling online, you get to see your audience respond live and instantly." – Ankur Tulsian, Anand Sarees, Flipkart seller
Amid the COVID-19 lockdown, our textile sales had dropped. I was waiting for the government to lift restrictions on non-essentials and when the time came, I procured passes for employees and imposed every known precaution to be safe. Our partnership with Flipkart has been very fruitful. After I became a Flipkart seller, I saw more opportunities to expand the business.
Working with Flipkart has helped my business a lot. It's a dream come true!
As told to Jishnu Murali, with additional inputs from Pallavi Sudhakar.
Also read: Selling Online On Flipkart, This Homesick Entrepreneur Found His Way Back Home!
This homesick entrepreneur found his way back home with Flipkart