When Mohammed Abrar took up his first job at Flipkart, he didn't realize that a few years down the line, he'd be partnering with us to become a #SellfMade Flipkart seller! His experience as a Flipster dared him to dream. Today, he is a gold-rated seller! Read his inspiring story.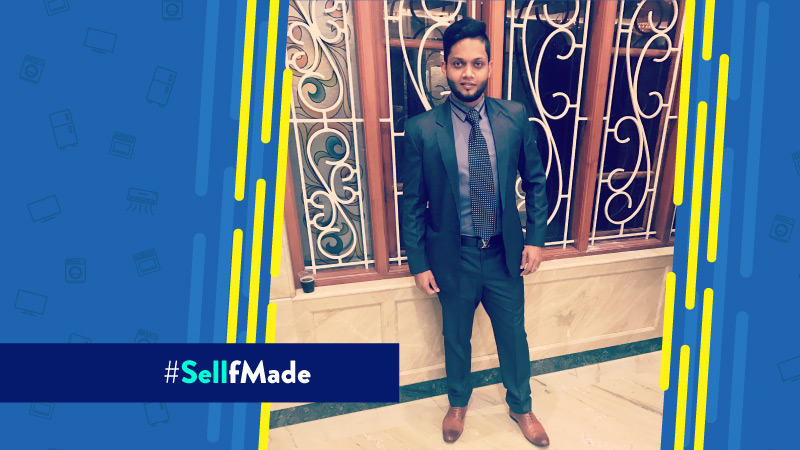 I became a Flipkart seller in 2017. But back in 2011, I was a Flipster! I decided to launch my own brand but things didn't work out like I had envisioned. So I began selling on Flipkart for Samsung electronics online with my managing partner, Mohammed Zunaid. We also have 10 retail stores in Bangalore. The idea of becoming a seller came to me when I worked in the Large Appliances category at Flipkart. My work experience helped me understand what to expect if I began selling on Flipkart. It was one of the promising categories that Flipkart was focusing on.
Working at Flipkart was my first job. I knew immediately that I had made the best start possible for my career. There are a lot of things I picked up working at Flipkart for over 4 years. Being professional in every way was one of the first things I learned. I also learned how to work with internal and external stakeholders. Flipkart gives employees the freedom to explore their capabilities in their respective responsibilities at work. Flipsters also have liberty to think out of the box and this really helps them to solve for Indian shoppers online. I may not be a Flipster anymore but I am still very much a part of the Flipkart family as a seller. I am still in touch with my lovely ex-colleagues.
Recently, I received my gold status certificate and I am really happy. I have retained gold status since the start. Flipkart was my first choice to partner with to become a successful seller. Over a period of time I tied up with other online retailers too. It's been a roller-coaster journey so far!
Every year we see significant growth in our category. The Big Billion Days sale happens annually and each year we reach new milestones! In my time as an employee and as a seller, I've noticed that sellers who work with multiple brands often see better results selling online. So now we have planned to diversify and bring other brands into the fold. Hopefully before this year's The Big Billion Days sale, we'll be selling on Flipkart for more brands.
I've noticed that every year, Flipsters look forward to learning from The Big Billion Days experience. In 2017, The Big Billion Days saw a small snag that led to a few problems. By next year, Flipkart had already solved to ensure that the same problems didn't arise. Even sellers learn a lot from every sale.
The seller events organized by Flipkart are vital to a seller's success. You get a lot of insights on various categories you wouldn't get otherwise. It drives the mindset of opening other categories too. We get to meet lots of other sellers, exchange knowledge and insights on performance. These events are also quite motivational for the sellers. We get planning insights from the Flipkart Seller Support team. I'm looking forward to this year's The Big Billion Days sale. We have big plans to expand our business across categories!