While the lockdown made it difficult for most of us to get groceries and supplies, pet owners across India had the extra burden of figuring out how to source pet supplies. Foodie Puppies Group, a small company running mostly online on Flipkart, has made it their goal to ensure that pet owners have everything they need to ensure that their beloved pets are happy and healthy. Read their story.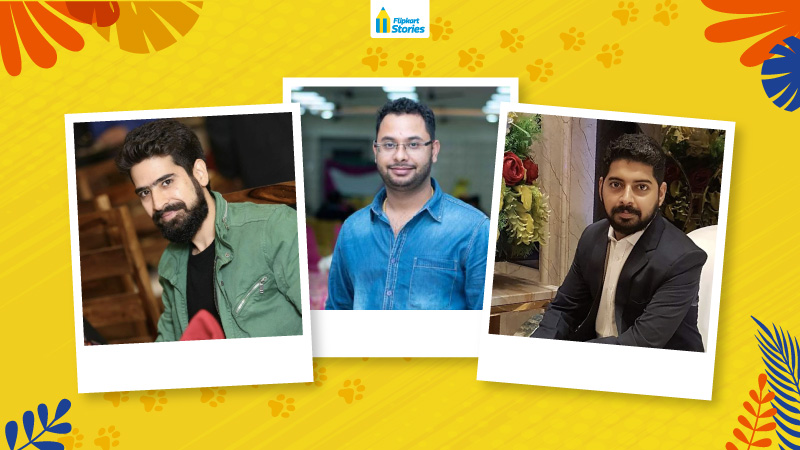 When the lockdown due to the COVID-19 global pandemic was established, many found it difficult or impossible to step out of their homes to buy groceries and other supplies. Among these people were quarantined pet owners, whose pets, too, unwittingly found themselves under quarantine. Many pet shops in and around their localities had closed their doors to help combat the spread of the deadly Coronavirus. But Foodie Puppies Group, a small company selling pet supplies online, helped pet parents ensure that their pets are healthy and well fed. This is their story.
"My name is Ankit Pahuja. I really like animals, birds and fish. I make sure to keep water and food for them wherever I can. A venture born out of my love for animals, I had the idea of selling pet supplies to pet owners online about four-and-a-half years ago.
I explored the idea with my business partners, Sidharth Gulati and Varun Kalra, and became #Sellfmade Flipkart sellers. I sell pet food and accessories. Now, 95% of the business has adjusted to the online selling model.
During this lockdown period, we have understandably received more orders than usual. We just want to make sure pet owners don't face difficulties in caring for their pets. So we ensured that our prices remained the same for these supplies. We're not looking to profit from the current situation.
We made sure that we were stocked up but because of the surge in demand, 50% of our stock is over. We're working on getting stock from vendors closer to our locality. We even sell imported products like Pedigree. The vendors are charging more for these products and we hope the situation will ease up soon.
We are taking every precaution to ensure that we're safe during this pandemic. Meanwhile, we also focus on ensuring that our customers and their pets are safe too. We use sanitizers and also sanitize our workplace every two hours. We've placed sanitizers and soap dispensers at the entrance. Everyone who enters our premises undergoes temperature checks with an infrared thermometer. Masks are mandatory and no one can enter without it. We even pick up our employees in our car to get them to the workplace.
When the lockdown was first established it was difficult to start up our operations. With Flipkart's help, we got a certificate of permission from the District Collector and got approval to run the business.
From 22 March to 10 April we were completely shut down. But our Account Manager at Flipkart has helped during the COVID-19 pandemic a lot. She updated us on what products can go live and we also updated our listings as per her guidelines. Flipkart ensured that we received our payments on alternate days.
When you order online, the products come directly to your doorstep. There is no contact or risk of infection and social distancing is maintained. E-commerce is indeed helping a lot at this time. So please don't go out. Take care of yourself. And stay healthy."
In addition to being a source of love and friendship, pets also help many of us alleviate stress and anxiety. They provide companionship, affection and protection and form unique bonds with their owners. So with sellers like Ankit and his partners, Sidharth and Varun selling pet supplies online, we are able to ensure that our nation's pet owners too can relax at home amid this stressful global pandemic, as their pets rest by their side enjoying quality products at affordable prices!
As told to Jishnu Murali, with additional inputs from Pallavi Sudhakar.