The decision to sell on Flipkart was a game-changer for #SellfMade seller Mukesh Kumar. A second-generation entrepreneur, he's taken his family business Shan Enterprise digital with Flipkart, and charted a course for success. Read his story here.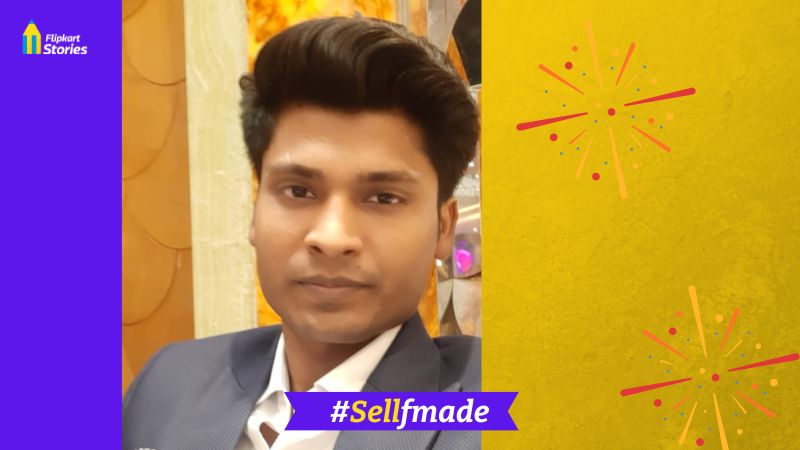 For 26-year-old Mukesh Kumar, onboarding to the Flipkart platform was more than just a means to make ends meet. The idea was to carry forward his father's legacy, build on the small business, and sell on Flipkart to establish a brand that Indian shoppers could trust. Fueled by an unyielding drive to succeed, and his responsibilities as the eldest brother to 3 siblings, Mukesh is taking Shan Enterprise to new heights.
'I want to sell on Flipkart' – Mukesh's Story Of Finding Purpose
A B.A. Honors graduate with a specialization in political science, Mukesh Kumar had an idea of what he wanted his future to look like. He envisioned himself finding a job, working hard at it, and staying the course for at least three years. But as he entered the fray, the pandemic struck, and his prospects took a nosedive as soon as the lockdowns hit. Unwilling to quit, he continued looking for opportunities for another six months, but came up short.
Undeterred, he knew it was time to pivot, and wasted no time in getting involved in the family business. Launched by his father in the late 1990s, it deals in leather items such as wallets and school bags. While there was demand in local retail, Mukesh knew that the future was online. Now that he had a goal, he made it his focus to launch the digital arm of Shan Enterprises. And, in January 2021, he officially joined the e-commerce platform and began to sell on Flipkart.
"I chose Flipkart because of its logistics system and team. I asked a few sellers about it too and they responded positively. I decided to sell on Flipkart because the service was better than the competition, and there weren't any difficulties in getting started," says Mukesh.
Second Generation Success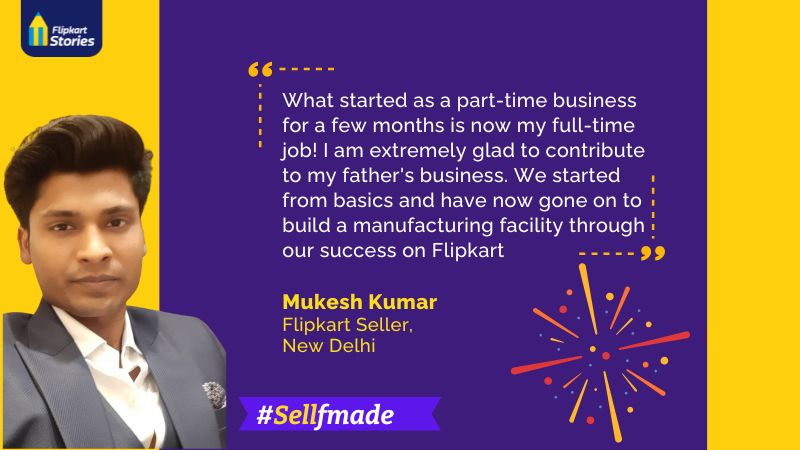 Knowing that the e-commerce space is competitive , Mukesh began with conservative expectations. In his first month, he got 5-6 orders and considered it a teachable moment. He realized the importance of a business structure, the need for cataloging, and promotions, and the value of a support ecosystem.
"Flipkart's account managers were very helpful. They offered insights on how to increase sales and which product to stock more of to help increase sales. Flipkart helped me with every problem I raised," he says.
Today, with just a team of three, Mukesh handles the e-commerce aspect of Shan Enterprises, while his father handles the offline and retail end.
"What started as a part-time business for a few months is now my full-time job! I am extremely glad to contribute to my father's business. We started from basics and have now gone on to build a manufacturing facility through our success on Flipkart," he explains.
As he gears up for The Big Billion Days 2022, Mukesh hopes to make this year better than the last. Noticing a 50% growth during this event in 2021, he realized the only bottleneck was a lack of sufficient inventory. Learning from this, he's now working toward maintaining a full stock in the warehouse during BBD in 2022 to ensure higher sales.
To sell on Flipkart is to be part of an ecosystem that strives to optimize every vertical. And Mukesh cannot wait to leverage a pan-India reach to attain his next milestone – selling 500-600 units a day in the next six months.
---
Also read: Shine bright like a diamond: Flipkart seller Kamlesh Seladiya's success story, 25 years in the making