Which bank cards are in your purse or handbag during The Big Billion Days sale will determine how much you can brag about the deals you get! So here's an inside tip. Make sure you take the morning off and head to your bank. Apply right away for SBI credit cards and debit cards that will fetch you the biggest, juiciest deals. Make haste, because India's biggest sale runs from October 2 to October 6.
---

---
Other than the massive discounts available to all customers shopping between October 2 and 6, Flipkart is offering SBI debit and credit card holders a few pleasant surprises. If you don't have a credit card or debit card from State Bank of India, we strongly recommend that you get one right away!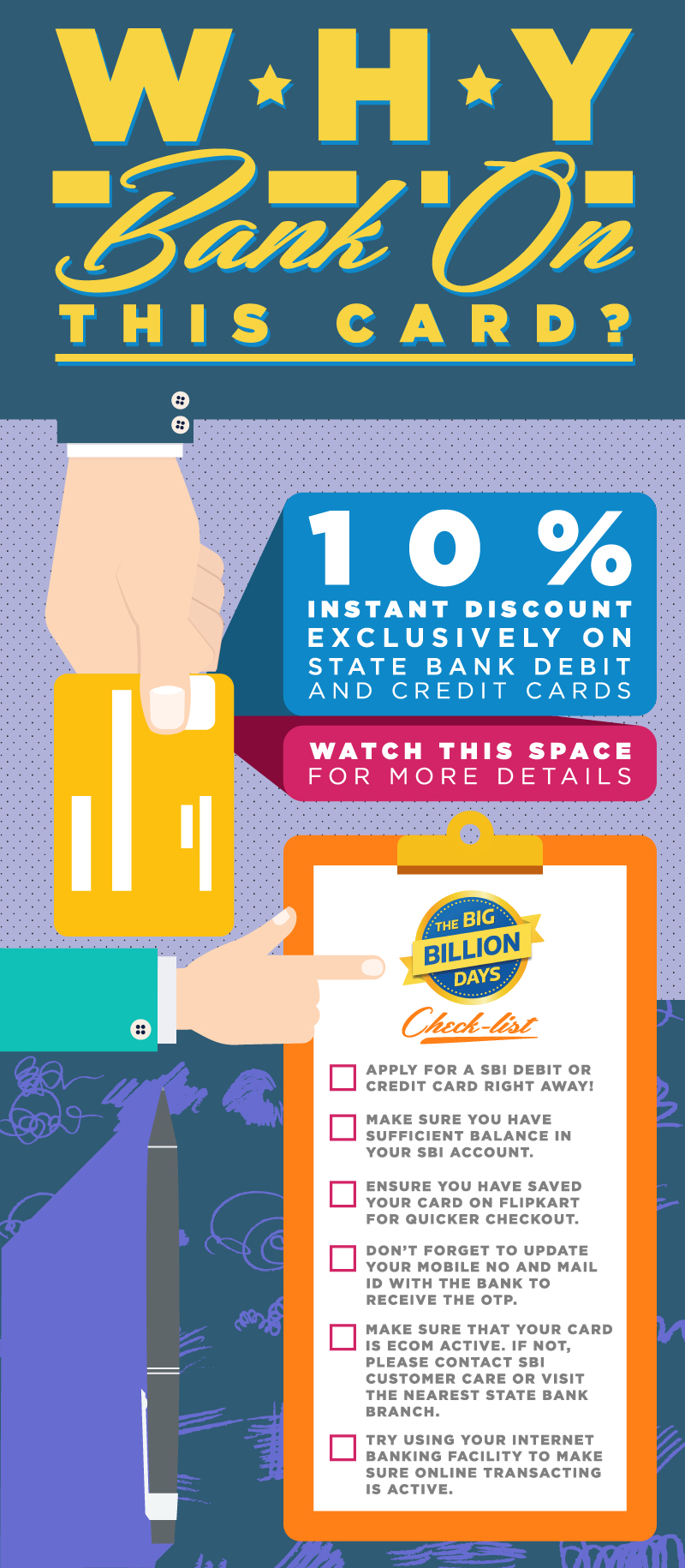 Keep an eye on the above info-graphic for an idea of the benefits available to SBI card-holders. For starters, there will be an 10% instant discount for those transacting through State Bank of India. More details on deals and discounts will be revealed closer to the sale dates but here's a tip: get on with the paperwork and apply for these cards.
This is all we can tell you right now! Details are in the info-graphic. Share it, if you haven't already.
If you don't have an SBI card, now is the time to get one. If it's a debit card you're after, make sure you have ample balance in your savings account. Once you get your card, save it on Flipkart to make check-outs easier during Big Billion Days.
---
Why SBI cards are your best bet for Big Billion Days

If you hold a State Bank debit or credit card, you can avail an instant discount of 10% while shopping during The Big Billion Days. This offer is the best of its kind, and beats every other online shopping offer available during this period.
Here's what you need to know.
Is this an instant discount or cashback?
When you shop with your State Bank Debit or Credit card, you get an instant discount (not a cashback) of 10%. What's the difference? Allow us to explain.
For example, if you purchase a product for INR 10,000 with your State Bank debit or credit card, you get a discount of INR 1,000 immediately and you pay only INR 9,000 at the time of checkout. However, in case of cashback offers, you must make the full payment during checkout and the cashback of INR 1,000 is credited to you within the next 90 days.
Clearly, this is a great deal that Flipkart is offering on State Bank debit and credit cards during The Big Billion Days.
Is there any maximum limit on the instant discount?
This offer allows you to save up to INR 5,250 during the Big Billion Days. Yes, that's right! While the online shopping market offers cashbacks with small upper limits, Flipkart brings to you an unbeatable discount of up to INR 5,250 on State Bank cards, spread across the 5 days of the festive season. And don't forget, that this offer will be applicable in addition to the other great offers that are applicable on the products. Now this is what you call "the cherry on top"?
So have you applied for your State Bank card yet?
---
The Big Billion Days, India's biggest sale, opens to customers in India between October 2 and 6, 2016. The sale will run across Flipkart's desktop site, mobile app and mobile site.
---
Get a sneak-peek at all offers during The Big Billion Days 2016 here