Launched in November 2015, the Samsung Galaxy On7 has taken the Indian smartphone market by storm. Priced at an affordable ₹10,990, it generated a lot of hype in the mid-segment market with features like its 13 MP rear snapper, TouchWhiz user interface and battery life. The smartphone is now available on Flipkart during January 7 and January 8, 2016 on a special offer price—at a flat discount of ₹1,000 and a discount of upto ₹5,000 on an exchange.
Coupled with Samsung's great after-sales service, the Galaxy On7 seems to be one of the best available smartphones in the price segment it occupies. But is the phone really all that it's made out to be? Let's see what reviewers and users of the device are saying.
Twitter users @RachanaTrivedi1 and @KhanAzam60 were taken by the phone's screen size and OS:
@SamsungMobileIN Who would not dream on Samsung On7 who is jumbo with 5.5 inch display.. Beautiful Beast#jingleOntheway #Galaxyon5on7

— Rachna Trivedi (@RachanaTrivedi1) December 24, 2015
@SamsungMobileIN #GalaxyOn5On7 is a great gift b'coz Samsung Galaxy On7 runs Android 5.1.1 and it is a slimmest phone 😍 #Jingleontheway

— Azam Khan (@khanAzam60) December 24, 2015
The phone became so popular right after its launch that it even knocked out Apple's iPhone 6s in GSM Arena's 'Top 10 Trending Phones' list!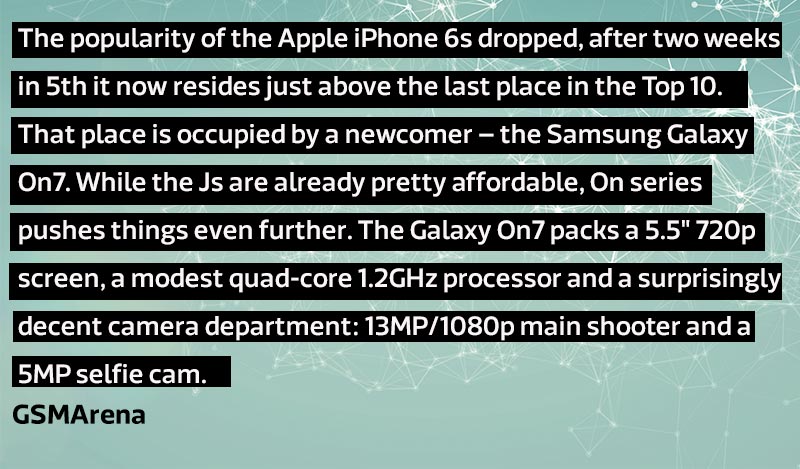 With a 5.5-inch HD TFT display, the On7 runs on Android Lollipop v5.1 and has a 1.2 GHz Qualcomm Snapdragon 410 Quad Core Processor and 1.5 GB of RAM. Its display and color output impressed @Broken_Angel_09:
Samsung On7 delivers exceptional details, colors and tones for excellent visuals. #GalaxyOn5On7 #Jingleontheway `

— ★ Mahi ★ (@Broken_Angel_09) December 24, 2015
Vishal Toshiwal of PhoneRadar found himself very satisfied by the phone's performance. Read his full review here.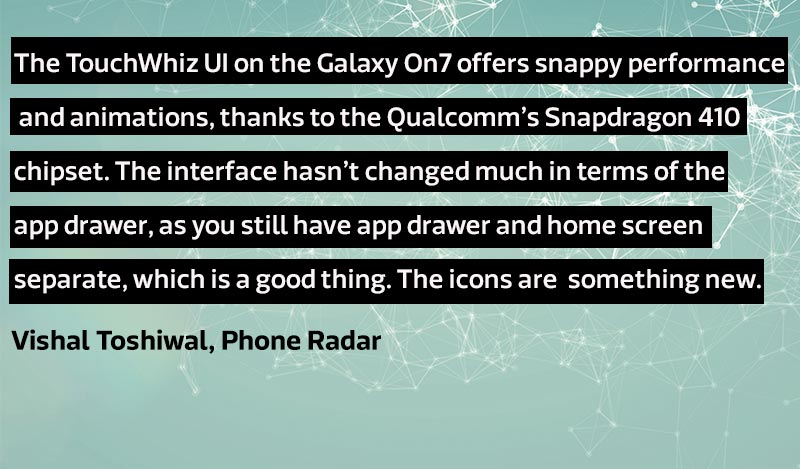 The phone's 13 MP rear camera and 5 MP front camera is being referred to as quite impressive. Youtube channel Techniqued's Nirmal tells us why. Read his full review on his website here.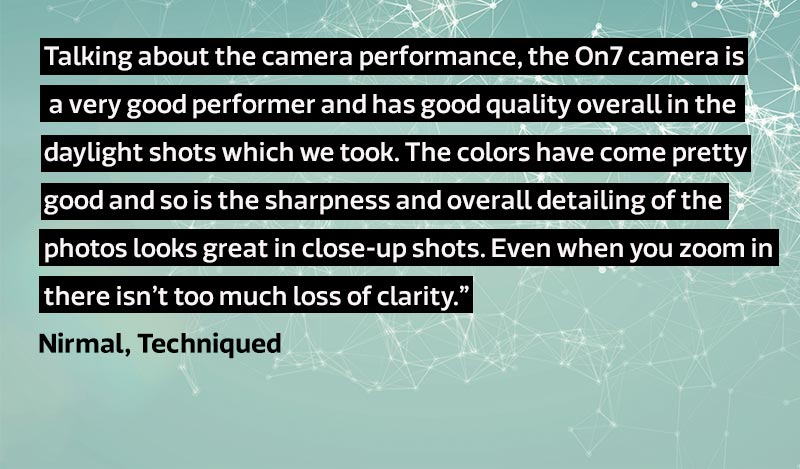 Twitter user @honey1925 agrees with the phone's superior shutterbug specs:
@SamsungMobileIN #Jingleontheway #GalaxyOn5On7 I don't need to carry camera to click amazing piks any more Samsung Galaxy on7 does it

— Labdhi Shah (@honey1925) December 24, 2015
Equipped with a 3,000Ah battery, the phone has also found admirers like Srivatsan Sridhar of FoneArena, who also appreciate Samsung's power saving modes.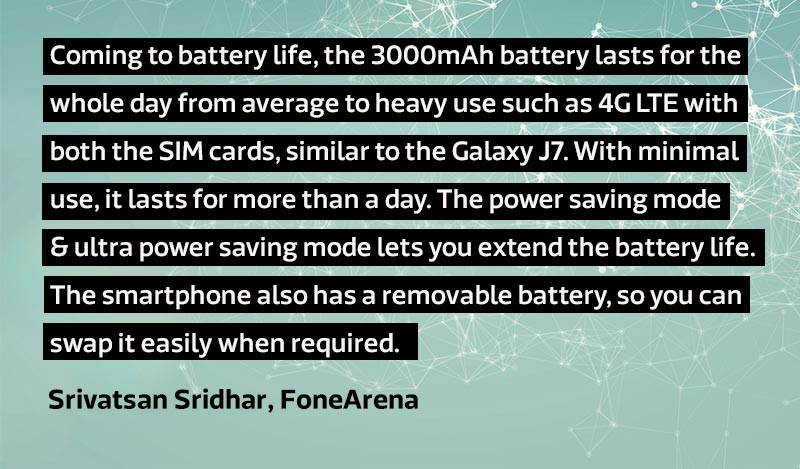 Read the full review here.
All in all, the Samsung On7 wins with its phablet screen, dual SIM (both 4G LTE), expandable storage capacity of 128 GB, high performing camera, OS and UI. The phone is also equipped with MixRadio (which offers access to over 30 million songs), and the Ultra Data Saving Mode (UDS), which saves up to 50% of your 4G data while you stream, browse or download videos and content—making it a popular choice for the mid-segment consumer.
Twitter user @prosenjit066 agrees:
@SamsungMobileIN I bought a Samsung on7…… It is a great Mobile …… Thanks to @Samsung #galaxy series

— prosen biswas (@prosenjit066) November 17, 2015
For a short yet succinct synopsis, watch Gadget Diary's '7 Reasons Why you Should Buy Samsung Galaxy On7' video here:
The phone is available on Flipkart, so check out its gold and black avatars here and here.