Samsung Gear Fit2 fitness band and Samsung IconX fitness earbuds redefine IoT (Internet of Things) as we prepare for one of the biggest Flipkart launches of the year. If you're used to sweating it out with your phone strapped messily somewhere on your body, just so that it powers your smart band or headphones, you'll love these new gizmos. These new contenders in the active tech arena make it totally redundant to carry your smartphone during your workout.
The two new launches from Samsung are smart, intuitive, sleek and discreet. Power-packed with features, they give you comfort with style and mobility with tracking. Both the IconX and the Gear Fit2 are smart wearables that will put you on that path to fitness unlike anything else.
---
Available on pre-order from August 31, 2016, and on sale from September 7, 2016. Click here to learn more about the IconX and the Gear Fit2.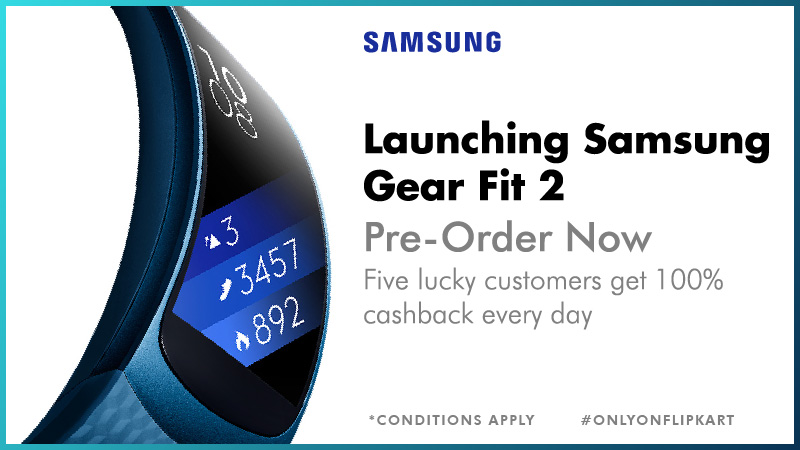 ---
Here's what you need to know about the Samsung's IconX fitness earbuds and Samsung Gear Fit2 fitness band, the two latest devices in wearable tech.
---
Samsung Gear Fit2 — The only fit band successor that has it all
Designed to succeed 2014's Gear Fit, the Samsung Gear Fit2 has it all — the generous touchscreen and features of a smartwatch with the reasonable price and battery life of a fitness band. Heading over to smartwatch territory, the sleek Gear Fit2 also offers phone notifications on its 1.5-inch Super AMOLED display along with one-tap responses to messages. More than just a fitness tracker, the Samsung Gear Fit2 has 512MB of RAM and 4GB storage for all that music you want alongside you. Its 200mAh battery life lasts about 3 days and it is powered by a 1GHz Dual-core AP.
With IP68 water resistance, it is also equipped with GPS apart from an HR, Accelerometer, Gyro and Barometer sensor. Compatible with not only Samsung Galaxy smartphones of Android 4.3 and above, but also with non-Galaxy smartphones of Android 4.4 and beyond that have more than 1.5 GB RAM, it pairs smartly with Samsung's health apps to give you the most in the world of fitness.
The Samsung Gear Fit2 has certainly started attracting fitness enthusiasts who are impressed by its features, as showcased by this tweet:
Samsung Gear Fit2 Is Half #Fitness Tracker, Half #Smartwatch https://t.co/q4IhfoUwQK #DigitalHealth #GearFit2 #wearable #WearableTech

— #DigitalHealth (@DejiHesu) August 13, 2016
Watch the unboxing of the Gear Fit2 by PhoneBunch here:
Here are its standout features that have experts taking notice.
Lose the extra baggage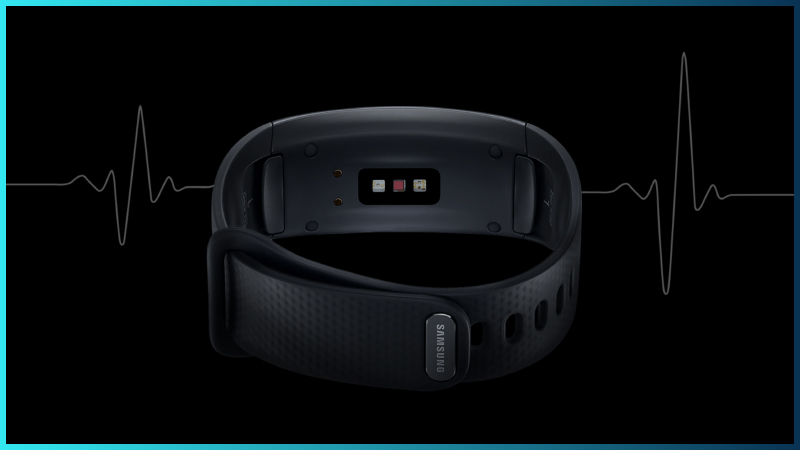 Leave your phone at home because the in-built GPS of your Samsung Gear Fit2 tracks your running or walking route, speed and distance, all in real time, with unbeatable accuracy. What's more, with an app to transfer your heart-pumping workout music from your phone to your fitness band, the Samsung Gear Fit2 takes care of all your music requirements, again without the need for you to keep your smartphone beside you as you go for that run.
Accuracy redefined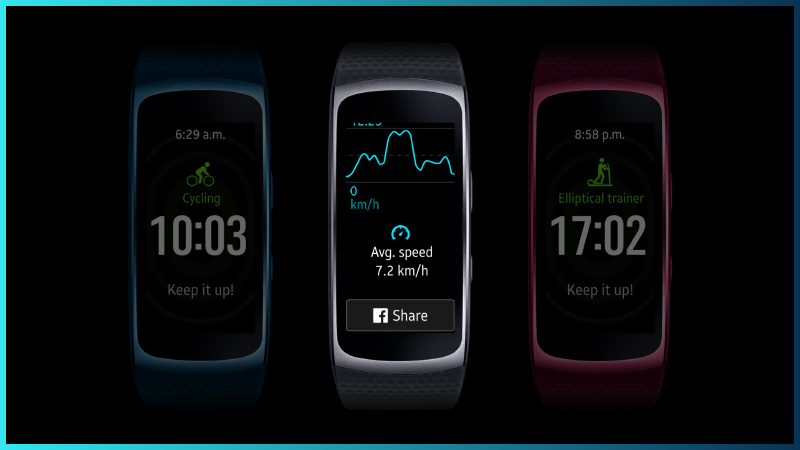 The most important thing when it comes to your fitness routine is being able to track your progress, and the Gear Fit2 doesn't disappoint. With accurate heart rate monitor and auto tracking of all your physical activities, also comes an intuition unlike any other. Now you don't need to tell your Samsung Gear Fit2 whether you're walking, running, cycling, swimming or working out in the gym. It simply knows. How great is that?
This Twitter user loves the features of the Samsung Gear Fit2, and with good reason!
Loving my new Samsung Gear Fit2. I can track what i burn, how much water i drink, play music,… https://t.co/hjvVx6W30A

— Solenn Heussaff (@solennheussaff) August 24, 2016
Gadgets Magz comments on the intelligent tracking on the Samsung Gear Fit2, saying:
"A highlight of the gadget's features is its intelligent Auto Activity Tracking meaning there's no need to manually start to Gear Fit2 when you start a workout, whether it be a run, cycle, swim (it's waterproof to up to 1.5m for 30 minutes) – it'll just start when you start."

Read the full review here
If you're wondering how it compares with other fitness trackers, here's a happy Twitter user talking about his experience:
Simply put, I'm shocked at how inaccurate the # AppleWatch is compared to the @Samsung #GearFit2 when it comes to step counts.

— Ryan Siverson (@rysiphoto) August 23, 2016
Curvy comfort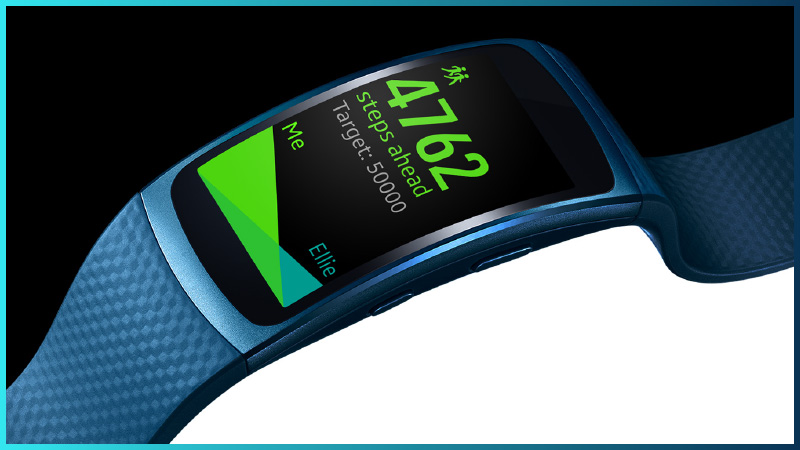 Not only is the Fit2 curved to fit perfectly and comfortably on your wrist, it's Super AMOLED display is large enough for you to check all your stats. The 1.5-inch display not only offers bright colors, but also gives you the freedom to choose from a designer selection of multiple Watch Faces for style and reading comfort.
Deeksha Koli of 91 Mobiles comments on the Gear Fit2's fitness-focused functionality, saying:
"Despite the large display and the metal trim around its sides, which make the build seem solid, Samsung has succeeded in keeping the wearable pretty light-weight, which works in its favor for you're meant to keep a fitness tracker on 24/7."

Read the full article here
Smart cookie!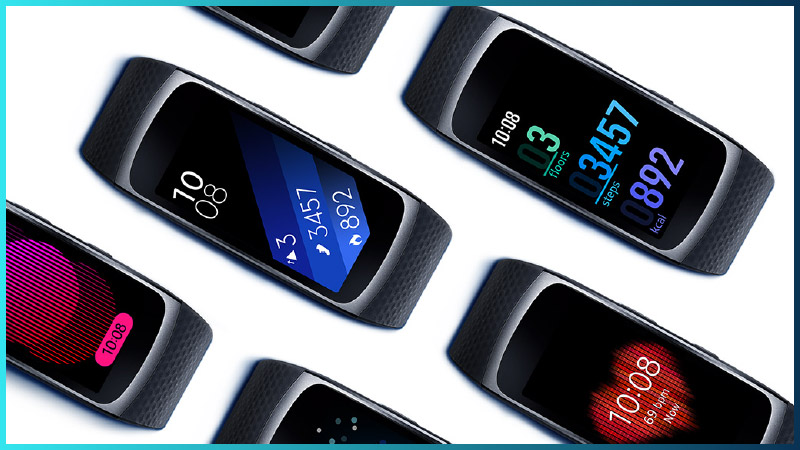 Designed to be as intuitive and simple as possible, navigating the Samsung Gear Fit2 is a breeze. The touchscreen display works on single taps and the two buttons on the side give you the right to go 'back' or navigate 'home'. Checking the time in between your workout stats just got easier, as did swiping left or right, up and down to add in your water and caffeine intake numbers.
Stay fit on your own… or with your friends!
What's the second most important thing when it comes to working out? Staying motivated! Created to get into a fitness frame of mind and providing you with a steady stream of encouragement to stay there and persevere, the Samsung Gear Fit2 is compatible with a multitude of Samsung's fitness apps like StayFit+, TennisTraQ, SalmdunkQ Cricket and many more. What's more, if you find that true motivation comes from competition, the Gear Fit2 pairs with the S health App where you can challenge a friend and see who does better, faster and more.
This Twitter user agrees:
Don't waste any more time on the path to a better you with @SamsungCanada. https://t.co/0cjYGxYl78 #GearFit2 pic.twitter.com/TovDAlap6h

— Do The Daniel (@dothedaniel) August 15, 2016
Talking about the fitness motivation inspired by Samsung Gear Fit2, Twice.com states:
"When a consumer is looking for workout motivation or an added push to get moving, the Samsung Gear Fit2 will keep him or her going."
Read the full article here
And that's not all. High on functionality and surprising light and easy to sport, the Samsung Gear Fit2 is not only available in small (for wrists between 125 and 170 mm) and large (for wrists between 155 and 210 mm) sizes for superior comfort, but also in trendy shades of black, pink and blue.
---
Samsung IconX — Revolutionary earbuds
Small yet powerful, the Samsung Gear IconX earbuds are your go-to accessory for a smarter, data-intensive workout. Measuring 18.9 x 26.4 x 26.0 mm, the earbuds come in three sizes of wingtips and earbuds that can be mixed and matched to give you the maximum comfort. Put them in their case to charge them when you're not wearing them and you have earbuds that have a heart rate sensor, an accelerometer and a capacitive touch — and offer so much more besides!
With 4GB internal memory that gives you 3.5 GB to store your music, the IconX has a 47mAh battery that should last for about 1.6 hours in audio streaming mode and 3.8 hours in standalone mode. The case is also equipped with a battery of 315mAh to draw out your charging woes! The earbuds have BT 4.1 connectivity. They're also splash resistant thanks to their P2i nano coating, and sport great sound. With a 20~20 kHz frequency paired with a speaker sensitivity of 89.5 dB ± 3 dB, the 2 per earbud microphone is sure to impress. Compatible with Android phones that run 4.4 KitKat and above and have a minimum of 1.5 GB RAM, these earbuds can play multiple audio formats like MP3, M4A, AAC, WAV and WMA.
We know how important battery life is and commenting on the IconX earbuds' case, Andrew Hayward of Stuff.com says:
"Thanks to that aforementioned carrying case, which also keeps the buds snug when not in use, you'll be able to top up the batteries on the go. The case can give the earbuds two full charges, meaning you'll get upwards of 10 hours of local playback (or 4-5 hours via your phone) before needing to plug the case back into a power source. That ensures your earbuds are not only safe and clean inside the case when not in use, but that they're also charged and ready to go the next time you need them."

Read the full article here.
No strings attached — literally!

Cordless and wire-free, Gear IconX earbuds are designed to fit your ears without any hassle. In fact, they're specially devised to be super comfortable and sit nice and snug in your ears, without any fear of dislodging or displacement. Choose from between their small, medium or large eartips and wingtips for a fit that's perfect to ensure that the earbuds stay put no matter whether you're running, swimming or jumping!
Talking about their futuristic design, this Twitter user says:
Everytime I see Samsung Gear IconX I'm reminded of the cybermen in Doctor Who.

— Squiglesman (@Squiglesman) August 22, 2016
Carry only what you need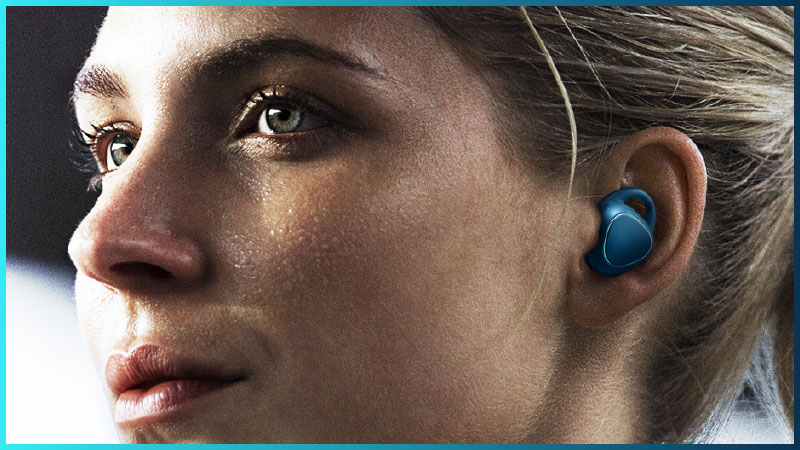 With built-in HRM sensors that detect when you're wearing them, these earbuds jump into action when you do and make carrying your phone redundant. Capable of tracking your workout and giving you updated stats on your distance, speed and duration as well as calories burnt and heart rate, the earbuds function via an easy to understand voice guide. And what's more, the IconX also allows you to store and play your most-loved workout music right from the device itself, without the need to cart your smartphone around! Just pair your smartphone to them and transfer up to 1000 songs or stream your beloved music via Bluetooth.
Camila Rinaldi of Android Pit is impressed with its features and says:
"What really makes the Gear IconX a wireless headset stand out from thousands of other headphone products are its smart features. With this new Samsung headset, you can listen to music without the need to use any other gadget: not a smartphone, smartwatch, smartband, iPod or an MP3 Player. Better yet, you also receive real-time statistics and updates about your current activity."

Read the full article here.
What about sound quality? Samantha Gonzales of Business World sure seems satisfied:
"As wireless earphones they are surprisingly good. The sound quality is above average with balanced treble and bass. Volume control is appropriate and the addition of a mic to take calls is appreciated. Noise reduction is excellent and very helpful with focusing on whatever task is at hand…"

Read the full review here.
Monitor your progress in-ear and via the app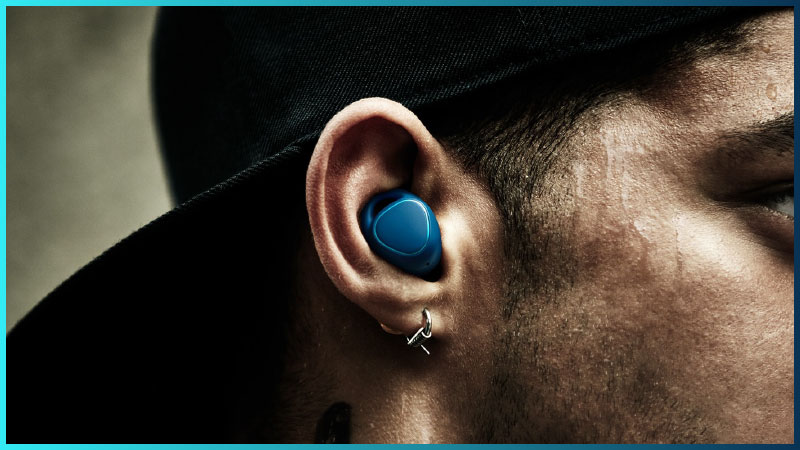 Your IconX earbuds will not only tell you when you reach that optimal fat burning stage of your workout, but also sync with your smartphone after your fitness regime to give you workout stats on the S Health app. And when you hear that in-ear voice, you're sure to be motivated, since every IconX comes with voice recordings in 15 different languages! Going on a run, and don't want the in-ear voice or music to drown out the ambient sounds? Turn in ambient mode to stay aware of your surroundings so you can avoid any mishaps.
Impressed with the Gear IconX's features that allow you to pursue all your fitness activities with techie smarts, this Twitter user says:
Samsung Gear IconX Review: A Small, Versatile In-Ear Activity Tracker #payday https://t.co/KeM8ZUSqF5

— nao lloan (@naolloan) August 26, 2016
Samsung Mobile Gear IconX a wireless earbuds that is a great fitness companion! #GearIconX #adobotech #review https://t.co/e2jic65xHU

— Bam Amor (@DogPatch03) August 26, 2016
Without your smartphone or numerous buttons, how do you go about controlling your earbuds? Well, the IconX design makes tapping, holding and swiping into an intuitive language of its own — prompting you through all functions without missing a beat. So whether you want to play or pause your music, answer or end calls, increase or decrease the volume or go to the menu, all you need to do are simple taps and swipes on the touch sensitive surface of the earbuds!
Talking about their intuitive design, Ted Kritsonis of Mobile Syrup says:
"The earbuds themselves are tastefully designed and smartly built to take away some manual control. For example, taking them out of the case turns them on, and when I did it the first time, they were already in pairing mode. If I took them off for 10 seconds, they would shut off. All of that is clearly indicated by audio prompts. Given the inherent battery life challenges here, anything to save some juice is welcome."

Read the full review here.
With all of their functionality, don't forget to be smart yourself, as illustrated by this Twitter user!
The Samsung Gear IconX are perfect for runs, til you use them to take a call and aren't paying attn. and walk into a spider.. #GearIconX

— Justin Diaz (@Th1nkbot) August 26, 2016
All in all, the earbuds certainly promise a wearable tech experience unlike any other! Pre-order it on Flipkart here!
---
To pre-order the Samsung Gear Fit 2 and the Samsung IconX on Flipkart, click here.