Massive yet sleek, fast and powerful, the Samsung Galaxy C9 Pro is at the top of its game, offering both proficiency and style. Equipped to cater to hard-core users and multitaskers, its Qualcomm Snapdragon octa-core processor works in conjunction with its giant 6 GB RAM and Qualcomm Adreno 510 GPU. Adding more power to the mix is its 4000 mAh battery — which keeps the phone on its toes no matter what you put it through. And for data hoarders, the device offers 64 GB of onboard memory that provides ample space to store all your music, e-books, PPTs, videos, movies, shows and photos without any fuss. The C9 Pro also packs an exceptional cameras. Its 16 MP primary and front cameras makes photography a breeze, offering many tools and modes to have your videos and images look picture perfect.
---
See the hands-on unboxing of the C9 Pro by C4ETech here:
---

---
Samsung Galaxy C9 Pro – Detailed Review
So who do we think the Samsung Galaxy C9 Pro is meant for? Well, literally everyone who wants a fast and fluid smartphone experience with fantastic camera capabilities and never-say-die battery! Here's why we think so.
Engineered for trendsetters

Until now, the 5.5-inch screen was the standard — no matter whether you used your smartphone for watching a live match or reading the news. With a slightly larger 6-inch screen, the Samsung Galaxy C9 Pro pushes the boundaries of entertainment experience. The large Full-HD display features an sAMOLED screen that is crystal clear with deep blacks and high contrast with a wide viewing angle. Also taking advantage of the sAMOLED technology, the C9 Pro consumes lower battery power, thanks to optimized lighting. The 1080 X 1920 pixel display offers excellent visual output and features 367 PPI pixel density that gets our stamp of approval for superb clarity. With great display prowess, also comes stylish looks!
The C9 Pro is elegantly finished in metal and is available in premium hues of black and gold. While the black option gets you an all-black model, the gold gives you a classic white front and a glitzy gold back and side panel. This time, Samsung has done away with the unnecessary creases on the body panel to keep the C9 Pro design smooth enough to turn heads! The screen on this slim and sleek frame gets a toughened 2.5D Gorilla Glass, adding to its list of premium features. For those in a hurry and on the go, the Samsung Galaxy C9 Pro comes with a USB Type-C charging socket so plugging in the charger will no longer take the extra effort.
Loaded for the tech geek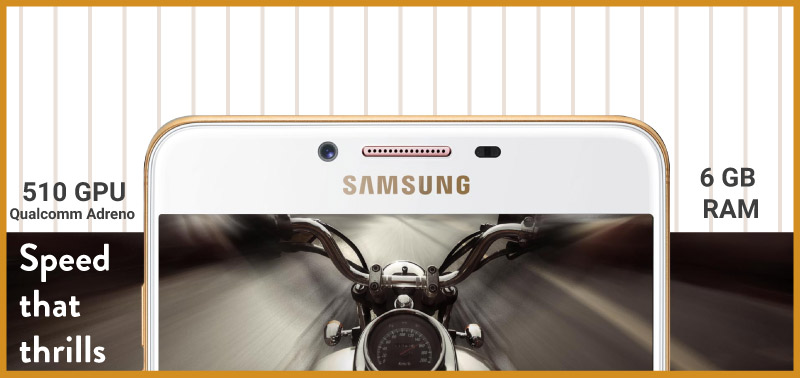 Make your smartphone future proof with this larger than life device featuring a mammoth 6 GB RAM — that too in a world where 3 GB is the benchmark! The additional RAM ensures no lag no matter what application you are running — an ideal smartphone for hardcore gamers and multimedia consumers.
The speedy 1.9GHz Qualcomm Snapdragon 653 processor is based on the previous Snapdragon 652 unit, however its latest iteration gives improved connectivity, with about 10% higher performance and twice the memory. That makes the C9 Pro ideal for advanced graphic and multimedia performance. The Qualcomm Adreno 510 GPU in octa-core configuration offers a fluid and flawless experience to round it off.
Snap-ready for shutterbugs
Finally, a smartphone that understands that the selfie camera is just as important as the primary camera. The Samsung Galaxy C9 Pro features a 16 MP camera on both sides of the device that features f/1.9 aperture. The front camera ensures that your selfies and video calls are clear, focused and spacious. The primary camera on the other end offers phase detection autofocus, dual-LED flash, geo-tagging, face detection, touch focus, panorama mode and 30 frame per second recording at 1080p. So irrespective of whether you are looking at the screen while taking the picture or into a lens, you can be assured that the quality of the shot will be excellence personified!
---
The fact the C9 Pro features a 16 MP front camera made waves on social media like Twitter. So much so that even actor Soha Ali Khan found herself taking a selfie at the launch!
#Samsung launches Galaxy C9 Pro at Rs 36,900 https://t.co/Q5o5gyLvSX #GalaxyC9Pro @SamsungMobile pic.twitter.com/DEHNDKwJy6

— DT Next (@dt_next) January 19, 2017
---
For those who hold everything dear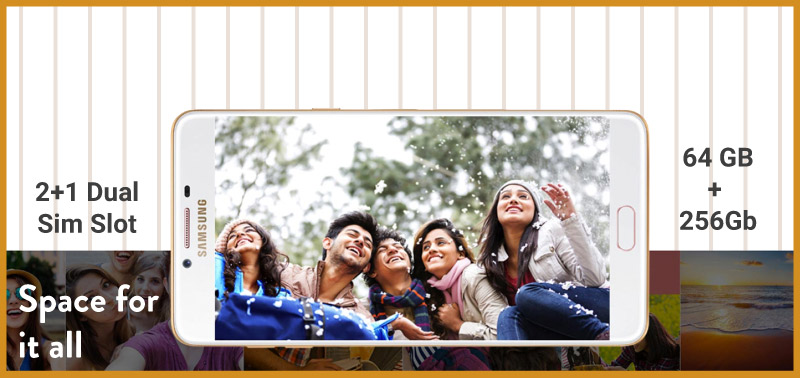 Along with the two dedicated Nano-SIM slots with 4G connectivity, the C9 Pro comes with a dedicated SD card holder. In case you find the 64 GB internal storage insufficient, the C9 Pro can accommodate another whopping 256 GB of storage via the external slot. For those who believe there is no bad picture, as well as for those who consider their phone a portable office the C9 Pro ensures that you have all the storage space that you will need. So go ahead, and hoard all you want!
Powered up for the marathon multitasker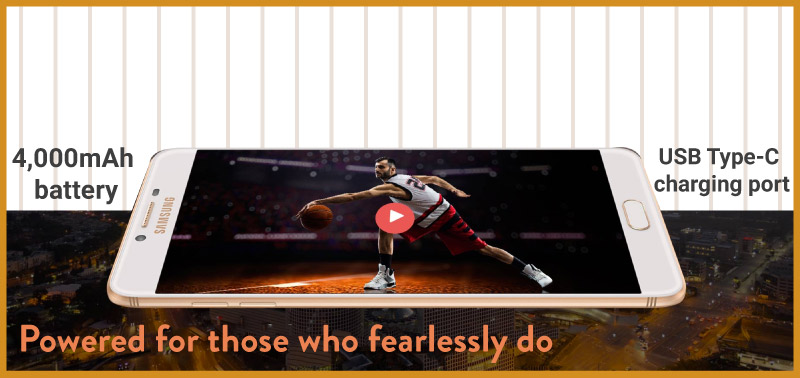 While the 4,000mAh battery of Samsung Galaxy C9 Pro will make sure that you have enough power backing to outlast the day. This smart device also comes with a USB Type-C charging port that ensures quick charging. A must-have for the marathon user who might have an extended day at the office or an excess need for accessing entertainment content That's the C9 Pro—always ready to excite and entertain!
The entire library for the music junkie
The C9 Pro comes with a dedicated 3.5mm jack for headphones, and features active noise cancellation and a dedicated mic. To complement the music junkie, the phone's limitless storage of 64GB plus 256GB enables the audiophile to store and carry all their beloved tracks in one place.
For those with higher security needs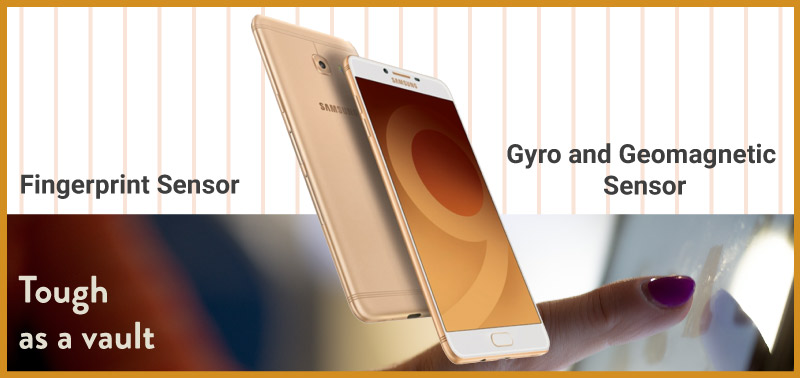 The Samsung Galaxy C9 comes with a fingerprint reader on the home button for easy unlock options and also ensures your data is secure even when the phone is unattended. So if you are the kind who like to keep personal matters, personal, the C9 Pro is exactly what you need.
---
The C9 Pro, with its big specs, can go up against its more pricey counterparts including Apple iPhones. This Twitter user liked the C9 so much, that he's facing a dilemma:
Should i buy a iphone 7+ or a Samsung C9 Pro ?*?*? What a dilema ?

— Typical Frat Guy (@Quens) January 19, 2017
---
So what's your verdict? Take a refresher with this detailed look at the specs behind the C9 pro by Science and Knowledge.
---
Samsung Galaxy C9 Pro – The last word

The Galaxy C9 Pro meets the specific wishes of a host of different users with ease, provides sophistication in a full metal body, offers premium features and comes in a larger-than-life size.
Check out the latest price Flipkart here.