Meet the Redmi Note 4, Xiaomi's first phone for India in 2017. The launch of this new smartphone follows the extraordinary success of the Redmi Note 3, which sold over 2.3 million units within six months of its launch last year. The Note 3 was a superphone with good specifications at a low price tag, and the Note 4 doesn't disappoint in this department either. Some of its standout features include a 5.5-inch Full HD screen, a 4,100mAh battery, up to 4GB RAM, a 13MP front camera and a 2.5D curved glass display.
---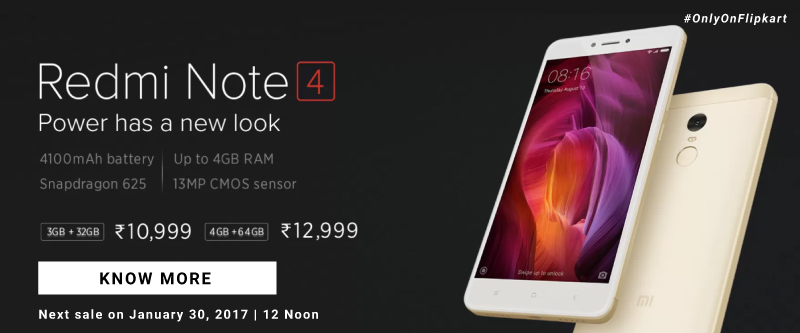 ---
Saurabh Singh of India Today was impressed with the Note 4's improved features:
"Xiaomi is very clear about the Redmi Note 4. The company has kept (intact) all the things that made the Redmi Note 3 so (very) likeable, and tried to fix some of the things that made it (equally) frustrating at the same time. The result, the Redmi Note 4, is all about raising the bar, and then some more."
Read his review here
---
The Redmi Note 4 comes in two variants: 3GB RAM & 32GB storage (₹10,999) and 4GB RAM & 64GB storage (₹12,999).
Which features make the Redmi Note 4 a smartphone that ticks all the boxes at a budget price? We reveal all about this loaded smartphone on a budget below.
Before you begin reading, watch this unboxing video of the Redmi Note 4:
[yt4wp-video video_id="NPOFHc5zrAY"]
---
Redmi Note 4 – the top features in a nutshell
Go on that road trip without worrying about the Note 4 running out of power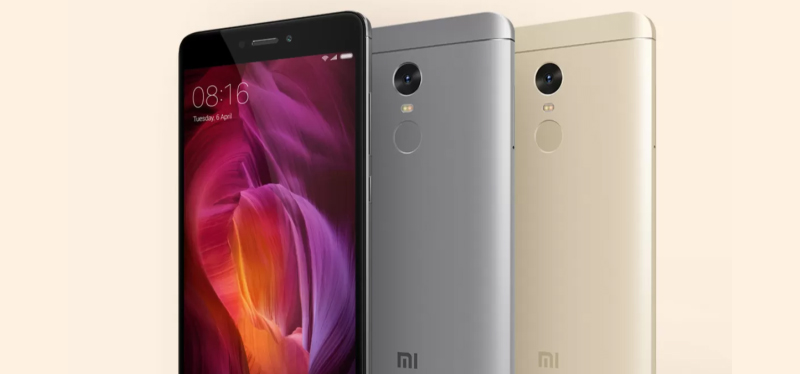 On the Redmi Note 4's primary list of strengths is its battery life. The 4,100mAh battery inside this device is believed to be 25 percent better than the Redmi Note 3. This massive battery can eke out over one and half days' back-up without needing to use any battery-saving mode. The result is a phone that will cause you no anxiety about being away from a charger. Two days' use isn't out of the question with some judicious power management.
Redmi India reveals how the battery of the Note 4 is an improvement from the Note 3 in this tweet
In our lab test, we managed to get 25% longer battery life on average with #RedmiNote4 compared to Redmi Note 3! pic.twitter.com/iFEx8r7f6D

— Redmi India (@RedmiIndia) January 19, 2017
---
Get things done faster and tick off things from your to-do list in a snap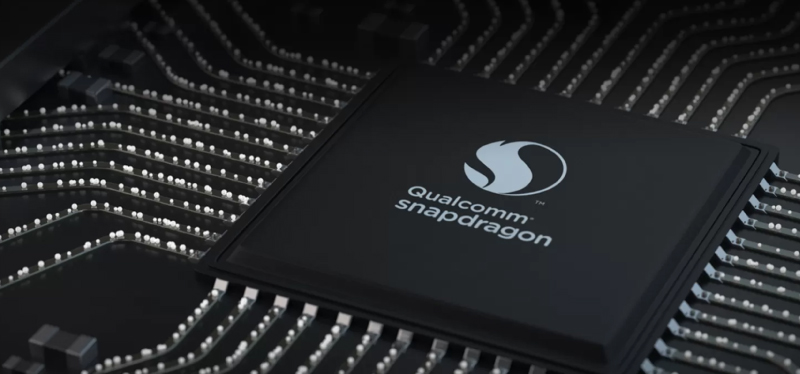 Though the Redmi Note 4 shares a price tier with the Asus Zenfone Selfie (priced at ₹12,999), Xiaomi's phone pulls ahead in the specs department. The Note 4's Snapdragon 625 chipset has a higher performing CPU compared to the 615 inside the Zenfone Selfie, and its inclusion pays off in a big way. Launched in 2016, the Snapdragon 625 processor offers improved power consumption over last-gen Snapdragons by as much as 35%, according to Qualcomm. The Snapdragon 625 works great with screen resolutions of up to 1080p or FHD. It supports cameras of up to 24-megapixels for still photography and 4k video recording and playback in addition to a maximum download bandwidth of 300 Mbps, an upload speed of 150 Mbps and high speed Wi-Fi. In the Note 4, the 625 processor delivers great performance, making the smartphone capable of playing any game or taking on any processing task with ease. Does a smartphone's responsiveness rank high on your list? The Note 4 is generally fast and hard to criticize in terms of its performance.
Tech blogger Geeky Ranjit likes that the Redmi Note 4 features a powerful processor at a budget price in his tweet here:
I was quite surprised with Redmi Note 4 pricing in India I didn't expect it this low coz most other handsets with SD 625 cost a lot more

— Ranjit (@geekyranjit) January 19, 2017
---
You no longer have to work your way around confusing software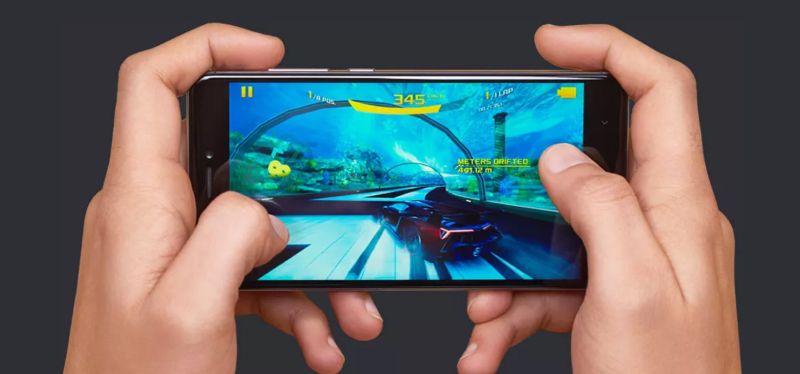 Users like Xiaomi's MIUI because it's relatively clean and simple, and comes with a respectable library of themes and customizations. The Redmi Note 4 runs on MIUI 8, which is based on Android 6.0.1 Marshmallow. The smartphone has a couple of handy tricks up its software sleeve that you will find really useful. One is the Dual Apps feature that allows you to create two accounts of WhatsApp, Facebook and more on your Redmi Note 4. The other big thing is a caller ID feature, which does away with the need of installing third-party apps such as Truecaller on your Redmi Note 4. It doesn't end there, as the Redmi Note 4's software allows you to take scrolling screenshots of entire webpages which you can edit instantly. Small touches, but they build toward a better experience overall in the Redmi Note 4.
Want to know other awesome things Xiaomi's MIUI 8 allows you to do on the Redmi Note 4? Read this Huffington Post article.
---
No need to lug around your heavy DSLR camera to click that sensational photo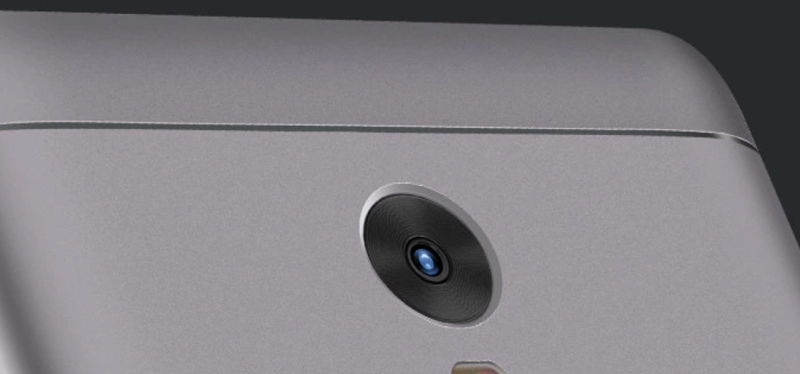 The acclaimed Redmi Note 3 had pretty decent cameras for its price. As its successor, the Redmi Note 4 doesn't disappoint in this department either. Rather, camera output is one among the reasons why the Note 4 is such a bang for the buck. The smartphone has a neat 13MP rear camera which features an f/2.0 aperture, PDAF (phase detection autofocus), and a dual-tone LED flash, and provides reliable performance in both low-light and brightly lit scenes. You can record videos at full-HD (1080p) resolution with the Note 4. The phone also lets you apply filters while clicking photos, is a whiz when it comes to clicking macro shots as well as photos of moving subjects. There's also a 5MP front-facing camera with f/2.0 aperture and a fixed-focus lens on board for clicking decent selfies.
Check out these stunning photos clicked by professional photographers on an India tour, posted by Redmi India in this tweet:
AMAZING is the word to describe this photo travel diary by professional photographers using #RedmiNote4! pic.twitter.com/zmWxmVObtN

— Redmi India (@RedmiIndia) January 19, 2017
---
You don't need superhuman vision to read your phone in the sunlight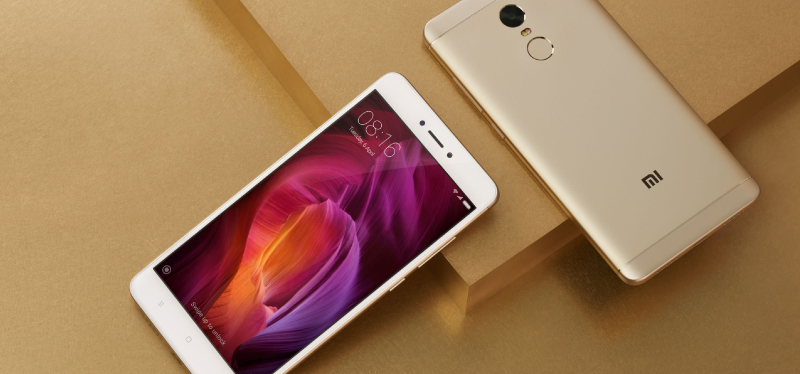 The display of the Redmi Note 4 is equally impressive when it's turned on. It has a 5.5-inch display with a Full HD resolution of 1080 x 1920 pixels, which, when compared to phones in the same price range like the Asus Zenfone Max ZC550KL is higher – this phone has a similar screen size, but a 1280 x 720 Pixels HD resolution. While we are not a fan of looking only at the numbers, believe us when we say that the Note 4's display is full of razor-sharp detail. Viewing angles are decent, and the colors are so vivid that they have an almost OLED quality (brighter, more efficient, and features better refresh rates and contrast) to them. It's an excellent IPS display, rather than an OLED, but that doesn't seem to have a huge impact, as the Redmi Note 4 still offers the kind of punchy colors you'd see on the LG G Flex 2 (32 GB), priced at ₹21,990. The Redmi Note 4 is great for watching videos and movies, reading eBooks and playing games even in sunlight.
---
No one size fits all, but you can always have it fit your needs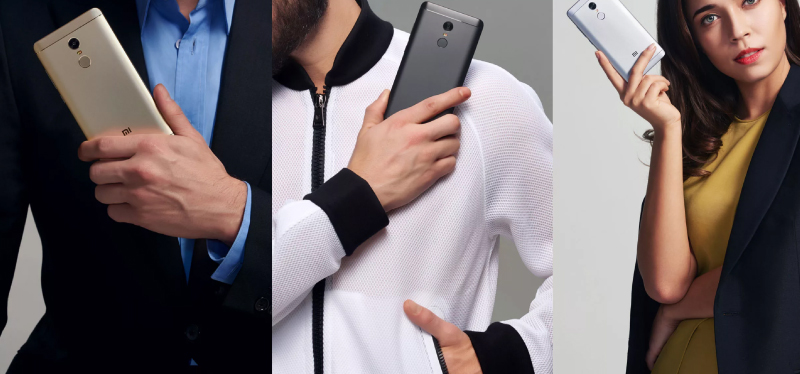 The Redmi Note 4 has a bigger battery than Apple's iPhone 6S Plus (which features a 2,750mAh battery), but is actually thinner with a width of 76 mm! The Note 4 is solidly built; use it and you will realize there's no creaking. The seams where the 2.5D curved-edge glass meets metal are tight and even. The all-metal body lends a sturdy personality to the Note 4, and also ensures that the rear panel is less slippery. The smartphone, which has its buttons in all the right places — volume rocker and power button within easy reach of your right thumb — and is actually a breeze to use with a single hand. To make things easier for you, Xiaomi has also included a one-handed mode of usage. Turn on this mode to shrink the display of your Note 4 to one side of the screen.
---
Did you miss the big Redmi Note 4 launch on Flipkart? Don't worry. Get ready to buy it during our next sale on January 30, 2017 at 12 noon.