Holding a job while contributing to his father's small business of home furnishings, Rahul Gupta knew he wanted to become a full-time entrepreneur some day. Seeing e-commerce as the perfect opportunity to grow his Delhi-based family enterprise, he chose to become a Flipkart Seller. In less than 5 years, Rahul's small business grew 10X in strength and achieved incredible milestones. Read his story of determination, commitment and resilience.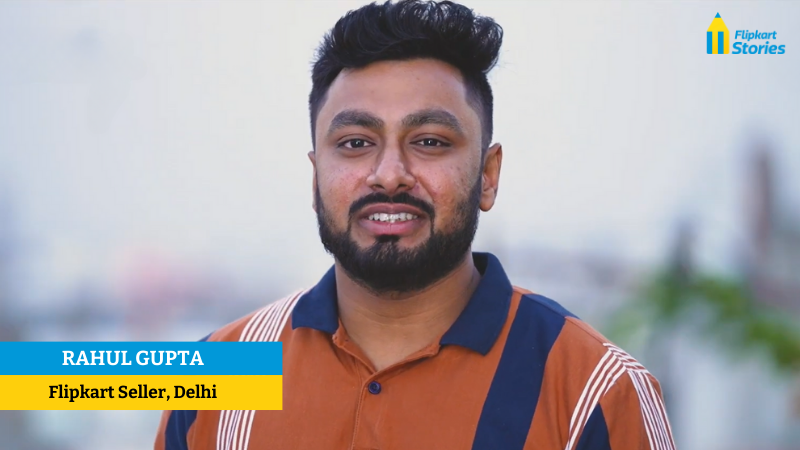 Rahul Gupta wanted nothing more than to devote himself fully to his family's small business of home furnishings, started by his father in Delhi's Shahdara district. Though entrepreneurship was in his blood, what held him back from leaving his job was the struggle he saw his father undergo.
From late payments to delays in delivering orders, running a small business seemed beset with challenges. But, as the adage goes, when the going gets tough, the tough get going. And Rahul was determined to be the driving force behind growing his company, Kanushi Industries.
That's when taking the business online seemed like the way to access a pan-India market, increase sales cost-effectively, and benefit from a robust supply chain infrastructure. Rahul is not the only small business owner in India to identify these benefits of e-commerce.
In the 5 years since he joined Flipkart, not only did he increase his employee count by 10X, but Rahul and his father also witnessed unbridled growth with an annual turnover of Rs.10 crores!
Today, Rahul continues to aspire to even greater heights of success. Read his story in his own words.
When business runs in the blood
Hi, I am Rahul and I'm a resident of Delhi. I have been associated with Flipkart since 2018. The name of my brand is Kanushi Industries. We specialize in home furnishing products such as washing machine covers, refrigerator covers, mosquito nets and more.
As my father has been a businessman from the beginning, I have been surrounded by an entrepreneurial culture. However, I took a job alongside working in our small business. The reason behind this was that I saw my father struggle with payments and orders.
So, when I started to think about leaving my job to grow our small business full-time, going online was my priority. To establish a wider market reach, I started researching the e-commerce platforms available in the market.
Getting a small business on the fast track to success
Among all the platforms, I found Flipkart to be the best option for expanding my small business. I wasted no time in becoming a Flipkart Seller and launched my brand on Flipkart.
What helped me the most was that all my payments and orders were organized in a sequential manner. Another USP of Flipkart is its seller panel, which is highly user-friendly. Furthermore, if there is any issue, the seller support team is available 24X7 to help us out.
A growth story fueled by digital commerce
My father and I started our small business with just 5 employees. Today, after just 5 years with Flipkart, our company has around 50 employees. I feel so proud that I am able to run my own business with my father by my side.
As of today, I get approximately 1,000-1,200 orders every day. These orders cross 14,000–15,000 during The Big Billion Days sale. Currently, our annual turnover is ₹8-10 Crores, and we are aiming to double or triple these figures over the next year!
To read more stories of #SellfMade Flipkart sellers like Rahul Gupta, click here.