Step inside a Flipkart partner repackaging facility where quality and humanity go hand in hand. Here, jobs created benefit the many villages surrounding the center and women make up a majority of the workforce. Intrigued? Read all about it.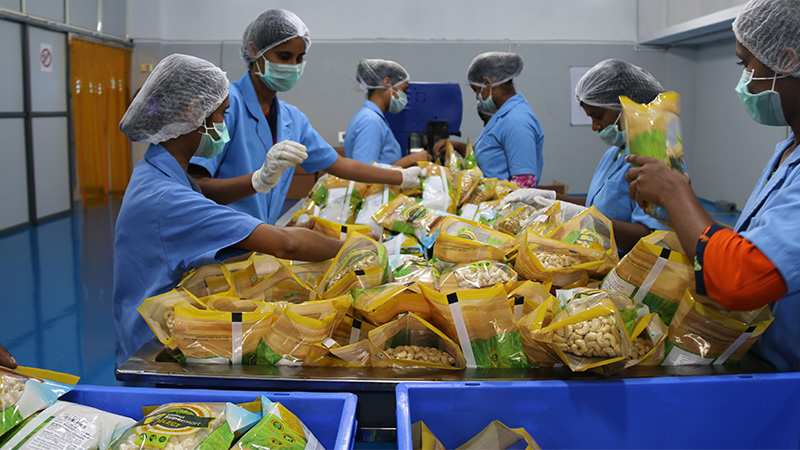 In this story: Inside a Flipkart partner facility, where more than 30 of its 40-odd employees are women.
---
When Rajamma Pujari was in Class 10, she had to cut short her dreams, and that of her parents, of completing her education. 
At 15, Rajamma took up whatever job she could get to provide for her family. This often meant doing odd jobs to make ends meet.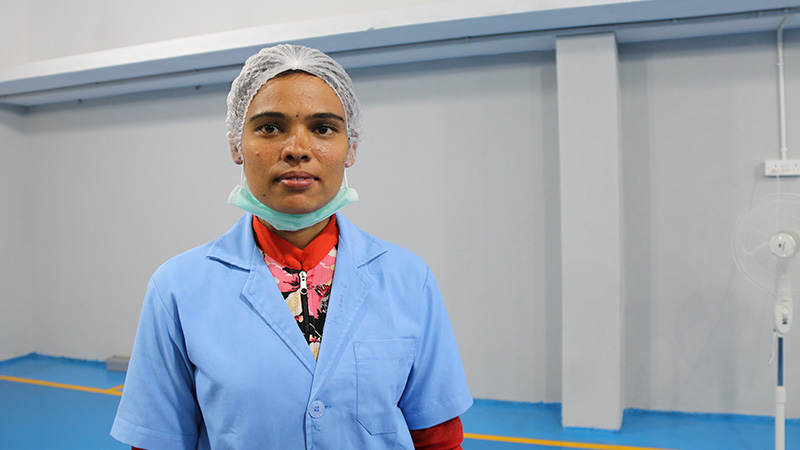 Originally from an agricultural background in Karnataka's Kalaburagi district, Rajamma was faced with tragedy at an early age. Her parents, both farmers, put up their land as collateral for a loan during a wedding in the family. "But people took over the land saying we didn't pay them back on time," recalls Rajamma. "I had to stop studying and work to get money," she adds.  
Soon after, her father passed away. 
"My mother also worked in the village for sometime. But there, the only work she could find was cleaning toilets. That's not work," she stresses.  
Two years ago, Rajamma and her family — her mother, grandmother and two brothers — all moved to Bengaluru to find better jobs and earn a dignified living. For the past one month, she has been working at a Flipkart partner repackaging center, about 40 km from the heart of Bengaluru. 
---
Located along the road to Mysuru, Kumbalagodu is primarily an industrial area. Here, factories and warehouses dot the green landscape of villages old and new. Tucked away along a green stretch near one of the fast-expanding villages is a new, exclusive Flipkart Supermart repackaging center. Managed by a third party exclusively for Flipkart, the spotlessly clean center helps check, clean and package dry fruits for Supermart.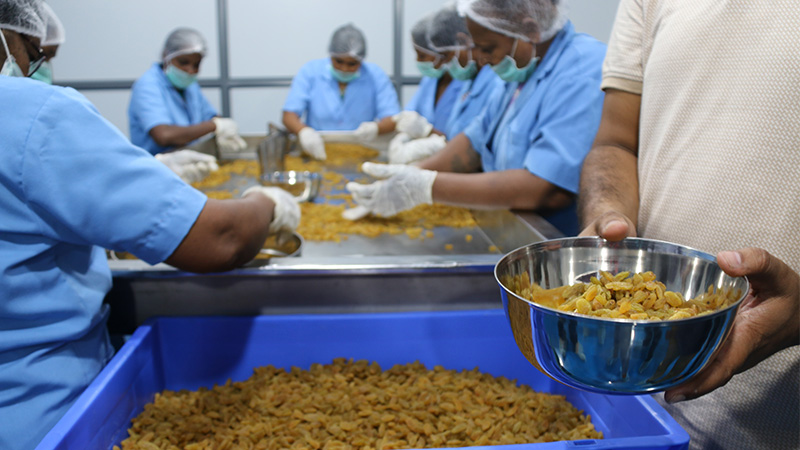 Here, dry fruits that are sourced in bulk, and as close as possible to the source, are cleaned by hand, fumigated if needed, and thoroughly checked. This is followed by an additional check through a metal detector before employees at the packaging station vacuum pack and seal the packets to ensure maximum freshness for customers. 
"The process — from cleaning, quality check to packing — usually takes about five days," says Ashok Kumar, Senior Manager at Flipkart. 
The proprietor of the facility, Harsha L S, a business owner with boundless energy, works closely with Flipkart's grocery team to ensure a smooth process and the highest quality for customers. "Online is the future," he booms, when asked why he chose to work with Supermart rather than traditional players in the space. 
One of the main reasons that Harsha chose to work with Flipkart is, as he puts it, 'fairwork'. "I've worked with so many companies in the last 10 years — but with Flipkart I work well because of the proper alignment with the company and the dynamics we share," he adds. 
For Flipkart, it's the quality that these partners provide that ensures a dynamic working relationship. As Manish Kumar, Vice President, Flipkart Grocery, puts it: "Flipkart as a platform holds sellers to high quality standards on staples and that has led to these standards flowing to the small entrepreneur ecosystem of millers and re-packers."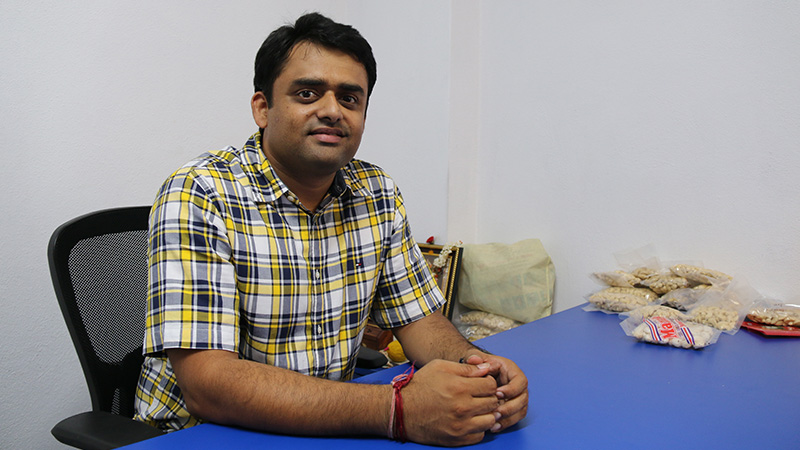 Originally from Karnataka's Chikmagalur, Harsha started out 10 years ago by packaging and selling pepper from his hometown. Today, he  is particular not just about his business, but also about giving back to the place that accepted him with open arms a decade ago. At the Flipkart partner facility, a majority of the workforce lives within walking distance of the center, ensuring that the jobs created here benefit the many inhabitants of the surrounding villages. 
And of the 40-odd employees that work here, more than 30 are women.   
Rajamma, now 21, is one among them. She has been working here for just a month, but says that the women who work with her already feel like family. "I really put my heart into my work and I feel good working here," she says. 
She lives in a neighboring village and walks to work. Before she joined the facility, she worked as a security guard nearby but lost her job when she went home for a month. She still dreams of earning enough to return to her hometown in Kalaburagi and completing her studies. 
"For now, I love working here — everyone works with each other well and we go home in the evening happy. But I do want to study more eventually. Only after all the problems at home are sorted out will I get married and start a family," she adds.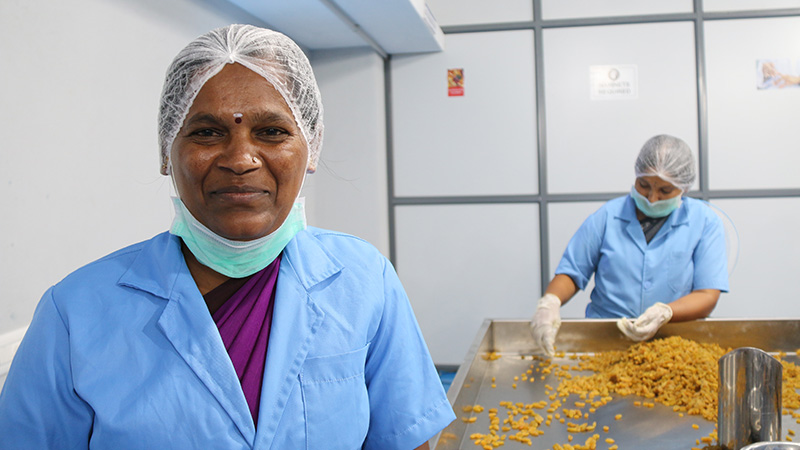 Near Rajamma, at the cleaning and quality check station, Renuka Ganesh is busy casting aside raisins with even the slightest bruise. "It has to be 100% clean," she says, without looking up from her work. 
Every day, Renuka comes into work a little before 9 am, puts on her gloves, hairnet and shoe covers. By 9 am sharp she is at the quality check station, manually checking the dry fruits so only the best ones get approved for packing. Home is just 5 minutes away and Renuka goes back for lunch every day.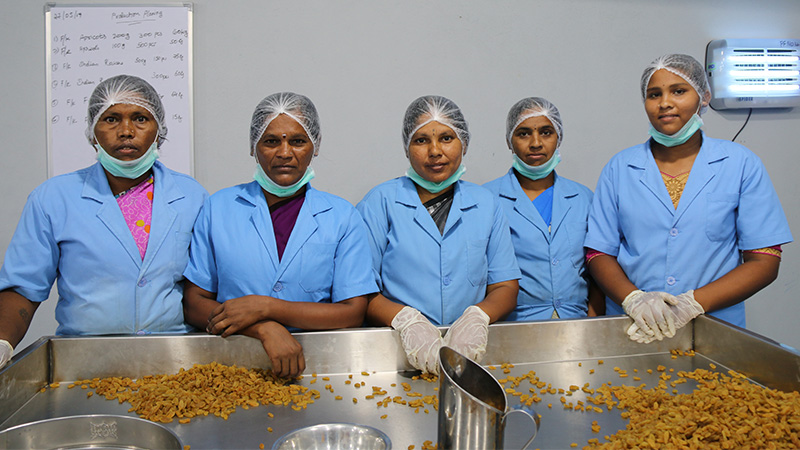 Also from Kalaburagi district in Karnataka, her family moved to Bengaluru 5 years ago. "There are no opportunities for work back home," she says. One of her two sons also works with her at the facility and her husband works as a security guard at a factory nearby. "We used to work in the gardens in Kalaburagi. When you say garden, I know it sounds nice, but you have to work through the day in the scorching sun! Here, I am comfortable," she beams. 
Before working at the Flipkart partner facility, Renuka took up odd jobs to make ends meet. "I used to get paid sporadically. Now I have a monthly income," she adds. But home is home, and despite the hardships, she often misses it. "I get to go back home twice a year — once for Ayudha Puja and one more time for Ugadi."  
For Rajamma, her childhood home, for now, is a goal she has her heart set on. "I will only return home after I have enough money to get my land back and I want to work here to make that happen," she insists. 
Photographs by Sophia Stephen
---
Also read: Inside India's happiest warehouse — friendship, hope and the great Indian dream