The Amkette Evo Gamepad Pro 2, a successor to the Evo Gamepad Pro Controller, was recently launched by Indian game accessories maker Amkette. If you enjoy playing video games on your Android smartphone but detest using the touchscreen controls, read on. Here's a sneak-peek at the next generation of mobile gaming!
The Evo Gamepad Pro 2 takes mobile gaming to a whole new level. The portable console lets you clip on and start gaming on your smartphone — providing a swifter and smoother play. This revolutionary Bluetooth-enabled controller bypasses the inconvenience of conventional, wired controls, giving users a seamless experience. Light and compact, the Amkette Evo Gamepad Pro 2 is an ideal accessory for players on the move, suited specifically for FPS, RPG and adventure gaming genres.
Watch this video by Abhishek from GadgetsToUse on the newly launched Amkette Evo Gamepad Pro 2

Early this month, we got our hands on the cool console and did our own probing of the gadget. Here are 6 ways in which we feel the Amkette Evo Gamepad Pro 2 can completely transform your mobile gaming experience:
Enter the Amkette Evo Gamepad Pro 2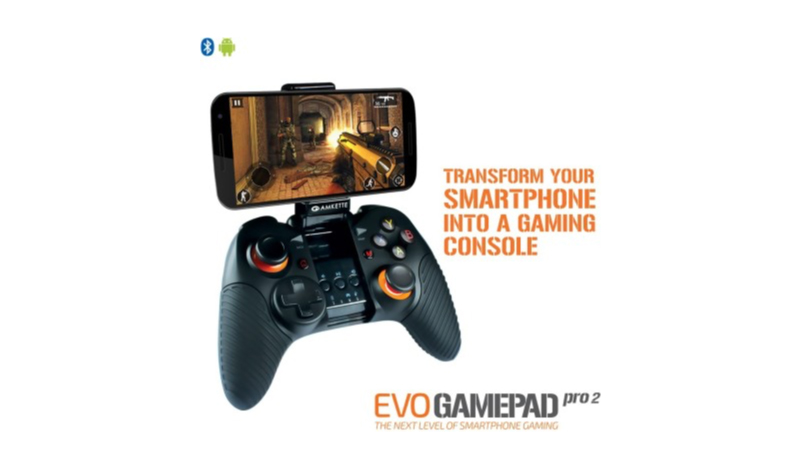 As highlighted earlier, the current version of the Amkette Evo Gamepad Pro 2 is developed only for Android devices and is compatible across a range of smartphones using the Android OS. It is designed to accommodate smartphones up to 6 inches in size, making it an ideal fit for the likes of the Samsung Galaxy Note 5 and similar phablets. The console's retractable holder with a locking mechanism ensures easy, secure and convenient docking of your smartphone. The innovative device will set you free from the hassles of mobile gaming — giving you a richer and more focused play experience.
Users like @hraval1510 are already loving the smooth operation that the Amkette Evo Gamepad Pro 2 offers:
@geekyranjit sir it is woking excellent as of now working smoothly with asphaly,mc5,real racing 3 and limbo but haven't checked with nova.

— Harsh Raval (@hraval1510) February 8, 2016
Extreme comfort for extreme gaming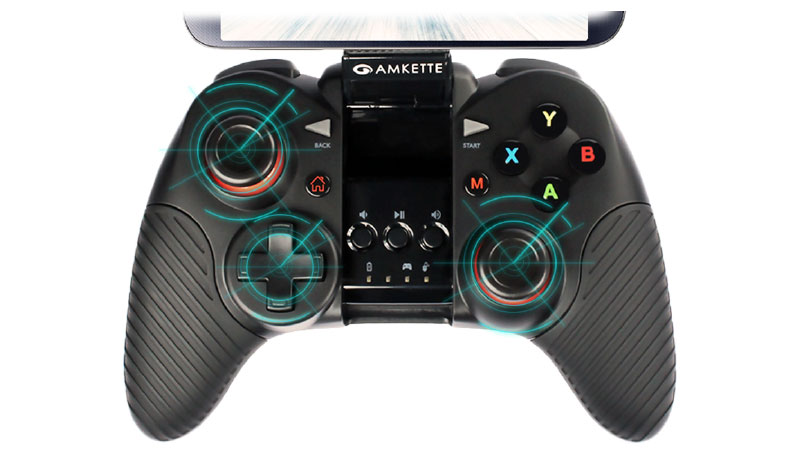 Not for the novice. The Amkette Evo Gamepad Pro 2's body is built for extreme levels of gaming. The specially crafted thumb-sticks are coated with Abs rubber to suit up to 12 hours of gaming — making sure your thumbs don't fall off between battles. The ergonomic design, embedded analog triggers and D-pad provides supreme comfort and thorough grip for users.
There's plenty of reasons for @hims99 to be excited about this mobile gamepad:
@FoneArena @AmketteConnect The Next Level of Smartphone Gaming … #AmketteFoneArena #EvoGamepad #pro2 #GodOfGaming…

— himanshu (@hims99) March 18, 2016
Access to an expanding range of games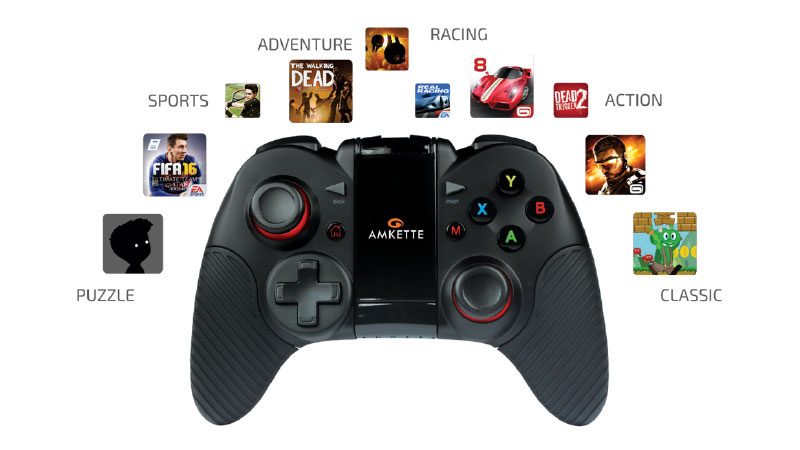 The Amkette Evo Gamepad Pro 2 isn't just about the coolness and comfort of the console. The device, through the Evo Gamepad App — a free download from the Google Play store — gives you access to over 400 compatible games. If you are inspired by old-school emulator games such as Mario, Pinball, etc., or alternate gaming genres like the First Person Shooter, Arcade and Racing, the Amkette Evo Gamepad Pro 2 will be your perfect gaming mate.
Uninterrupted toggling without tangles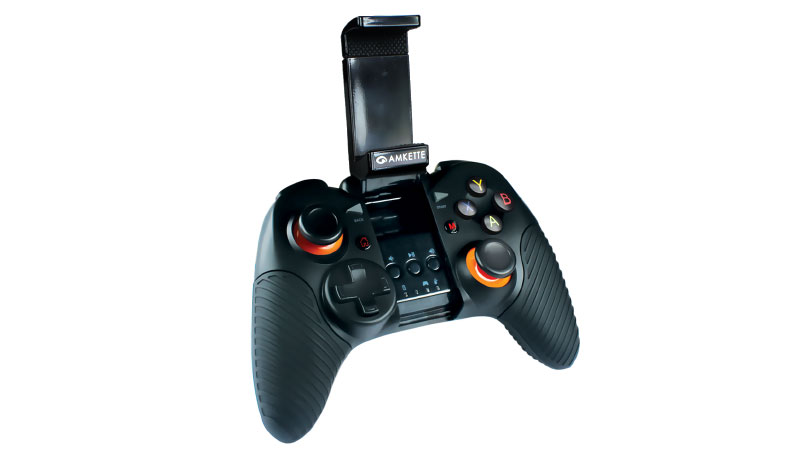 Do wires, sockets and frequent power drains hamper your gaming goals? Then here's good news! The Amkette Evo Gamepad Pro 2 features a 400 mAh Li-Polymer rechargeable battery. This provides enough ammo to execute up to 12 hours of hardcore gaming. The Bluetooth feature allows you to easily pair the controller with your smartphone and enables an untangled play — making it a 'must-have for all gamers.'
@ABsolutBabber believes Amkette's mobile controller is the 'next big thing' in mobile gaming:
.@AmketteConnect calls it the EVO GAMEPAD PRO, I see it as the #NextBigThing in #gaming!

A must-buy for all gamers! pic.twitter.com/IlAlHBRcAr

— Abhishank Babbar (@ABsolutBabbar) August 27, 2015
Elevate your gaming experience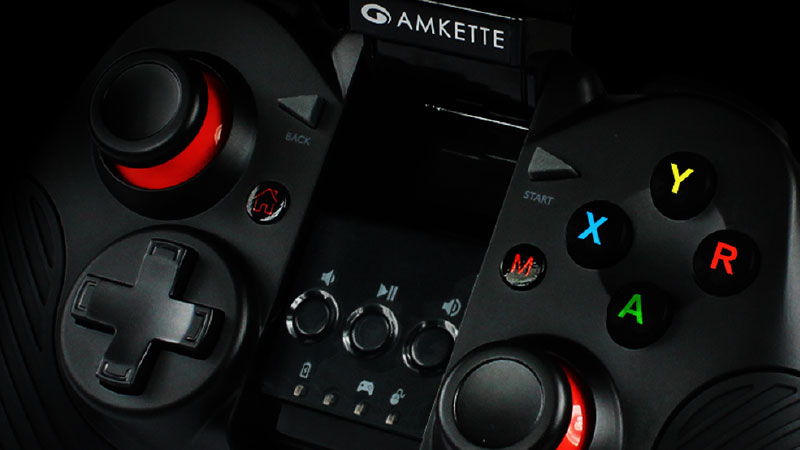 Looking for a compelling gaming experience on the big screen? You can seamlessly connect your MHL or micro-HDMI enabled Android phone to the TV. The Amkette Evo Gamepad Pro 2 is responsive, and the super comfy control works well for screens of all sizes.
Evo Gamepad Pro App
The Evo Gamepad Pro App can be downloaded for free from the Google Play store and is supported by the entire Gamepad Pro range of consoles. The app offers access to a growing range of games that are ideal for play on the Amkette Evo consoles. Now spend less time figuring out your next game download when you have a ready list to choose from.
How does the Amkette Evo Gamepad Pro 2 function in comparison with the original? Let's find out.
The Amkette Evo Gamepad Pro 2 is now available now on Flipkart for Rs.2,599. Once you get a taste of it, don't forget to share your favorite feature with us!