As we emerged from the pandemic, hopeful and confident of a safe future, here's what I noticed. The 'new normal' doesn't seem so new anymore as most of us have developed a familiarity with the ways of the post-pandemic era. Offices have started to call back their employees and people are stepping out of their homes, rekindling a version of life as it was before COVID-19. So will things return to normal all the way or will we step forward armed with our learnings from one of the most testing periods in our lifetime? At Flipkart, we decided to approach this keeping people at the heart of our decisions. From a hybrid work model to inclusive and sustainable people-policies, here's a summary of how Flipkart and its ecosystem maximized in 2022 to lead transformation.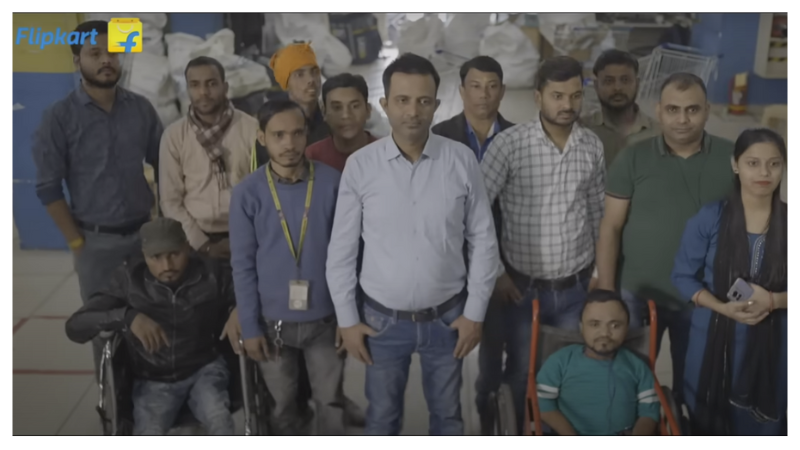 2022. I call it the year of transformation. It marks the journey towards a new beginning – a post-pandemic world. With the economy opening up and the new normal becoming more real before our eyes, the year provided us with ample opportunities to depart from the usual framework of worklife and set the course for a new era, one which we at Flipkart welcomed as a catalyst for continued growth.
Standing on the sidelines and continuing business as usual was just not an option, nor did we want to. The urgency for change around us was palpable. Accelerated by the pandemic, the call to change was the biggest in our workplaces, prompting us at Flipkart to put in place practices and policies that would be more empathetic, flexible and malleable to the world we were now adjusting to.
Stacking up on an already robust people-driven culture, we had a choice to make: to continue business as usual with employees working from home or go back to working from the office. We asked our people what they would prefer, and they chose the middle way: opting for the hybrid model. Here's how that model permeated across the different functions and teams at our organization.
The Hybrid Workplace
While the last two years brought forward our employee-first culture and working from home became the obvious choice, working from offices was important to foster deeper connections and facilitate easier communication. Working in a hybrid model gave Flipsters the ideal middle ground – the convenience of working from home along with the benefits of collaborations and in-person meetings. However, it was not without its fair share of challenges.
Immediately after announcing a hybrid model, we worked to transform our infrastructure to ensure that hybrid succeeds all else, not just through redesigning the existing workplaces but also by reimagining them. By blending technology with workplaces, we started to accommodate the hybrid paradigm at many different levels creating both offline and online touch points that Flipsters across the organization could relate and engage with.
With the most trying period of the COVID-19 pandemic behind us, many organizations have started operating their offices full-time. However, I believe that hybrid workplaces are a win-win solution for employees and leaders. I agree with Flipsters that a hybrid workplace would allow for a shorter commute and a better work-life balance. It provides employees the flexibility of choosing their work environment and for us, that leads to maximized potential.
Maximizing Our People
Reimagining the infrastructure of our workplace gave us a clear runway for reinvention in other areas too. Be it introducing new policies, or creating more robust processes. Traditionally, most workplaces tend to adopt policies which are designed keeping the largest groups of people in mind. At Flipkart, however, we have always gone against the grain of "one size fits all" thinking. Our intent is to enable each Flipster to maximize their true potential and every policy we implement, therefore, encourages an entrepreneurial mindset and emboldens our teams to think beyond the realm of business as usual. An example of one such policy is the recently introduced part work, part pay policy rolled out in its full form in October to give Flipsters the flexibility to work through a limited schedule, and pursue other non-professional interests on the side.
We also introduced policies that enable our team members to look after their physical or mental health by rolling out unlimited wellness leaves, designed in response to the pandemic in 2021. We have retained it in the post-pandemic era too after seeing our teams benefit immensely from it.
Inclusive, Diverse and Raring to Go
The other tenet of our people-first culture is having an inclusive and diverse workforce. Flipsters are a mix of people not only from diverse backgrounds but also different life experiences that seamlessly blend into one large community with a shared purpose – that of bringing our best selves to the table every single day and delivering smiles to millions of people across the nation.
To ensure action on our commitment we have signed an MoU with the Assam Skill Development Mission to provide skill-building training in the state through Supply Chain Operations Academy (SCOA), ensuring that we discover and retain talent from across the nation. Similarly our MOU with Department of Empowerment of Persons with Disabilities (DEPWD), Ministry of Social Justice and Empowerment, Government of India and Skill Council for Persons with Disability (SCPWD), to upskill PWDs to bring them into the workforce have ensured that no one gets left behind. PWDs employed in our supply chain have time and again proven that they are our real heroes.
We take great pride in being at the forefront of real change such that every member of our team can feel free and be at ease with themselves while bringing their best to the table. We hope to add more stories like that of Ashu Adhana to our lives and enrich our understanding of how to walk together with every member of our community. The framing of our period leave policy for all women and trans women employees that was brought into effect from March 2022, is yet another example of our fervent commitment to creating a culture based on empathy and inclusion.
These intentional shifts have not only helped shape our world view differently, more importantly, they have driven conversations that have been both necessary and long overdue. I hope that in walking the talk of inclusivity, we are able to become catalysts for change in organizations nationwide in the years to come.
Insider's View
It is hard to understand the challenges our teams face by sitting on the ringside. It is important to roll up our sleeves and get down in the arena to understand their everyday challenges more closely and also be able to experience their moments of joy. I took the opportunity to don the hat of a wishmaster for a day during the Flipkart Big Billion Days. Understanding the result of our policies and experiencing them first-hand are two different things and I am glad I could do both while delivering products to our customers in Bengaluru. To walk a mile in those shoes to truly appreciate the effort and sacrifice that it takes to deliver each day for millions of consumers was humbling and heartening.
Giving Back to the Ecosystem
We believe that it's critical to recognise the value of the ecosystem that not only gave rise to Flipkart but also nurtured our journey of growth to become India's leading homegrown e-commerce organization. Our investors, sellers, customers and employees came together to make Flipkart successful, and in turn we continued to add value to our stakeholders and augment their growth with our policies and initiatives.
To nurture the startup ecosystem, Flipkart unveiled the Flipkart Leap Ahead and Flipkart Leap Innovation Network programmes on National Startup Day in January 2022. We paid it forward by promoting and contributing to India's thriving startup ecosystem, not just by investing, but nurturing them by mentoring and networking. Our expert mentors share their wealth of knowledge and resources with budding startups to enable them to transform e-commerce in India and cement India's place on the startup map of the world. As a technology-first company, we also launched Flipkart Labs to explore Web3 and Metaverse commerce, and this initiative has made massive strides to bring the future of technology to the present.
Beyond skilling and empowering communities, we also wanted to ensure we are creating impact in every corner of the nation. 'Flipkart Foundation' allows us to create inclusive growth opportunities by supporting development in socio-economic areas in India. We recently collaborated with two NGOs, Give Foundation and the SankalpTaru Foundation to raise awareness about the alarming environmental changes in Uttarakhand, to over 27,000 people in over 60 villages.
Flipkart also became the first Indian e-commerce company to commit to an ambitious target of Net Zero carbon emissions by 2040. While this is a lofty goal, it is one worth pursuing, as I mentioned in my conversation with Studio 34, it is very possible if we rally together with all our stakeholders together to achieve sustainability within the e-commerce sector in India.
As we approach 2023, we want to continue pushing the envelope to ensure diversity and inclusiveness, maximize the potential of every Flipster and design policies that provide the greatest benefits for all our stakeholders. At the heart of all of this would be our people – employees, customers, sellers, and employees.
That's a thought to dwell on as we look forward with anticipation to what lies ahead in 2023.
About the author:
Krishna Raghavan is the Chief People Officer at Flipkart. He and his team are responsible for designing and driving initiatives to attract and retain world-class talent and build competencies for the workforce while also strengthening Flipkart's culture. Krishna took over the role at a crucial juncture for Flipkart and took on the responsibility of shaping the organization's people charter for the long-term. He laid out Flipkart's commitment to being inclusive, entrepreneurial & sustainable while focusing on employee experience.