Remember Onida? If you watched TV in the late 1980s and 1990s, you'd recognize the brand. Onida began its journey in 1981 by assembling television sets in Andheri, Mumbai and distributing them to select cities in India. Today, Onida is one of the country's leading multi-product companies, bringing world-class designs, innovative technology and nifty features to the urban Indian consumer. The brand's latest offering, the Smart Chef Microwave Oven, has features that can take home-cooking to a whole new altitude. Here are the six ways in which this smart microwave-oven can change your cooking experience.
Weigh every gram that matters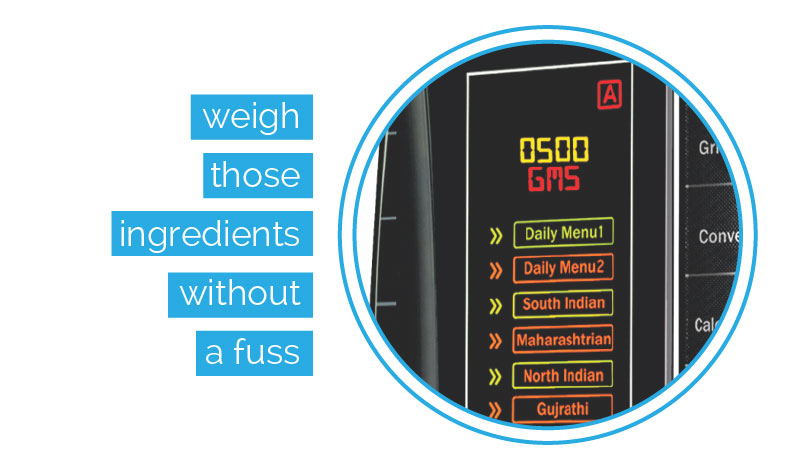 The Onida Smart Chef microwave oven modernizes the culinary experience at home and can make a professional chef of anyone. Its electronic weighing scale helps measure ingredients accurately. This feature comes in handy especially when you are baking hearty desserts. After all, there is a big difference between a cake that has sunk in the middle and a perfectly golden bake. With this Onida oven, you simply need to put in the ingredients and the in-built processor takes care of the rest. It detects weight, selects power setting, and adjusts the cook-time on its own. So who's game for that intricate Julia Childs recipe?
Every calorie counts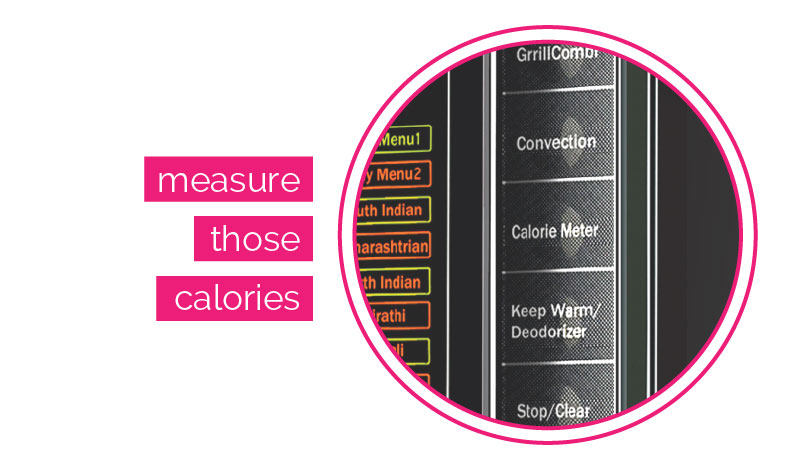 When you are going the healthy way in terms of what you eat, determining how much to eat can feel a bit like playing roulette. With an integrated calorie meter, the Onida Smart Chef Microwave Oven can be your health-conscious companion. Most of us turn to one of those calorie-counting apps, but these can greatly overestimate the necessary food intake. With the inbuilt calorie meter of the Onida oven, you can easily identify how many calories your food contains and manage to keep it under control. How smart is that?
Keep calm and enjoy the food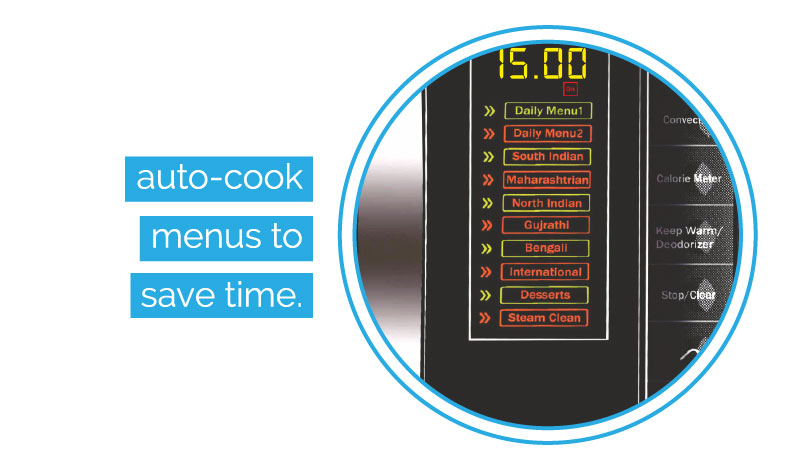 The Onida Smart Chef Microwave Oven not only looks stunning, it will also help you dish out delicious food at a single touch. The appliance offers 66 pre-loaded, auto-cook menu options that simplifies the preparation of your favourite regional and global cuisines. It also automatically adjusts the power level and cooking time, keeping you free to do other chores. Now you can whip up a variety of dishes from across the world without any worry!
Easy operations on the Onida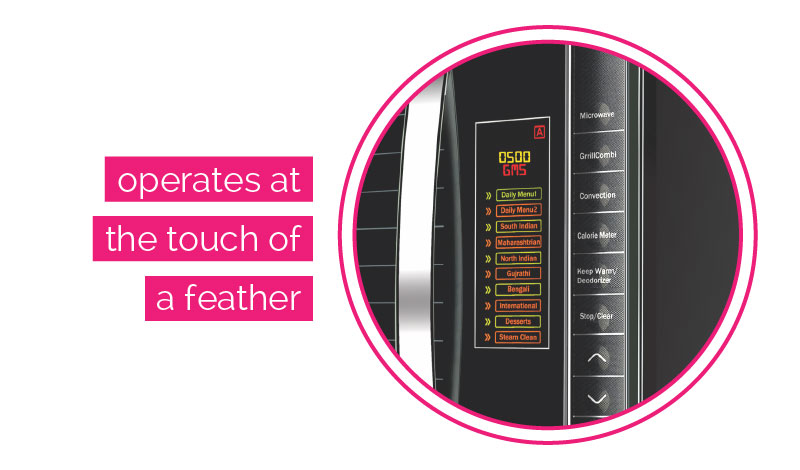 Tired of jabbing and poking at the control panel of your oven or microwave? Put an end to it. The Onida oven comes with a super-receptive, feather-touch control panel that can sense the lightest touch of your finger. The precision controls help set those exact timings for cooking a perfect dish and you can spend less time worrying about the outcome.
Cool way to warm things up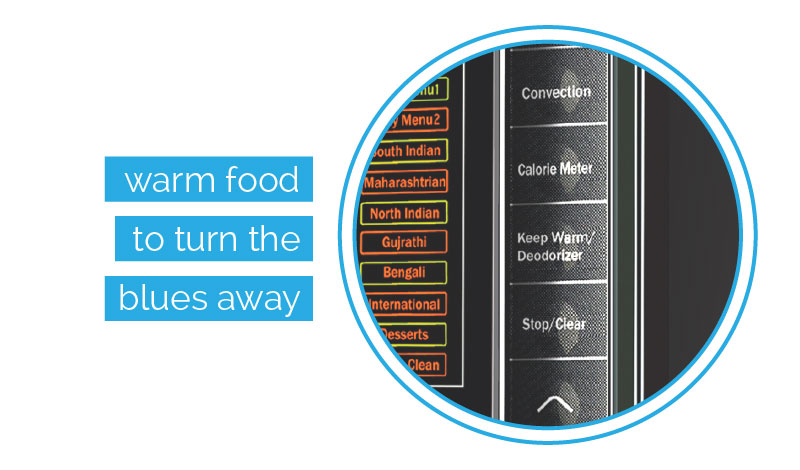 Nothing makes a dull day come alive like enjoying hot, fresh home-cooked food. With our hectic schedules, this becomes almost impossible. So if you're heading out after cooking and returning late for dinner, help is here. The Onida Smart Chef Microwave Oven's 'Keep Warm' option is there to get your food back to the perfect temperature. The stainless steel cavity and high quality insulation retains heat for a longer time, even after you turn the microwave oven off.
Go grease free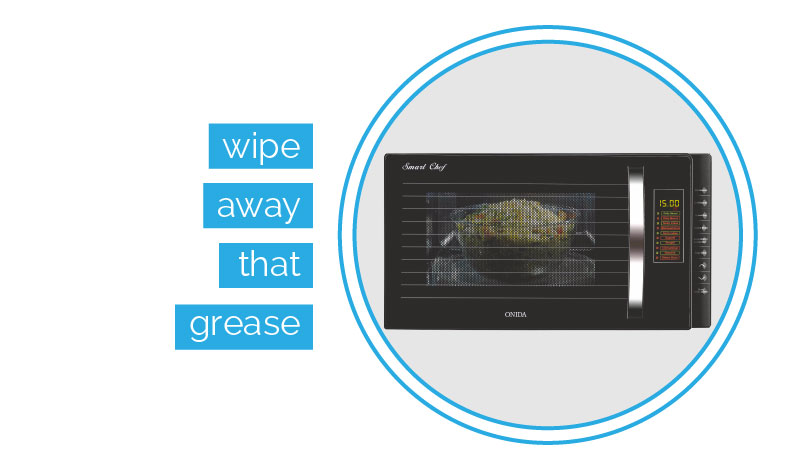 Cleaning after a good meal is something we all dread. And in ovens the task becomes even more painful, especially if there are overspills. This is where the Smart Chef gets really smart. Once you are done with your meal, you can steam-clean your microwave-oven without fuss. Simply microwave a cup of water with a lemon slice in a microwave-safe container until it boils. Keep the microwave door shut for a couple of minutes. Once the steam does its job, wipe the oven clean.
Click here to know more about the Onida Smart Chef Microwave Oven.