Amidst the lush green plantations and fog-covered hills of Munnar, Kerala, lives a farmer with an entrepreneur's heart. When the lockdowns hampered traditional farmers' access to the market, Vivek Devadas leveraged e-commerce, taking organic produce and products from the majestic mountains of Munnar to every corner of India. Relive his journey as he recounts his success story.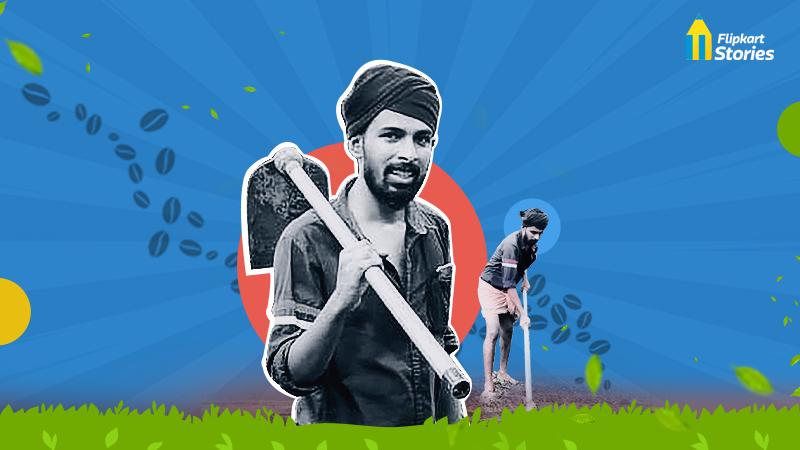 A thrilling drive up the majestic Western Ghats, amidst lakes, mountain streams and sprawling tea plantations – the idyllic town of Munnar lies cocooned by clouds in the Idukki district of Kerala. It is here that Vivek Devadas grew up, and he is determined to preserve and watch it progress in a way that benefits the people and the land that they love and respect.
For Vivek, and many farmers like him in the region, one of the key ways to do this is through responsible farming coupled with conscious and sustainable tourism initiatives.
---
Listen to the podcast
---
The lockdowns proved a turning point for Vivek. While he had many willing to buy fresh and organic produce and products from him, he was unable to reach his customers. That's when he decided he had to start selling online and ensure that everyone across India could have access to products grown and made via responsible farming methods, with a focus on sustainability and respect.
Now a proud Flipkart Samarth partner through the Flipkart Samarth-NULM collaboration, his brand Munnar Valley, which stocks products such as unflavored black tea, organic black pepper, premium cloves, and cold-pressed coconut oil, reaches conscious shoppers across India. Boosted via this initiative, he's giving fresh life to a traditional trade and even empowering women in rural India. Following his success online, he has plans to expand his learnings towards eco-tourism. Here's his story in his own words.
Adding A Twist To The Traditional
We've had farms since childhood. We would pick up produce and sell them at shops nearby. However, the price we'd fetch was much lower than the market price. At that time, we had no other option. Then, around two years ago, the Prime Minister started an initiative where one can sell value-added products anywhere in India. Then it suddenly struck me that, yes, we can sell value-added products! That's the inspiration behind starting our brand.
We have cardamom, tea, and coffee plantations, and coconuts in abundance. We also get cloves and maize flour from our farms. So, we started packing bottles with products like unflavored black tea, organic black pepper, premium cloves, and cold-pressed coconut oil, selling them under our brand name, Munnar Valley.
Leveraging An Organic, Age-Old Farming Style
We've been farmers since my grandfather's time. They would use cow dung and small ingredients for cultivation. We still use traditional methods, mostly using cow manure as fertilizer. Moreover, ours is a hilly area, and tractors can't climb the terrain. Everything we do here is by hand, with manpower.
Similarly, we do not use any harmful chemicals or preservatives. Our idea is to have farm fresh items delivered to shops. We do not add chicory to coffee beans, for instance.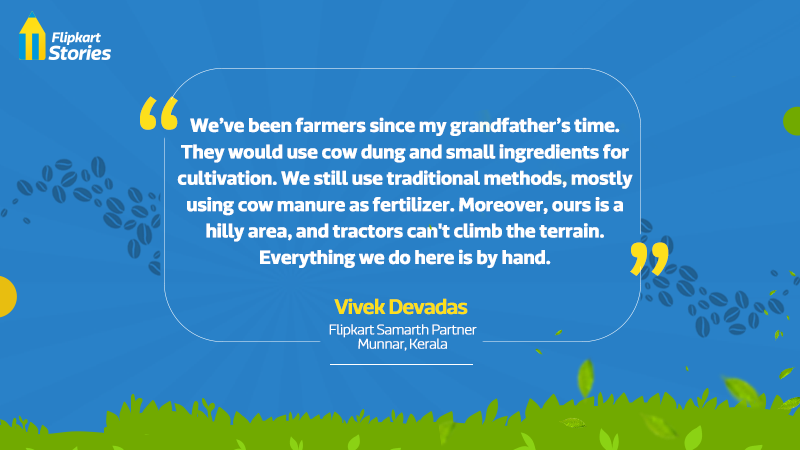 The Women Behind Munnar Valley
In our neighborhood, ladies from Self Help Groups also help us cultivate and maintain our farms. Ordinarily, they have limited access to employment. But they have the will to work if the opportunity is within reach.
Though we are small manufacturers, they are happy to come to us in groups of 10–20. They work on the farms, watering, cleaning, and picking cardamom, coffee and other produce. They work together, eat together, and go back home in the evening. Earlier, the women who came to Munnar Valley would need to ask their husbands or parents for money for outings or purchases. Now, they have their own earnings and even support their children and families with their income.
We are also promoted by Kudumbashree, the Kerala government's state poverty eradication mission, as they promote women entrepreneurs, and we provide a lot of jobs to women. Kudumbashree buys our products and sells them in their stores as well.
Where Work Is Refreshing
Now that we have a farm and an office, I can compare workdays! On the farm, it's very free. We have no restrictions, no pressure. We can enjoy our work. It's very beautiful – another feeling, really. We watch the plants grow, picking seeds and fruits. As we walk through the plantations, we reach out for various fruits, pick and eat, without worrying about chemicals or ill effects.
This is the kind of work the women of Munnar enjoy. It's like an outing every day! They sit in a circle, for instance, cut a jackfruit, eat, discuss something, and really enjoy their day amidst pleasant climates.
From Munnar With Love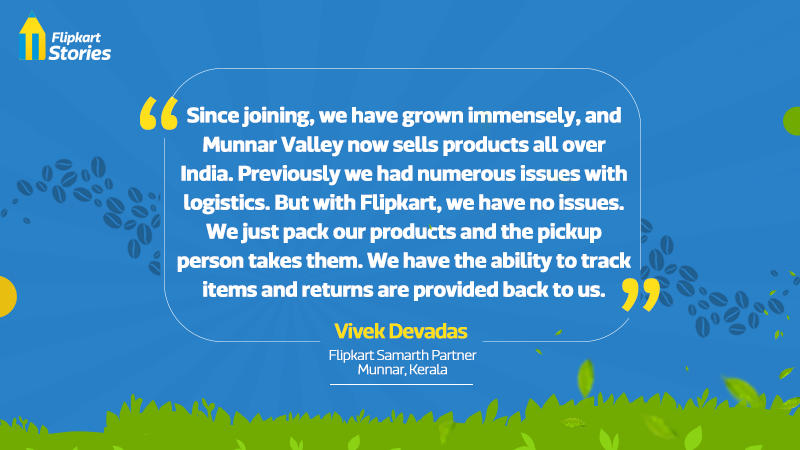 Last February when I was in Noida, Uttar Pradesh, for the Saras Mela I learned about Flipkart Samarth – in no time I had enlisted for the program. Since joining, we have grown immensely, and Munnar Valley now sells products all over India.
Previously we had numerous issues with logistics. But with Flipkart, we have no issues.
We just pack our products and the pickup person takes them. We have the ability to track items and returns are provided back to us. Further, we have a dedicated Flipkart manager, who is available 24/7. I receive all the help I need.
The Way Forward
We are planning to start a farm stay that can house 10–20 members a day. We want to have a few huts in the corners of the farm. Guests can live amidst nature, pick items they want and cook, and go back rejuvenated. All of this is only in the planning stage, though.
We need to realize the importance of promoting Swadeshi products. If fellow citizens grow financially, we can help build our neighborhoods. We are one nation. We must stand together and grow together!
---
To read more stories of #SellfMade Flipkart sellers like Vivek Devadas, click here.