When Ekta Shah enabled immense growth for a company she worked for, she began to wonder why she shouldn't do the same for a brand of her own. Taking the leap of faith, she joined hands with a partner and soon became an online seller on Flipkart. Picking up every bit of advice from her account managers, it wasn't long before Ekta's beauty products struck a chord with consumers across India. Today, she has not only forayed into other categories, but is also heading a team of 40 happy employees!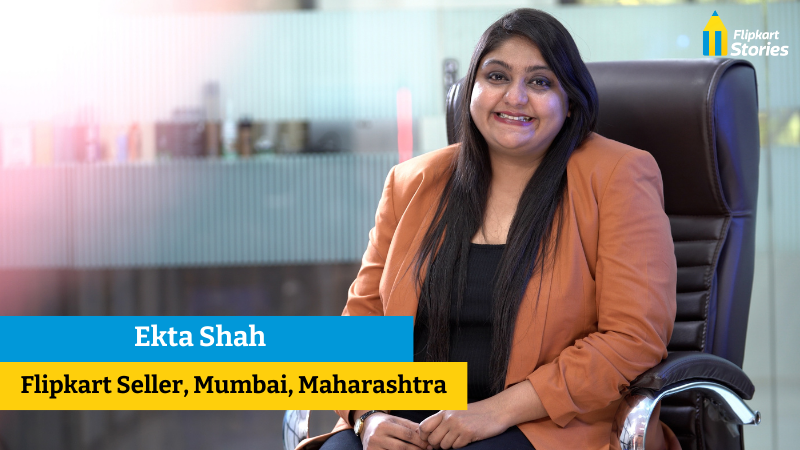 Mumbai is not only home to a large number of start-ups but is also a coveted place for women-led businesses. As per the 2023 Women Entrepreneur Cities (WE Cities) Index, the City of Dreams is one of the top 55 cities in the world where women entrepreneurs have found a foothold.
One of the incredible women whose success story began right here is Ekta Shah.
After being at the helm of a growth story as an employee in a beauty company, Ekta knew she had it within her to succeed as an entrepreneur. Laying all doubts behind her and following her dream of becoming an entrepreneur, she knew e-commerce was the best way to make a name for herself and get her products to every street and alley of India. To launch her business on the road to profitability and get pan-India reach, she became an online seller with Flipkart.
Starting off with just two brands and two employees in 2020, Ekta and her partner saw phenomenal response from customers across the country. Today, in just two years, they have not only expanded into every category of men and women's grooming and beauty, but also have a portfolio of 40+ brands, and have 40 employees working with them! Here's her incredible story in her own words.
Meet Ekta – a woman with a vision
I am the co-founder and owner of Glide Route Ventures LLP. In 2019, we started our journey in Mumbai, Maharashtra. We started with 2 brands, and today we are associated with over 40 beauty and cosmetic brands. We cater to every category within the beauty and grooming segment: we have fragrance, personal care, skin care, make-up, and also men's grooming.
Moment of truth: Going from employee to entrepreneur
After finishing my college, I worked for two years in a hair care company. After that, I joined a make-up company for 3 months. However, in the span of those 3 months, I took that brand from ​​₹4 lakh to ₹40 lakh. That's when I decided that if I can do this for another brand, why don't I do this for my own company? Then I met my current business partner, Tarun. And we got together to create our own business strategy.
An ace online seller on Flipkart
Flipkart is one of the best platforms out there. And the registration process was surprisingly so smooth. Flipkart's seller support and our account managers provided us with a lot of help. From how to upload images, which images to upload, and what keywords to use to make our listings rise – I learned a lot from them. They also gave us insights on how to best optimize Flipkart ads, among other things. All of this really helped us grow.
Heading towards an impact-led future
When we started, we started with two people. And now in two years we are a team of 40 people. Flipkart is one of the best platforms out there where you can grow – you can create a name for yourself. Today, through Flipkart, I am getting a chance to share my story with millions of people. I hope my story inspires many others.
To read more success stories in India, click here.