Motorola recently launched the latest flagship smartphones — Moto Z and Moto Z Play — which are available on Flipkart. If you are a smartphone enthusiast, here's something that's sure to deepen your interest. Play the #MotoZQuiz, complete all the steps, and get a chance to win Flipkart gift vouchers.
Motorola launched the much-awaited Moto Z phones on Flipkart. Think you know everything about these new smartphones? Here's a chance for you to play the Flipkart Stories #MotoZQuiz and try your luck at winning Flipkart gift vouchers worth INR 500.
THIS CONTEST IS CLOSED. CONGRATULATIONS TO THE WINNERS!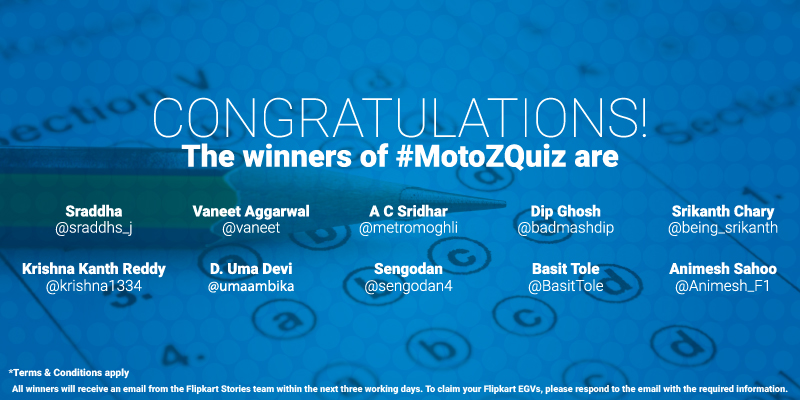 This quiz requires you to read the Moto Z and Moto Z Play review on Flipkart Stories and answer the questions. To be considered for a prize, the winning entries must fulfill the following conditions:
(A) Get all answers right
(B) Like the Flipkart Stories Facebook page
(C) Tweet the link to the contest after you are done playing
(D) Enter your name and email address in the form
Ten contestants who complete these steps stand a chance to win Flipkart electronic gift vouchers (EGVs) worth ₹500 each. The contest closed on Tuesday, October 24, 2016 at 1600 hours IST (4 pm). Winners were announced on October 28. Winners may expect to receive their prizes within 30 days of the announcement. You are welcome to play the quiz for fun.
By playing this quiz, it is understood that you have read and accepted the terms and conditions 
TERMS AND CONDITIONS