Promising the most remarkable Android experience in a device that packs in all the features of a high-end smartphone at a truly pocket-friendly price tag, Moto has introduced the Moto G5 Plus, just for you on Flipkart.
---
Check out this video of the G5 Plus unboxing by Geeky Ranjit:
[yt4wp-video video_id="Bj8dN7yp2so"]
---
Last year the precursors to the latest launch, G4 and G4 Plus, offered its users features like a 1.5 GHz octa-core Qualcomm Snapdragon 617 processor with a 2GB RAM, a 16MP rear camera, a fingerprint reader and the sturdy Moto technology that has gained fans the world over. But this year, Moto has upped the ante with the G5 Plus, making it the newest Android to watch out for in 2017. The Moto G5 Plus epitome the brand's promise of #uncompromise when it comes to all their specs. Be it the elegant all-metal body, the best-in-class dual autofocus pixel rear camera, a one-button navigation for easy one-hand navigation, the Android 7.0 Nougat experience right out-of-the-box, the ability to insert not one but two SIM cards and a microSD card, the convenience of Google Assistant, as well as Moto Action, which gives control over actions and apps based on movements of your hand.
---
Watch this video by Recombu comparing the Moto G5 Plus to the G4:
[yt4wp-video video_id="Jewuf6sdBrw"]
---
If you are looking for the best out of the Moto G5 experience, go for the 32 GB version that's priced at INR 16,999 on Flipkart! Check it out on Flipkart here.

---
Moto G5 Plus review – What to look forward to
What makes both celebrities and users so gung-ho about the Moto G5 Plus? Here's an overview of its top-billed features.
Be a professional photographer at the click of a button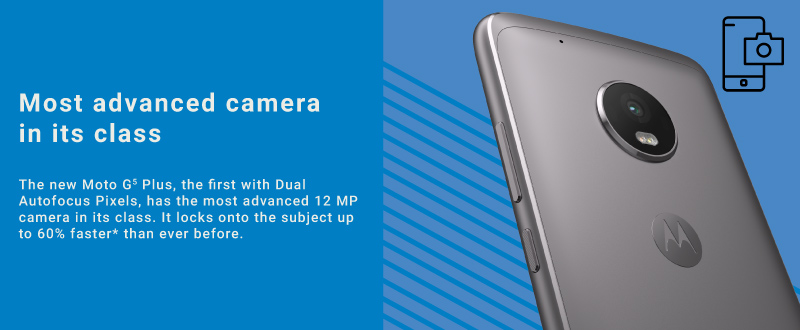 With a 12MP Rear Dual Autofocus Pixel Camera on the G5 Plus, you will capture your best shots yet. Want more? How about 4K video recording, an f/1.7 aperture, and dual-LED flash? The colors, sharpness and effects on offer here make the Moto G4 and G4 Plus camera pale in comparison. The 5MP front camera with wide-angle lens, f/2.2 aperture and display flash captures the perfect selfies, day or night. The camera also comes with all the standard Moto camera features with two additional modes called the professional mode for professional quality pictures and beautification mode to enhance the beauty in all your selfies.
The processor you have been waiting for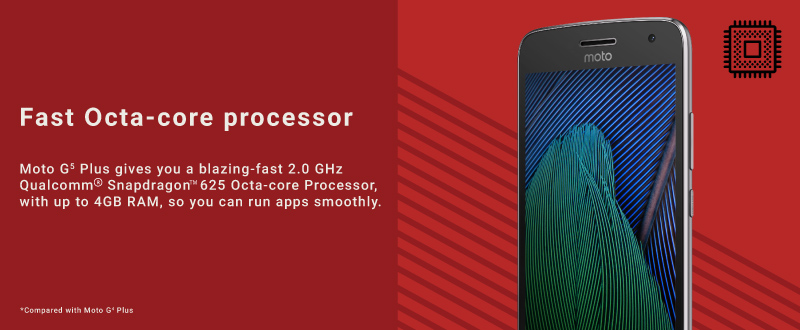 It does not get better than Snapdragon 625 Octa Core Processor that fuels this beast of a smartphone. From gaming, video calling, photography to music playback, there is nothing this processor cannot handle. Unlike the G4 and G4 plus, you can multitask fast and easy on the G5 Plus and move from one application to another in the blink of an eye. The Snapdragon processor ensures that no matter how heavy the usage, G5 Plus is with you right through. The best in range for Moto, you are sure to have a lightning fast experience on the G5 Plus!
If looks could kill, the G5 Plus would knock you out!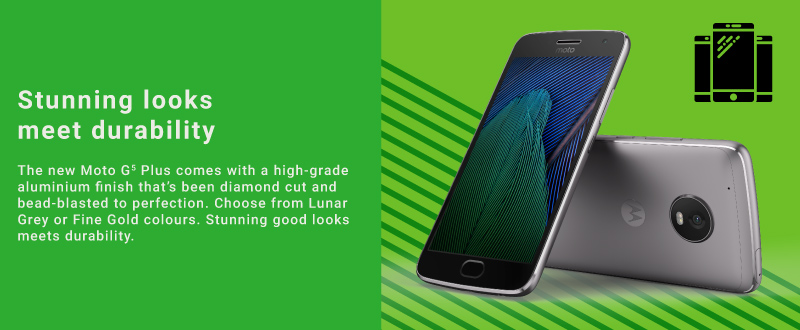 With a high-grade aluminum finish diamond cut to perfection, the G5 Plus looks nothing like any Moto device you have seen before. Far from the plastic finish of G4 and G4 Plus, the smooth aluminum finishing of the G5 Plus looks classy and elegant, with the Corning Gorilla glass adding grace to its appearance. Its lightweight frame and sleek metallic body only add to its many charms.
The best stock android experience guaranteed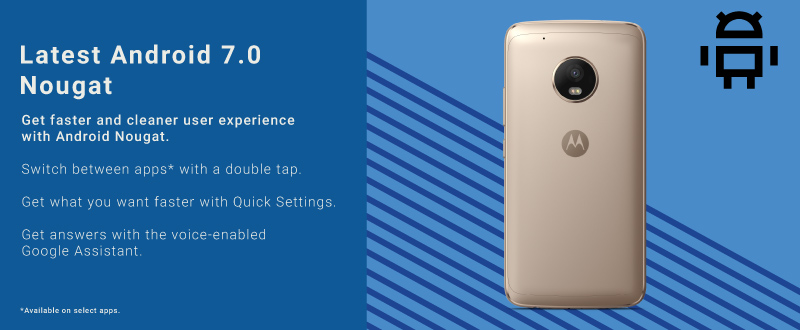 Smartphone users universally agree that the Google interface is the best you can get. G5 Plus's Android 7.0 Nougat offers a stock android experience, which is to say that it is the cleanest, most authentic stock android experience in the world. You can experience android in its purest form on the Moto G5 Plus and rest assured, you will never want to try another phone again!
Turbo charge your life with a battery that is everlasting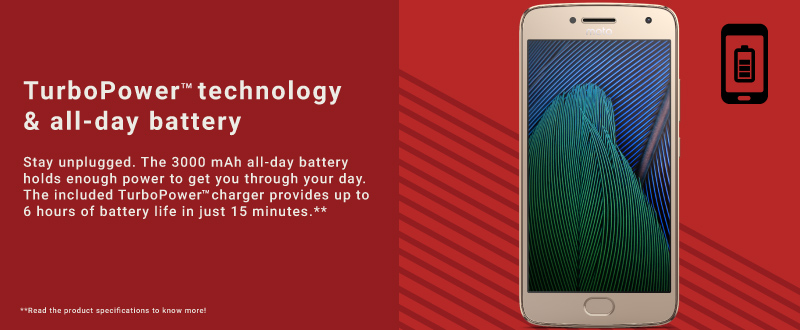 No matter the phone, all of us have faced low battery woes from time to time. Be sure to leave all of them behind with the G5 Plus. The 3,000mAH battery supports your long gaming hours, phone calls, photography needs, what have you. The Turbo Power technology ensures that if you should still fall short of time, in only 15 minutes, you are good to go for another 6 hours!
---
Here's what twitterati had to share about the Moto G5 Plus
The G5 Plus offers an upgrade on all of features of the G4 and G4 Plus in a handset that oozes style. Before we decode its features, here are some responses to the #CrazyForMotoG5Plus contest that Flipkart had run:
Hey!! The most craziest fan has arrived. I can turn the world upside down for that Moto G5 Plus. #CrazyForMotoG5Plus pic.twitter.com/OWa657Dwdz

— Rachit Saxena (@IAmRachitSaxena) March 10, 2017
#CrazyForMotoG5Plus
I can drive above speed of 200 km/hour to win Moto G5 plus ♥ pic.twitter.com/G4RsSfJEtQ

— Money Garg (@gorugarg) March 10, 2017
Harbajan Singh was so inspired by the Moto's #Uncompromise initiative, which not only highlights the Moto G5's uncompromising features but also encourages us all to stop compromising, that he shared his story on Twitter.
I love this initiative of Uncompromise Day by @Flipkart & @Moto_IND and I'm inspired to share my story. Check it out and #LetUsUncompromise pic.twitter.com/In8jAYESjG

— Harbhajan Turbanator (@harbhajan_singh) March 14, 2017
Harsha Bhogle wasn't far behind in showing his appreciation.
Thank you @Flipkart & @Moto_IND . We all really need this Uncompromise Day. Great initative! Here's my bit #LetUsUncompromise pic.twitter.com/lSRS0KilEJ

— Harsha Bhogle (@bhogleharsha) March 14, 2017
---
If you are looking for the best out of the Moto G5 experience, go for the 32 GB version that's priced at INR 16,999 on Flipkart! Check it out on Flipkart here.