From playing Captain Vyom in the 1998 television series to the Florida Ultraman challenge in 2017, Milind Soman has been capturing the imagination of the country for over two decades. After shooting to fame as an actor-turned-model, Milind Soman has now made fitness the focus of his life, competing in high-endurance marathons across the world, and defying his age time and again. On August 17, 2018, the 53-year-old fitness icon offered Flipsters a drink from the fountain of youth.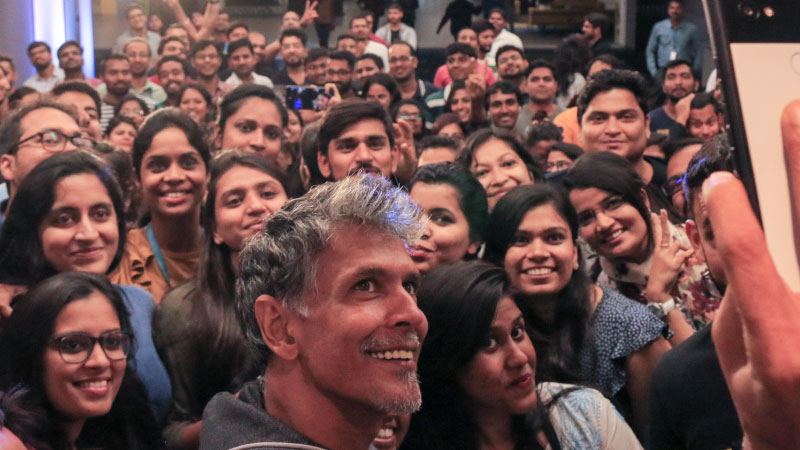 Milind Soman thinks the Ultraman challenge was easy.
So easy, he competed all three days — a 10-kilometer swim, a 421-kilometer cross-country bike ride and an 84-kilometer run — barefoot.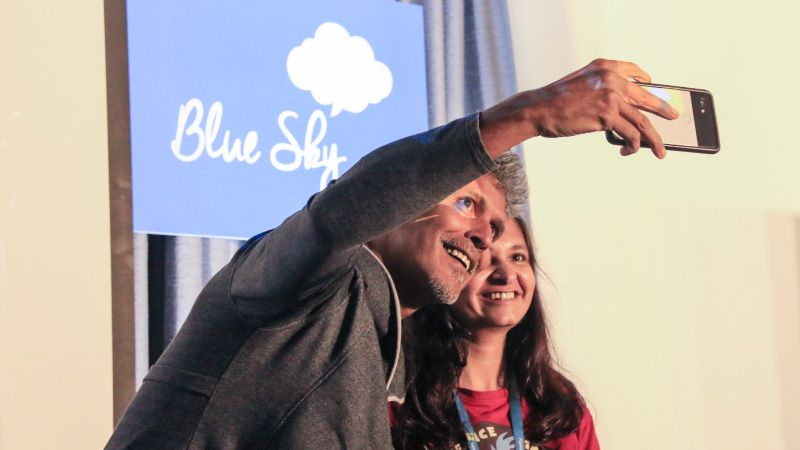 One of millennial India's first cultural icons and one of its first supermodels, Milind Soman captured the imaginations of millions in the '90s with his dashing good looks and bold modelling spreads. In recent years, Milind has catapulted into the spotlight again with his second coming as a fitness icon.
Today, he is an inspiration to many long-distance runners and fitness enthusiasts, and judging by the turnout at his talk on a wet monsoon afternoon at Flipkart, any Flipster who's ever put on a pair of running shoes was there to drink in the wisdom of a living legend.
"You don't need exercise," he proclaims at the beginning of the talk, to audible gasps from the audience. Coming from a 53-year-old man who ran an 84-km marathon, this seems a ludicrous statement. Especially when he says things like "When I run, I feel like a God."
---
Listen to Milind Soman on running, life… and online shopping (not!)
---
With his salt-and-pepper hair, trendy jacket and flip flops, Milind Soman looks old and young at the same time. Fitting, as he's busted stereotypes about age throughout his career. He was never a career athlete. He signed up for his first marathon at the age of 38. When most people's bodies start to soften, Milind had just started to hit his peak as an athlete. He completed the Ultraman at the age of 51, a feat of endurance that much younger people can't even dream of completing. If anyone in the world thinks that age is just a number, it's him.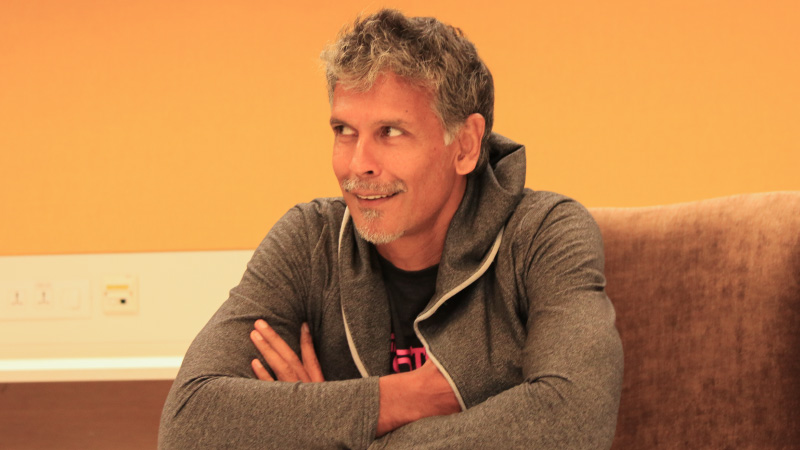 It's no wonder then, that when he watched the video for Flipkart's #ChooseYourAge campaign, he was captivated. "I thought it was quite an unusual initiative because from what we hear all time, everything is about youth. It was the first time I saw an interest in people who don't qualify as youth. The message was wonderful," he says, addressing the packed hall.
The secret to defying age, he insists, is actually pretty simple — he never works out at the gym. Instead, he stays active. He runs whenever he feels like, for as long as he likes and eats well. That's all. "Everybody seems to think I run a lot because my Instagram is full of it, and I don't post about anything else, but I don't have a routine, so there's no question of missing a workout"
But it wasn't always so easy, he says. Between the ages of 28 and 38, he was a heavy smoker, burning through over 30 cigarettes a day. At an age when people find it difficult to let go of old habits, it took him three years to completely quit.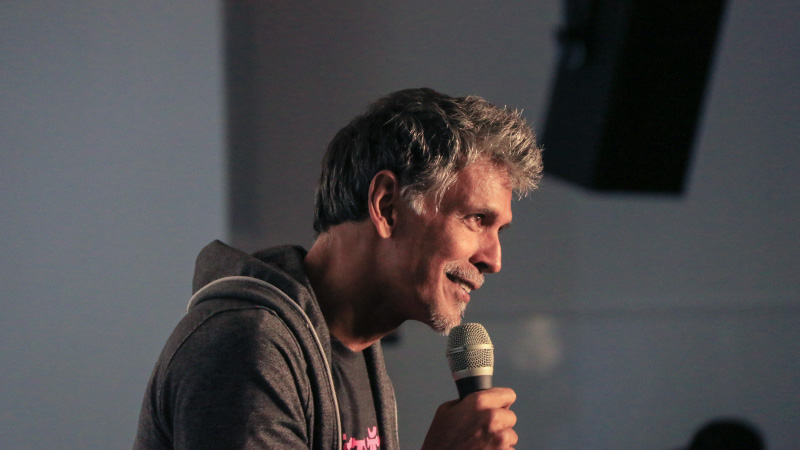 He speaks candidly about the uphill battle that people have to fight to change their ways. "There are as many excuses as you can think of. But it's generally laziness. People give in to age, they look around and more and more people just surrender to age saying 'I'm too old' or 'I'm too fat' or 'I'm too this or too that'. Before you realize it, if you're not careful, your body and your mind have deteriorated into space where it's difficult to get out of."
The problem, he says, isn't with exercise itself, but with the motivations behind it. "Exercise needs a goal. A lot of people start exercise because they want to lose weight." He doesn't agree with the goal-oriented approach because he believes that being active should be something that comes naturally to people, he says, talking about his grandmother, who kept active even at the age of 90.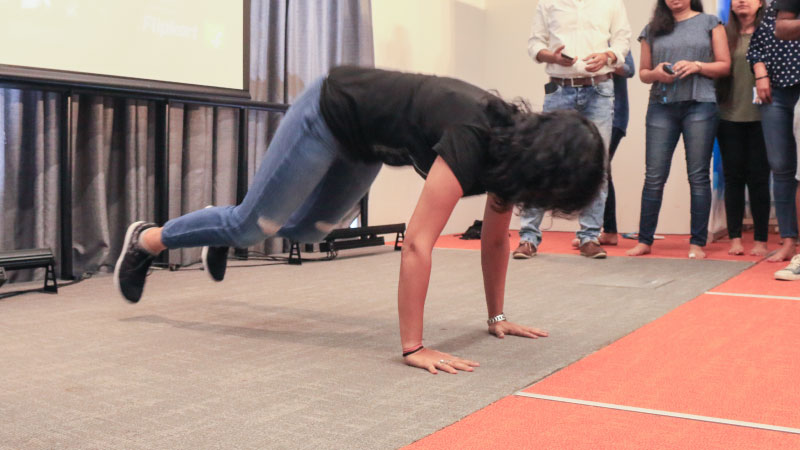 "Our lifestyles are beginning to teach us a different sort of culture. We eat a lot. We sit a lot."
"When you're not actively working, stand up and move around," he says, before pausing and clarifying, to much laugther, "I don't know what your policy is here though." Apart from that, he recommends lots of sleep, and staying away from packaged and refined foods.
In fact, Milind is so committed to the fit lifestyle that he literally makes his fans do push-ups before letting them click selfies with him. Eager Flipsters had to learn this the hard way, with them being asked to do push-ups to "earn" a selfie.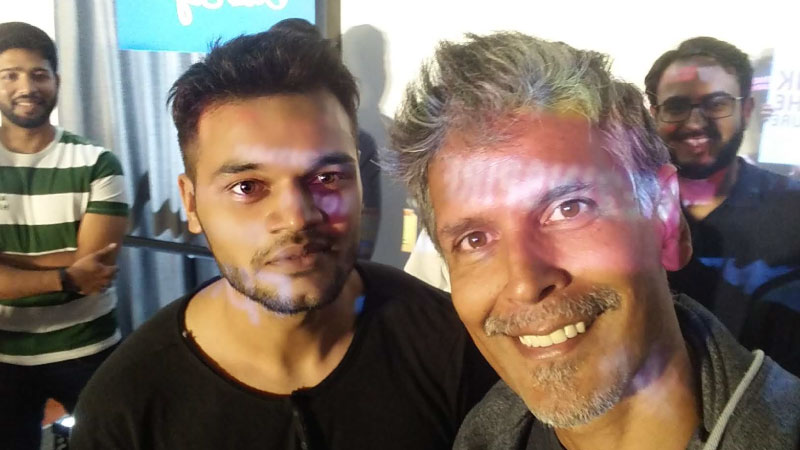 Akshay Alok, a fan of Soman from his Captain Vyom days and one of the lucky few who earned that selfie, was full of praise: "As a child I used to watch Captain Vyom," he says. Meeting his childhood hero was nerve-wracking for Akash. "I was literally shaking, because I was so nervous. I had already done burpees (for the selfie), and standing in front of him, panting, I was struck by how humble he was. I didn't get the feeling that I was talking to a big celebrity."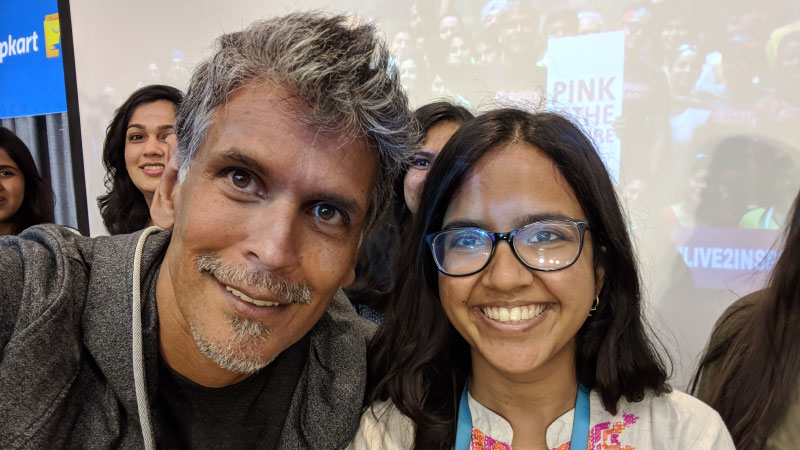 For Laveena Saxena, Milind Soman is a fitness role model. "I had gained a lot of weight and I had to shed it. I had followed his achievements in the Ironman challenge and he inspired me to start running." Like Akash, Laveena was also struck by how down to earth he was. "He has a lively and positive attitude towards life and I admire that," she says.
For Satyaprakash M, a marathon runner himself, meeting Milind Soman was like meeting his hero. "Milind Soman really inspires me to keep working on my body. I used to run 5-7km barefoot, eventually I went up to 21km. It was great to hear him talk about his routine and his diet. I would say 20 push-ups is too small price for a selfie with him!" he quips.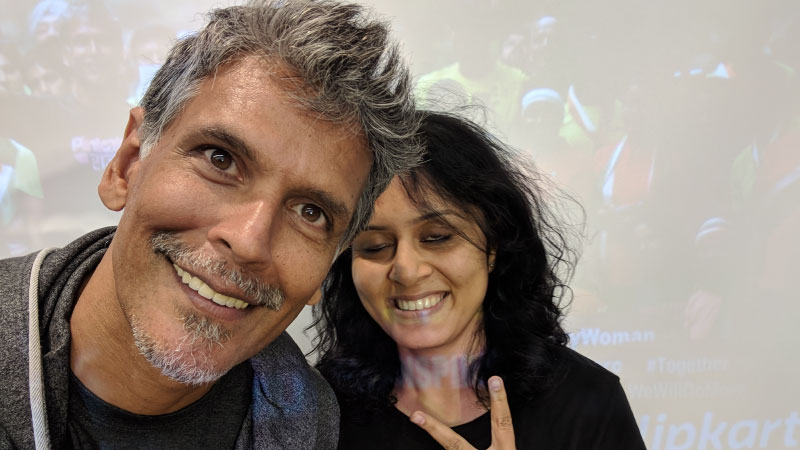 Reetika Rana, also a marathon runner, was inspired by Milind Soman to start running. "I ran Pinkathon two years ago in Delhi, so meeting him was like meeting my fitness idol". For Saurav Shekhar, it was Milind's message at the talk that was inspiring "It can be difficult to hit the gym every day when you're busy, so hearing him say that you actually don't need to go the gym, that you can keep fit by eating right, sleeping right and exercising right was quite inspiring."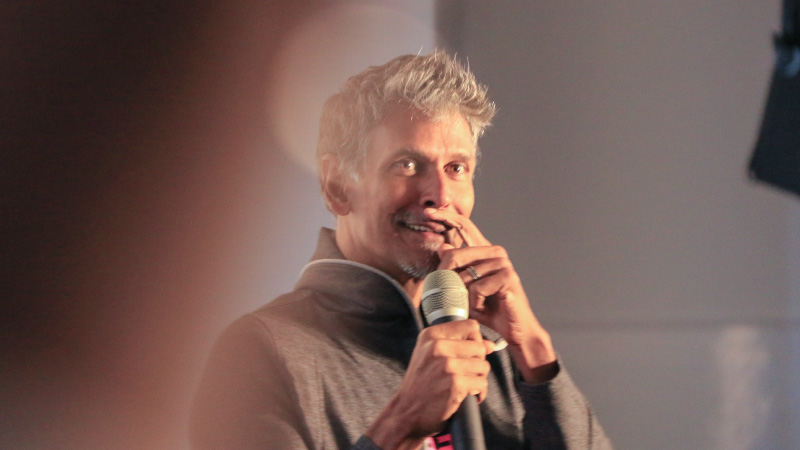 The millennial approach to fitness is, to put it one word: complicated. With a plethora of diets and exercise regimes available, it can be confusing for someone starting out on the path to better health to pick out the right plan or the right diet. In this complicated world, everything about Milind's regimen is a throwback — from his diet, devoid of processed foods and junk like in the old days, to his workouts, consisting of just good old-fashioned running, swimming and biking. In fact, he is so old-fashioned that even his mom, a fitness icon herself who's 80-plus and does 2-minute planks, shops online, but he claims he doesn't.
Milind Soman is certainly old-school, but who says old-school can't be cool?
Photos: Arjun Paul and by special arrangement
---
Also Read: Don't Act Your Age, #ChooseYourAge