When it comes to The Big Billion Days sale, every contribution adds up to something bigger. Behind India's biggest sale, the grandeur, the frenzy and the fun, are individuals working countless hours to ensure that it's truly a sale to remember for our customers.
The story of the #TheBigBillionDays 2019 is also the story of these individuals. Their hopes, dreams and aspirations are the driving force behind the festival. They are the #HumansOfBBD.
Follow the #HumansOfBBD series through this festive season, and the next time you think of #TheBigBillionDays, think not only of great deals and offers, but also about the men and women that made it all possible!
As told to Jishnu Murali
---
Will of steel

"My name is Syed Hussain Ghalib. I work with Flipkart's Customer Support. I'm from Jamshedpur, a small town in Jharkhand, mostly famous for Tata Steel. My father owns a small stationery shop. I remember the night my life changed drastically. I was just 16 years old. My father and I are passionate football fans and we were watching El Clasico, the legendary face-off between Real Madrid C.F. & FC Barcelona. At half-time, my father started feeling anxious. It had nothing to do with the match. He also had a sharp pain in his chest, but at that time, he didn't tell us about it. I decided to take him to the hospital. So I took the scooter, sat him behind me, and we went to the hospital. It was only when we reached the hospital and the doctors examined him, did I find out that my father had just suffered a major heart attack. I was shocked. The following days were very tense for my family. I decided that I had to support my family. I first started taking care of my father's shop. Medical bills had to be paid and without an income we wouldn't have been able to afford it. Once he was out of the hospital, I decided to move to Bengaluru. I first got a job in a call center, but I wasn't satisfied with the job. My friend who works here in Flipkart, told me about an opening in Flipkart's Customer Support team. So I gave the interview, cracked it and here I am! I remember sitting in the library as a kid, while the others either played outside or only focused on their subjects. I used to read all the novels I could get my hands on. That helped me pick up English quickly and now I speak to Flipkart customers confidently. This Big Billion Days sale, I purchased a phone for my mother and branded shoes for my dad."
---
Determined to succeed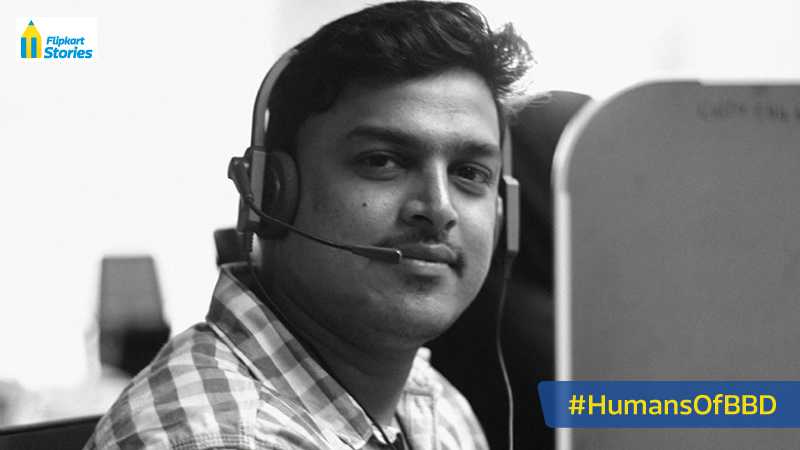 "My name is Mohsin Khan. I was born and brought up in Hebbal, Bengaluru. My father was a truck driver. He used to transport black pepper to Chennai and Andhra Pradesh. One day, when he was cleaning the windshield, he fell. He severely dislocated his shoulder and stayed at home for almost a year, unable to work. My brothers and I had to take up that responsibility. My brothers were studying in an Arabic college. Because I was determined to start earning to support my family, I didn't join my brothers. Instead, I went to Government Ramnarayan Chellaram College to pursue my degree. I used to go to college in the morning, and by 4 pm I would work at a small mobile accessories and repair shop. I used to work there till 10 pm, sometimes till midnight, and on festivals and public holidays. The shop owner used to give me ₹200 everyday. I would sometimes skip meals – lunch on some days, breakfast on others – to save money. But whenever I reached home, my mom would prepare dinner for me. It was when I was working at the mobile shop that I first met a Wishmaster. He told me about Flipkart, and immediately I was interested and went to Flipkart for an interview. I feel that my determination to support my family and my readiness to begin my duties then and there, got me the job. I also speak Kannada, Hindi and English. I actually picked up english speaking to foreigners who'd visit the mobile shop. My father has always told me to listen to what people have to say, and only then speak. That lesson has stayed with me always, and I still remember that to this day when I take customer calls to help them with their queries. I think that's what made me good at my job."
---
Beauty in simplicity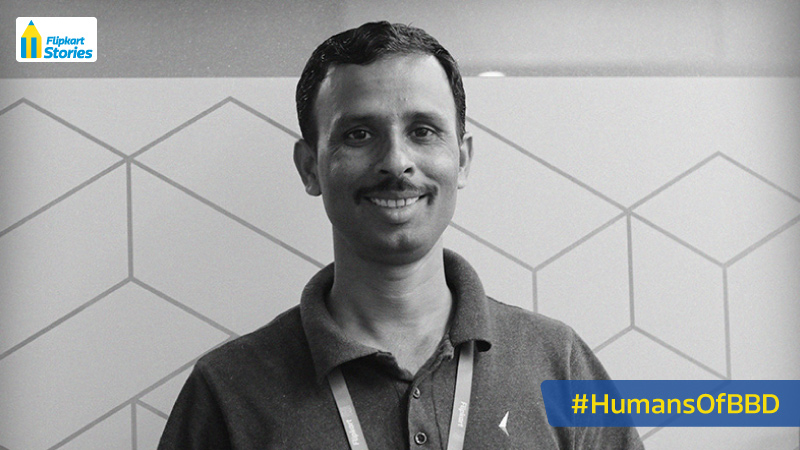 "My name is Mallikarjuna Reddy. I come from Andhra Pradesh. When I was in Class 10, my father passed away. I didn't have the option to continue my studies after that. At the same time, my sister met with an accident and we had to spend all our savings for her treatment. The treatment was of no use and shortly after, she too passed away. I had to find a way to support my family. There were two borewells in my village, but they were dry. Water was hard to come by. So, to earn a decent living, I came to Bengaluru. I first found a job in Yelahanka as part of a small company's pantry staff. But I wasn't being paid enough to support my family. That's when I moved to Flipkart. Now I'm being paid sufficiently. Had I been able to study, I could have done better in life. But I still want to do my job with joy and accountability. I am a simple man with simple aspirations. I just want to lead a normal life and make enough to support my family and educate my daughters. My youngest is one-year-old and my elder daughter is almost four! I'm planning on buying some gifts for them this Big Billion Days sale."
---
A dream to chase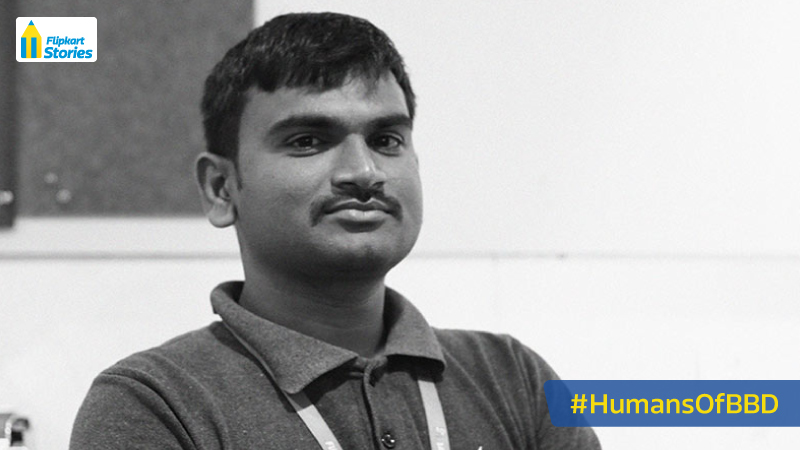 "My name is Bhaskar. I am from Andhra Pradesh. I left my village and came to Bengaluru to find work because I had to sell all my land back home in order to pay off a ₹5 lakh loan taken by another family member. I used to work in construction but when one of my supervisors there spoke to me and found out that I was schooled when I was young, he realized that I could be earning more with a better job. He suggested that I leave the construction job and that's when I joined JP Morgan as part of their housekeeping staff. Soon after, I moved to Flipkart's housekeeping team. When my supervisors here saw my commitment and dedication to my work, they knew I could handle bigger responsibilities and I was promoted to Pantry Staff. I have a dream I want to fulfill within the next ten years itself. I lost all my land because my family was in debt. I want to buy land in my village and settle down there. During The Big Billion Days sale, employees stay back at the office and the pantries are functioning through the day. So my workload also increases immensely. But I'm very happy here and I do my duty. I've saved some money to buy a TV during the sale. I have my eyes set on a 55-inch TV and I'm very excited!"
---
A mother's pride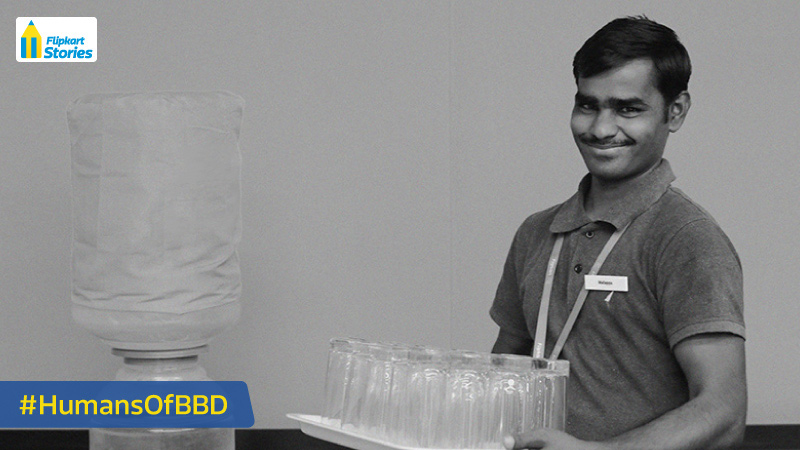 "My name is Mallappa. I come from a small village called Madargi in Karnataka's Bidar district. Most of the people there are farmers who grow pulses. I have two older brothers whom I love very much. Whatever I am earning now, where I've reached in life, I owe it all to them. I remember how my family struggled when I was very young. My father has a drinking habit and he used to spend his earnings on liquor. He was barely at home. My mother used to leave the house early in the morning to work and return late at night. She was a hardworking woman who gave everything she earned to the upkeep of the house and her children. But she was treated poorly by her in-laws. When my mother returned from work at night, they rarely left food for her. Even as a child, I knew there was something horribly wrong in the way my mother was treated. My brothers, being older than me, understood what was happening, and they quit their studies to start working. They wanted to ease my mother's burden but since they were minors then, they couldn't get jobs. So, they helped her in farming. When they were old enough, they got a separate house for my mother and started to live there with her. My brothers resolved to educate me so that I could go further in life. I studied as much as I could, while they worked. Now I'm working as a pantry boy at Flipkart and I'm able to send home enough money to my brothers and my mother. During The Big Billion Days sale, I'm going to buy a TV for them so that they can watch it together in the evenings."
---
Making dreams come true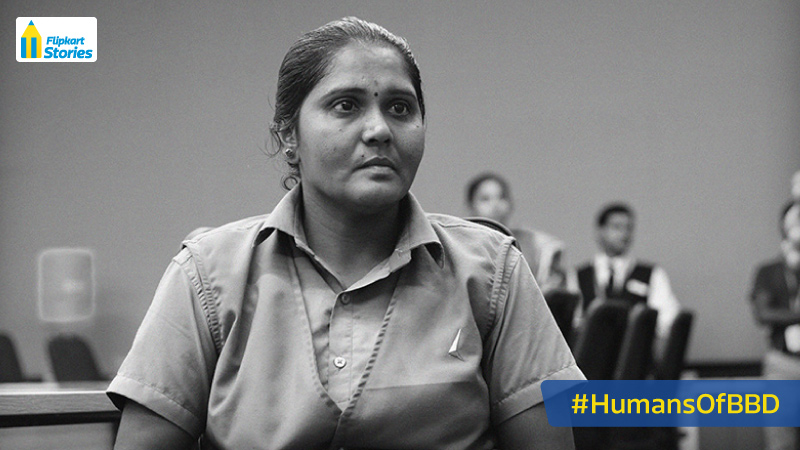 "My name is Deepika and I'm a member of Flipkart's housekeeping staff. I come from a small taluk called Tiptur in Karnataka's Tumkur district. When I came to Bengaluru with my sons and my husband, we didn't have a single rupee to our name. My husband and I found work immediately as housekeepers and stayed with our employers to save money to rent our own house. I had to send my kids to stay in my brother's house during that time. I have two sons. One is studying in Class 8 and the other in Class 2. Before I came to Bengaluru, I used to work as a nurse in a hospital in my hometown. I was paid only 3000 rupees monthly as salary. My husband, at the time, had developed a drinking habit. We were not earning enough and the family was struggling. Somehow, I convinced my husband to drop the habit and we came to Bengaluru to earn a living that could help us educate our sons so that they may have a bright future. My husband and I weren't given the opportunity to get schooled and so we struggled. I'm willing to work as hard as I can to ensure that my kids don't suffer and at Flipkart I got the opportunity to give my one hundred percent to the job. I've been here for four months now. My husband too got a job as a housekeeper in another company and now we're earning enough to support the family together. My sons have dreams and I'm working to help them bring those dreams to life. My younger son wants to be a police officer and his older brother wants to join the Indian Army. At Flipkart, I'm treated with respect. All the members of the housekeeping staff, my colleagues, are tightly knit. We take care of each other and help each other ensure that our duties are fulfilled. This Big Billion Days sale, I'm going to buy wristwatches for my children to see their joy."
---
The value of respect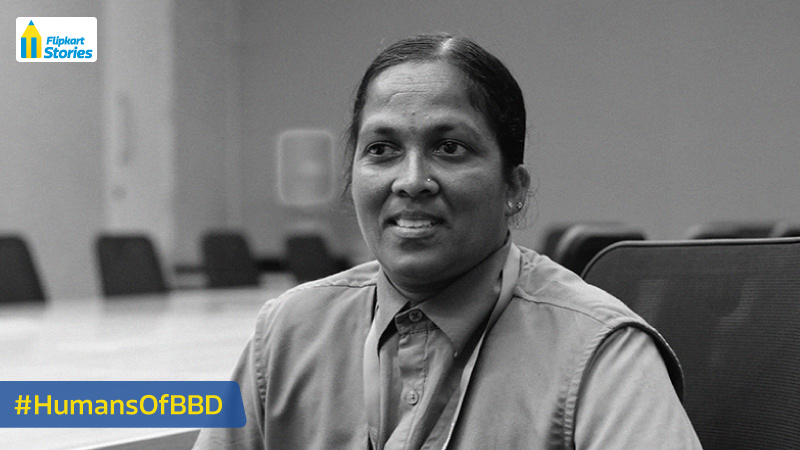 "My name is Obamma. I come from a town called Challakere in Karnataka's Chitradurga district. I used to work in road construction and my job was to break down big stones. My husband and I would work almost 12 hours a day and we suffered severe body aches every day. When we had saved enough money, we decided to buy some land for farming. We needed a source of water to irrigate the land so we decided to take a loan to dig a borewell. But we couldn't pay back the loan and had to sell the two acres of land we had bought with our savings over the years. In need of a steady income, we moved to Bengaluru to find work. That's when I joined Flipkart as part of the housekeeping staff. I've since repaid the loan and I've even managed to put my daughter and son through college. My daughter will complete her degree in another year and I've also saved some money for her marriage. When I started working with Flipkart, I started enjoying many benefits, none of which I had before. I have a steady income that helps me manage my family's financial matters, I'm treated with respect by my supervisors and peers, and I can even take a break to sip on a cup of tea without any worries."
---
The drive to succeed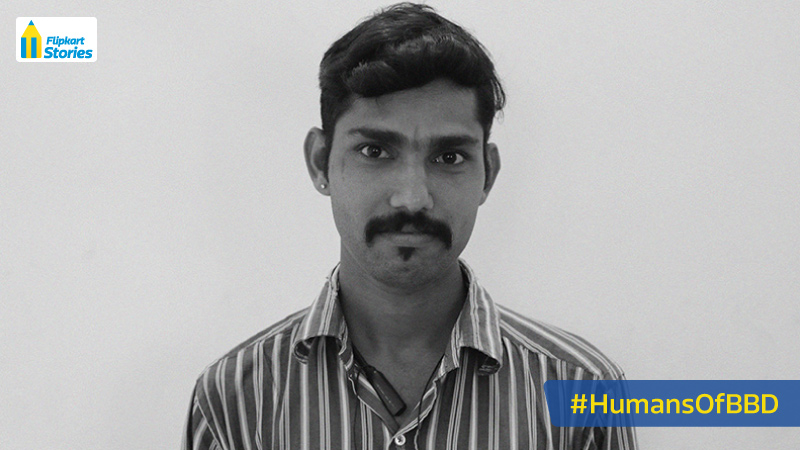 "My name is Annappa Shetty. I'm a Flipkart delivery executive. You would have heard of us as Flipkart's Wishmasters. I grew up in north Bengaluru. When my father passed away a few years ago, I had to find a way to support my family. So I worked at a bakery for three years and supported my family in every way that I could. My expertise soon became condiments and pastries. I came across the opportunity to become a Flipkart Wishmaster four years ago. I see all the scope for growth here and I am very ambitious. I want to earn my place as a Team Leader at this Flipkart hub where I work. I want to be able to pass on everything I've learned about being a Flipkart Wishmaster to other ambitious youngsters like me. As I make many deliveries in this area, many of the regular customers already recognize my name when they get the message informing them about their delivery. I think I've established a rapport with them and trust is an integral part of the shopping experience. I can't wait for this The Big Billion Days sale, because I want to break records. I want to complete at least 150-200 deliveries in one day itself! We'll see where my drive takes me."
---
Nothing is more important than a smile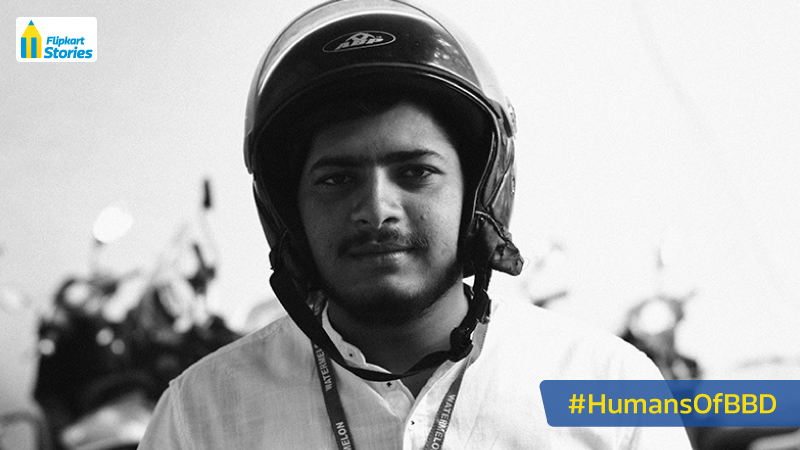 "My name is Riyaz S K. I've been working at a Flipkart hub as a Wishmaster for the last 3 years. I have a diploma in Electronics and Communication Engineering from BTL Institute of Technology & Management. I come from a small city in Andhra Pradesh called Madanapalle. My father runs a scrap metal business and my mother is a homemaker. I've been happily supporting my family for the last 5 years, while my brother and sister devoted their time to finishing their studies. Now, since they've started working, I can focus on my career growth. When I was young, I didn't think for one second that I'd be working for India's biggest e-commerce platform. My work here means a lot to me. I have certain practices that help me give the customer a pleasant shopping experience. I always greet the customer politely. I handle their packages with utmost care. I never leave without saying 'Thank you & have a great day' and most importantly, whether it's sunny or raining outside, I always wear a smile on my face. I want to one day become a Team Leader here. The Big Billion Days sale is just around the corner, and this is the best time for Wishmasters like me to break records. I've set a target for myself already – I will definitely complete over a 100 deliveries during the sale."
---
Braving the world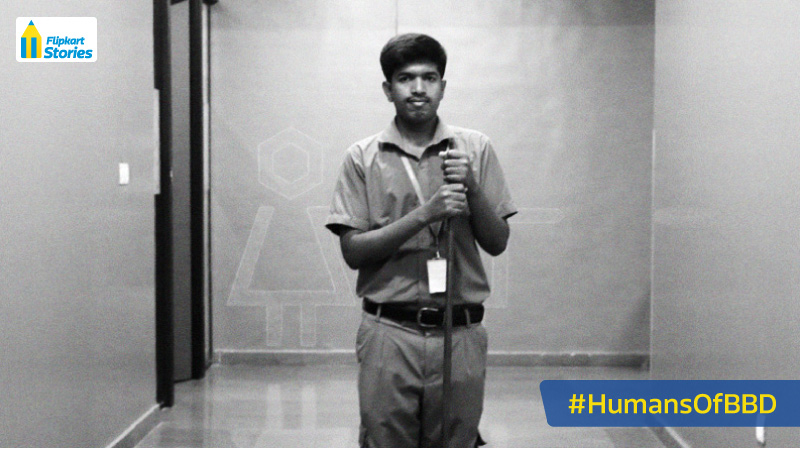 "My name is Charan Kumar and I'm part of Flipkart's housekeeping staff. When my little brother was studying in Class 7, he suddenly fell ill. He had a high fever and was admitted to Sri Devaraj Urs Medical College. A month after he got admitted, I lost him. I was in 10th standard at the time and I loved my brother. I was devastated and couldn't pass my board exams. I decided to go out into the world and make a living for myself. Being the only son now, I also had a huge responsibility on my shoulders. I had to support my aging parents. I found a daily wage job at a petrol pump. I worked there for three years. But my wages weren't sufficient to support myself and my family. I struggled to send money to my parents. Then I found out about a housekeeping position at Flipkart. Now I'm being paid enough to support myself and my parents too. I've even started investing in a chit fund. When my parents found out I had started working for the biggest e-commerce company in India, they were overjoyed. They call me every night and speak to me, and I'm able to ensure that they have enough money always. After this year's The Big Billion Days sale, I'm going to visit them again and I plan on carrying some gifts for them."
---
Watch this space for more stories throughout the week of The Big Billion Days 2019