In March 2017, Flipkart celebrated Women's Day with the launch of a special content series on social media called #WomenOfFlipkart. We borrowed the same format as the famous 'Humans of New York' Facebook page with the intention to showcase ten women who have worked with Flipkart for three years or more — discussing their roles, their experiences as women, and the effect Flipkart has had on their personalities and career. We choose powerhouses from various teams ranging from Technology, Customer Experience, Marketing, HR and more — sharing their stories in their own words, with an all-round point of view from various facets of the organization. Suffice to say, they are incredibly inspiring.
In recent times, there has been a lot of discussion around women at the workplace — some good, some bad, some ugly. At Flipkart, it's safe to say that it's all good. Interestingly, when you read their stories, equality is not really a theme or a point of discussion. Empowerment and ownership are. For these ladies, grabbing their various roles by the horns and owning them has brought them a true sense of empowerment. Some of them have become mothers during their stints here and with Flipkart's Maternity Benefits have been able to balance motherhood and their careers with ease. One even found the time to become a yoga instructor thanks to the great work-life balance here. There's even a Flipster who has donned seven roles over her five-year stint, and is now a leader at Flipkart with a great success story of growth.
So if you've missed the #WomenOfFlipkart series on our social pages, be sure to read this post. Not only will you be inspired by these amazing Flipsters, you should also get a first-hand view of what life is like at Flipkart, regardless of gender.
---
Up close with the #WomenOfFlipkart
Sherin Bidar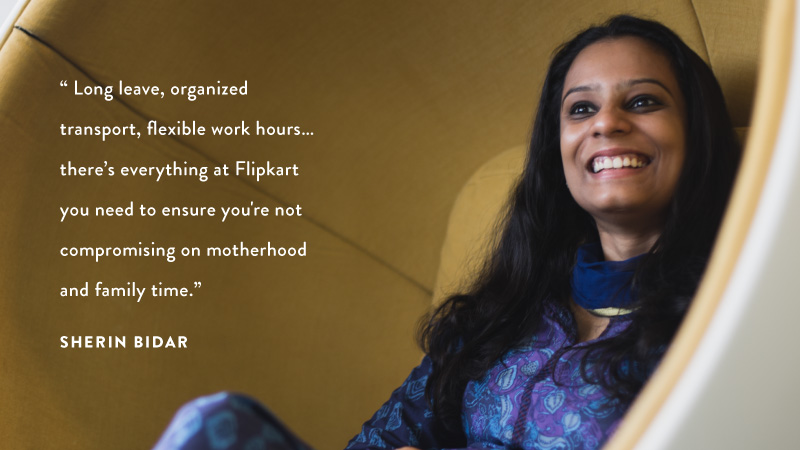 "I'm part of the Content VAS (Value Added Services) team at Flipkart. I assist customers in making the right buying decisions; by defining product descriptions, creating Buying Guides and explaining how the product is right for them.
I'm lucky to be a woman at Flipkart because it's like no other organization. One look at the maternity benefits and you'll know what I'm talking about. Long leave, organized transport, flexible work hours… there's everything you need to ensure you're not compromising on motherhood and family time. I'll admit there have been times when I've needed support and encouragement, and was pleasantly surprised when management was completely understanding. It also helps having considerate and caring coworkers!
Flipkart promotes a fair work-life balance that keeps employees happy and thereby helps us perform at our best. Looking back at my time here and describing it one line, I'd say… so far, it's been fun!"
---
Rammya Nair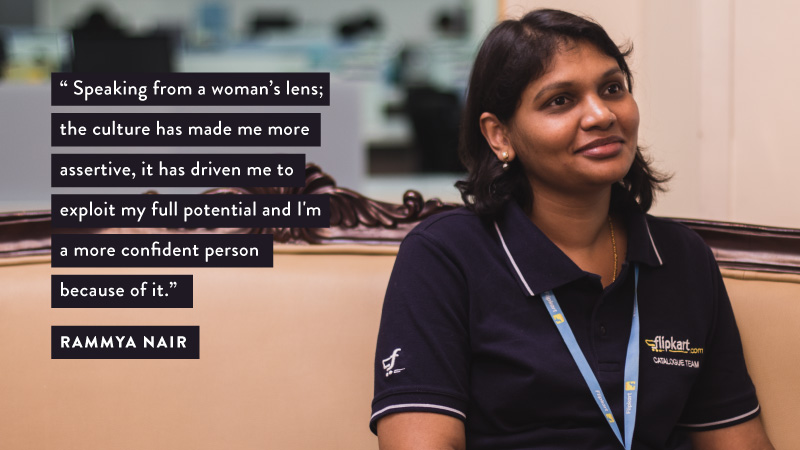 "At Flipkart, I'm a HR Business Partner. I'm responsible for the entire lifecycle of employees – their development, their rewards, their growth. As a mother and someone who leads a team, it's also my second nature to ensure everyone is healthy and happy.
The most striking aspect about Flipkart is the energy levels are crazy. It's not just an organization, it's almost like a living, breathing entity. An entity that helps you grow and discover facets of your personality you never knew existed. Speaking from a woman's lens; the culture has made me more assertive, it has driven me to exploit my full potential and I'm a more confident person because of it.
I vividly remember back in 2014 our founder Sachin Bansal had called for a company-wide meeting where he showed us how we as an organization had grown. I had goosebumps and can still feel it. It made me realize that I have played a role in a success story. Honestly, Flipkart is like my best friend – I will always speak about it with pride because it's given me everything to truly understand my potential."
---
Nidia Jijo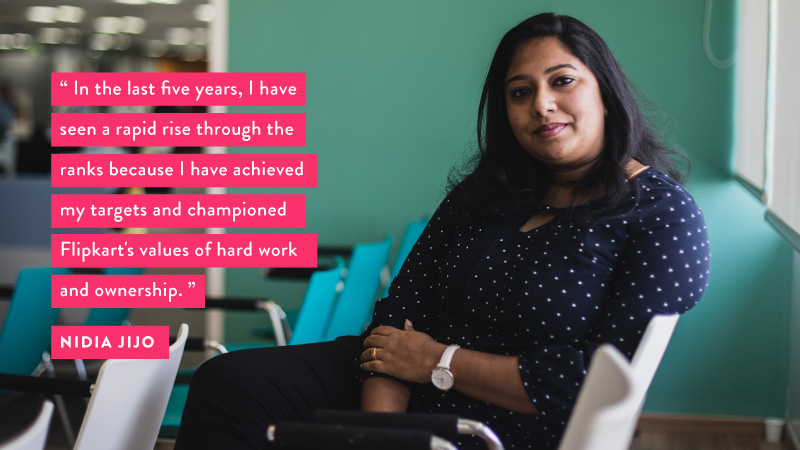 "As an Assistant Manager in the Customer Communications Team, I belong to a vibrant and lively group. It's enjoyable because it's personal – it involves understanding those who matter most, our customers, and developing communication for direct interactions with them.
When it comes to growing within the system at Flipkart, gender has no role to play. It's what you do, not who you are. In the last five years, I have seen a rapid rise through the ranks because I have achieved my targets and championed Flipkart's values of hard work and ownership.
"When it comes to growing, gender has no role to play. It's what you do, not who you are." https://t.co/Plgmz2Dt3R #WomenOfFlipkart pic.twitter.com/C2LupQJnSY

— Flipkart (@Flipkart) March 16, 2017
Change is constant at Flipkart. So naturally, there is a freedom to experiment. We are always evolving, adapting to new technology, trying out new things. You can walk up to anyone to collaborate and create something fresh and impactful. This approach has made me embrace change in all forms of my life.
The fam-jam culture is what keeps us going. We celebrate special days together, be it Holi or V-Day, and there are times when you'll see us all dressed-up as if we're on a runway – all in good fun. My relationship with Flipkart is like what you would have with a close friend – it pushes me to do better, find more sides to me and it always has my back."
---
Prinka Wadhwa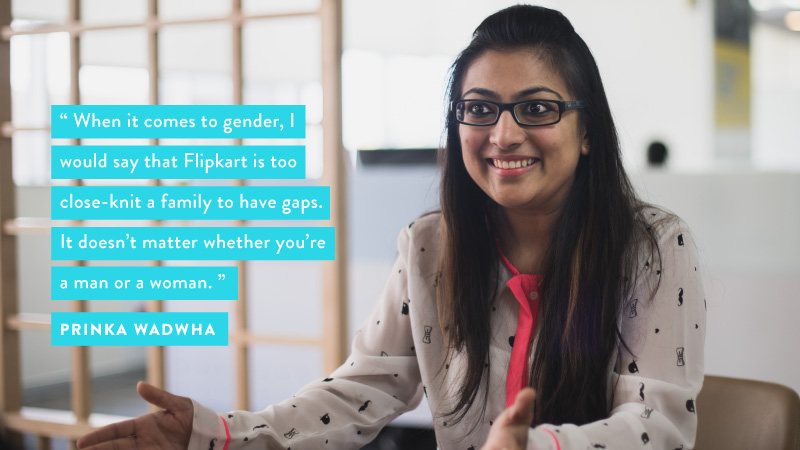 "As a Product Manager, I specialize in Consumer Applications. It's fun because I get to conceptualize end-to-end and then work with design, engineering and the analytics teams to ensure Flipkart delivers a thumping good product. It requires a lot of cross-functional interaction, and while this can be challenging, it also leads to great insight and rapport with the teams around me. All of us work well together towards a common goal. It's nice.
"Doesn't matter whether you're a man or a woman. If you have what it takes, you're taken on board." https://t.co/rA0c6Gxpi9 #WomenOfFlipkart pic.twitter.com/GK6V1JRUtw

— Flipkart (@Flipkart) March 10, 2017
When it comes to gender, I would say that Flipkart is too close-knit a family to have gaps. It doesn't matter whether you're a man or a woman. It's like this… if you have what it takes, you're taken on board. It's as simple as that.
Back in 2014, we were scaling up, I was in charge of sale events and offers for the now famous #BigShoppingDays. I feel a quiet pride when I think about how I've helped make it a platform that supports a wholesome one-stop shopping experience."
---
Swimmi Singh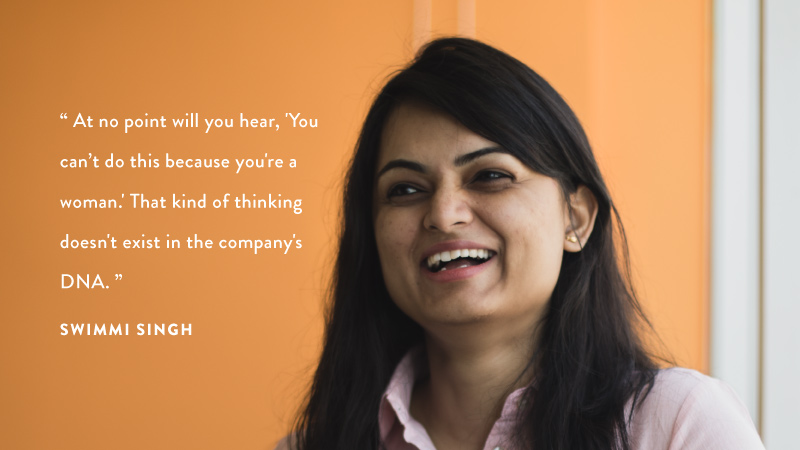 "I'm a Brand Manager in the Marketing Communications Team. I manage campaigns – big and small – and I've been a part of massive scale sales like #TheBigBillionDays. It's definitely a rollercoaster ride!
Flipkart is dynamic and unpredictable, which means you learn how to think on your feet and work proactively. As a woman, I'm made to feel comfortable. At no point will you hear, 'You can't do this because you're a woman.' That kind of thinking doesn't exist in the company's DNA.
It also helps that I've worked here for almost three years now. Everyone knows me and I know them – we're a family."
---
Smrithi Ravichandran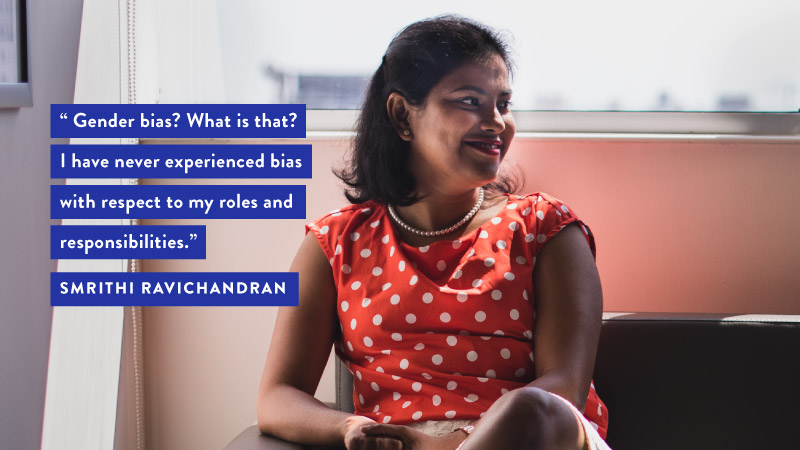 "I belong to the Leadership Team within Business Development. Believe it or not, in five and a half years, I've explored seven different roles within Flipkart. Some might say that's a bit crazy, but that should give you a fair idea of my sense of adventure and zest to learn. I see growth differently. It's not only about growing higher within the system but it is about learning as much as I can within a department, getting comfortable with it, solving key problems, grooming a successor and then letting it go for the next challenge.
Shifting from one role to another has taught me to handle high pressure situations like a pro and interact with different types of people. Thanks to this, I can appreciate different thinking styles, problem solving methods and lucky for me, I have found a place that allows me to grow, the way I want to.
Gender bias? What is that? I have never experienced bias with respect to my roles and responsibilities. I've donned several hats ranging from leading various categories to setting up a fintech platform to overlooking and executing #BigBillionDays, successfully. At no point was I denied an opportunity because of my gender. Even if you look at our leadership, you'll see women holding top ranks across departments – everyone enjoys a great deal of responsibility, no matter what gender they are.
I feel like I'm on a fast-track all the time. I've grown twice as fast as I would have in another organization. Being a woman and mother has never ever limited the quality of work that has come my way. In my eyes, that's what you call equal opportunity, in its true sense."
---
Ishneet Kaur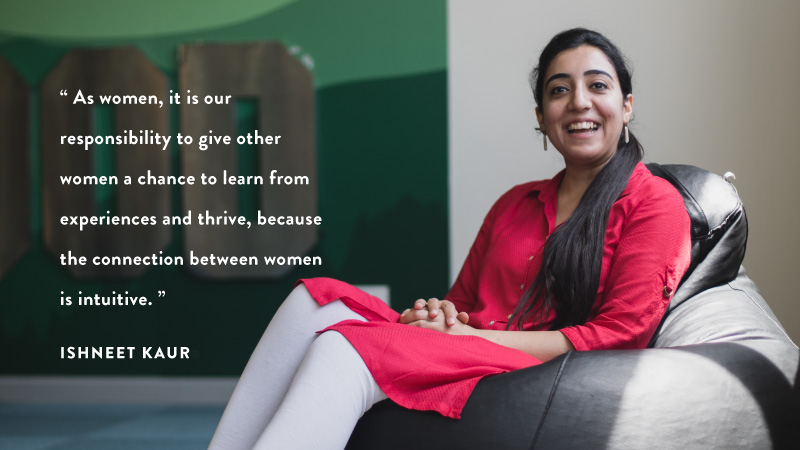 "I'm a part of the User Acquisition Team and in charge of formulating strategies that help us attract customers from Tier-2 cities. It's an interesting role and often pushes you to go beyond your comfort zone.
While that's my primary role, I'm also a bit of an enthu-cutlet. Every now and then, I like to take up pet projects at Flipkart. Every employee has the freedom to take up such passion projects and find more dimensions to their work lives. In 2015, we started a 'Women Mentorship Program' that I had conceptualized. What I felt was, sometimes out of pure conditioning, women may not voice certain needs, even with an extremely open culture. I thought why not create a program where women share their needs and we match them with a relevant mentor. It was like sowing magic beans and watching a tower grow in its place! This has been my most cherished experience at Flipkart.
I feel as women, it is our responsibility to give other women a chance to learn from experiences and thrive, because the connection between women is intuitive. And if you spend a day at Flipkart, you will see how we all do our best to keep the atmosphere thriving and full of optimism."
---
Deepti Agrawal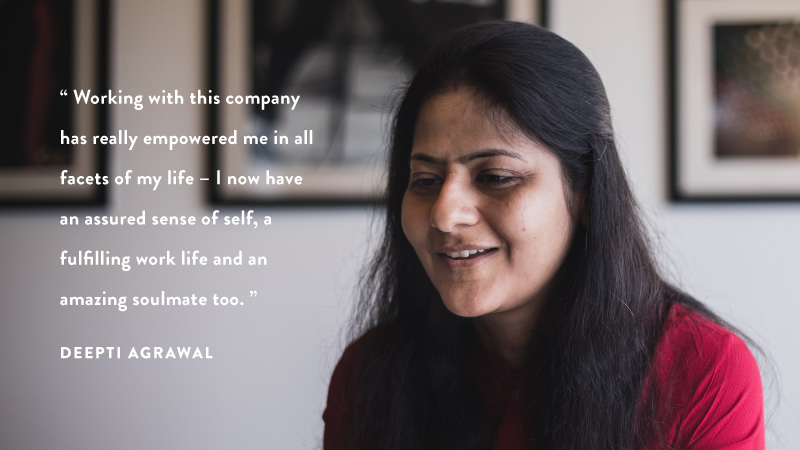 "As an Engineering Manager in the User Acquisition Team, I get to develop and execute the core experiences of our customers. It's a great team to be in, because all of us are extremely passionate about working behind-the-scenes to power a seamless customer experience. We take great pride and ownership in doing this.
In fact, I feel ownership is one word that really defines Flipkart. When we work on any project, each team member owns every single decision and takes responsibility for whatever the output may be and that is really refreshing for an organization of our size. Since I have joined Flipkart this attitude of 'owning it' has sort of transcended from my professional life to my personal life as well. I was once considered a conscious and hesitant person, but now, I feel I own my personality with a lot more conviction. I call the shots in my life because I know that even if things go wrong, these are my decisions and my choices.
I have spent 5 years at Flipkart, and sometimes the juniors teasingly call me a dinosaur. I like to take it upon myself, to ensure that my team feels that same level of ownership that the dinosaurs felt when we were just a humble start-up, so that no matter how much we grow and expand, Flipkart always remains the good ol' Flipkart. Working with this company has really empowered me in all facets of my life – I now have an assured sense of self, a fulfilling work life and an amazing soulmate too.
PS – I met my husband at Flipkart!"
---
Mokshada Nagar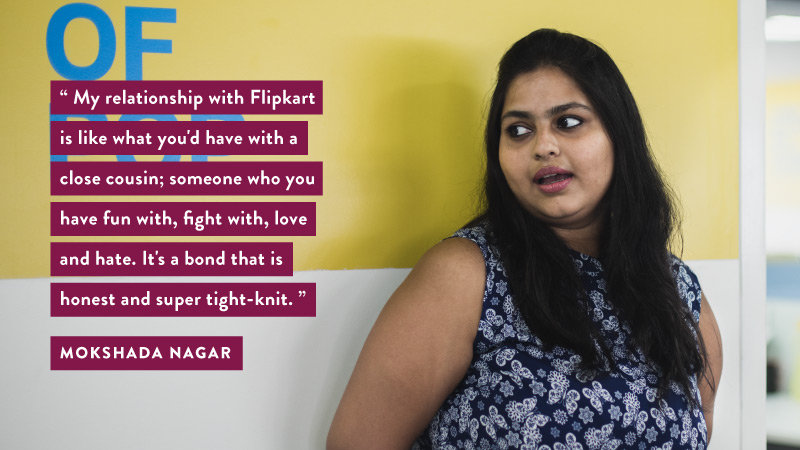 "I actually joined Flipkart with the Flyte Digital team back in 2011. It was an amazing experience launching a legitimate MP3 site in India and it's a time I have fond memories of, though slightly bittersweet. I'm now involved in Project Management with the Fashion Experience Team. It's a woman-dominated team, where we interact with multiple stakeholders to improve the overall customer experience. The intention is to have maximum business impact while communicating the latest fashion.
I've found my experience at Flipkart to be a constant learning stage. It has encouraged me to channelize my creative chaos into constructive synergy, helping me take on new projects with drive and excitement. Must be said, I've always liked to speak my mind and love how the organization has embraced this. Got a voice? Raise it. That's how Flipkart rolls. And if you want something done, you need to get off your butt and do it. Period.
Sometimes I feel like my relationship with Flipkart is like what you'd have with a close cousin; someone who you have fun with, fight with, love and hate. It's a bond that is honest and super tight-knit."
---
Follow the trails of exceptional Flipsters in our series FlipTales. And if you want to be part of the fantastic work culture at Flipkart, look up Flipkart Careers and find your fit