Time seemingly stands still in the agrahara of Mattur, a village perched on the eastern bank of River Tunga near the city of Shivamogga at the foothills of the Western Ghats in Karnataka. The agrahara, a Brahmin colony, where Vedic traditions are preserved and where Sanskrit is spoken as the language du jour, has earned Mattur — and Karnataka — a place on the global map. Scholars and aspiring students of Sanskrit and Vedic culture come to this village from all over to learn from the teachers here. The decision to revive Sanskrit and Vedic traditions in Mattur was taken in 1981 following a ten-day workshop by Sanskrit Bharati, an organization that promotes the ancient language of the scriptures.
A smattering of Sanskrit and Sanketi languages filters out from the agrahara's old buildings, which are built close together in a quadrangular layout. The residents, about a hundred Sanketi Brahmin families, migrated here from Tamil Nadu in the 15th century. Although they speak Sanketi — an amalgam of Sanskrit, Tamil and Kannada — everyone in the colony converses in Sanskrit. Their main occupation is arecanut and coconut cultivation in the land that they own in and around the village.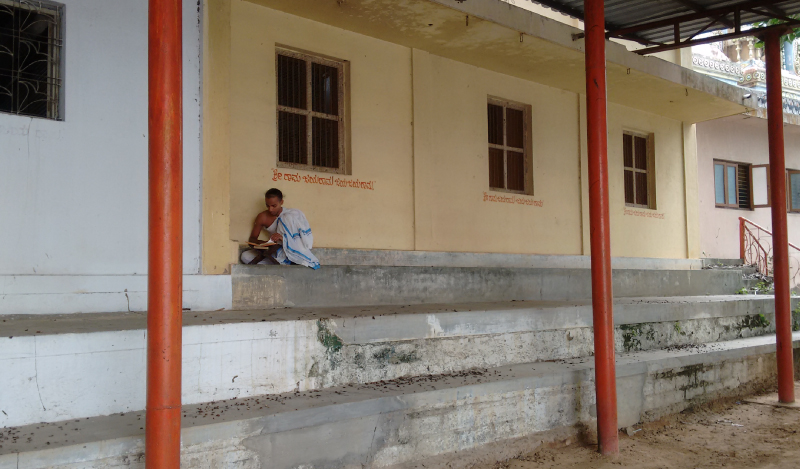 Men dressed in the traditional cotton dhoti and angavastram sit on the chavadi at the front exterior of the house, or they go about the day's chores. When I visit, many of them are away attending a spiritual retreat. Soon, I hear faint sounds of scriptural chanting being memorized by the Brahmin boys of the pathashala (school) who are in training to become priests and spiritual teachers. The river flows behind the temple, and recitations can be heard from across the river, where Mattur's twin village, Hosahalli, is located.
---
The torch of unbroken tradition
The traditional garb worn by Pramod Avadhani suggests austerity and detachment, but the smartphone in his hand quickly dispels that impression. A teacher at Mattur's pathashala, the affable 29-year-old is a Flipkart customer. "I am happy to carry forward the tradition of my forefathers, which has been passed down for 250–300 years," he says. When he was still a child, his parents had told their only son that he had to study Sanskrit, the Vedas and Vedanta philosophy, and become a priest or teacher.
"Many of us in Mattur are Flipkart's customers," he says. The reason for it is perhaps the high number of IT professionals from the agrahara. Although the boys undergo training in language and scriptures at the pathashala, most of them also attend regular schools and pursue professional courses like engineering. "They work in cities like Bengaluru or abroad, but they are deeply connected to the village. They come back as often as they can," says Pramod. His family cultivates arecanut and coconut in their land, but he is passionate about his role in teaching the younger generation. "Agriculture is our occupation, but passing on this knowledge is our duty," he says.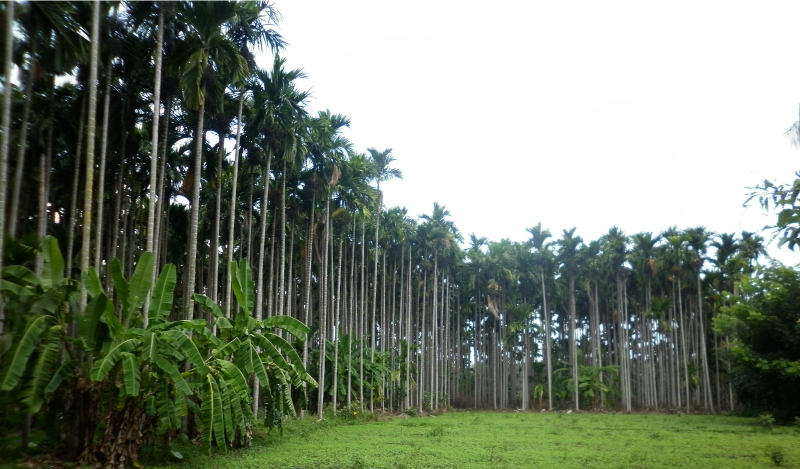 The residents of Mattur find it convenient that the number of shopping trips to Shivamogga, 8 kilometers away, has significantly reduced ever since Flipkart launched its delivery service to their village. "Shopkeepers in the city push only the brands and models that earn them more profit, plus they are not familiar with the features and specifications of products," says Pramod. On Flipkart, he has bought mobile phones, memory cards and pen drives for personal use, a gas stove for his home, and even bags for his sisters. Like any other consumer, he feels, "I like to know everything I can about the product before I make a purchase. The product specifications on Flipkart are very detailed." He only buys what he needs and likes, keeping away from discounts and offers, and prefers to pay by debit card. For purchases of a value less than ₹2000, cash-on-delivery works best.
In a village that consciously preserves a centuries-old culture, modern consumerism seems to have quietly blended in without overtly revealing itself. The hold of tradition is reducing, admits Pramod, but he does not ascribe it to any specific reason. "It isn't any one thing that has caused it. I believe that people consciously choose their lifestyle," he says.
---
In Mattur, two worlds coexist
Ties to Mattur and the knowledge of Sanskrit bring to youngsters like Aditya Avadhani instant recognition outside the village. "It adds one more layer, of culture and a standard," he says. The 21-year-old recently graduated with an engineering degree in electronics and instrumentation from Malnad College of Engineering in Hassan, about three hours from Shivamogga. Back in Mattur while waiting to land a job in Bengaluru, Aditya is looking forward to starting his career in the technology domain. He aspires to improve the standards of technology and data analysis during his professional career. "Bengaluru is not so far, so I can easily visit. Plus, it is only during the arecanut harvesting season that I would need to spend about a week here," he says.
Aditya turned to Flipkart when he required packs of electronic components — Arduino boards and sensors — for his college projects. Their prices online range between ₹500–700, and it saves students like him the hassle of hunting for them in the local market. He has also purchased mobiles and accessories in the past. His current phone, in which there is no space left to download the Flipkart app, will be replaced as soon as he begins working. "I shop through the website and have mostly paid by debit card. Paying digitally is convenient and safe," he says. From his personal experience of online shopping in general he finds that while it is convenient, especially in villages like Mattur, delivery delays or defective products are a turn-off.
---
New choices are for the taking
Outside the agrahara, the village comprises of different communities, including backward castes, Muslims and Dalits. This group meets the local requirements for farm labor and other categories of labor.
Having grown up in the periphery of the agrahara, Manjunatha G is familiar with Sanskrit and feels good that his village is world-famous. "There was no one to push us in matters of education in our community," Manjunatha says. Employed as a bill collector in the Mattur panchayat office, he received a master of commerce degree from Sahyadri College in Shivamogga.
Financial constraints and the lack of cultural capital prevent youth of low-income families from studying for professional degrees like engineering and medicine. However, after improvement in literacy and educational infrastructure, rural youth study at least up to undergraduate level. Almost everyone in the Mattur–Hosahalli area attends the local school and goes to college in Shivamogga or beyond.
Enticing offers on products attract customers like Manjunatha to shop through the Flipkart mobile app. "One can choose from a wider range of brands," he says. A Flipkart customer for about three years, he has purchased mobiles, personal grooming products like shavers and trimmers, a vacuum cleaner, and clothes.
Those at ease with digital technology are no doubt comfortable transacting money through digital modes of payment. For many online shoppers in this rustic setting, like Manjunatha and his friends, paying cash-on-delivery feels like the safest option.
---
Starting young
Across the river from Mattur, in Hosahalli agrahara, 14-year-old Shreenandan is dressed in traditional attire when we meet. The presumption that he is on his way to become a priest gets struck out when he states his ambition to become a chartered accountant.
The young Flipkart shopper is savvy about offers and deals. The assurance of door-delivery in Hosahalli and option to pay cash-on-delivery make shopping on the Flipkart app an easy experience for him. He has ordered shirts, mobile phones and footwear, so far. "I look for products that are 100% guaranteed for quality before purchasing them," says the boy who finds the product display interface on the Flipkart mobile app very attractive.
He is too young to own a smartphone, says his mother, Suchitra H S. Shreenandan uses the Flipkart app loaded on her mobile phone. "He always takes my permission before ordering something," she adds.
Suchitra, who works in a school in the nearby village of Javalli, is a Flipkart shopper herself. She has bought saris, dress material and bags online. "But only when there is a requirement," she clarifies. The cancellation of two or three orders recently as well as delays in delivery have left her disappointed but not dissuaded. "You have to take the chance," she says.
---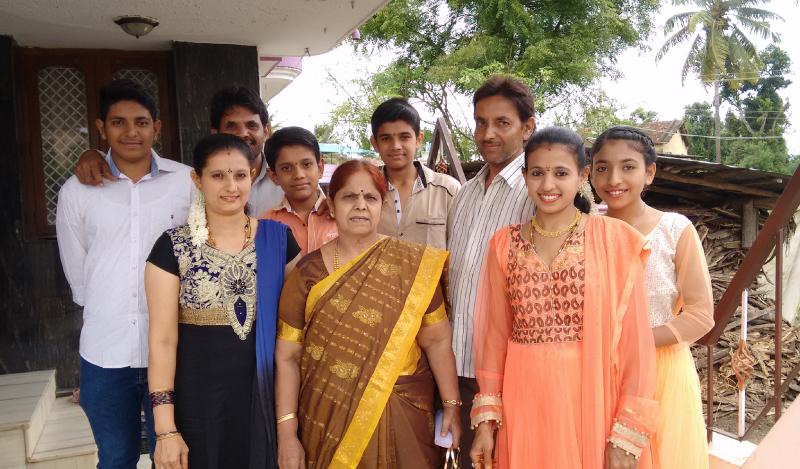 All in the family
An entrepreneurial spirit propels families like the Kamaths of Gajanur to experiment with products available online. Gajanur is a village located along the highway, six kilometers south of Hosahalli, and is on the tourist map owing to its proximity to the Gajanur Dam and Sakrebyle Elephant Camp.
The Kamaths live in a joint family, in which the widowed matriarch, her two sons, their wives and children, live and work together. The family hails from a Brahmin sub-caste that is renowned for its business acumen — the Goud Saraswats.
The ladies of the household are excited to recount their "very good" experience of shopping on Flipkart. Having tested different e-commerce services, Flipkart's mobile app has become their favourite, on account of door-delivery in Gajanur and cash-on-delivery facility.
The family owns land, where they once cultivated paddy and now grow arecanut and coconut. "Growing paddy became unsustainable and unprofitable," says Sunita Kamath who came to Gajanur as a young bride in 1966. Her enterprising daughters-in-law, Divya and Megha, both in their mid-30s, make and pack bread, buns and rusk, which they sell under the "Kamath Bakery" label.
It is evident from our conversation that the entire family enjoys shopping online, taking joy in discovering the cheapest deals and receiving the products at their doorstep. Only twice did they have to return what they bought. "The process was smooth," they say.
Most of the items to be ordered are decided by the youngsters in the family. Although her husband has loaded the app, their nephew uses it the most, says Megha. Gautam, now 18 years old, scouts for the best deals. "Good offers enthuse us to buy," says Divya, who also shops on Flipkart. The family has procured myriad products — mobiles, clothes, automobile parts, car covers, footwear, school and college bags, and watches, among other items. Swept up by the enthusiasm around her, the elderly Sunita informs me, "They bought a pullover for me from Flipkart."
Keeping up the style
Next door to the Kamaths live Praveen D M and his wife Shaila. For avid Flipkart shoppers like Praveen, who left city life to settle in Gajanur, online shopping helps keep up with new products and trends.
He bade goodbye to the city after working for 7–8 years in Bengaluru, two of which included a stint as store manager of Suvarna News television channel, and later in Davanagere as a marketing representative for consumer goods and agricultural products. He now runs a business in Gajanur, offering plant-disease management services to ginger and paddy farmers in the area. "I like being close to nature, and working in the field of agriculture is very satisfying. The rural setting is tranquil and I am my own boss," he says. Shaila too prefers Gajanur, where her sister's family is settled.
Praveen has a taste for clothes, and he buys them from Flipkart. "The brands, the range of designs, and the prices that you find online cannot be found in the city market," he says. The size charts help him to accurately select the sizes. He has also bought electronics, mobile phones, light fittings and fan systems for pest control. For his nephew he once bought an electronic keyboard, and for Shaila, he regularly buys saris and dress materials. Shaila says that she leaves it to her husband to do all the online shopping.
Praveen makes it clear that he is a serious shopper. Offers and discounts don't interest him; he buys what he needs and likes. He says, although sometimes the prices are more on Flipkart when compared to the competition, he opts to shop here because he can rely on the response of the customer care, "which is great". "Even if the vendors are not very ethical or responsible, Flipkart's service team is very responsive," he says. About 10% of his shopping has been sent back due to a defect or size variations.
The expansion of Flipkart's delivery area and the rapid adoption of 4G mobile services in that region are bringing more shoppers to the online store, he observes. "When I speak to the eKart delivery executives they tell me that the number of orders from the area is increasing." He foresees that the customer base here will grow further if the delivery agents start carrying with them swipe machines to process card payments on the spot. "Also, it is unsafe for them to carry around all the cash they collect," he adds.
---
The changemaker
The small village of Mandenakoppa, near Mattur, is one among many communities that lack access to goods to services due to underdevelopment and poor infrastructure. One smart college graduate is all it has taken to link this community to more choices than what was available to them before.
All of 21 years, the sprightly and chatty Praveen Naik leads me to his home, which is located in the Lambani settlement in the village. The once-nomadic tribe, now settled in western and southern India, is a marginalized and socially excluded group. Karnataka has 1.1 million Lambanis in the state, the second-highest population of the group in India. In Mandanekoppa, they work as farm labor and as hired hands. Work is seasonal and making ends meet is tough.
Naik is home after finishing three years away in Shivamogga, where he studied for a bachelor of commerce degree while living in the social welfare hostel. He is currently contemplating between looking for a job to contribute to his family's finances and studying for a master's degree for better job prospects. He missed getting selected for police service by three marks, but it has not dampened his spirits.
College life in the city and 3G connectivity brought him into contact with the internet, and, soon, on to the Flipkart online store. He is the local online-shopping expert and the go-to person when his friends and neighbours need to purchase something they want. He has ordered mobile phones, trimmers, bags and branded footwear. "I look for offers and only buy the product when I find a good deal. That too, only if the item can be returned and the amount refunded," he tells me. With his 4G connection now, the mobile app works even faster, he says.
The pursuit of the best offer is how — when his 18-year-old college-going sister Yashoda asked him to get her a watch — he found a branded store in Shivamogga selling one at 50% discount and bought it there. He wishes that door delivery service to Mandanekoppa were available, because now they either need to collect their orders from Shivamogga or pay ₹50 extra to the courier. He has tried all the e-commerce stores there are, but he prefers Flipkart for its speed of delivery and cash-on-delivery option.
---
Slowly, the colors change
The low-hanging monsoon clouds may throw gloom on some places, not in Shivamogga and its surrounding villages like Mattur, Hosahalli and Gajanur. These areas fall to the leeward side of the Western Ghats and, large tracts of plantations, primarily arecanut, carpet them. The green looks greener after the rain and the hills lining the land look lush and inviting. In such an idyllic setting, where nature too contributes to the preservation of tradition, change is slow. Yet, however different be their product needs, purchasing power, and ease with technology, the Flipkart customers of this neck of woods are soaking up the new options and opportunities that have made inroads towards them.
---
Photographs by the author
Cover design by Sadhna Prasad
Customer data analysis by Nipun Sharma, Prasanthi R, Nitin B and Vijay Jayanti