Amid the pandemic's uncertain impact on the livelihoods of weavers in Maniabandha, Odisha, Priyadarshini Panda and Sandeepta Kumar Kar emerged as agents of change. Fueled by their deep connection to the community, this couple embarked on an inspiring journey to help weavers sustain their livelihoods through e-commerce. Read how their participation in the Flipkart Samarth program is empowering the weavers to reach a wider audience and secure a brighter future for their age-old tradition.
In the village of Maniabandha, nestled amidst the beautiful landscapes of Odisha, resides a community steeped in the timeless art of handloom weaving. This village is renowned far and wide for its vibrant textiles, intricately crafted by skilled hands that have inherited the ancient craftsmanship of their forefathers. It is here that Priyadarshini Panda and her husband Sandeepta Kumar Kar, a dynamic duo with a shared passion, are preserving their heritage and empowering their community.
In 2020, when the pandemic cast its shadow across the world, the weavers of Maniabandha faced an uncertain future. With no eager buyers for their masterpieces, their livelihoods were jeopardized and soon, they found their lives at a standstill. It was during these challenging times that Priyadarshini, armed with her diploma in civil engineering, came forward with a remarkable idea that would breathe new life into their trade.
"On social media, I saw all these small businesses that showcased great work and did well. This is when the inspiration to start an online business hit," says Priyadarshini, who is now the proud owner of DK Fashion Saree, a brand that supports 10 weaver families and brings the timeless elegance of Sambalpuri sarees across India. "I had always wanted to do something meaningful and this was the right opportunity. But I didn't know where to start so I reached out to Sandeepta."
When Priyadarshini approached her husband with a desire to start a business and help the weavers in their village, he embraced the idea. "I guided her on how to manage an online business and soon, we registered our brand on Flipkart via the Flipkart Samarth program," reflects Sandeepta, who, along with assisting his wife in running the business, also works as a full-time marketing professional at a company.
The Flipkart Samarth program is an initiative launched by Flipkart in 2019 to empower and support artisans, weavers, and craftspersons across the country, while ensuring inclusive growth for underserved sections. The program, which has now grown to impact over 1.5 million livelihoods, aims to provide these individuals with a platform to showcase and sell their unique products to a wider customer base. Through Samarth, Flipkart offers various benefits such as onboarding assistance, cataloging support, training on packaging and shipping, and subsidized fees, thus enabling the participating sellers to overcome barriers and participate in the digital marketplace.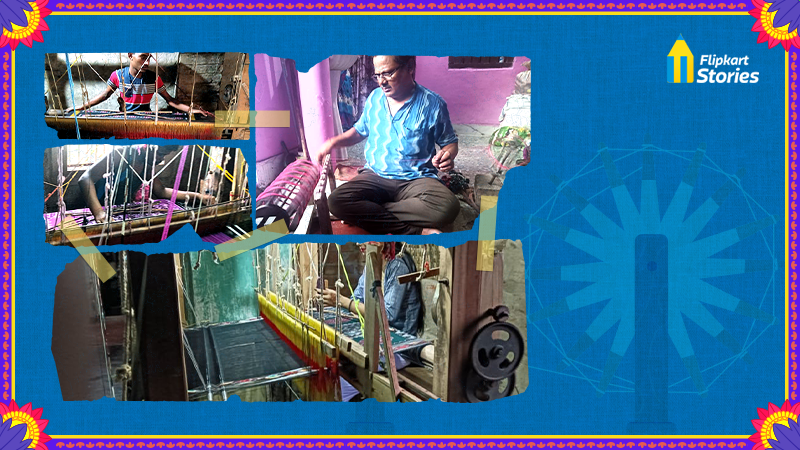 The art of creating Sambalpuri sarees is a labor of love, rooted in the weaving traditions passed down through generations. The process is as intricate as the motifs that grace the fabric. From conch shells, temples, lotus flowers to animals, each saree carries a rich or multiple rich motifs.
The process of Sambalpuri saree-making usually undergoes four stages – three stages of preparation, which takes up to 10-12 days to finish, and the final stage of saree-making, which takes two to three days. Dedicated artisans create the designs, tie and dye the yarn or cloth (also known as Ikat) before it ends up at the weaver's loom for final production.
"I come from a weaving family. I have been in this occupation for over 20 years now," says Laxmidhar Panda, one of the weavers working with Priyadarshini and Sandeepta. "I learnt the art of weaving from my father and ever since have done everything to keep this tradition alive. However, when the pandemic struck, our business came to a halt."
Reflecting on his journey, Prakash Kumar Sahoo, another weaver from the unit, recalls, "I was inspired by a weaving family that lives close by. I decided to pursue it for myself and soon underwent a training period with the family. But the money I made back then wasn't enough to support my family, so I left for Delhi to do plumbing work." However, when the pandemic struck Prakash had to return home. This is when he came across DK Fashion Saree.
"After we started collaborating with Sandeepta and Priyadarshini, and started selling on Flipkart via the Samarth program, we started getting income again," says Laxmidhar. He adds, "Our sarees were being bought by customers across India. I felt elated."
"It's been over two years now. Today, our unit has 10 dedicated weavers offering their expertise," explains Sandeepta.
Priyadarshini and Sandeepta work tirelessly to create opportunities for the weavers even as the offline businesses start to pick up pace. Sandeepta says, "Along with working on a solution for the weavers' initial plight and bringing them relief during a challenging time, we were also able to grow financially to support our family of five, soon to be six. Priyadarshini's effort played a pivotal role in this achievement with 60-70 percent of business operations being taken care of by her." Through their venture, the couple has not only created a sustainable business but also woven a tapestry of hope and empowerment for the village residents.
In the heart of this vibrant weavers' community in Maniabandha, an unbreakable bond between art and faith thrives. As Sandeepta fondly recalls, "Every step the weavers take, every stroke of the loom, it is all dedicated to our beloved lord Jagannatha. We are the guardians of this ancient weaving tradition, and our souls find solace in the rhythmic click-clack of the loom."
You can support the weavers by visiting the DK Fashion Saree store on Flipkart.
---
Also Read: In Gujarat, a Flipkart Samarth seller weaves success with uncompromised quality