With the Lenovo Phab 2 Pro, the way you use your smartphone will never be the same again. Powered by a Qualcomm® Snapdragon™ 652 processor, the device comes equipped with Google's augmented reality technology, the Tango™ technology. This world-sensing technology gives you a spatially aware phone that blurs the line between what you see around you and your imagination. You can now overlay a new world right over your own! Use it to virtually recreate a space or enjoy an AR gaming experience like no other.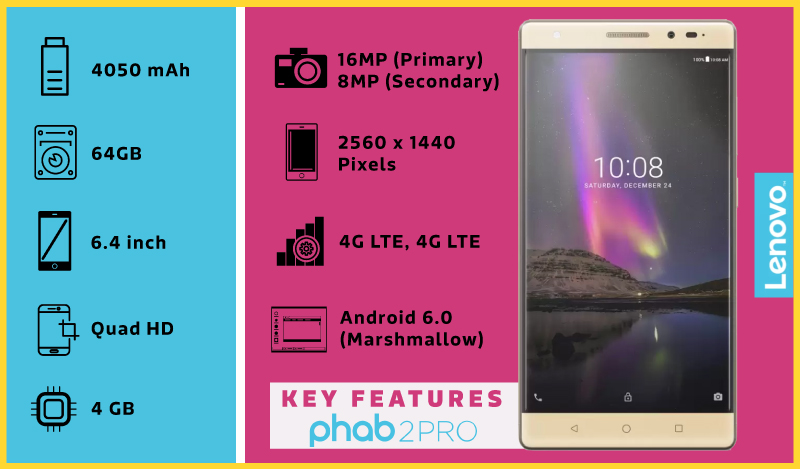 Equally impressive are the other features of the Lenovo Phab 2 Pro. To start with, there are the 4 cameras—16 MP primary, 8 MP front facing, a depth camera and a fisheye camera—and Dolby Audio™ Capture 5.1, which enables you to make quick movies on your phone! The device also comes with a massive 4GB of RAM, an in-built storage of 64GB that can be extended to 128GB with a MicroSD card. It's no wonder then that this beauty won the award for 'Best of Innovations – Wireless Handsets' at CES, 2017. The Lenovo Phab 2 Pro ushers in a new era of the smartphone.
---
Get an in-depth idea of what your Phab 2 Pro can do by watching this video in Hindi by Technical Guruji:
---
Available on Flipkart for just INR 29,990, you can buy this phone while also enjoying the benefits of No cost EMI and the smartphone exchange offer with discounts up to INR 20,000. Find out more here.
---
Get an inside look at the Phab 2 Pro's augmented reality smarts and learn why Mr Mobile calls his phone a "portal to another world":
---
Lenovo Phab 2 Pro review
Here's what you should look forward to when it comes to the Lenovo Phab 2 Pro.
Enter the world of Augmented Reality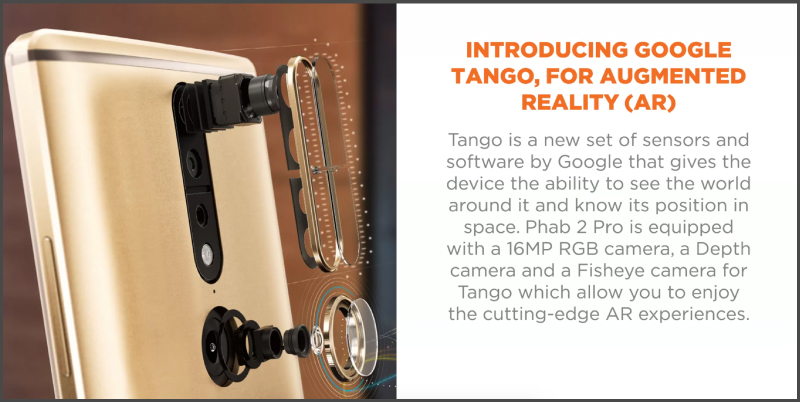 The Tango™ technology from Google enables any mobile device to identify its location using computer vision, which allows users to perform a variety of actions like navigation, 3D mapping and space measurement. With the Lenovo Phab 2 Pro, you can use virtual reality to your benefit. For instance, if you're confused about which couch to buy for your living room, simply use your phone to visualize and measure your space and voila! Decision made!
AR also makes the world your playground. Enjoy a game of virtual dominos or fight back an army of zombies in your bedroom! The possibilities are endless.
---
Want to see the Phab 2 Pro face off with aliens? You're not alone! Here's a great video of the augmented reality offered by this device at Roswell, New Mexico's UFO Museum!
---
The photo expert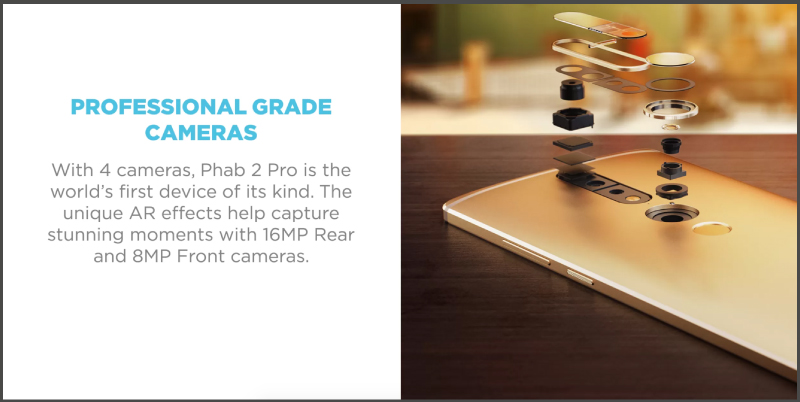 Dual camera phones are passé. How about a four camera phone, instead? This one boasts of an AR-enabled 16MP primary camera with PDAF Fast-Focus, Depth Sensor and a Motion Tracking Sensor for Tango™. It also offers a bright and smart 8MP front camera with Fixed-Focus for the perfect selfie every time! The phone's fisheye and depth camera not only allow you to shoot like a pro, but the combination of cameras also unleash the potential of Tango™ technology as they enable the device to take more than 250,000 measurements a second to a 50 micro second level of accuracy. It also has 64 GB internal memory and an expandable 128 GB MicroSD™ capability to keep all those memories safe! Now, worrying about data is totally old-world!
---
Superlative display for lifelike images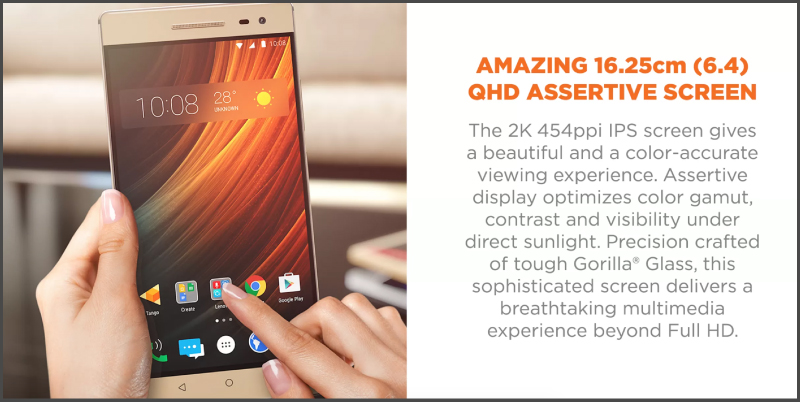 What does a vivid and gigantic 6.4" Quad-HD IPS with 2.5D Curved Gorilla® Glass Curved Screen mean to you? Well, to put it simply, the phone's impressive 2K IPS Assertive Display will up the ante of your smartphone experience with its stunning, color-accurate images. Have you experienced poor visibility on your phone in the daytime? It's time to say goodbye to unclear images as the phenomenal HD display optimizes color gamut, contrast and visibility under direct sunlight. The 2.5D curved Gorilla® Glass Screen is crafted with precision for both clarity and toughness for the most finicky of users.
---
The magic of multimedia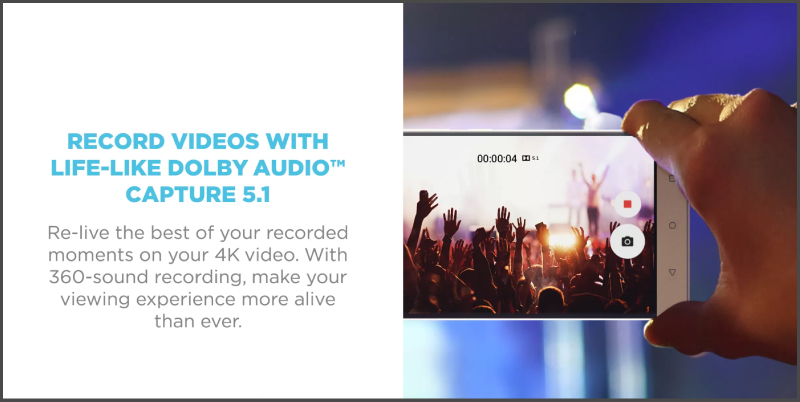 The Phab 2 Pro also checks all the boxes when it comes to sound. If the idea of making a movie on your phone seems too hard to believe, think again. The Dolby Audio™ Capture 5.1 that records lifelike sound and action makes this entirely possible. Your videos will seem truer to life with the superlative sound quality, which you have to hear to believe! The Dolby Atmos® Sound on the other hand will serve you well while listening to music or watching movies. The Triple Array Microphone with Active Noise-Cancellation will further enhance your experience. The powerful 4,050mAh battery with fast charging will ensure that you enjoy multimedia to your heart's content, so bring on the movies, shows and matches!
---
More to multimedia with mind boggling sound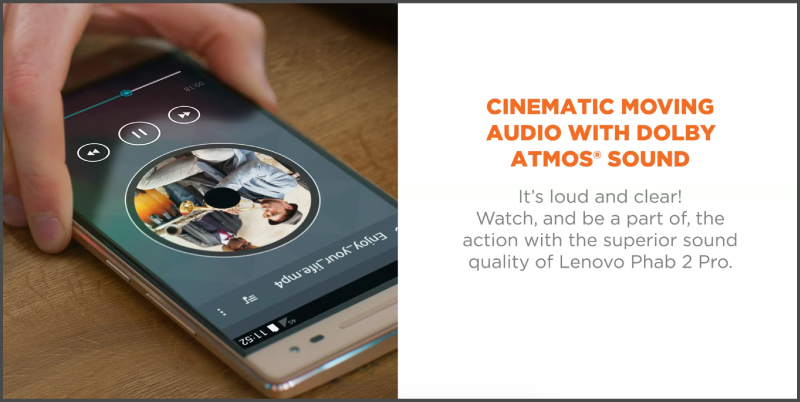 Amplify your multimedia experience with JBL Hybrid Earphones that come along with this phone. Powered by JBL Pure Bass technology, the earphones are ergonomically designed and have a 3-button control. They also feature a tangle-free flat chord for hassle-free storage. So whether you're all about the bass or not, you'll always hear every nuance of your most loved music or TV show.
---
Better security at your fingertips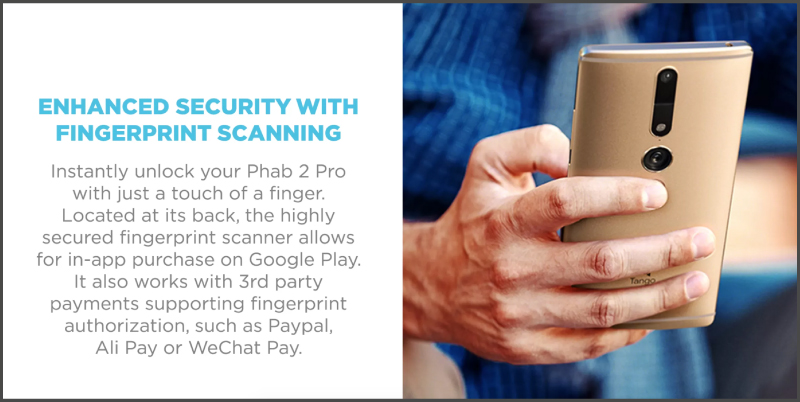 The Phab 2 Pro has you covered when it comes to your phone's security. It unlocks at the press of a finger. The highly secured fingerprint scanner allows in-app payments on Google Play and 3rd party payment apps as well. There's nothing stopping you from shopping till you drop, ordering your favorite food, groceries or fashion accessories right on the move, while being assured that your data isn't going into the wrong hands.
---
Meant for the all-day work, play and everything in between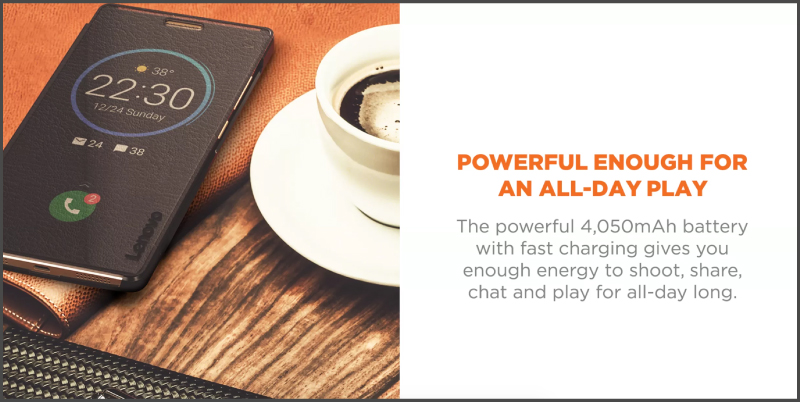 Powered by a Qualcomm® Snapdragon™ 652 Processor that has been built for Tango, running on the Android™ 6.0 OS, offering 4G connectivity and with a king-sized 4 GB RAM, the Lenovo Phab 2 Pro is all about catering to your every whim and fancy. And don't worry about zing! The phone's 4050 mAh battery comes with Li-Ion Fast Charge to keep you going longer and stronger!
---
Excited? We bet! Check the phone out on Flipkart here .
..