Are you up-to-date with the latest device launches on Flipkart. Then there is no way you would have missed the fabulous, entertainment power-house from Lenovo—the Phab 2. But to what depth do you know about this new, power-packed smartphone? Play the the Lenovo Phab 2 contest — the #GoPhab2Quiz — on Flipkart and try your luck at winning Flipkart gift vouchers worth INR 500.
---
THIS CONTEST IS CLOSED.
Congratulations to the 10 lucky winners! You can still play for fun, though!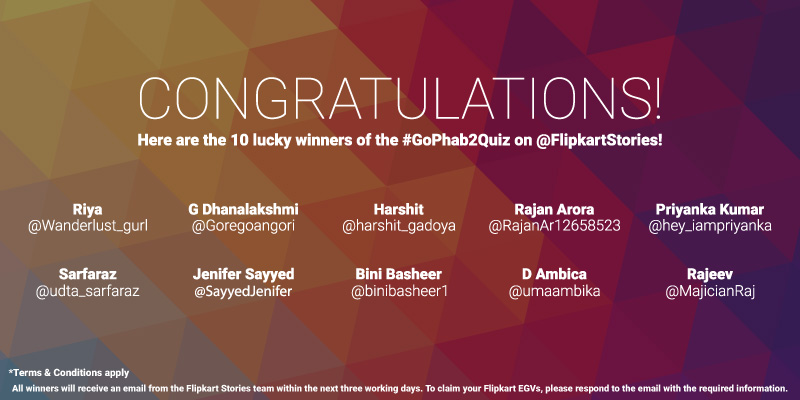 ---
This quiz requires you to read the Lenovo Phab 2 review on Flipkart Stories and answer the questions. To be considered for a prize, the winning entries must fulfill these conditions:
(A) Get all answers right
(B) Like the Flipkart Stories Facebook page
(C) Tweet the link to the contest after you are done playing
(D) Enter your name and email address in the form
---
Ten contestants who complete these steps stand a chance to win Flipkart electronic gift vouchers (EGVs) worth ₹500 each. The #GoPhab2Quiz will close on December 21, 2016. Winners may expect to receive their prizes within 30 days of the announcement.
By playing this quiz, it is understood that you have read and accepted the terms and conditions.
---
---
TERMS AND CONDITIONS