Three IT professionals in Bengaluru had a pleasant surprise when they received a text message from Flipkart. Each of them had ordered an LeEco Super 3 TV on Flipkart and the SMS informed them that they would receive their delivery earlier than anticipated.
For Madhukumar Jayanna, a software engineer, Sunday mornings usually begin on a cheery note. He wakes up to birds twittering outside and looks forward to spending quality time with his family, away from his busy weekday schedule. But this particular Sunday morning began with a sense of anticipation. He had received an SMS from Flipkart informing him that his new TV was out for delivery. R Lakshmi Narayana, a 33-year-old employee at IMS Health, was excited when he learned that his new LeEco Super 3 TV would be delivered that day. "My family and I weren't expecting the delivery this soon," he said. Ravi Kumar Mahadevaiah, a 32-year-old software designer, had been eagerly waiting for his new television to reach his doorstep. He had pre-ordered the smart television set on Flipkart, and from that day on, his excitement had been mounting.
In Mumbai, Sandeep Mittal, a 37-year-old chartered accountant, could certainly attest to Ravi's impatient wait. Having recently moved from New Delhi with his family, he was glad that the difficult part of the transit was over, and was looking forward to seeing his family settle down in Mumbai and begin their new life together. As a surprise and a welcome-home present, he had placed an order for the new smart TV from LeEco on Flipkart. He was looking forward to curling up with the family in front of a smart TV watching movies or sports. "They didn't know that I'd ordered a LeEco Super 3 TV with a mammoth display that would nearly fill their entire field of view," he said with a smile.
The text message from Flipkart had prepared them for early delivery of their LeEco Super 3 television. But these eager customers had no inkling of the other surprise that awaited them — the little something that Flipkart had gift-wrapped to be delivered along with their order!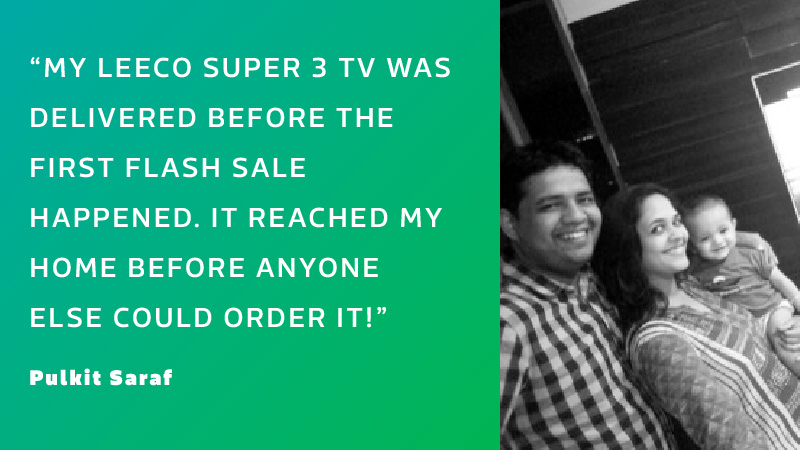 Surprise! Early bird delivery
Only when Lakshmi Narayana and his family saw their new TV at their doorstep did the feeling really sink in. "It was an emotional moment for us," he said. "It was a delight to see my family's surprised, happy faces."
Pulkit Saraf, a 33-year-old professional from Ahmedabad, also shares this feeling of delight. What made his purchase stand out even more was the quick delivery. "The delivery was really fast and more importantly, my TV was delivered hale and hearty," he said.
Ravi Kumar Mahadevaiah, after enduring a nail-biting wait for his new LeEco TV, heaved a sigh of relief when it was delivered. He contacted Flipkart's customer care and was promptly assured that it would arrive as promised. "And it did!" he says, adding that not only is he happy with the packing of his order but that the installation technicians arrived the same day.
Sandeep Mittal's jubilation on receiving his new television set increased, thanks to two more things. He reveals, "The fact that I was among the first customers who'd purchased such a good product made me feel great. And when I saw the happy surprise on my family's faces, I gave a whoop of joy!"
Another one to surprise his family with the TV was Bengaluru-based Satish Mathews. His entire family was present when the delivery team brought the TV home. "The TV was a surprise for them since I hadn't informed anyone that I'd placed an order for it on Flipkart," he tells us. But Satish and his family's happiness doubled when they saw its massive size. "It felt bigger than a standard TV with a display of the same size. Its sheer size was totally unexpected! But for me, the surprise element was that Flipkart delivered it at the specified time."
The big-screen LeEco TV grabbed attention in Madhukumar Jayanna's household too. He tells us, "My parents had been expecting a smaller TV, and so when the new TV arrived, they were amazed at how big it actually was. They said that our home might feel like a theater from now on!" Satisfied, especially with Flipkart's fast delivery service, he adds, "Flipkart's delivery guys were very cooperative when it came to moving and placing the box at the location where I desired at my house. I felt very happy."
Some of our customers were at home when the TV was delivered, but this wasn't the case with Ajay Bhatnagar, a 37-year-old telecom professional. He came home from work and found that his new TV was already up and running. "My wife had accepted delivery of the new TV," he said. "Flipkart initiated a prompt installation and by the time I reached home, it was already functioning. I didn't even get to meet the people who came to install it."
Just curious, what did our customers think of the little surprise that Flipkart had sent them along with it?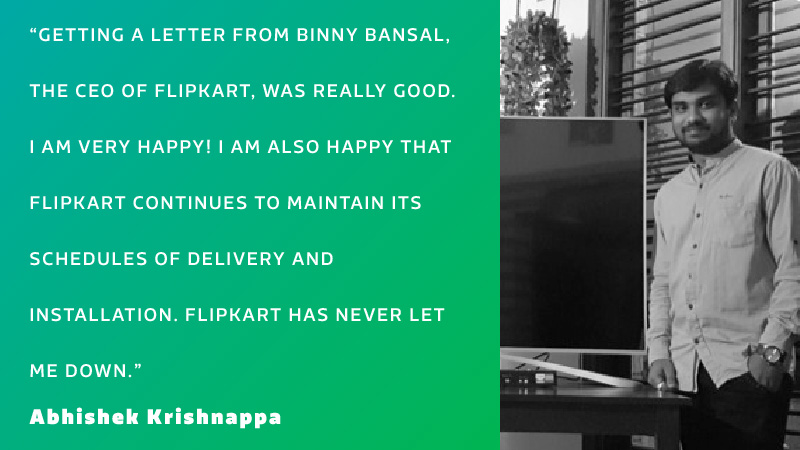 What's inside the box? The TV, of course. No, the other box!
In all his years as a Flipkart customer, the only thing that Kushal Singh Yadav, a 35-year-old professional from Hyderabad, expected every time he made an online purchase was timely delivery. And so, when his new LeEco Super 3 TV was delivered before the estimated time, he was happy. This time he was happier. "If any product I order from Flipkart is delivered before time, then it's good," he said. "But this time, when we received the letter and box of chocolates, our experience was better. I liked the personal touch!"
For a select few customers, a letter from Flipkart CEO Binny Bansal and a gift-wrapped box of chocolates accompanied the delivery of LeEco Super 3 TVs.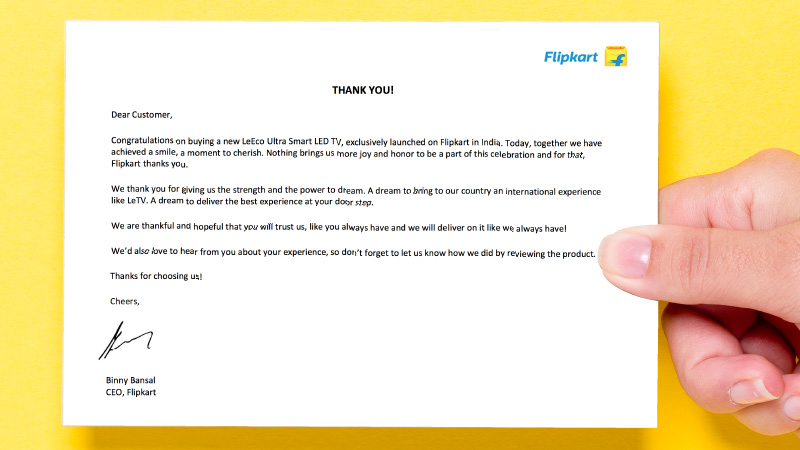 "It's such a surprise!" was the first thought that came to Ravi Kumar Mahadevaiah's mind when he was given his "gift hamper" in addition to his new TV. "It certainly came as a surprise to my family and me," he said with evident delight. "I have frequently purchased from Flipkart over the years, including high-end smartphones for my wife and me. But this was the first time that Flipkart had sent a personalized letter and a token of appreciation in the form of chocolates. It felt really good."
A LeEco Super 3 TV wasn't the first big-ticket appliance that Satish Mathews had bought from Flipkart. He'd bought an IFB washing machine previously, and said that though Flipkart's service both the times was great, this time something it was different. "It was a pleasant surprise for my family and me when Flipkart's team presented us a letter from Binny Bansal and a box of chocolates," he said. "It was something that Flipkart hadn't done back when it delivered our new washing machine."
Lakshmi Narayana uses an endearing phrase to describe Flipkart's gesture: "Personal care."
"It is little things like this that show that Flipkart cares deeply about its customers," he said, adding that the installation team surprised him with the gift after successfully installing his new TV. "It was quite a surprise. There would be so many people out there who would have purchased it. The fact that Flipkart's CEO has sent me a letter and chocolates to thank me for my purchase made me feel great."
Ajay Bhatnagar from Mumbai was more excited about his new, big-screen TV than he was about his surprise goodies. Nevertheless, he liked that Flipkart was "willing to go that extra mile to take care of customers." He adds, "I felt good that Flipkart is giving customers something extra. My family was happy and excited with the letter and chocolates."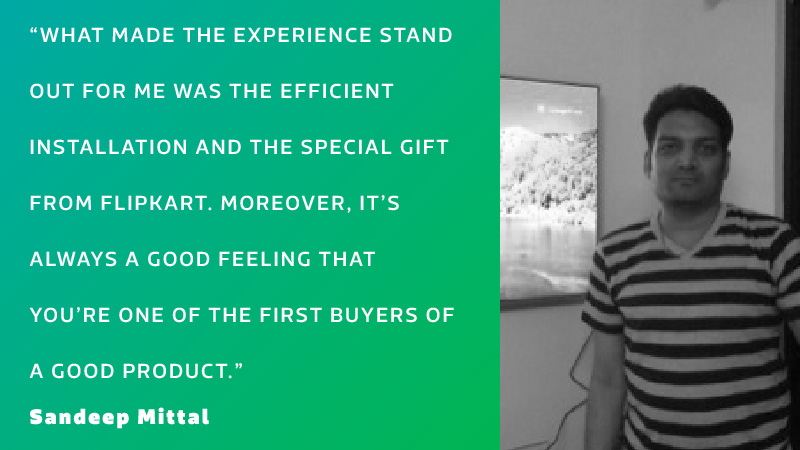 The element of sweet surprise
Lakshmi Narayana said his six-year-old son was as excited to discover the box of chocolates as he was with his "big TV"! He said, "My wife, my son and I all enjoyed the chocolates. We had not been expecting this gift. It was a sentimental moment."
Hyderabad resident Kushal Singh Yadav gave the chocolates to his three-year-old daughter, who ate them with relish. It was no different with the children at Pulkit Saraf's home. He said, "I gave the chocolates to my child and my brother's child."
Ravi Kumar Mahadevaiah said Flipkart's "sweet, surprise element" was the icing on the cake. His family is happy with their new smart TV, especially the kids, who can "now watch all their favorite YouTube cartoons on its 55-inch display rather than on a tablet". He adds, "We received a very good package and upon that, we got this super nice surprise element. It was very pleasant."
"A special treatment" is how Sandeep Mittal describes Flipkart's sweet gesture. "I got the letter and the box of chocolates after the installation. I liked the way Flipkart was treating customers who'd bought new LeEco TVs and making the moment special for them. I, for one, felt special. I shared the chocolates with my family, especially with my three-and-half-year-old daughter."
In Bengaluru, software engineer Abhishek Krishnappa was thrilled when he received his gift — the first, he said, that he's received from any online shopping site. It was a sweet conclusion to the delayed installation of his new TV. "After the TV installation was completed, Binny Bansal's letter and the box of chocolates put a smile on our faces," says Abhishek. "My family and I weren't deliriously happy, especially after the delay in installation, but we felt it was a good gesture by Flipkart."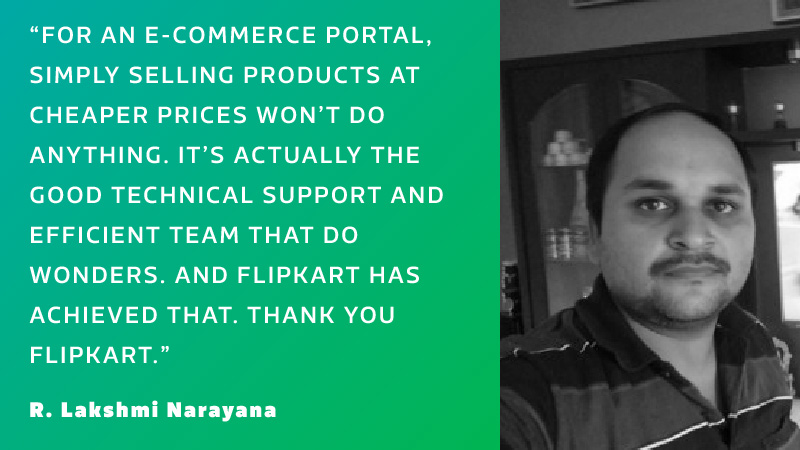 Making their joy extra special
Kushal Singh Yadav is quick to list the things that he liked best about his purchase experience from Flipkart. "My TV got delivered before time, I received Binny's letter and a box of chocolates, and Flipkart's team was courteous," he said. Though he's of the opinion that the entire process was smooth enough, he faced some issues with the installation the day after delivery. "The installation person got the stand fixed but didn't get the wall-mounting apparatus," he said.
Lakshmi Narayana is mighty impressed with Flipkart's service of same-day delivery and installation for his new LeEco TV. He said, "The installation experience was very good. They did the installation and helped me move my old TV." He stresses that he's looking forward to purchasing from Flipkart "more than anything else."
A sneak-peek of Flipkart TV deliveries! Nothing brings us more joy & honor than to celebrate this w/ our customers! pic.twitter.com/2DU4NusIB2

— Flipkart (@Flipkart) September 17, 2016
The hassle-free installation made Vijay Bharadwaj happy as a lark. He liked that the installation team did a "superb job even when it was late evening". He explains, "Though they'd arrived after 8pm, they were still pretty cheerful when it came to completing their work. They were enjoying it, and despite it probably being their fifth or sixth installation of the day, the stress didn't show. It was what made it a great experience for me." He adds that the installation personnel cheerfully explained the finer points of operating the TV.
Ajay Bhatnagar from Mumbai had to face a bit of a hassle right after placing an order for his new LeEco TV. He reveals, "While ordering through the app, I had mistakenly chosen my old address as the delivery address for my new TV. When I realized my mistake, I sought to change the address, but I was unable to alter the order. If I would have chosen to cancel it, I would not have been to reorder it again, and also since it had been through EMI, the interest would have been high as well."
All ended on a positive note, he said, when he contacted Flipkart and the issue was sorted out three or four days later.
A fast delivery added the finishing touch to Madhukumar Jayanna's happiness. He liked that the Flipkart team cooperated when it came to moving his TV to the location he desired as a special favor. The installation did not happen the same day, said Madhukumar, but adds, "It wasn't that big a problem for me, though."
Abhishek Krishnappa observed that the installation team was not thorough in explaining his new TV's many exciting features. The rest of the experience, he said, was "fantastic." He's already booked two more TVs from his Flipkart account.
The delivery of the new TV happened pretty quickly for Pulkit Saraf, who said, "A good thing was that my new TV was delivered before the first flash sale. This way, I had it before anyone else could order it."
Ravi Kumar Mahadevaiah is also forthcoming about the installation service, which, he said, was initiated within three hours of the delivery. He said, "The installation service was prompt."
At Flipkart, our customers come first. We've always believed in taking care of our customers, and offering them an experience that leaves a lasting impression. We understand that buying a large appliance is no ordinary purchase, and we are glad that they trust us and make us a part of that celebration. Most of all, we thank our customers for being honest and charitable with their feedback, for it certainly helps us know where we are doing well and where to iron out the wrinkles.
Meanwhile, we hope you enjoy your sweet surprise. Be warned, there's lots more in store for loyal Flipkart customers!
---
Reported, designed and edited by Flipkart Stories Editorial. Customer data analysis by Pushpendu Kumar
Have you had a great experience with Flipkart recently? Do you have suggestions that will enable us to improve the quality of our service? Please share your comments or drop us a line.