Ever since its arrival on Indian shores, Chinese company LeEco has taken the smartphone market by storm — dishing out superphones that benchmarked both in quality and affordability. The #MadeForIndia Le1s sold out in just two seconds in its very first ever flash sale on Flipkart. Experts were even more impressed with the premium Android experience of the LeMax2. Little surprise then that LeEco touched a milestone of one million likes on Facebook—that too in just 63 days of its arrival! So what's the latest from the LeEco stable that's all set to breaking records? Introducing the LeEco Super3 TV, for the first ever time in India.
Making its debut in the LED TV industry in the country, LeEco recently launched the Super3 TV series. The manufacturer is already known for creating the world's largest 3D and 4K TVs, and has sold over 3 million televisions across the world in 2015. This year, it made its biggest splash yet by acquiring Vizio, one of the leading Smart TV brands in the US.
The Super3 TVs is available in three models, the Super3 X55, X65 and Max65 (which supports 3D display!). Boasting a unique all-metal body, a quad-core Cortex A17 CPU, a quad-core graphics processor and a 60 fps 4K video decoder, the LeEco Super3 TV is all set to redefine the 4K experience.
Registrations are currently open only for the LeEco Super3 X55 on Flipkart.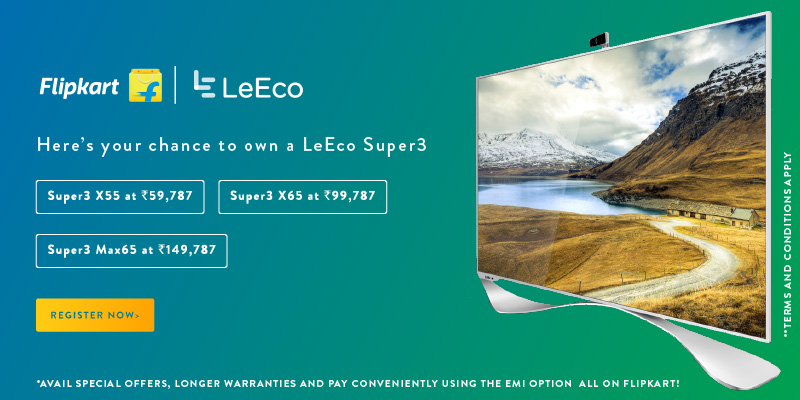 Here's what you can expect from the newest Smart TVs on Flipkart that are already making waves with their slick features:
---
LeEco Super3 – Display that gives you a home theatre experience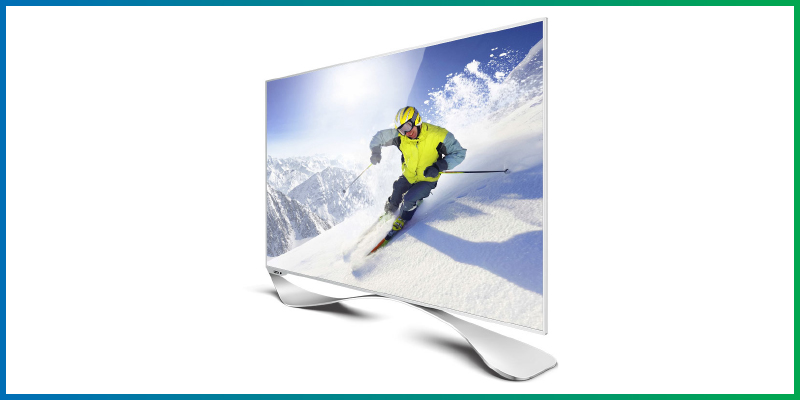 If bigger is your standard, then your living room might soon feel like a theatre! LeEco's Super3 TV series bring displays that nearly fill your entire field of view. The 4K on the Super3 offers a resolution that's four times better than today's high-definition TVs! With a sharper, smoother picture, the 4K UHD displays of the Super3 TVs reveal details much deeper than that of HD televisions. Imagine watching every individual strand of hair and every blade of grass with stunning clarity in the movie Avatar.
The Super3 TV series also come with a 178 degree viewing angle giving the best sight from anywhere in a room—vertically or horizontally. The In-Plane Switching (IPS) of the television, along with automatic brightness adjustment and enhanced contrast functions make for sharp details and rich colors. This means your LeEco Super3 TV can deal effortlessly with everything—from moody movies to fast-paced sports. What's more, the Max65 is all about 3D. Simply put on the 3D glasses* that come with it!
Impressed by the stunning picture quality of the Super3 TVs, Karthekayan Iyer of The Indian Express says: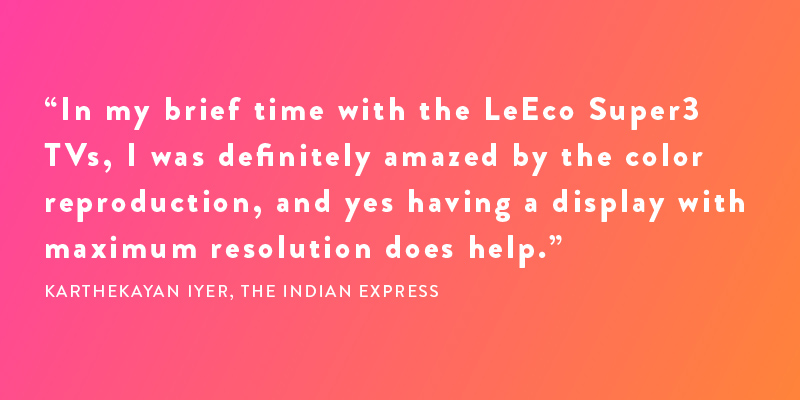 Read the full article here.
---
Smart yet simple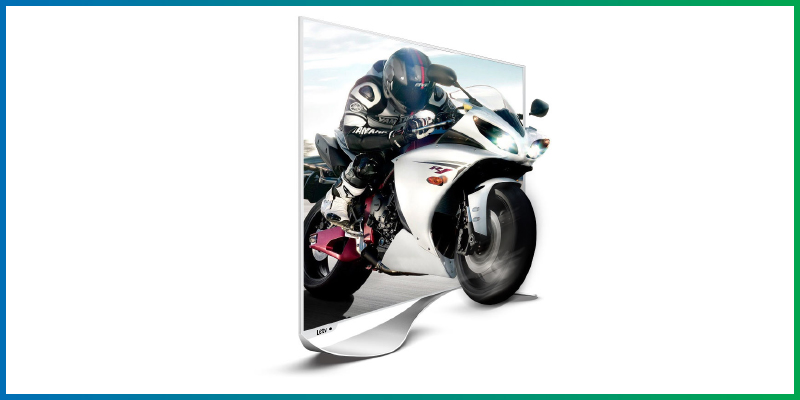 While 'smart' gadgets are supposed to make your life easier, you may often find that their interface is anything but simple. However, you don't have to be a techno-buff to catch up on TV and streaming services on the LeEco Super3 TV. Just connect to the internet and click on any of the quick access apps.
Twitter user Sunil Melwani likes the smart features of LeEco TVs already and calls them the 'GodSmartFather' of all smart gadgets:
@RajivMakhni #LeEcoTv Throw a Smart Gadget TV Party Invite all Smart Gadgets as Guests & Introduce them to their New GodSmartFather LeEcoTv

— Sunil Melwani (@tonymelwani64) August 7, 2016
Offering apps and services out-of-the-box, this LeEco TV series offer Android 5.0 interface that's sophisticated, yet intuitive. The menus are simple, helping you effortlessly switch between apps, games, streaming services and other functions. The intelligent interface also provides recommendations of all your favorite content. This means you spend less time browsing and more time watching the stunning visuals on your LeEco Super3 TV.
Karan Bajaj of The Economic Times talks about the Super3 TVs setting TV comparison benchmarks in his tweet here:
Yes, we now have tv comparison benchmarks also #LeEco pic.twitter.com/XhemiXr6UH

— Karan Bajaj (@Karanbajaj) August 4, 2016
---
Hardware that offers lag-free and sharp visuals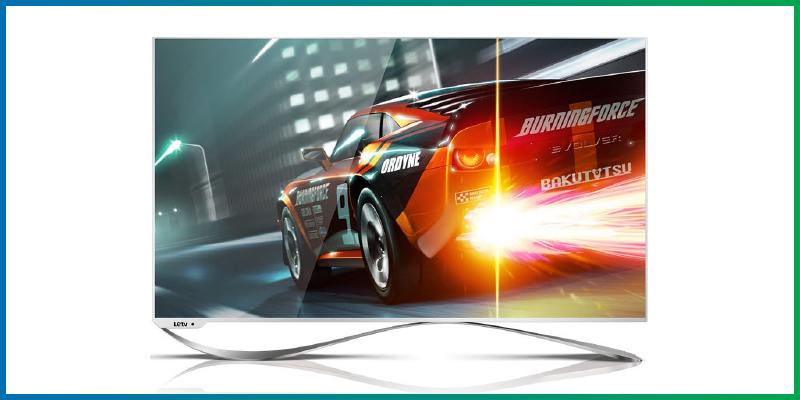 The LeEco Super3 TV series will prove that lagging, blurry screens are certainly a thing of the past. All this thanks to its extra-powerful hardware. At the heart of these TVs beat a 1.4GHz quad-core processor, paired with Mali GPU. The refresh rate of 60Hz (in X55 and X65) and 120Hz (in Max 65) keeps the action on your screen clear no matter how fast it is moving. The 55-inch X55 comes with 2GB RAM, while the 65-inch X65 and Max 65 have a 3GB RAM—a perfect configuration for gaming, sports and action film enthusiasts.
ET Panache describes the hardware of these TVs as an absolute trendsetter in this tweet here:
#LeEco's 'super TVs' to set trend with processors, graphics https://t.co/CyjWpAqTgv pic.twitter.com/4A9hliN8D8

— ET Panache (@ETPanache) August 1, 2016
---
A slim design that sets the ball rolling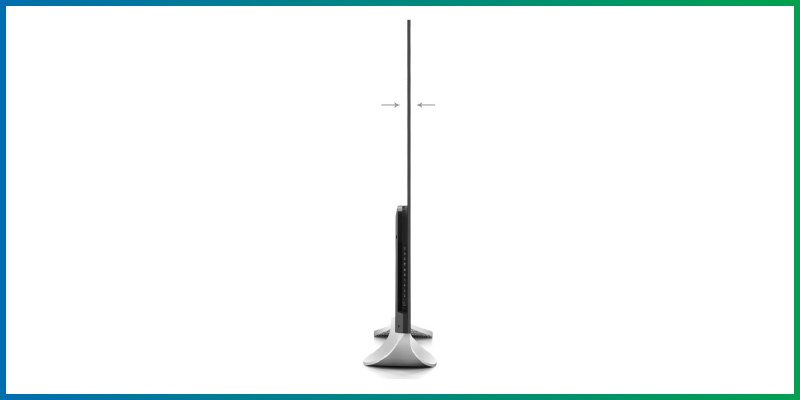 With their ultra-slim, sophisticated design that measures a miniscule 15.5 mm at its slimmest point, the LeEco Super3 TV flatter your wall like precious art. Whether propped up against the wall or placed on your TV cabinet, your new LeEco television will effortlessly make a 'sizable' impact at your next house party. The diamond-cut beveled edges with anodic oxide coating and brushed aluminum metal bezels make it look as though the pictures are popping right from the wall!
Digit.in is particularly impressed calling the X55 a game changer: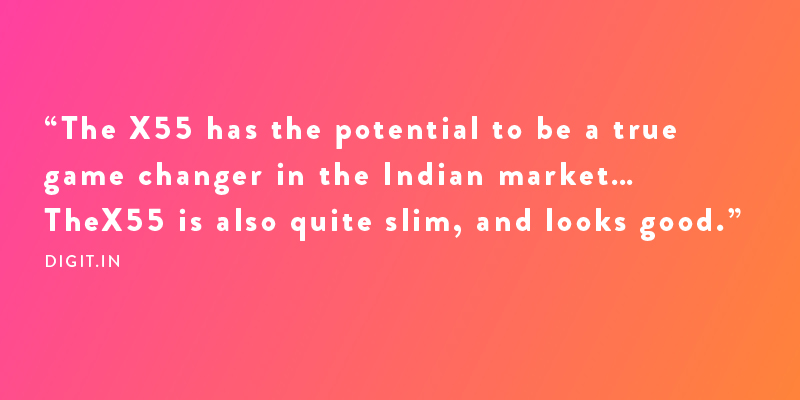 Read the full article here.
---
A complete entertainment package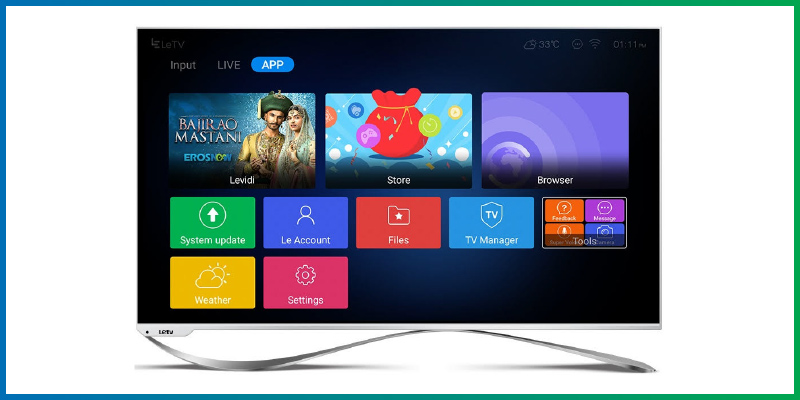 Did you know that LeEco is often called the Netflix of China? Content streaming is a strong suit of the brand and now it's available on the new Super3 series. Simply connect your Super3 television to the internet and play your favorite movies, live TV shows, sports or music from all over the world. LeEco has partnered with Yupp TV, Eros Now and Hungama to bring one of the broadest entertainment content collection, right to your home. You can have a personalized playlist on your LeEco Super3 TV and also receive recommendations on popular chart toppers. If you are a movie buff, the TV allows you to handpick from a catalogue of as many as 1,000 on-demand movies. Add to this the catalogue of over 100 TV channels in 10 languages, and your telly entertainment is sorted for a long time to come.
Saurabh Singh of India Today concurs with the variety of LeEco's Super 3 TVs entertainment options: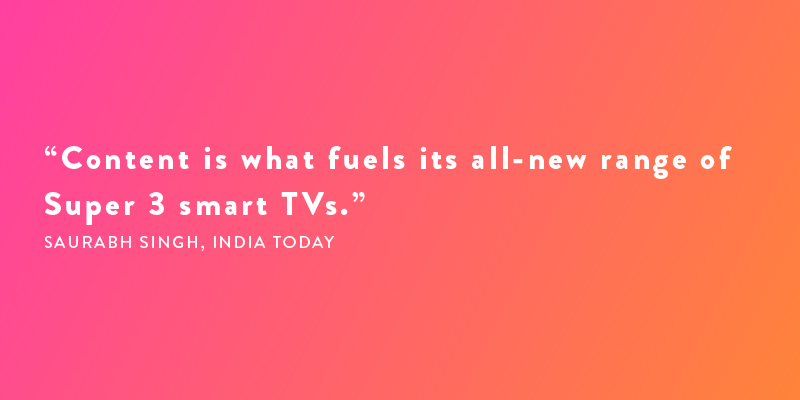 Read about all the movie, music and live TV options as well as about the Le Music and EUI in the full article here.
---
Seamless media playback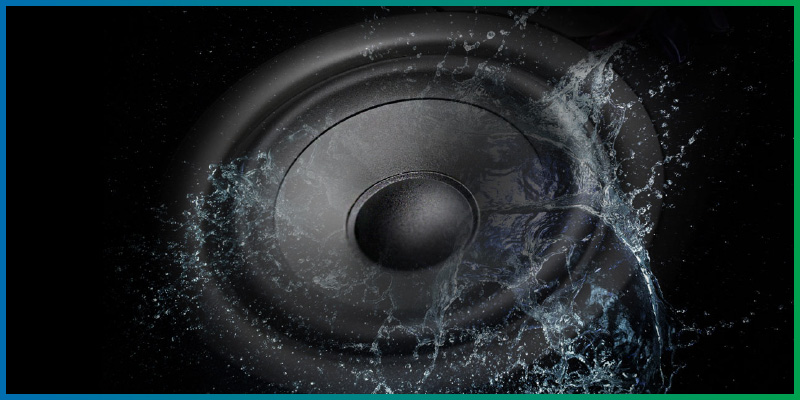 The LeEco Super3 TV can play all video and audio formats without breaking a sweat. Why crowd around the tiny display of your camera to view your best shots when you can show them off to your friends and family on your Super3 TV? Copy any multimedia content to a USB device, plug it to any of the three ports on the TV, and revisit those moments, in life-size. HDMI is the best way to transmit both the digital video and the audio signals from your external device to your TV. LeEco's Super3 TVs come with three HDMI ports for connecting multiple devices.
---
So how does that sound? Ready to choose between the 55-inch Super3 X55 for Rs 59,787, the 65-inch Super3 X65 at Rs 99,787 and the 65-inch 3D Super3 Max65 at Rs 149,787 yet? Browse the range on Flipkart.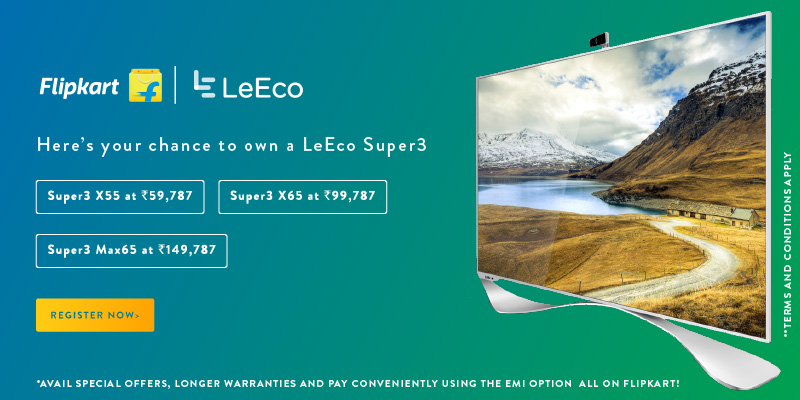 Registrations are currently open only for the LeEco Super3 X55 on Flipkart.
…