In less than a month, the Le1S and LeMax smartphones from LeEco won the hearts of online shoppers in India. Launched exclusively on Flipkart through a series of flash sales, LeEco (formerly known as LeTV) now opens its doors to everyone on LeEco Day.
On the February 25, 2016 Flipkart will host LeEco Day when the two iconic smartphones from LeEco brand will be available, for the first time, in an open sale. Customers who wish to get their hands on these class-leading smartphones will have access to all the variants of the Le1S and LeMax models.
ALSO READ
Which #superphone from @LeEcoIndia would you like to buy during the @Flipkart flash sale? https://t.co/6EFUqcb0Yv

— Flipkart Stories (@FlipkartStories) June 21, 2016
LeEco, formerly known as LeTV, hit Indian shores about a month back exclusively through Flipkart. In a short time, they came, they sold, and they conquered the Indian smartphone space with their flagship mobile models, the Le1S and LeMax. The Le1S was available for customers through three pre-registered flash sales and quickly gained the recognition of being India's largest selling 4G phone of 2016.
Missed the flash sale? Don't worry. @Flipkart #LeEco Day is here to the rescue https://t.co/aX9erYkTAX @LeEcoIndia pic.twitter.com/e519Ob5umC

— Flipkart Stories (@FlipkartStories) February 22, 2016
For those who missed the earlier editions of the LeTV flash sales, here's good news. LeEco Day, in addition to being an open sale, allows customers to avail an exchange discount on their old smartphone. Buyers can get up to Rs 6000 on exchange for the Le1S and up to Rs 20,000 on the LeMax. What's the best part? This time, there is no need to pre-register!
Here's a crash course on what to expect from the LeEco smartphone models on sale.
Le1S – Supersmart and pocket friendly | Available on LeEco Day
The hot seller from LeEco, the Le1s, offers mind-blowing specs at a mind-boggling price. Weighing just under 170 g the phone looks striking with a 5.5-inch full-HD 1920×1080-pixel resolution display, an all-metal body and a bezel-less design.
The Le1S uses MediaTek's Helio X10 Turbo octa-core processor and comes with 3GB RAM along with an inbuilt 32GB limited memory. Its 13MP rear camera, supported by an LED flash, and a 5MP selfie camera promise to capture those perfect shots. The Le1S also comes with the reversible USB Type-C connectors (the first phone in the world to do so!) and also supports quick charging. Its non-removable 3000mAh battery is designed to keep the phone powered for well over a day.
Click here to view LeTV Le1S before the LeEco Day
LeMax – The fully-loaded, monster superphone | Available on LeEco Day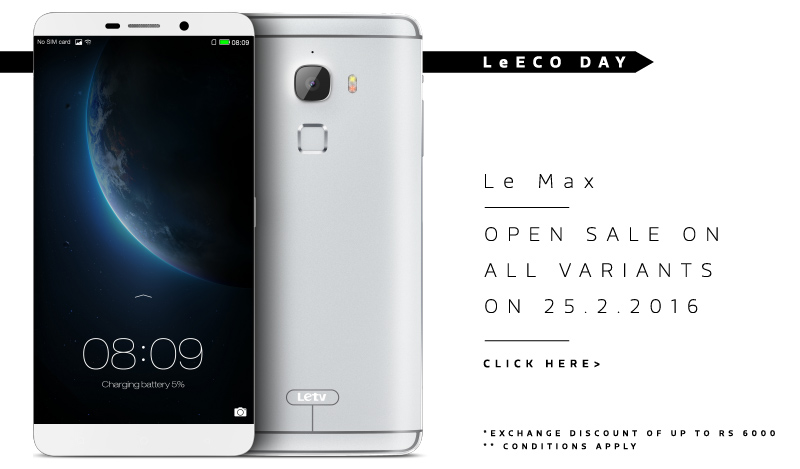 The bigger brother of the Le1S, the LeEco LeMax is the ultimate beast to look out for during LeEco Day. The smartphone follows the same uni-body, bezel-free design of the Le1s and features a fingerprint scanner below the rear camera. This phablet comes with a 6.3-inch screen, measures 167.10 X 83.50 X 8.90 mm and weighs just above 204 grams. The smartphone's 4K wireless HDMI ready screen features 1440 X 2560 pixels with a PPI of 464 pixels.
The LeMax is powered by a Snapdragon 810 chipset with an Adreno 430 GPY and 4 GB RAM. Customers can choose versions with capacity of 32, 64 or 128 GB RAM — just what the doctor ordered for content-heavy lifters. The key highlight of the phone is the rear camera. A 21MP Exmor sensor camera with dual flash ensures optimum light for clear photography, and the 4 ultra-pixel front camera provides its services to selfie addicts.
Click here to view LeTV LeMax before the LeEco Day