When Lavie, a brand synonymous with high-fashion handbags for women, dreamt of being a part of every woman's wardrobe, it looked to its partnership with Flipkart to bolster growth. Now, with market insights and the infrastructure to deliver to numerous PIN codes in the bag, Lavie is all set to launch Qisa, a sub-brand that blends affordability and aspirations. In this Q&A, Ayush Tainwala and Praveen Tainwala, the duo at the helm of Lavie, explain what the Flipkart-Lavie partnership is set out to accomplish in terms of launching into India's Tier-II, Tier-III market and beyond.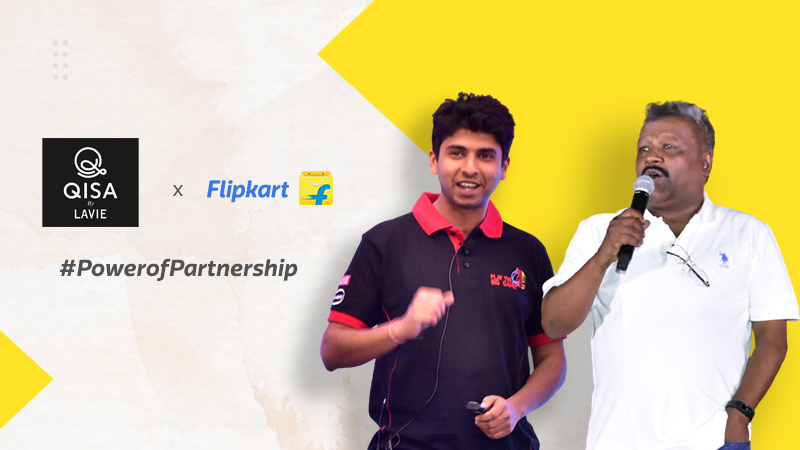 Qisa from the House of Lavie has an ambitious goal: to provide sustainable fashion – handbags, sling bags, and wallets – at price points that do not tug too heavily at the stylish purse strings. Newly launched on Flipkart, Qisa caters to Gen Y and Gen Z and promises stylish, trendy, and functional gear that still stays true to the modern-day ideal of "minimal is chic". From design to manufacturing, Qisa by Lavie is 100% made in India, with all-local raw materials, no animal testing of colors, no animal dye testing, 100% vegan leather materials, no animal cruelty, and no animal leather.
Building such a product portfolio at affordable prices for an audience that is big on trends and slowly growing accustomed to ethical fashion purchases, and above all, believes in value, could not have been easy. The partnership of over 8 years between Flipkart and Lavie emerged as key to unlocking this new market opportunity.
Flipkart's customer knowledge, market intelligence, and pan-India reach are just what Lavie looked for to cater to a growing opportunity in a larger market. Leveraging this partnership Lavie can go from offering trendy, luxury clutches, casual bags and more to affordable, chic gear for an emerging market. Unpacking this partnership in an engrossing interview are Ayush Tainwala, CEO at Lavie, and Praveen Tainwala, Executive Director at Lavie.
---
Enjoying this story? Listen to the accompanying podcast!
---
Excerpts from the Q&A
What were the market opportunities that necessitated this partnership?
Praveen:
It has been about 8 years that we've worked with Flipkart, and we're always looking for the next opportunity to grow our business. After Flipkart did a consumer study on Tier-II, Tier-III markets, we considered the total market potential of handbags in India. We found that there's a massive market of over ₹ 10,000 crore in this segment, and after considerable research with the Flipkart team, we understood that below 10% of the market is organized, whereas 90% still remains unorganized. Together, we saw an opportunity that Lavie could tap into by leveraging Flipkart's deep consumer understanding and reach.
A second opportunity lay in the fact that within the ₹ 10,000 crore handbag market, the majority of business happens at an affordable price point. So, we wanted to join hands with Flipkart and see how we could scale up in that segment. We realized that for consumers currently shopping at the ₹ 500–800 price point, purchasing at a ₹ 1,100–1,500 price point would be very difficult. However, if there is a brand in the middle – such as Qisa by Lavie – we can create a good product at an affordable price point and convert more of the unorganized pie into the organized sector.
What challenges does Flipkart help Lavie address?
Praveen:
Well, it's no small thing to capture and transform the offline and unorganized market into the online and organized market and grow there. However, we realized that the growth we can achieve in Tier-II and Tier-III cities can be humongous if we work together. Simultaneously, setting up our own factory in June-July 2019 built our confidence. We built the conviction that we can create good handbags, offer affordable prices, create bestsellers, and then try to grow our business more efficiently. With a wealth of opportunities at hand, we decided to open up the discussion with Flipkart, join hands, collaborate, and make a robust business plan for three to five years! In today's fiercely-competitive world, we believe that Flipkart would help things fall in place in the best way imaginable.
---

---
How is Lavie catering to the modern Indian woman's fashion needs through a partnership with Flipkart?
Ayush:
Indian women are sophisticated and global trends carry forward to India in no time at all. And that's the kind of customer we are trying to address working with Flipkart. An indispensable factor that helps us cater to modern Indian women is the insight that Flipkart provides: what the consumer is really searching for today, what kind of trends are being seen in consumer behavior online, how different accessories are chosen based on occasion, and more. Through our partnership with Flipkart, we hope to address all aspects of the consumer requirement: products for college students, homemakers and working women, products for marriage and other occasions and so on.
What impact has the partnership been able to achieve in terms of benefits to customers?
Ayush:
In the past, good quality branded products were only available to a small segment of the population. Through our partnership with Flipkart, we have not only brought such products to the larger audience base in a convenient manner, via home delivery across all serviceable PIN codes, but in a very cost-effective manner as well.
Now, you don't need to pay ₹ 5,000, ₹ 10,000, or ₹ 15,000 to carry a fabulous handbag. Even if you pay ₹ 2000–3,000, you get a very, very nice handbag. I think the value proposition that we've been able to deliver has been only possible through the partnership between Lavie and Flipkart.
What is the vision for this new sub-brand Qisa and how is it different from anything that Lavie has launched before?
Ayush:
Whereas Lavie targets the 25-to-30-year-old working woman or first jobber, freshly out of college, Qisa is focused much more on a younger audience. We all know India is an incredibly young country and today's young population is more aggressive and eager to consume than ever before. So, Qisa is pitched towards them. With that in mind, Qisa has also pledged to being completely vegan and cruelty-free – it's one of the core pillars that we hold very dear in Qisa and it's a message that resonates a lot with our younger audience.
---

---
What kind of unique design ideas are an outcome of the collaboration with Flipkart?
Praveen:
We believe design is a slow process where we learn from the consumer's needs. Our design journey has been a marriage with the Flipkart team where they share insights into their bestsellers, which helps us develop the right products.
What is the foundation that the Flipkart and Lavie partnership is built on?
Praveen:
Together, Flipkart and Lavie have focused on growth by thinking like disruptors. From planning launches to building timely inventory, we have focused on how to reach consumers faster. All in all, we see this partnership as a big opportunity. Rather than a race of 100 meters, we view it like a marathon – working together to triple sales year-on-year. Both Lavie and Flipkart work as a team to understand the consumer to achieve substantial growth in the coming time.
---
Also read: Bajaj Allianz and Flipkart embrace the #PowerOfPartnership to make insurance accessible and affordable