When Jhuma Paul found it difficult to sustain late night shifts, she decided to supplement her earnings from her store and become a Flipkart Kirana partner. Today, she has control over her work timings, loves to interact with customers and says she's proud to do what she does. Read her story.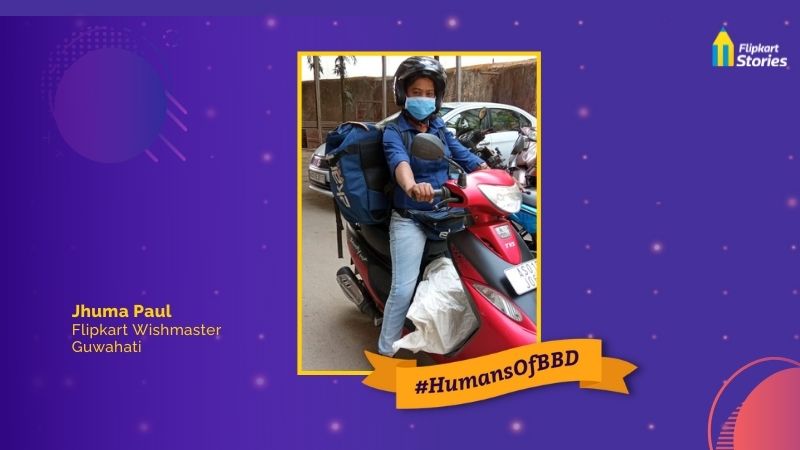 Before I became a Flipkart Kirana partner, I was worried that this was a job I could not do. It was challenging in the beginning, but now it's become easy. I've learned how to talk to customers, map addresses, ask for feedback, and a lot more. I feel good doing what I do.
I struggled to complete my studies after my father passed away when I was 16 years old. We had a lot of financial trouble at home and I had to find a job. I'm 26 now, and I've been working for 10 years to support my family. My sister and I both work, and my mother supports us in everything we do.
I found out about this job through a friend. Before this, I also worked part-time with a food delivery app company. There, it was very different. Most food deliveries happen later at night, so I had to work long hours and late nights to make ends meet. My mother was worried for me, so was I.
After joining with Flipkart as a Kirana partner, I have a lot more flexibility. I live nearby and my shop is also pretty close to the Flipkart hub. I get here around midday and deliver the packages until evening, and go home once I finish. I have the freedom to work the hours that I choose to, and I also feel much safer.
There are some challenging deliveries, but a lot of times when I deliver a package to a customer, they ask me about my job and give me good feedback. Some women also ask to take a picture with me because they feel proud to see a woman doing this work. Just today, I had a customer ask me, it made me feel really happy. Each time that happens, I find that I get more confident in what I do.
I made deliveries during the pandemic too, but the people at the Flipkart hub as well as our customers supported me in staying safe and following all protocols to keep everyone else safe as well. Because of that, I never really felt worried.
I joined in December 2020, so this is my first experience of The Big Billion Days as a Flipkart Kirana partner. I've heard that there will be a lot more shipments to deliver and I'm getting ready for that. I'm looking forward to earning more at that time and maintaining a good customer satisfaction record.
The people at the Ulubari hub are very supportive and treat me like one of the employees. I love to come here. For the future, I want to continue to do this along with running my shop. I know that Flipkart will continue to support me, and more than that, I know that I have my sister and mother cheering for me.
---
Also read: This Big Billion Days, celebrate the spirit of resilience with the #HumansOfBBD