In Other Words by Jhumpa Lahiri (translated from the Italian by Ann Goldstein) is now available to pre-order on Flipkart. Read our expert's review of what promises to be a path-breaking work of contemporary literature.

Learning a new language is not easy. At least, in my experience it hasn't been easy. I tried and struggled with French and could only get this far. After that, either I gave up on the language or the language gave up on me (I don't even think that's possible though). I wish I had continued with it for a while and mastered it perhaps. However, that was not meant to be.
Language is a tricky thing to learn. Some say there is a certain age to it. Some say you have to speak it with someone who is fluent, every single day and immerse yourself in it. Jhumpa Lahiri's new book In Other Words is all about how she learned Italian because she wanted to, moved to Rome to learn it more and finally wrote a book in Italian (the English translation by Ann Goldstein is what I have read).
This book to me was more about life than language. It was about a writer's struggle to not only conquer the language but also at a deeper level come to terms with identity, cultural and emotional barriers and what makes a person complete.
In Other Words is more than just a memoir even – it is going to the depths of what a writer thinks, imagines, and struggles with, dreams about and how it all comes together when she writes. The writing is simple and even though it is translated from Italian, it doesn't lose its essence. That to me is the indication of some spectacular writing right there – when it doesn't take away anything from the original in the translated form.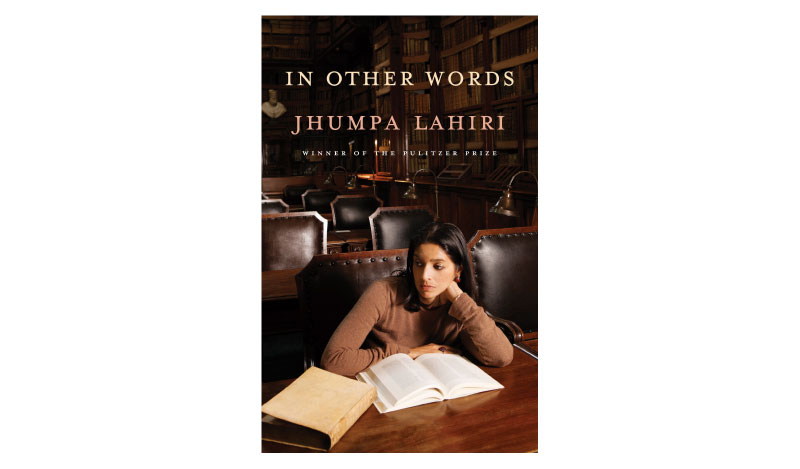 The book is meticulously crafted – giving the readers a view to the writer's innermost fears, the insecurity of writing in another language and to reveal her new linguistic identity, so to speak. Her stay in Rome was almost a self-exile as she traded her English for Italian – almost a new life. As readers, what comes to us most of the time is the dulled down version, without any of the writer's angst, however this is not that version. It is raw and stark and right there – demanding your time and attention.
The book is about a writer's journey and what comes along the way – sometimes even in the name of experimentation and what shape it takes at the end of it all. Jhumpa Lahiri's struggle with the language and the need to overcome it are so strong that you find yourself almost cheering for her, knowing that she managed to write the book in Italian after all.
In Other Words is the kind of book that will also make you question your own creative beliefs and think of the roads not taken. Jhumpa Lahiri's graceful writing – in its most simple form will evoke a lot of emotions inside the reader – fear, love, frustration, anger, the desire to accomplish something, to push your boundaries and to perhaps experience something new and different in what you do.
Definitely a book not to be missed out on this February. Pre-order In Other Words on Flipkart.
If you're in a Jhumpa Lahiri frame of mind, check out her other books on Flipkart (click on the images to browse or buy):