Sandeep Karwa, Vice President at Flipkart, explains the customer promise of the newly introduced hyperlocal service, Flipkart Quick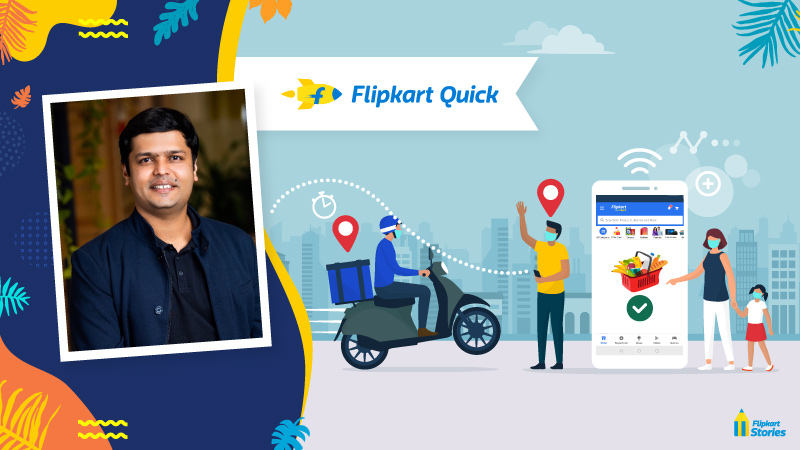 Fast. Efficient. Reliable. Think turbocharged e-commerce. That, in a nutshell, is Flipkart's promise to customers as it rolls out hyperlocal services under the label Flipkart Quick. The pilot, launched in Bengaluru on July 28, comes at an opportune time when the COVID-19 pandemic has necessitated a whole new meaning to e-commerce. The hyperlocal category has led to a significant change in consumer psyche and expectations. In the Indian hyperlocal market, the CAGR is expected to exceed INR 2,306 crore by 2020, according to pre-Covid estimates. Hyperlocal, once a category thought of as a mere convenience, is now a long-term essential service, creating deeper synergies with local retailers while leveraging the power and convenience of e-commerce.
---
Does Hyperlocal intrigue you? Check out our behind the scenes special podcast on Flipkart Quick!
---
There's more to building hyperlocal capabilities than speed alone. Nimbleness in sourcing and inventory, supply chain agility, and developing deep technology platform strengths are imperative to deliver a wide assortment of quality products to customers in a manner that is swift, efficient and dependable.
As Flipkart Quick gets underway in Bengaluru, we speak to Sandeep Karwa, Vice President and head of Hyperlocal at Flipkart, about how Flipkart is addressing this market need.
---
How does the introduction of Flipkart Quick become all the more relevant and necessary during the extraordinary situation created by the pandemic?
While lockdowns are no doubt necessary to limit the spread of the pandemic, they bring their share of inconveniences as customers are confined to their homes with curbs on their mobility. As a homegrown e-commerce business committed to serving India, the need of the hour is for Flipkart to deliver quality products to customers within a short period of time. With our newly introduced hyperlocal delivery service, Flipkart Quick, we aim to close this gap.
We have piloted this service in select locations of Bengaluru including Whitefield, Panathur, HSR Layout, BTM Layout, Banashankari, KR Puram, Koramangala and Indiranagar. We will soon expand this coverage to other districts and subsequently to cities in other states across the country.
What is the customer promise of Flipkart's new hyperlocal service?
With Flipkart Quick, we aim to provide customers with an 'easy to choose and order' grocery experience. Customers can choose to order in the next 90 minutes or book a 2-hour slot as per their convenience. They can choose from a hand-picked assortment of over 2000 products varying from fruits and vegetables, to mobiles and electronic accessories. They can place orders at any time of the day, and get their orders delivered between 6 am to midnight. As with all Flipkart services, we will enforce safety precautions and sanitisation at every step of the process.
What is the range of products offered to customers via Flipkart Quick?
Flipkart Quick is all about modernising the Indian customer's daily shopping experience in terms of product accessibility, availability and affordability. In the first phase, consumers can order a handpicked assortment of over 2,000 products in categories varying from Grocery, Fresh, Dairy, Meat, Mobiles, Electronics Accessories, Stationery Items and Home Accessories.
Can you tell us a little bit about the technology powering Flipkart Quick?
Speed, Quality and Safety are the strongest drivers of Hyperlocal. Flipkart Quick is powered by innovative and advanced technology for location mapping. We have introduced the latitude-and-longitude approach, which not only narrows down the location to greater precision, but results in focused delivery time. With this, we move away from the traditional model of using a pin-code system to identify the delivery location, which can encompass a larger geographical area. Besides speeding up the last-mile process, this technology brings greater accuracy to address-mapping.
Does hyperlocal reduce dependency on neighborhood stores?
On the contrary, hyperlocal is all about building deeper connections between locally available products and consumers in a particular area. This is a great model for India, as households of all sizes are already accustomed to shopping at their neighborhood stores. In fact, Indian families are so comfortable with what we call the 'hyperlocal context', that there is a tendency to develop deep, familial ties with vendors, shopkeepers and service providers. Now, this same relationship is catalyzed by the convenience of e-commerce. While we start with our dark store (no-walkin) model, wherein we enable sellers to store inventory close to the consumer, this model has the potential of encouraging local entrepreneurship and enabling new business strategies and partnerships. Today, with Flipkart Quick, we can potentially bring together the entire network of neighborhood stores onto our platform with just a click.