What makes the Huawei Watch so close to excellence? Branded as just 'Watch', the newest offering from Chinese telecom major Huawei, is one of the few smartwatches designed to look and feel more like a watch and less like a mini-mobile phone perched on your wrist. While the first impression is great, the things that make the watch truly tick are its features.
Scroll down to explore the features that make the Huawei Watch super-efficient as well as a work of art.
Huawei Watch: Classic design with new age functions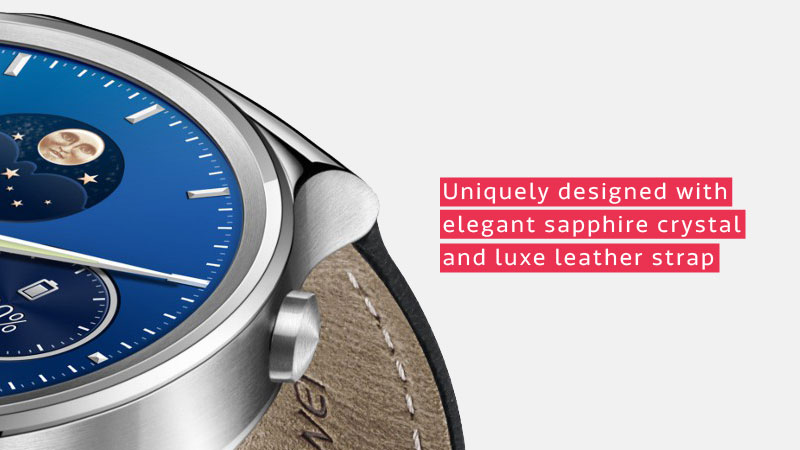 Your watch is more than just a time telling device. It is a style statement by itself and thankfully the makers of this wearable seem to get that. Designed to look more sophisticated than a classic quartz watch, the Huawei Watch is packed with class-leading features and comes with a scratch-resistant sapphire crystal glass. The Watch boasts of a hi-def, 3.55-cm AMOLED full circle display and a luxe leather strap that complements the stainless steel body. The overall package is a fine departure from what other tech giants are offering in the smartwatch segment.
In their first look at the Huawei Watch, tech blog www.razzil.com was impressed with the design: "The smartwatch is inspired by Swiss timepieces and in looks & feel the watch looks very premium in your hand." [1]
Read the full review here
Effortlessly stylish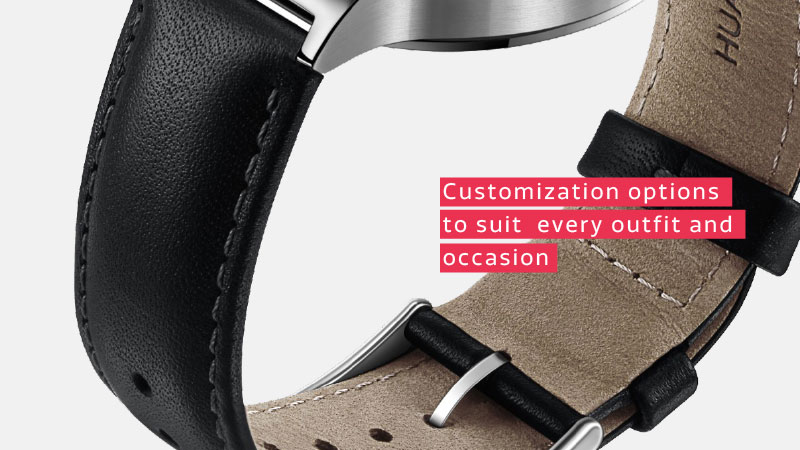 Yes, we are sure you love your smartwatch and the versatility it offers. But how much do they score when it comes to style? A leather strap might not be the way to go when you're attending that casual summer beach party. And the same goes for a silicone strap smartwatch you'd pick for a business meeting. But if you are someone who loves to sport the latest from the ramp, then why not smarten up your wrist wear? Huawei understands the need to personalize, and has created dozens of straps and cases as well as interesting bespoke watch faces to help you alter the look of the Watch depending on the mood, outfit and activity.
Power meets sleek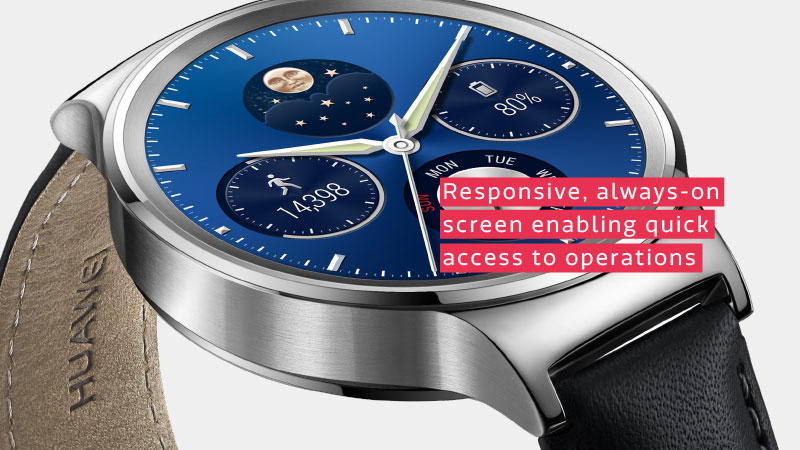 The Huawei Watch runs on the latest version of Android Wear and is one of the few smartwatches that is compatible with both Android and iOS devices. The operating system is easy, convenient and offers access to your apps in a simple swipe. Google Search, Maps, Weather, Music and Hangouts are just some of the many amazing apps that you can access via this smartwatch. The Watch also lets you speak to the device and read out the instructions for the tasks you prefer. The wearable comes with a Qualcomm Snapdragon 400 processor and 4GB of internal memory, and is powered by 512MB of RAM.
High on performance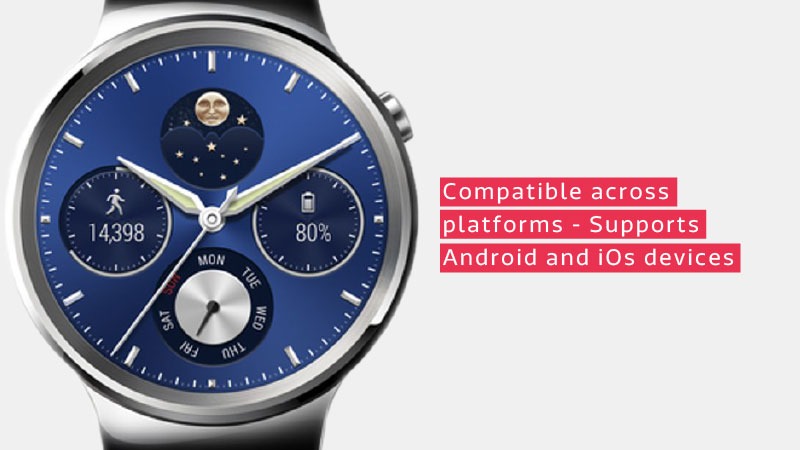 The smartwatch comes with a remarkable 300-mAh Li-ion battery that lasts up to 1.5 days on a single charge. That's a day-and-a-half of performance despite fitness tracking, reading emails, shuffling music and messaging. It also comes with a fast charge option that lets you supercharge your watch for an additional 45 minutes of use. The smartwatch is also compatible with smartphones having the latest Android and iOS versions. That makes it one powerful device with great battery advantage.
The ultimate fitness companion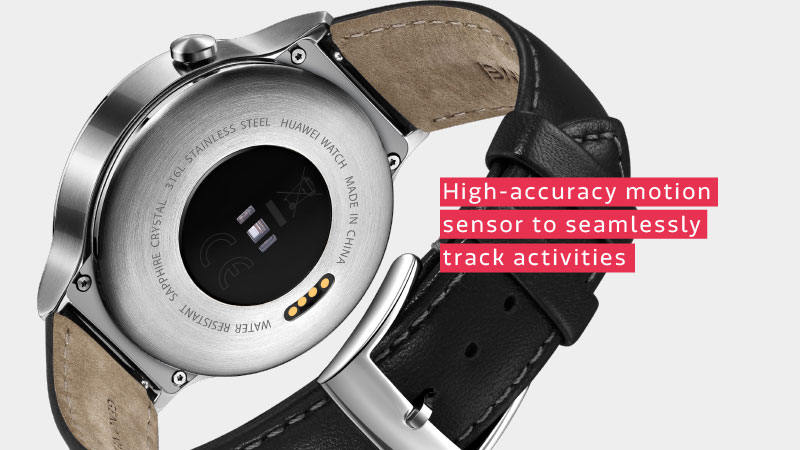 Whether you aspire to be a champion athlete or jog for fun, the Huawei Watch offers you the option to precisely track your activities. A high-accuracy motion sensor keeps track of your movements and knows when you're walking, running or climbing. With heart-rate tracking and auto pattern recognition, and state-of-the-art gyroscope, 6-axis motion sensor, and accelerometer, monitoring your health is as easy as a walk in the park. Awesome, right?
Wearable technology blog WT VOX has given its seal of approval for the device's fitness tracker apps. "In addition to the pre-installed Android Wear apps, Huawei also included two fitness-tracking apps, The Daily Tracking App and Fitness Tracking App, are well designed and work well as basic workout."
Read the full review here
Well connected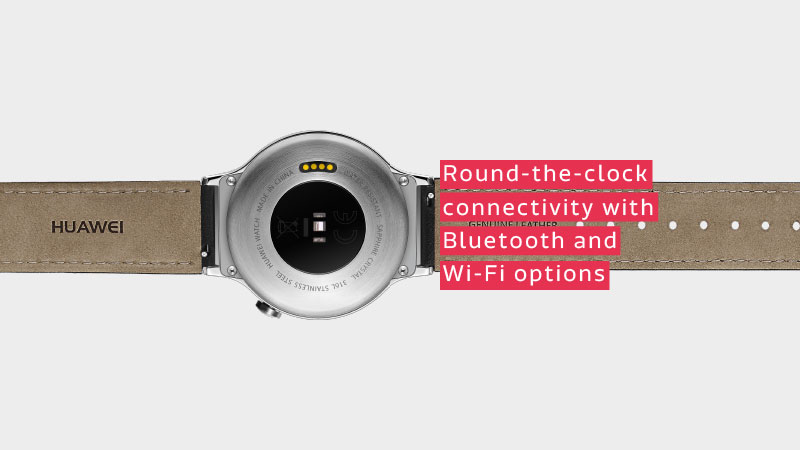 If successfully bridging the gap between fashion and technology was not enough, Huawei has something more for you. The Huawei Watch offers you connectivity via Bluetooth and Wi-Fi. So while you will obviously stay connected with your phone for notifications and updates, you also have the advantage of a built-in Wi-Fi to search for quick trivia on that movie you just saw or the score of the ongoing IPL game.
Premium features at a competitive price

We are sure you agree that the Huawei Watch screams premium in all of its features: looks, design, performance, utility, battery life and even technology. But perhaps the greatest quality is its price. The device is available on Flipkart for a great price of Rs 22,999, which makes it more competitive than other devices in the same category. And its boasting compatibility with all major smartphones is what makes it an absolute must-have.

Commenting on the price point, Anirban Ghoshal from Hindustan Times writes, "With the new smartwatch, Huawei was eying premium consumers at not so premium price"
Read the full review here