She trained to be a commercial pilot, but it was selling on Flipkart that made her dreams soar. This is Saumya Gupta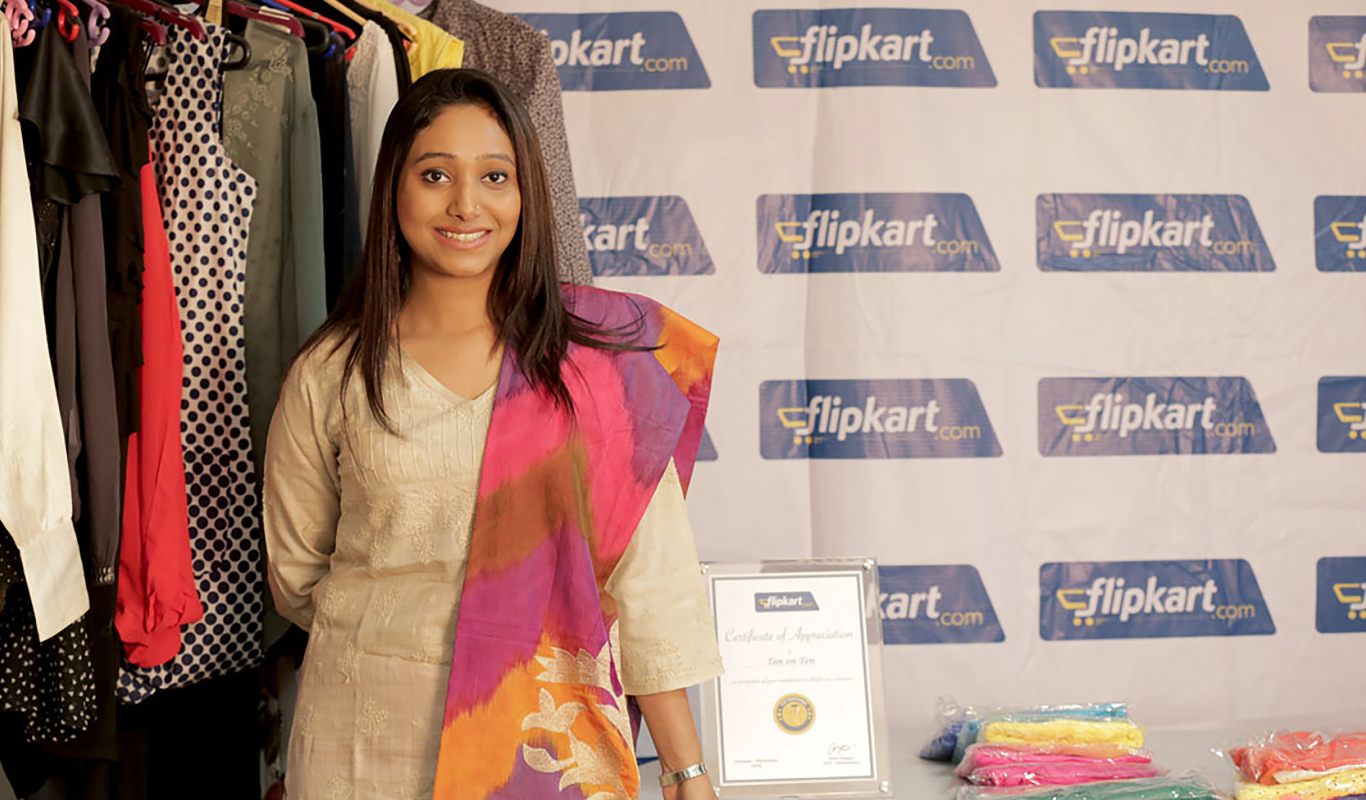 When Saumya Gupta graduated at 18, she found herself without job prospects in a recession-wrecked market. Though she had trained to be a commercial pilot, the aviation industry was in a slump. After a year of trying to figure out next steps, she had no option but to join a call center. Unhappy to have let herself and her parents down, she worked nights while plotting her next move—she wanted to do something that gave her freedom, a good livelihood and decent hours, and above all, the satisfaction that comes with being self reliant. This, however, was no easy task.
Introspection led Saumya to realize that most of her friends and colleagues loved her wardrobe. Taking a plunge, Saumya started a small business selling clothes with 30 garments to start with. Having invested so much in her education, family funds were low, so she set up a little store in her parents' garage. She soon realised that though people liked her clothes and her prices, her market was limited to her friends.
How could she reach a wider market?
A retail space was out of the question, as was selling to retail stores. Reason: her brand was new and her volumes limited. The only way out was to find a solution both simple and effective: selling online. In just a few years, Saumya's business went from a solo garage venture to full-fledged office. Selling her garments on Flipkart gave Saumya a platform unlike any other. With easy and effective logistics support, Saumya's garments are collected at her office for seamless delivery to customers. Flipkart also armed Saumya with information on customer behavior and tips to participate in online sales.
Learning the online business model and combining it with hard work and creativity, Saumya's small home business soon touched the ₹3 crore mark. Today her brand Ten on Ten is well known, garnering attention from across India. Starting with 30 styles and going to 3,000 was just the beginning—Saumya now has her sights set even higher. Inspired by consumer response, she has designed a special catalog only for sale on Flipkart and intends to take her brand to a ₹120 crore company. Saumya's only way out served to change her life and what more, gave her the self-reliance she always wanted.
Who says you have to be a commercial pilot to touch the sky?
Inspired? Here are the 3 lessons from Saumya's story about why you need to take your business online right now.
Lesson 1: Beat geographic barriers
You can beat geographic barriers just like Saumya. Whether you're based out of the bustling industrial district of Jaipur or a small corner of Jharkhand, taking your business online not only puts you on the map, but also automatically widens your market. Now the people who can view, read about and buy your products needn't actually travel to where you are; instead, your products can travel anytime, anywhere to them right from their smartphones!
Lesson 2: Take control
If worries of spending capital on your business are stopping you from expanding or you'd like to start small without being dependent on the rent or the locality of your business, there's no better bet than selling online. You have greater freedom and more control over your business without being forced into uncomfortable choices.
Lesson 3: Spur innovation
It's a lot easier to understand consumer behavior and tap into opportunities when you're selling online. There are no restrictions to selling online since platforms that sell actually want competition, so even if you are a small cottage industry, you can compete with some of the biggest fashion houses! No wonder then that selling online spurs innovation, encourages you to think outside the box, try your hand at news things, and increase your creative output. Now, if that's not exciting, we don't know what is!
Do you want to be a star seller on Flipkart? Learn more