With daily cash benefits ranging from ₹500-₹2,000 Hospicash offers you a financial safety net to rely on when hospitalization adds to your expenses and limits your income-earning capability. Here's how Hospicash offers a helping hand in times of need.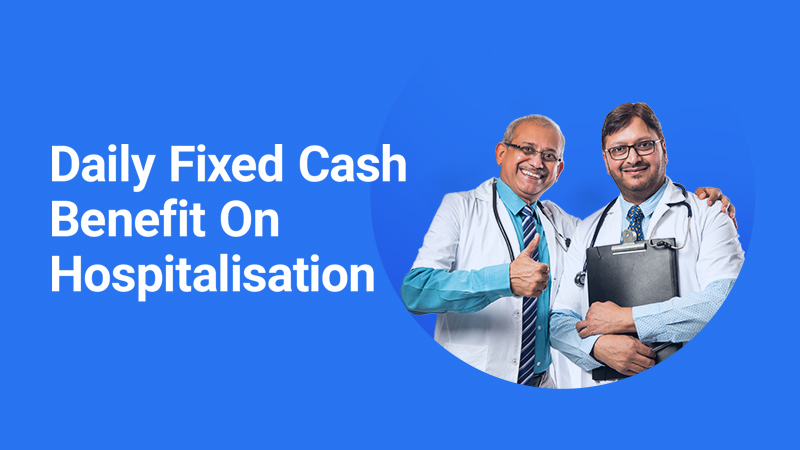 A unique, digital and paperless health insurance policy offered by ICICI Lombard, Hospicash is all about safeguarding yourself against overhead expenses that can chip away at your savings during exigencies. Hospicash is as simple and beneficial as its name suggests – it is a daily cash benefit you get for every day you are hospitalized. This insurance plan is available at a small premium, has a big impact, and solves a major problem in regular indemnity health policies.
Benefit health plans work like this:
Say, a customer purchased Hospicash Insurance offered by ICICI Lombard with ₹2,000 per day hospitalization cover.
For 3 days of hospitalization, the customer incurred additional expenses of ₹6,000. This was not covered by the customer's existing health Insurance.
Since a minimum of 24 hours of hospitalization is necessary for claims, the customer claimed ₹4,000 for the next 2 days.
A study by the Union Ministry of Statistics and Program Implementation indicates that the average loss of income that you may face due to hospitalization is ₹8,164. With Hospicash backing you, however, you get up to ₹2,000 as financial assistance for every day that you are hospitalized. That's plugging a huge drain on your savings in one shot!
Read on to know more about the Hospicash insurance available through Flipkart.
Daily cash benefits for daily monetary needs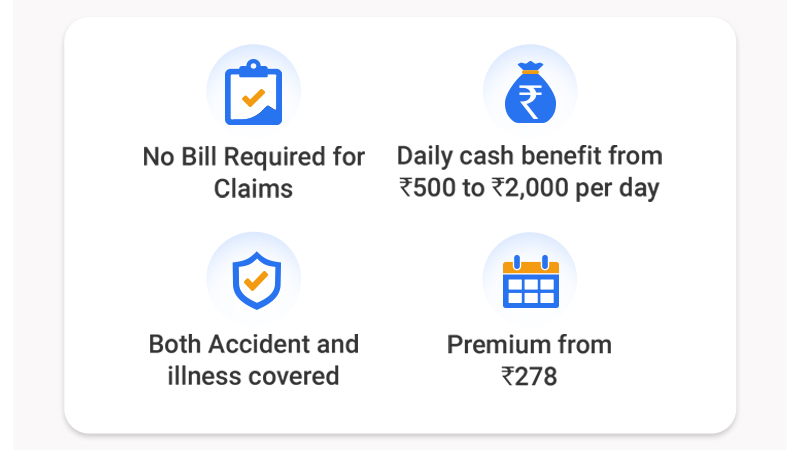 Tailored to suit different age groups and for various financial needs, Hospicash offers multiple plans. You can opt to get:
₹500 per day
₹1,000 per day
₹1,500 per day
₹2,000 per day
This daily cash benefit can be claimed for a maximum of 90 days per policy year, subject to a maximum of 10 days per hospitalization. You can use the amount for a whole range of costs. For instance, you can:
Address incidental medical costs
Pay for emergency expenses
Tend to travel costs
Offset post-op costs
Get compensation for loss of income during hospitalization
Depending on your age category, the premium for Hospicash varies between ₹278 for a cover of ₹500 per day and ₹1,089 for a cover of ₹2,000 per day, for the 18-35 years age group, to ₹466 for a cover of ₹500 per day and ₹1,833 for a cover of ₹2,000 for the 51-60 years age group.
A daily hospital cash cover with numerous benefits
While helping you address out-of-pocket expenses, Hospicash extends a suite of benefits:
No medical test is required at the time of purchase
The insurance policy is paperless
The minimum age is 18 years and maximum age is 60 years
Hospicash plans are affordable and flexible
The premium paid is exempt from Income Tax under Sec 80D
Both accidental hospitalizations and planned surgeries/treatment are covered
No medical bills are required for claims
Sum insured of ₹500-2,000/ day (lump sum benefit on hospitalization)
The waiting period is just 30 days
The hospital network has over 6,500+ partners
Health claim ratio of 99.9%
Easy claims process – contact ICICI Lombard on 1800-2666
Sounds impressive, right? It sure is. If hospitalization is medically necessary, you have written advice from the doctor for the same, and you are hospitalized for a minimum of 24 hours, you can start availing your daily cash benefit.
Are there any exclusions with Hospicash? There are a few, and for a detailed list you should consult the policy's fine print. Here is a snapshot.
Pre-existing diseases won't be covered for 24 months
AYUSH-related treatments
Maternity and diseases affecting the organs of generation
Treatment by family member or self-medication
Hospitalization for the sole purpose of investigation/ travel/ employment
The benefits of Hospicash are manifold and the exclusions are few and far between. Ready to sign up for a Hospicash plan? Below are the key steps.
How to apply for Hospicash
To apply for Hospicash through a paperless process, you will need the Flipkart App. Once you open the app:
Click the hamburger button and select 'All categories' (or access 'Insurance' through the top navigation bar on the Flipkart app.)
Click on 'Insurance' and select the 'Health' category
Select your age group from the Hospicash Insurance section
Choose your cover and click 'Continue'
Tick-mark the eligibility terms, read the terms and conditions, and click 'Confirm'
Enter policyholder details and continue to make the payment
On following these steps you'll benefit from an instant digital policy. What's more, you get a free-look period of 15 days, within which you can review the benefits of Hospicash.
So, what are you waiting for? Give yourself a financial cushion you can fall back on in times of need and apply for Hospicash today.
For more information, read these FAQs on Hospicash.
Also read: Bajaj Allianz And Flipkart Embrace The #Powerofpartnership To Make Insurance Accessible And Affordable