Read these inspiring success stories from Flipkart Sellers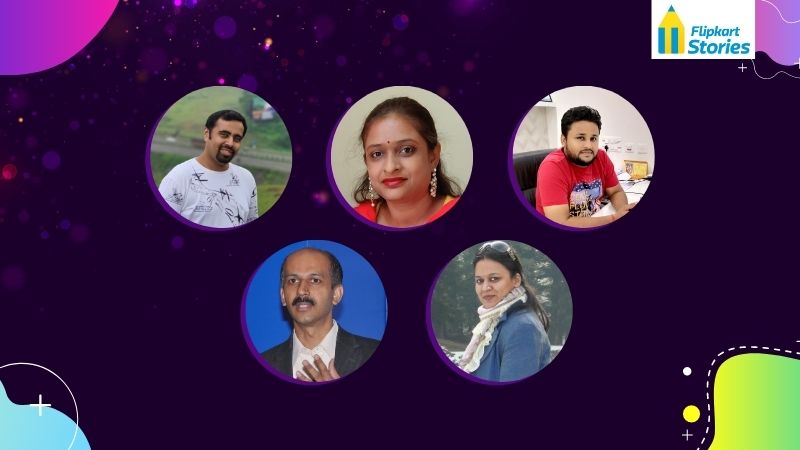 Robin Chheda, Search n Shop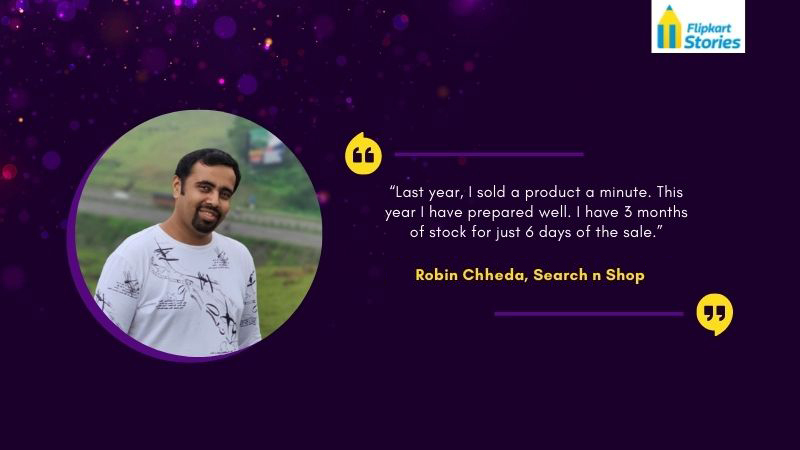 Robin Chheda joined the Flipkart marketplace in 2015, selling products such as mobile covers and screen guards. Prior to his stint as an online seller, Robin owned a kirana store in his locality. The idea to start an online business came to him when he noticed that despite Mi's success in India with launching their mobile phones, no retail outlet was selling mobile cases and screen guards suitable for these phones. He imported about 100 pieces from outside India, and decided that he could experiment with selling them online. With that idea in mind, Robin's journey into e-commerce began. Robin connected with local factories and convinced them to produce mobile cases and screen guards of newly launched mobile phones. He has an encyclopaedic knowledge of the latest phone launches, and ensures that accessories for them are always available on his store, Search n Shop!
"Flipkart for me stands for a convenient and hassle-free experience, and possibly the best way to reach out to consumers across the country, as they shop for products 24×7 – as per their convenience," he says. "I am grateful to have a partner (my wife) who helps me with photographing and building up catalogs for my products, as I manage the purchase inventory and listings. I recall last year's The Big Billion Days, when I sold a product every minute! Knowing the rise in demand, this year I have stocked up. Currently, I have products worth 3 months' sale for just six days of TBBD! It has been 5 years with Flipkart now, and I am so glad I took the plunge!"
---
Nilima Shaw, Nilu's Collection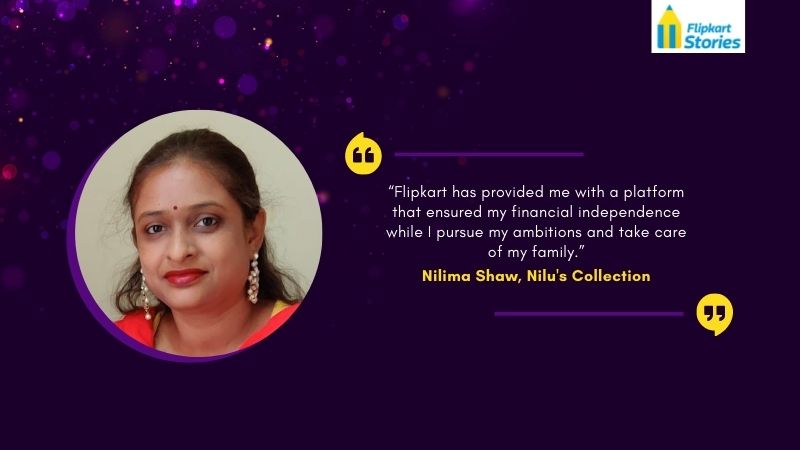 Nilima joined Flipkart as a seller in 2018, a year after her daughter was born. Before starting her journey as an entrepreneur on Flipkart, she worked in the HR team of an IT firm. Prioritizing her responsibilities as a mother, Nilima took a break from her corporate job in 2017 when her daughter was born. While she took care of her family and household needs, she thought about doing something meaningful while being with her daughter. With that idea in mind, and support from her husband, Nilima took the plunge into e-commerce by registering as a seller on Flipkart and selling accessories. Her business started slowly, but in Nilima's words, Valentines' Day 2019, which is the gifting season, was the turning point of her entrepreneurial journey. Products such as earrings, finger rings, couple rings, and necklaces, as well as other accessories, have been bestsellers for her store, Nilu's Collection, and the number of customers has shot up!
"TBBD 2019 was the best period of my journey with Flipkart so far," she says. "The spike that my business saw during that 5-day event has given me quite some hope for this year's festive season too. I am well prepared now and not limiting my products to just fashion accessories. I've used the last six months to expand my offerings to newer categories such as ethnic wear and kitchen appliances, so that I can truly benefit from this period. I am also planning to take up warehouse space so that I can cater to the rise in consumer demand. Flipkart has been able to provide me with a platform that ensured my financial independence, while I pursue my ambitions and take care of my family. I can proudly say that I am the first entrepreneur from my family – and one who is doing so well!"
---
Harish Dharamdasani, Layasa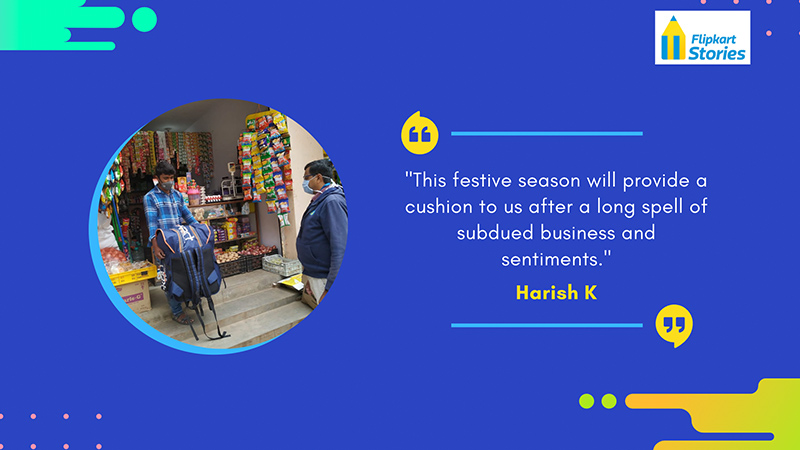 Harish Dharamdasani runs a successful footwear brand on Flipkart. A 30-year old second-generation entrepreneur, his store Layasa clocks a monthly revenue of more than Rs. 3 crore.
"People may not know me, but they recognize my brand," he says. "It takes decades for businesses to become brands. With Flipkart, it took 5 years."
---
Atul Bengeri, Acumen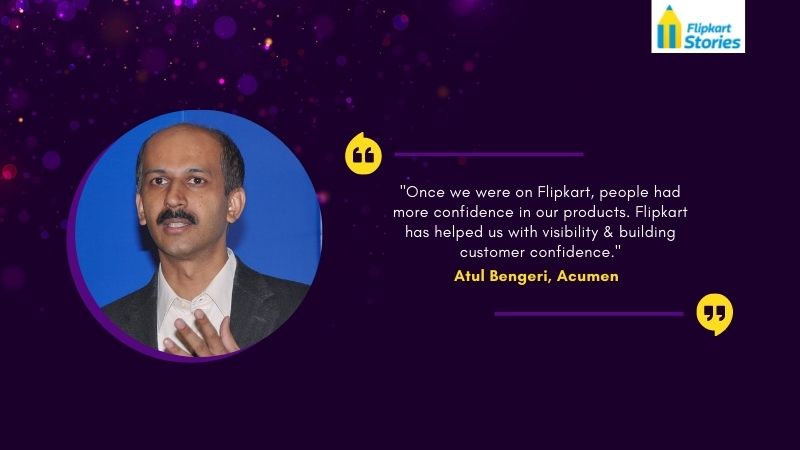 Atul Bengeri is a serial entrepreneur who launched Acumen two years ago to design educational resources that focus on conceptual thinking, learning and application in sync with Indian educational books.
"Once we were on Flipkart, people had more confidence in our products," he says. "Flipkart has helped us with visibility & building customer confidence."
---
Honey Bajaj, Sarvagany Collections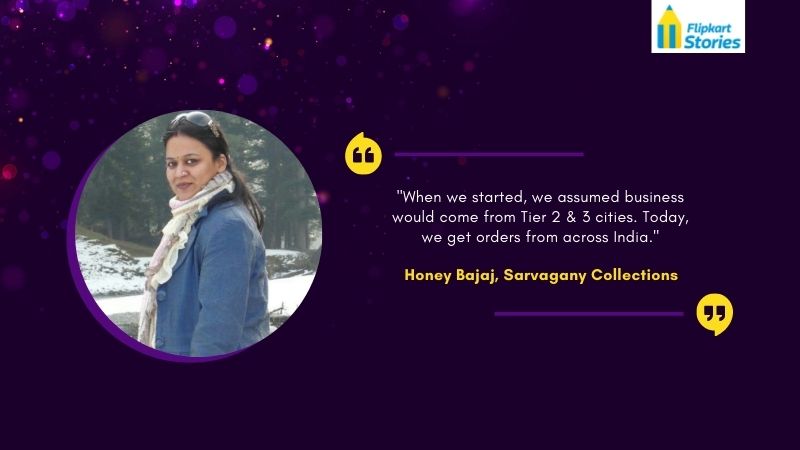 Honey Bajaj, a mom-trepreneur, played an instrumental role in helping her Surat-based family business pivot from being a small offline business that manufactured and retailed sarees, to a successful online-only venture on Flipkart.
"When we started, we assumed business would come from Tier 2 & 3 cities," she says. "Today, we get orders from across India."