As we celebrate National Handloom Day on 7th August and gear up for Independence Day celebrations, let's take a walk down memory lane! Do you have a story about finding a beautiful handloom saree, an heirloom handicraft piece, or anything that speaks of "rooting for my history" on Flipkart? Here's your chance to share it with us and take home a Flipkart gift voucher worth INR 2000.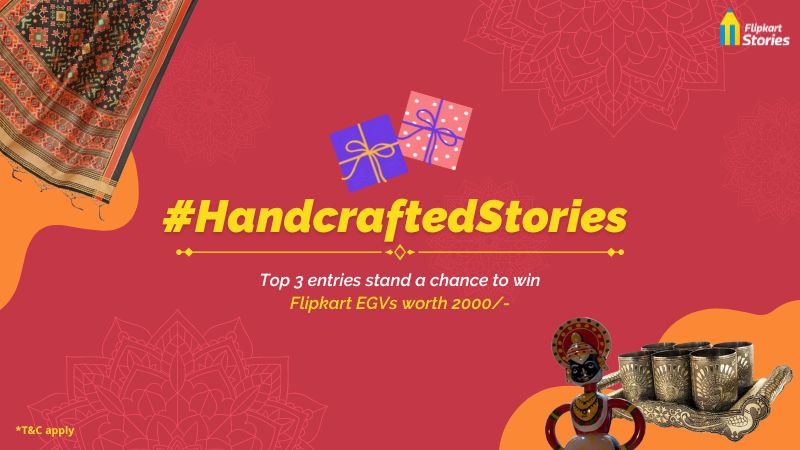 Excited to play the #HandCraftedStories contest? Read this and find out how.
Rich, vibrant and nuanced sums up the unique handloom and handicraft traditions of India. Whether it is a fine Banarasi brocade that you bought for a best friend's wedding or the handcrafted brooch passed down by your grandparents, tradition always has a special place in our lives.
Once a symbol of India's freedom struggle, heritage-rich products come with fond memories and reinforce our efforts to stay in touch with our roots. As we gear up to celebrate the artisans and weavers who have kept India's rich arts and crafts tradition alive, we also have an exciting contest for you!
Share your #HandcraftedStories with us by letting us know of that one #handcrafted piece that you eyed for long and bought on Flipkart, and how #ecommerce has made it easier for you to connect with artisans, weavers and other craftspersons from across India. The top 3 answers will get exciting prizes!
Here's how you can participate in the contest:
Participate by visiting the Flipkart Stories page on Facebook, Instagram or Twitter.
Leave your story in the comments and make sure to use the hashtag #HandcraftedStories.
Three lucky winners will stand a chance to win Flipkart vouchers worth INR 2000 each.
Before you participate in the contest, be sure to go through our Terms and Conditions below: