Machines only do what they are asked, but artisans add their skills into making every thread, every stitch unique, says Vijay Bhai, a Flipkart seller from Surat, Gujarat. Seated in his office, he takes us through the process of making intricate embroidered sarees across ranges, and the journey of his business from a store in Surat, to shipping orders all across the country via Flipkart. All of this, while never compromising on quality.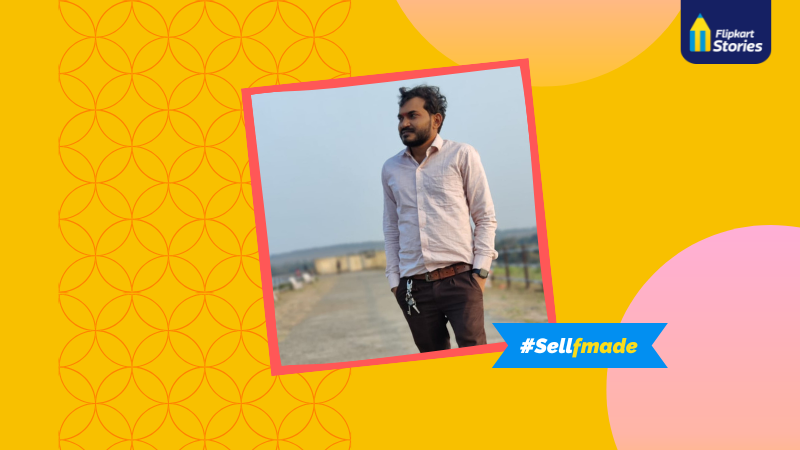 In this story: Read how Vijay Bhai, Flipkart seller from Surat, Gujarat, empowered local artisans by helping them sell to a pan-India market.
"Mujhe ghar bhi lena hai, gaadi bhi lena hai, ghoomne bhi jaana hai," says Vijay Bhai, Flipkart seller from Surat, Gujarat. (I want a house, a car, and also be able to travel). Vijay Bhai lives with his father, mother, wife and three-year-old son in Surat, Gujarat. Hailing from a family of businessmen, he grew up with a passion for it. His father ran a diamond business, but Vijay Bhai wanted to venture out on his own.
A few of his friends were into textiles, and he decided to join hands with them, quite literally, to learn more about the products, as well as how he could innovate with them to start his own business. He learnt how to embroider, and experimented with different designs and color patterns before starting his own brand.
Currently, seven artisans turn up to Vijay Bhai's establishment every day to embroider sarees. "Idhar mahaul bahuth achcha hai." The environment is great here, he says, and proceeds to beam with pride as he declares that the same artisans have been working with him for the last decade.
All the raw materials required are placed in the workspace. The craftspersons seat themselves around each other, and work in tandem to create one single embroidered saree. It takes three of them to produce a single saree with carefully chosen designs and colors. The heavier, more intricate designs require three of them to work for over fifteen hours to truly add magic onto fabric.
Although he has only studied upto the 10th standard, Vijay Bhai learned everything he needs to on the job, and in life. He employs a fool-proof and comprehensive process for all his sarees. He works with a sketcher and designer, and they try different color combinations before handing it over to the artisans.
"Earlier, I only sold in the local market," he says. He signed up as a seller on Flipkart in 2021 after he heard about Flipkart's Samarth program from his friends. The program was initiated in 2019 to empower India's artisans, weavers and craftspersons. By onboarding onto this program, members of India's underserved communities have access to a pan-India market.
New to e-commerce, he overcame his initial inhibitions by reaching out to Flipkart's seller support, and started off with packing three or four orders a day. Today, he ships around 300 to 400 sarees daily.
On being asked about the difference between machine-made and hand-embroidered sarees, he says machines only do what they are asked, but artisans add their skills into making every thread, every stitch unique.
He aims to branch out into kurtis, a variety of shirts and tops, and list them all on Flipkart in the near future. Along with that, his personal goals include buying a house and a car, and traveling to his heart's content.
"On Flipkart, customers appreciate quality, so this sale is a great time for them to get quality products that are made in India," he says, adding that they had already begun the designing and quality checks many days before the 'Crafted by Bharat' sale on Flipkart.
Log on to the Flipkart app to access specially curated handmade products from across India.