As early as 7 am, the six-laned Outer Ring Road that slices through Bellandur, one of Bengaluru's busiest and most populous suburbs, has already started to bustle with traffic. Within an hour, the school buses, milk trucks, water tankers and cabs will be joined by armadas of personal automobiles, two-wheelers, auto-rickshaws, office cabs and buses, slowing traffic to a crawl of blaring horns, exhaust fumes and frayed tempers. Through this tide of men and machines, Ganapathy Poojary maneuvers a black Bajaj Pulsar 180, balancing an enormous delivery bag strapped to his shoulders. Parking his motorcycle outside Ekart Logistics' Bellandur delivery hub, an inconspicuous biscuit-colored building nestled under a flyover, the Ekart wishmaster rushes in.
Ekart's Bellandur hub was set up to manage the humongous volume of deliveries to this part of the city, which is choc-a-block with residential complexes, commercial buildings, malls and information technology parks huddled around the dark, foul-smelling waters of the effluent-choked Bellandur Lake, which frequently makes news for the wrong reasons. Ganapathy, who has worked with Ekart Logistics since 2013, is a veteran who has delivered during every one of the three Big Billion Days sales thus far. Like other Ekart field executives, he has a photographic memory of every lane and building — and every pothole — on his route.
As the minutes tick away, other Ekart wishmasters troop in. Each one first pays respects to the framed pictures of Hindu deities on a high shelf adorned with garlands and incense sticks dispensing a sweet fragrance. This is a morning ritual. Ganapathy, too, follows suit before dropping his backpack in a large pigeon-holed rack where other wishmasters have left their personal belongings. He grabs a plastic cup, pours himself steaming coffee from a large thermos, and joins other wishmasters to catch up on conversation. This is the lightest part of their day. In just under a half hour, their routine will pick up pace.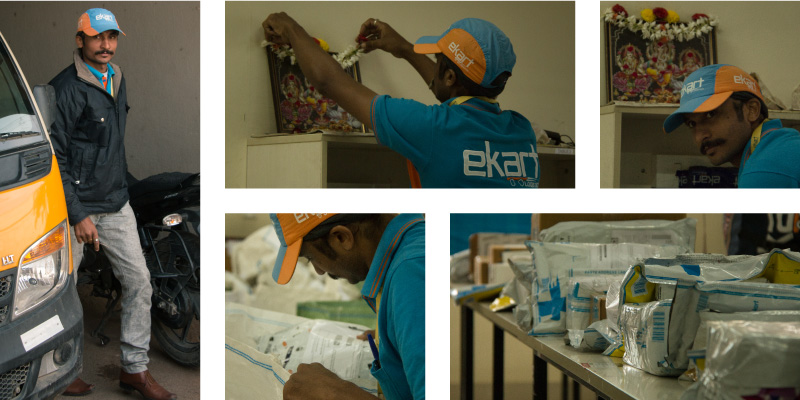 'He's a hard-working lad'
Ganapathy, who is in his early thirties, is of average height and slender build. He sports a trimmed mustache and sideburns, and his Ekart cap is a fixture. His youthful face betrays a touch of weariness but his eyes light up with enthusiasm when he smiles.
"Bahut mehanati ladka hai! [He's a very hard-working lad!]" says Samrat Gena, the hub manager, referring to his star wishmaster. "He has in-depth understanding of the operation and keeps a cool head during stressful times. Which is every other day!"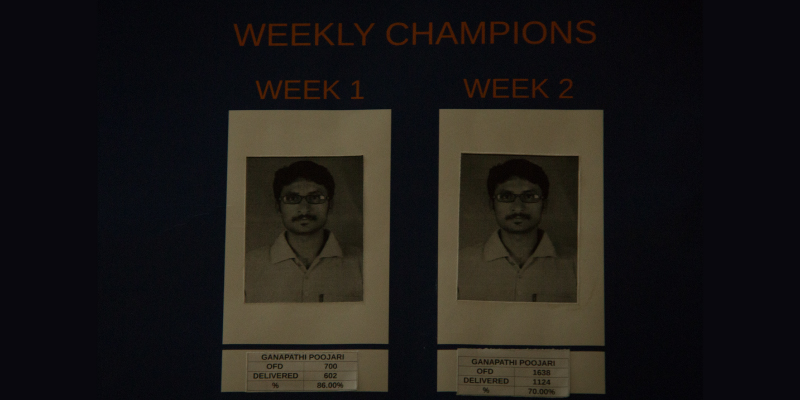 Samrat's praise for Ganapathy does not seem excessive. Ganapathy's mugshot is tacked on the bulletin board twice over as 'Champion of the Week'. He also holds the record for the highest number of deliveries in a single day by an Ekart wishmaster. During Big Billion Days 2016, Ganapathy delivered 342 orders and the previous year, too, he set a record. Not surprisingly, he's the star of his team, a mentor and guide to his colleagues, and arguably the most valuable field executive in Samrat's force.
Samrat manages five team leaders who in turn supervise a staff of 43 field executives. On an average day, the hub handles about 1,500 packages. During peak periods such as The Big Billion Days, this number skyrockets to about 4,500 packages daily and the executives begin their day as early as 4:30 AM.
"The executives come in early and begin sorting the packages for dispatch," explains Samrat. "They plan their routes in advance and ensure that there is no delay."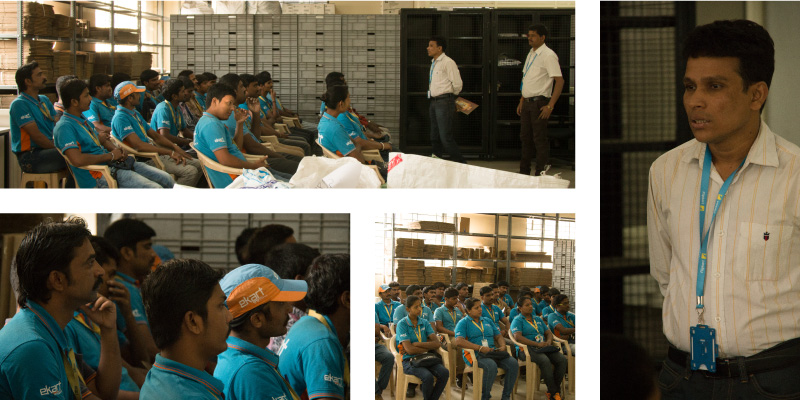 A Wishmaster's day
At the stroke of eight, every wishmaster is seated for the daily debriefing by their hub manager. A wiry, authoritative man in his mid-thirties, Samrat also speaks Odiya, Hindi and English, but having spent 15 years in Bengaluru he is able to address his team in fluent Kannada. Today, he is in a stern mood. Samrat begins by pulling up some of the field executives for tardiness. Ekart wishmasters are required to adhere to a strict quality checklist for delivery efficiency, punctuality and personal grooming. Lapses, however minor, invite tough reproach. Bellandur was designated the 'Best Hub 2016 in the South Zone' by Ekart and it is a reputation that Samrat is committed to preserving.
Today's briefing takes longer than usual. Ganapathy looks harried. His deliveries have been delayed. His mobile phone has been buzzing constantly. His customers, who have already received an SMS notifying them that their package is on the way, call frequently to ask when they would receive their orders. Ganapathy does not let the stress get to him. He answers each call in an even tone.
It is past 10 AM when the field executives spill onto the street to make their deliveries, and they are pressed to make up for the precious minutes lost. The Outer Ring Road is a familiar picture of bumper-to-bumper morning traffic and cacophonous honking. Ganapathy swings onto his bike, pulling his helmet over his head. He straps the gigantic sack onto his back, resting it on the pillion seat for balance. Like a pilot initiating a sortie, he performs a quick final check — delivery bag, mobile phone, handheld device — and rides away with his cargo of wishes. Ganapathy thanks his stars that most of his deliveries this morning are confined to a nearby IT park.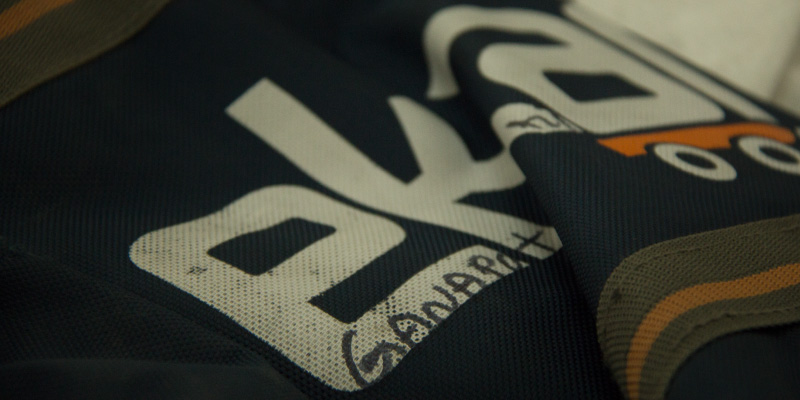 However urgent the delivery deadline, there's no compromise on road safety and traffic rules for Ekart wishmasters. Within 20 minutes, having negotiated an obstacle course of motorists, pedestrians and stray animals, Ganapathy reaches the day's first customer at Cessna Business Park on the Outer Ring Road. "It would have taken less time to get here considering that it's only 3 km from the hub," sighs Ganapathy, shaking his head in exasperation. "But this traffic…"
His first customer is a young man who works in the hospitality industry. He is thrilled when Ganapathy pulls out his package from the sack.
"It's remarkable! I paid for this just last night and here I am holding it now," he says, beaming at the new smartphone cover that he purchased on Flipkart. "It's been less than 12 hours!"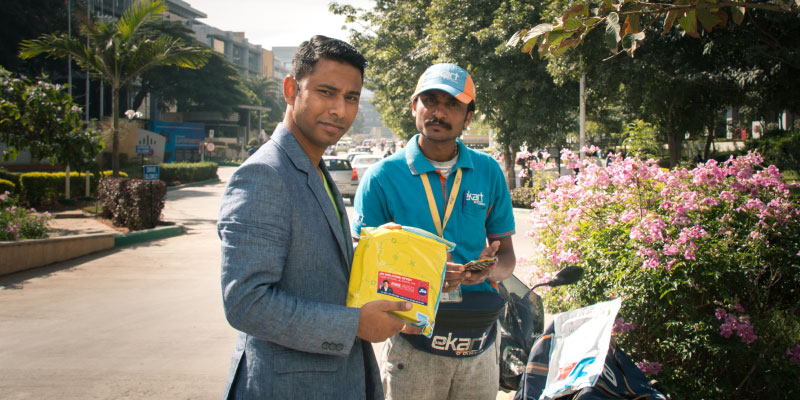 This is a prepaid delivery, and that cuts down the delivery interaction to just four minutes. "One down, 130 to go!" smiles Ganapathy as he prepares to attend to his trilling phone.
Not all deliveries are this smooth. An estimated 85% are cash-on-delivery (CoD) transactions, which bleed precious minutes from a wishmaster's day. Often, customers do not tender exact change. And, in a frustrating enactment of Murphy's laws, this usually takes place when the wishmaster has exhausted all of his change, forcing him to run around seeking change from others. This situation, however, has taken a different turn ever since the government's demonetization drive began on November 8.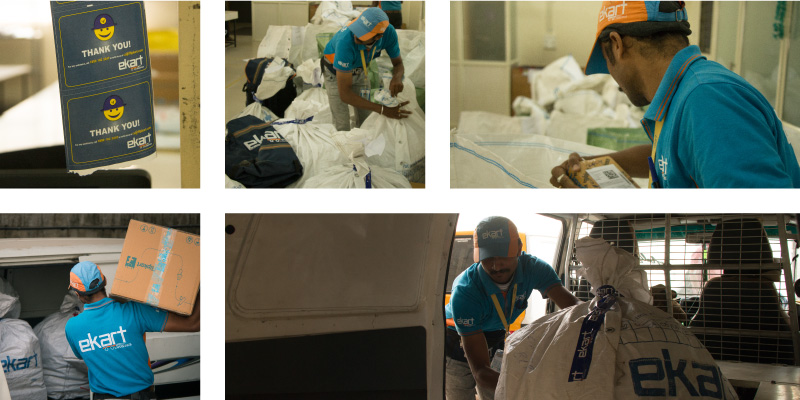 "For the first few days, the delivery team and I faced problems," recalls Ganapathy. "Quite a few customers would ask us to accept scrapped ₹500 and ₹1000 currency notes, or take back the order. For the past week, though, everything has been going on smoothly. Now there are fewer CoD orders."
Does Ganapathy sometimes wish he had been assigned a less crowded beat in another city — one with less congestion and wider roads, perhaps?
"No, I want to continue delivering in Bengaluru," he says with a winsome smile as he swiftly categorizes and sorts his packages with a practiced ease. "Traffic and roadblocks are unavoidable."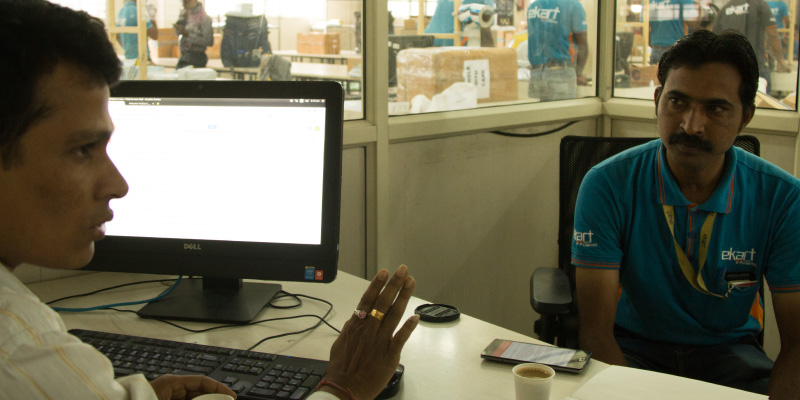 The boy from Sirsi
Ganapathy Poojari hails from Sirsi, a small town in Karnataka's Uttara Kannada district about 400 km from Bengaluru. He came to the state capital five years ago and got his first job with Nilgiri's, a chain of bakeries and supermarkets. In 2013, he joined Ekart Logistics and began working at the delivery hub in HSR Layout. He learned to relish the pressure and soon worked his way up the hierarchy of wishmasters. Today, his colleagues speak of him with affection and admiration laced with a touch of envy.
Vageesh Hiremath's face lights up with joy at the mention of Ganapathy's name. Vageesh, Ganapathy's colleague and a fellow Kannadiga, is also a close friend and confidante. The two began working together at the HSR delivery hub, 10 km away, and were subsequently transferred to the high-demand Bellandur hub. Vageesh is all praise for Ganapathy, who he says has supported him at every step of his journey. "No wonder that he is a senior executive here," says Vageesh.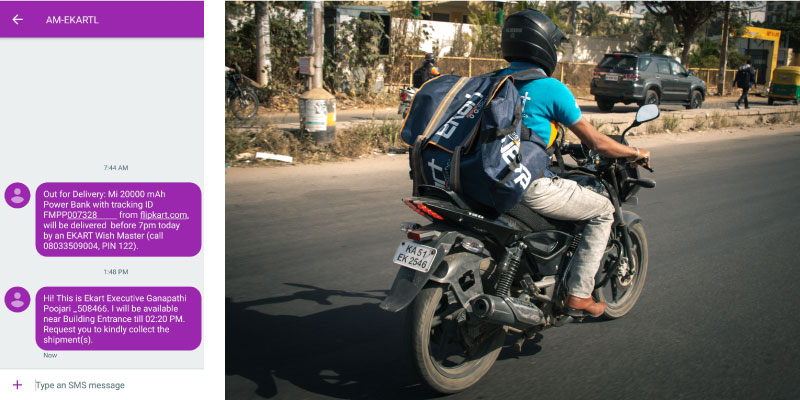 On the road with Ganapathy Poojari
At 1 PM, Ganapathy has a hurried lunch and is back on his delivery route in under 25 minutes. A customer hoping for an early delivery had been calling him frequently. Most IT parks and office complexes don't allow field executives to deliver directly to customers. Instead, Ganapathy has to drop off the parcel at a common collection point. He parks his bike outside the office premises and, heaving his delivery bag, weaves his way through crowds of employees heading back from lunch. Finally, when Ganapathy reaches the common area, the customer waiting for him does not look happy. "Bahut time laga diya bhaiyya! [You took too long]" he chides.
Wishmasters, being the sole physical link between Flipkart and customers, have to deal with the good, the bad and the ugly of the business. "Nearly 90% percent of the deliveries I have made have been to happy customers," says Ganapathy. The remaining 10 percent, he says, are often hot-tempered or distrustful of the genuineness of the product delivered. Often, customers complain about online shopping experiences where they have received stones instead of phones. "I explain to them that it's not the case with Flipkart," says Ganapathy.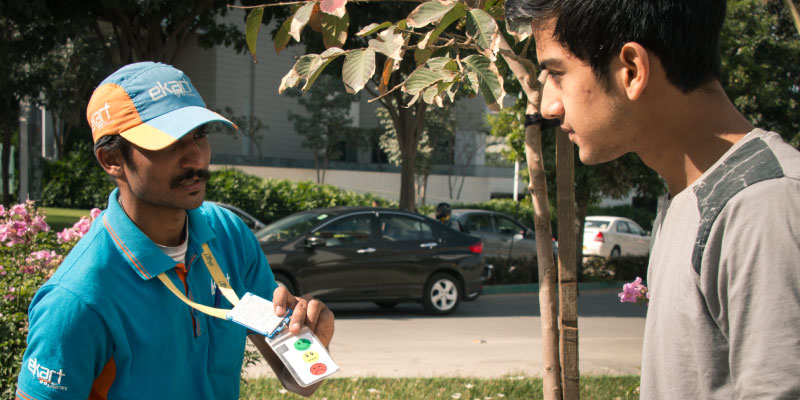 By 3:30 pm, Ganapathy has completed 107 deliveries and is still busy with phone calls from customers who have yet to collect their packages. "It's a slow day today, not that many deliveries," he says as he takes a breather.
By 4:15 pm, Ganapathy has packed up his his undelivered packages and is on his way back. At the hub, the atmosphere is relaxed. Executives are busy unpacking and storing undelivered packages for the night so that they can be re-sorted the following morning.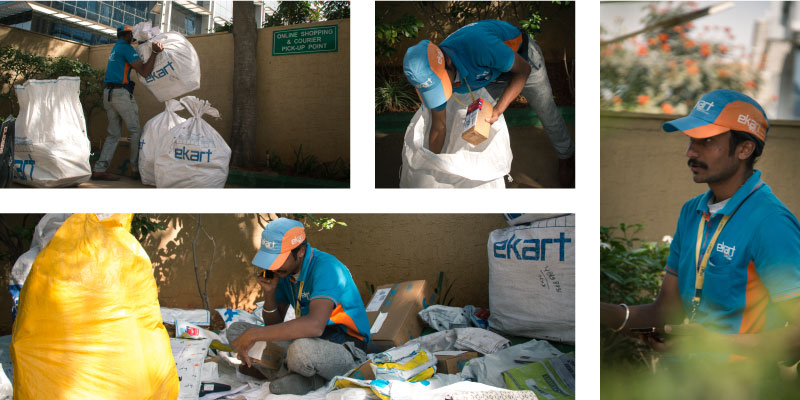 Stars in his eyes
There's a side to Ganapathy that few know about. When he's not out delivering wishes, he's wishing secretly for stardom. On his days off, he pursues his passion for making Kannada movies. In 2008, he had trained in film direction and even made a couple of short films. Although he took break in 2013 when he began working for Ekart, he couldn't tear away from his passion. Recently, Ganapathy shot a Kannada movie trailer and has bigger plans lined up. Besides direction, he has also acted in a Kannada television serial called Rangoli.
"I returned two days ago from another shoot and plan to complete it by the coming weekend, which is when I will get my day off," he says. "In the coming two years, I also plan to direct a movie."
EKART Wishmaster, Ganapathi, raises the bar! Sets 3x target to beat his own record! @Flipkart #BigBillionDays 2016 > https://t.co/MADiopKs7s pic.twitter.com/CEl3Swg2U9

— Flipkart Stories (@FlipkartStories) October 4, 2016
The next time your doorbell rings
How does a wishmaster cope with the daily stress and the hurried pace of work?
"I feel that one should never allow work stress to become home stress, especially at the expense of our families or our health," says Ganapathy with a philosophical shrug. "When I leave office for the day, I make sure that I don't take home any work-related tension." The same, he says, is applicable to personal stress: you should leave it at home. "The minute I report to work, I shut off my mind to everything else and only concern myself with work. This helps me keep a cool head when I'm on the road doing deliveries."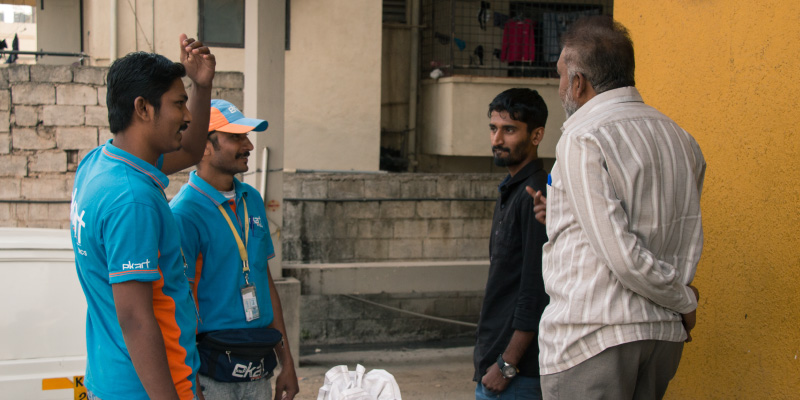 With unflinching honesty, patience and a genuine desire to bring a smile to your face, Ekart wishmasters such as Ganapathy Poojari aim not just to beat their own delivery records but to raise the bar higher with each order they deliver. Won't you remember that the next time the doorbell rings and you open the door to accept your Flipkart delivery?
Photographs by Vishal Thomas
---
Enjoyed this episode of FlipTales? Read more profiles of the exemplary people that make Flipkart great.

---
Also read